Prepare for sunshine and warm weather galore with these equally bright crochet sun patterns! Summer brings lots of sunshine, so why not take some time this summer to make your own piece of the sun?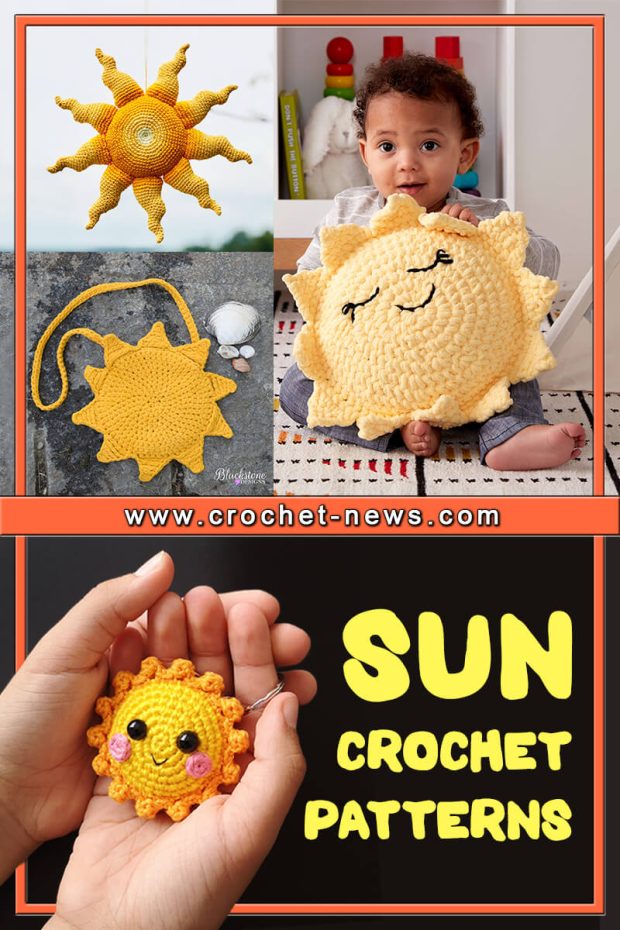 For a quick slice of summer all year round, make these amazing sun crochet patterns any time of the year. From pillow to home decor and amigurumi sun toys, keep your home in permanent sunshine with your own little sun!

1. Sunshine Pillow Crochet Pattern by Yarnspirations
Bring bright sunny rays of sunshine into the nursery with this adorable Crochet pillow! Front and Back are worked in the round in a sunny shade, joined together and then finished off with cute little rays of sunshine. Friendly eyes and a mouth give this pillow tons of personality, making it a welcomed addition to any child's space.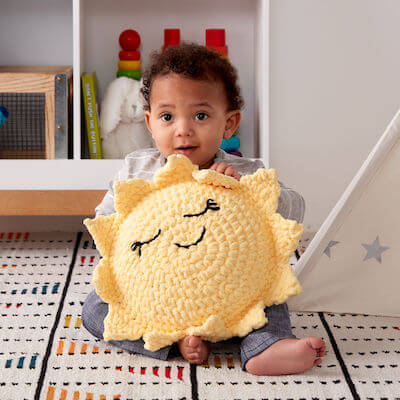 2. Summer Wreath Sun Crochet Pattern by Repeat Crafter Me
This Summer Wreath Sun Crochet Pattern is a fun DIY wreath idea that step up your home decoration game. This free crochet sun pattern uses a styrofoam base to get that perfect circular shape, and then covers it with the simple sleeve and sun ray patterns.
You can also use the pennant flags to spell out a cheery message like the "sun" shown here by using the template.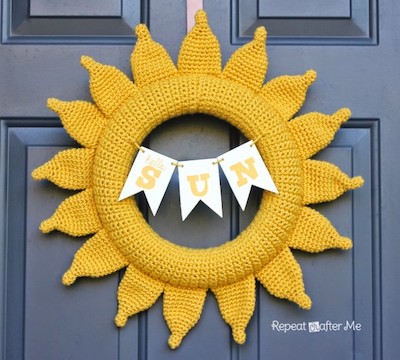 Get the Pattern here

3. Crochet Sun Shaped Bag Pattern by Blackstone Designs
This pocket full of sunshine pouch is perfect for walking around the beach. It can be used to carry small items like cell phone and keys or it can be used by children to collect seashells and sand glass.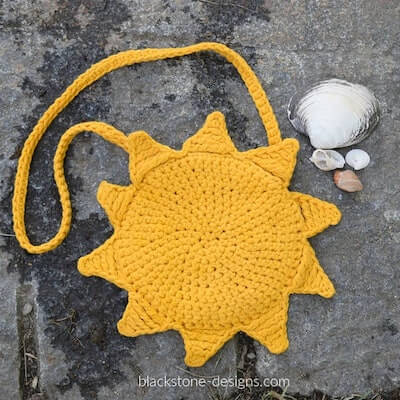 Get the Pattern by Blackstone Designs here

4. Amigurumi Sun Keychain Pattern by Stitch By Fay
What could be cuter than a smiling sun to accompany your keys? This kawaii amigurumi can be worn as a key ring or as a charm bag. A quick and happy little project that's sure to make you smile.

The finished item measures approximately 2.5″ x 2.5″ (6.5cm x 6.5cm). Item size may vary depending on the materials used.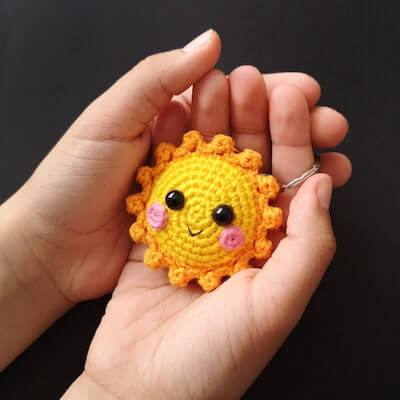 Get the Pattern by Stitch By Fay here

5. Smiling Sun Amigurumi Pattern by 5 Little Monsters
This Smiling Amigurumi Sun is small and simple enough that it won't take long at all to make. It is basically just a couple of circles stitched together with a pointy border around the outside. You could leave it plain but a little smiley face would be cute!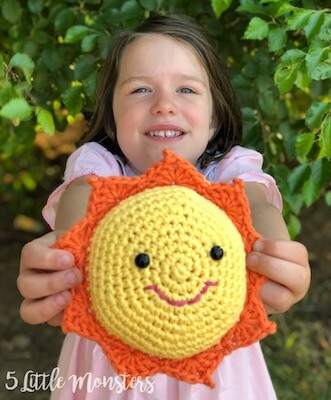 Get the Pattern here

6. Amigurumi Sun Crochet Pattern by Tiny Curl
What better way to celebrate summer than by making happy amigurumi Sun Doll! This Amigurumi Sun Crochet pattern is the perfect make for those hot summer months. This free crochet sun pattern has optional arms and legs to give your amigurumi Sun even more personality.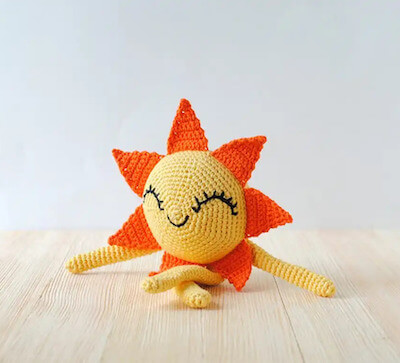 Get the Pattern here

7. Amigurumi Sun Rattle Crochet Pattern by Enjoy Toys Designs
We love this Amigurumi Sun Rattle! Sure to brighten up your little one's day, this multi-use rattle will provide comforting and light stimulation for baby. This baby rattle makes a perfect gift for any little sunshine!
You can also choose from our collection of cute Crochet Baby Rattle Patterns.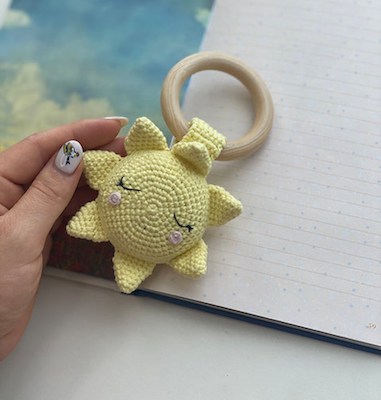 Get the Pattern by Enjoy Toys Designs here

8. Amigurumi Sun Plushie Pattern by A Bit Unraveled Design
Brighten up your place with some sunshine! These crochet plush sun accents are perfect to pop them in baskets, vases, table scatters, wreaths, string up as garland, or include in your Spring/Summer centerpiece.
Get the Pattern by A Bit Unraveled Design here

9. Crochet Happy Sun Scrubby Pattern by Red Heart
Make dish washing duties a bit brighter with this cheerful crocheted Scrubby. The sunny face will also encourage children to wash thoroughly in the bathroom.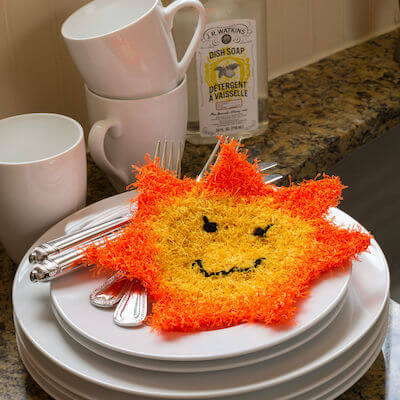 10. Amigurumi Sun Crochet Pattern by A Little Love Everyday
We could use a little sunshine with all things happening in the world right now. It's important to look at the brighter side even at darker times. Here's a cute little amigurumi sun to brighten your day. It's a simple and beginner friendly project. You can turn it into a rattle by adding a sound box while stuffing.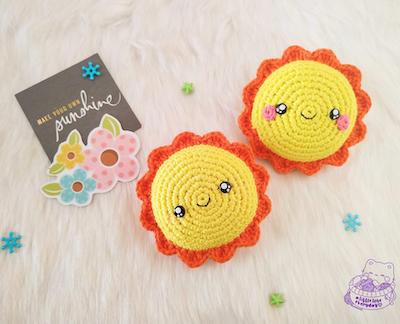 Get the Pattern here

11. Sun Crochet Pattern by Crochet By Nata Erkhova
If you wish to add a little bit sunlight to your room or house, you might consider to use this crochet pattern to make your own sun. The size of finished decoration is 22 cm (size of the disc + rays).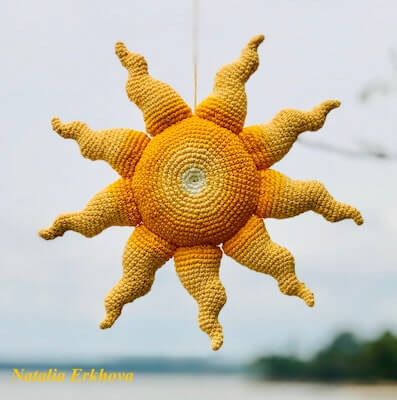 Get the Pattern by Crochet By Nata Erkhova here

12. Applique Free Crochet Sun Pattern by Yarnspirations
Put a little sunshine into your life with this bright crochet Appliques! It's an easy crochet thread pattern that can be sewn to any fabric or attached with fabric glue. Or you can glue on a felt backing and hang from your backpack or bag!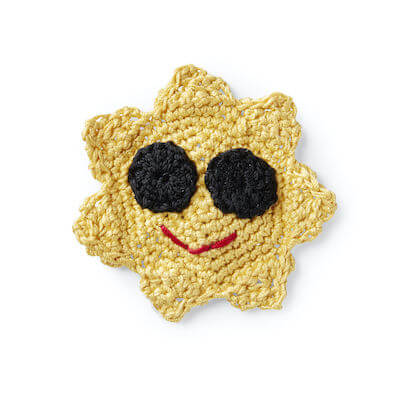 WHETHER YOU NEED CHEERING UP ON A DREARY CLOUDY DAY OR JUST WANT TO CELEBRATE THE SUMMER SUN, THESE BRIGHT CROCHET SUN PATTERNS ARE THE PERFECT CHOICE!
Looking for more summer crochet patterns? Check out more of our pattern round-ups that are perfect for summer. From beach bags to sandals, crop tops to summer tops, or bikinis to cover-ups, there's a crochet pattern for everyone!

And don't forget to take a pic and share them with us on our Facebook Page. We always want to see your creations!

What better way to brighten your day than by creating your own sunshine! These crochet sun patterns will light up your craft time!