Take your pick from these crochet shrug patterns, and we bet you'll see how a crocheted shrug can fit into your wardrobe!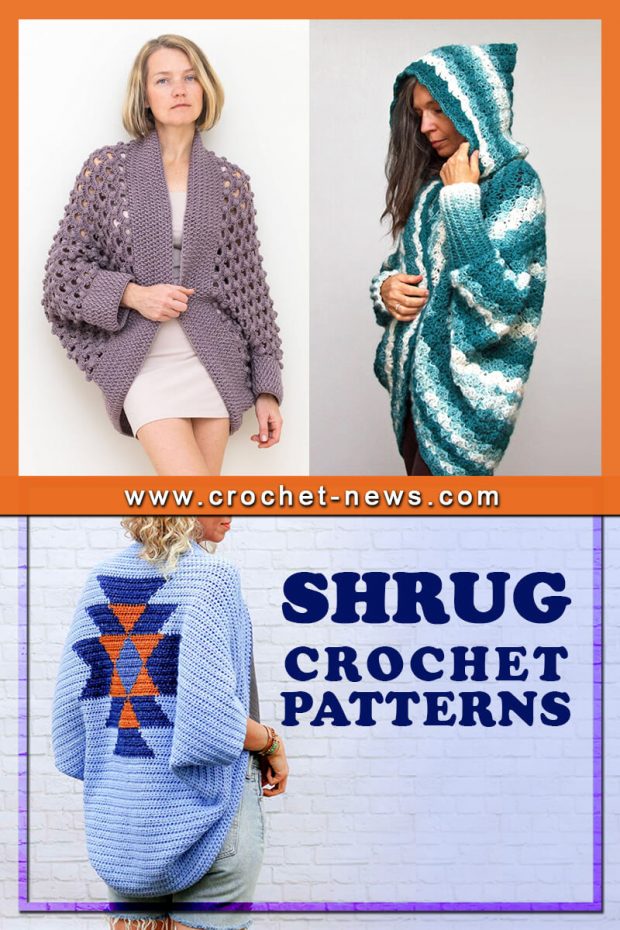 Shrugs are known for saving many crocheters from that freezing cold, air-conditioned office during the summer, but they're great for plenty of other chilly situations. Instead of reaching for a scarf on those mild days, grab a crocheted shrug instead. They can even be a substitute for your favorite shawl!
32 Crochet Shrug Patterns

1. Chunky Crochet Shrug Pattern by Crystal Bear Designs
Crochet this super comfy oversized cardigan shrug in a weekend! It will fit a range of sizes and features full-length dolman sleeves and an open front. This is a great gift idea if you are working on Christmas or Birthday gifts, once you get done making one for yourself, of course!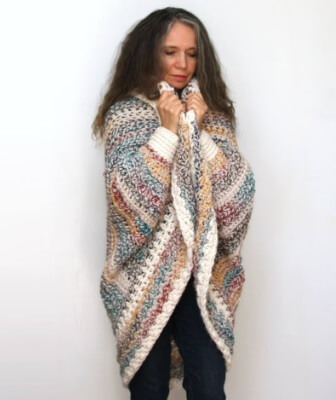 Get the Pattern by Crystal Bear Designs here

2. Timber Shrug Crochet Pattern by Hooked On Tilly
This Timber Shrug is an extremely oversized "blanket styled" shrug. You will love wearing it while cozying up on the couch watching Netflix or styling it up with your favorite dress.

The pattern is only written in one size to achieve the "oversized-ness" of this shrug but all instructions are given on how to adjust the length and width to fit your lifestyle and body!
Get the Pattern by Hooked On Tilly here

3. Crochet Bolero Shrug Pattern by Red Heart
Super bulky yarn is combined with easy pattern stitches for a wardrobe piece to wear over short or long sleeved tops. This beautiful Crochet Bolero Shrug is perfect for day or evening wear.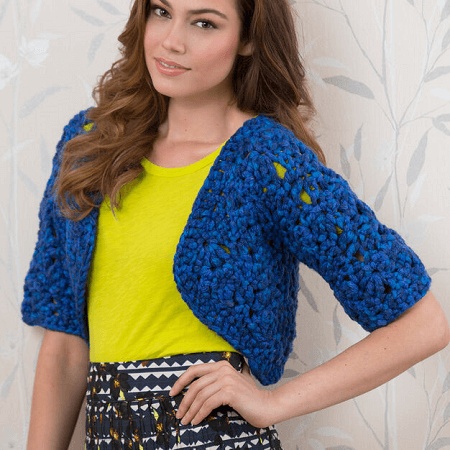 4. Warm Hug Shrug Crochet Pattern by Sincerely Pam
This 2-in-1 piece is exactly what you need for Autumn! You will love the way the extra-long scarf wraps around you, giving you a warm hug and helping to fight off the cooler days we are now having!

This pattern has instructions for toddler, child and adult sizes as well as instructions to guarantee you a custom fit!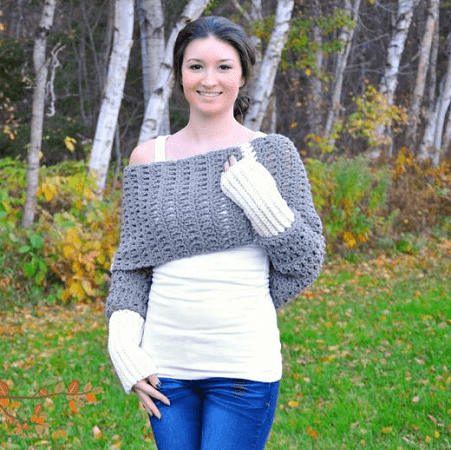 Get the Pattern by Sincerely Pam here

5. Navajo Blanket Free Crochet Shrug Pattern by Make And Do Crew
This southwestern-inspired shrug uses very simple stitches to achieve a unique end result. While this design resembles the look of tapestry crochet, it's actually made by switching colors mid-row using basic crochet techniques.

The result is quite a showstopper and looks far from DIY-ed. Paired with jeans, leggings or cutoffs, it'll become your favorite comfy statement piece. If you're looking for a mindless project with a bit of magic tossed in the middle, this crochet shrug pattern is for you!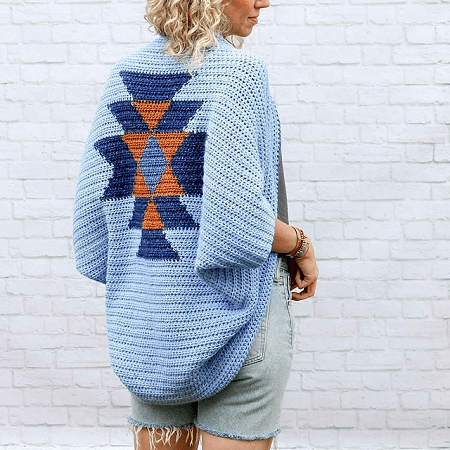 Get the Pattern here

6. Granny Square Shrug Crochet Pattern by The Snugglery Patterns
Did you know you can crochet a shrug from a regular o'll granny square? The pattern will show you how to crochet this continuous granny square motif and how to seam it into a cozy cocoon cardigan.

Beginner-friendly is the name of the game with this shrug pattern. If youve never crocheted a wearable garment before, this is a great one to start with!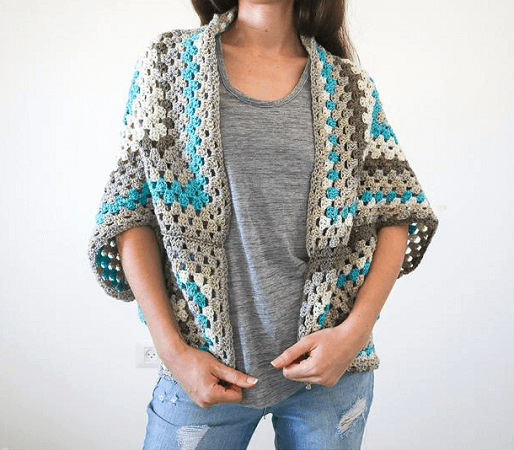 Get the Pattern by The Snugglery Patterns here

7. Skyscape Shrug Crochet Pattern by Evelyn And Peter
This Skyscape Shrug was inspired by the beautiful striped serape style blankets. It's constructed in one large rectangle with a fun group of repeats. It's perfect for beginners and works up quickly.

It is also super easy to customize. You can make it longer by starting with more foundation single crochet stitches. If you want a shorter wingspan, just take out a row repeat!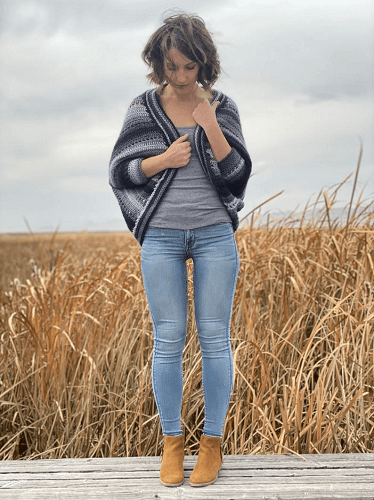 Get the Pattern by Evelyn And Peter here

8. Crochet Bridal Shrug Pattern by Yarnspirations
This elegant Crochet Bridal Shrug is the perfect way to gently cover a bride's shoulders. Filet crocheted in soft cotton yarn, it has a pristine look that's perfect for any nuptial event.

Or, add a pop of color and it can be worn over a sun dress or even made to outfit the faithful bridesmaids! The possibilities are endless for this warm weather favorite.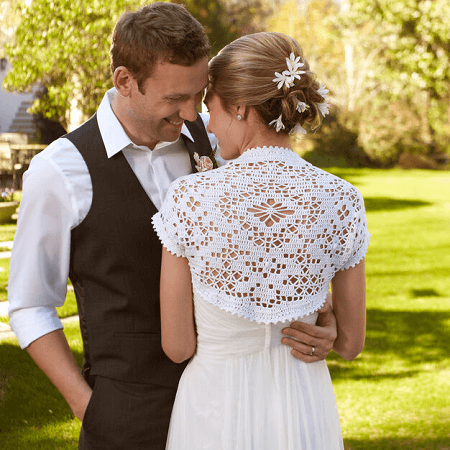 9. Crochet Flutter Sleeve Shrug Pattern by Mon Petit Violon
This adorable Crochet Flutter Sleeve Shrug is a must-have in any girl's wardrobe. It can be worn with casual outfits or for special occasions. Perfect for flower girls! The pattern works up quickly and is fun to make!
Get the Pattern by Mon Petit Violon here

10. Crochet Summer Shrug Pattern by Knitcro Addict
What is a shrug? It's kind of a cocoon sweater that you could wear year-round. This lace shell Summer Shrug is perfect for beginners or advanced crocheters.

This one is summer-inspired and will make a perfect complement to any summer outfit. Wear it over a tank top or as a little extra coverage over a bikini top.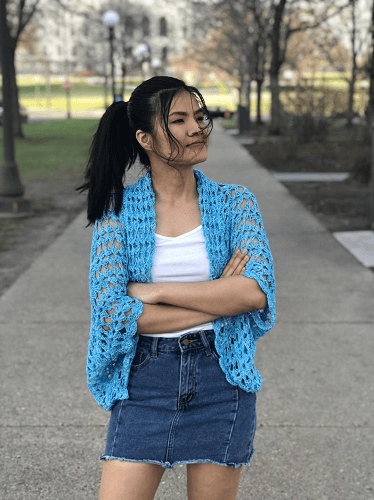 Get the Pattern by Knitcro Addict here

11. Patchwork Crochet Rectangle Shrug Pattern by Hooked On Homemade Happiness
The fun design in this Patchwork Shrug Crochet Pattern is made as one piece! It's one PI rectangle with a little bit of sewing to make the shrug shape.

This little shrug adds a touch of warmth during these months before summer. It's a cropped sweater that looks so cute over a dress or with and tank top and jeans.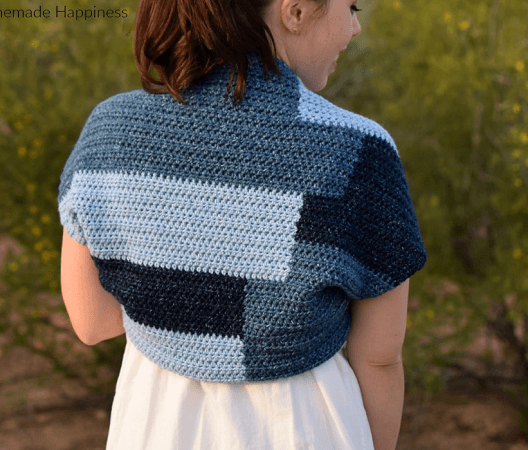 Get the Pattern here

12. Colorful Crochet Shrug Pattern by Dora Does
This Colorful Crochet Shrug is a practical cocoon cardigan which is fun and easy to make using simple stitches and a little color work (but not so much that the ends will drive you nuts!). Use bright colors as pictured to create a bold look or stick to neutrals or monochrome.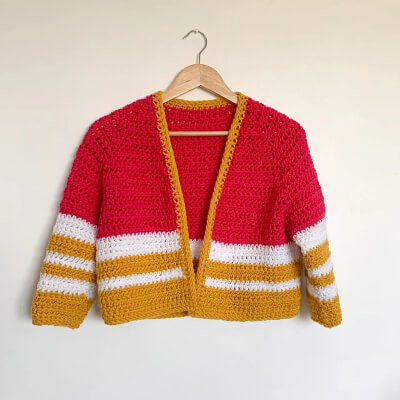 Get the Pattern by Dora Does here

13. Bobble Cocoon Shrug Crochet Pattern by Christa Co Design
This little Bobble Cocoon Shrug is a great fall accessory, easy to throw on when it's chilly out or you need an extra layer. You will love how the collar adds extra warmth right where you need it around your neck.

The bobbles add a nice detail that compliments the openwork of the filet pattern. The contrasting colors offer just the right amount of interest if you love the color. This would look stunning in a nice solid too.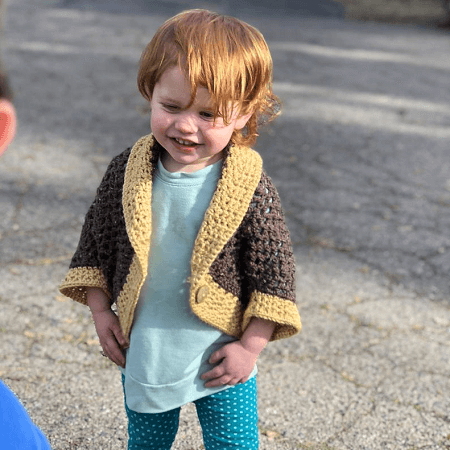 Get the Pattern by Christa Co Design here

14. Enlaced Underbrush Shrug Crochet Pattern by Sweet Potato Crochet Creations
This Enlaced Underbrush Shrug is a basic and staple wardrobe piece that you can dress up or down depending on your mood or occasion. It is made with stitches that are simple yet provide beautiful texture with a touch of feminity.

The simple stitches along with the shell edging add such a classic and elegant look to this easy-to-make shrug.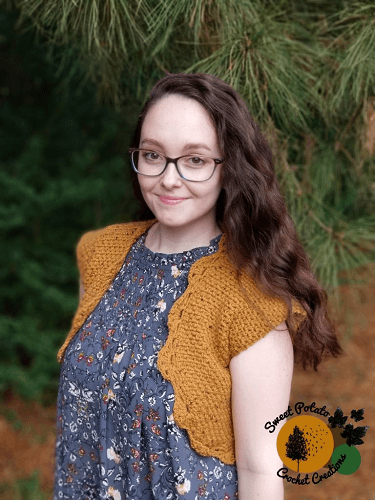 Get the Pattern here

15. Crochet Shrug Pattern by Mama In A Stitch
While the stunning colorwork in this shrug appears complicated, it couldn't be any easier! By using four colors of yarn and making simple color changes, this beautiful sweater piece up very easily.

The moss stitch draws the eyes to the individual stitches which look very similar to intricately knit stitches. The boho feels and incredible color detail ensure that this piece will be noticed on the beach, out on the town, or wherever your travels take you.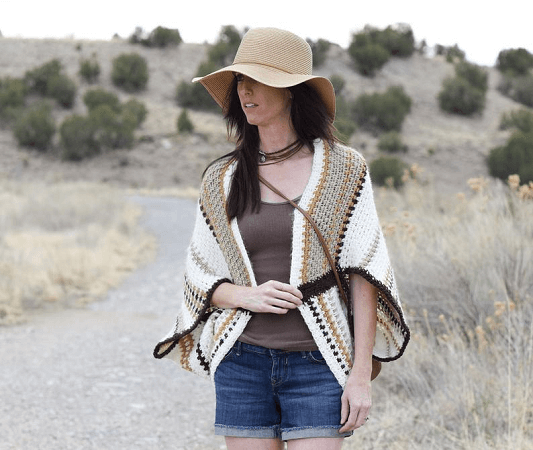 Get the Pattern by Mama In A Stitch here

16. Sherbet Shrug Crochet Pattern by Divine Debris
Snuggle up in this easy to make Sherbet Shrug design. It's a simple repeat of stitches that comes together to make a very cozy shrug that can be adapted to any size. Try it in a larger weight and increase the coziness!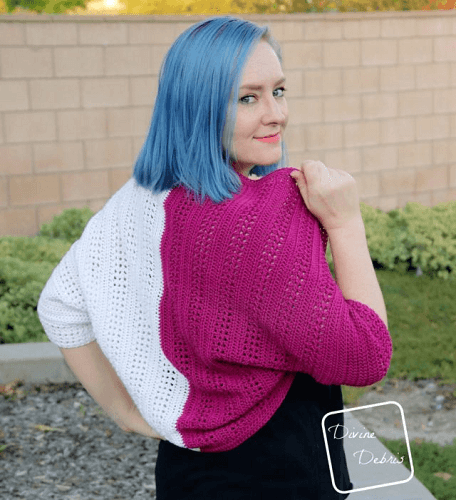 Get the Pattern here

17. Easy Crochet Shrug Free Pattern by Make And Do Crew
Don't let the dolman sleeves and modern silhouette fool you, this Easy Crochet Shrug Pattern is constructed with basic stitches and simple shapes. Great sweater for confident beginners!

The open mesh combined with the super-soft yarn makes this sweater really comfortable to throw on over a tank top when the sunsets. In the winter though, you could layer it over a long-sleeved shirt and feel cozy and snuggled up.

In either case, the only stitches you'll need are single crochet, double crochet, and chains to make this easy shrug pattern.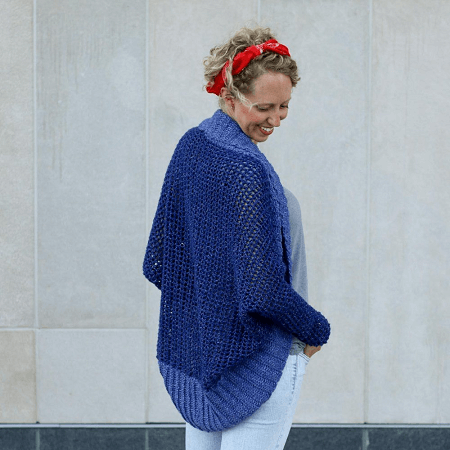 Get the Pattern here

18. Simple Straight Shrug Crochet Pattern by 1 Dog Woof
Always wanting to try Tunisian crochet? Here's the perfect project for you. This Simple Straight Shrug combines a basic Tunisian stitch with the simplicity of its construction.

At its most basic, this shrug is a rectangle/square, with the sides folded down and sewn together to create armholes.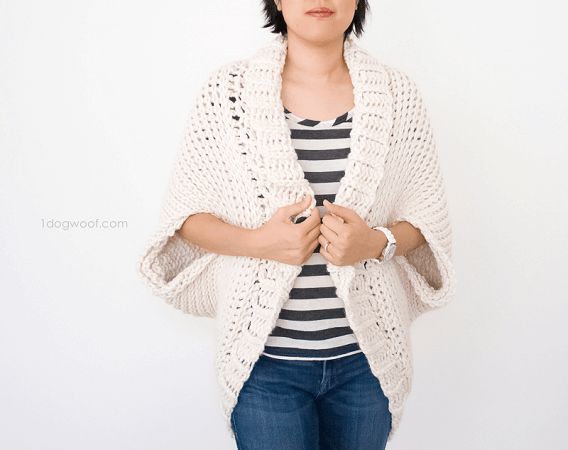 Get the Pattern here

19. Crochet Aurora Shrug Pattern by Designs By Phanessa
This Crochet Aurora Shrug is crocheted in one rectangular piece. The collar is crocheted after. This shrug uses lacy stitches to create a beautiful lightweight design.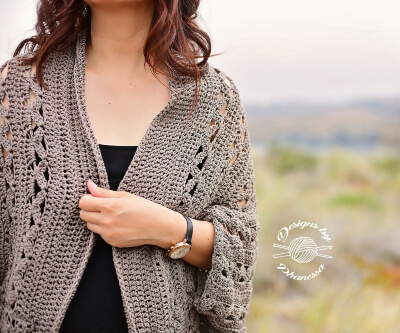 Get the Pattern by Designs By Phanessa here

20. Adorable Girl's Shrug Crochet Pattern by Red Heart
Stitch away without having to worry about changing yarns to achieve the pretty striped effect on this crochet shrug for your little miss! Available in sizes 6 to 14, the pattern is beautiful in any shades of your choice, whether you go for stripes or a rich solid color.

Shrug finishes with a drape-y look that's oh-so-comfy for everyday wear. It's a pretty addition to any fashionista's wardrobe.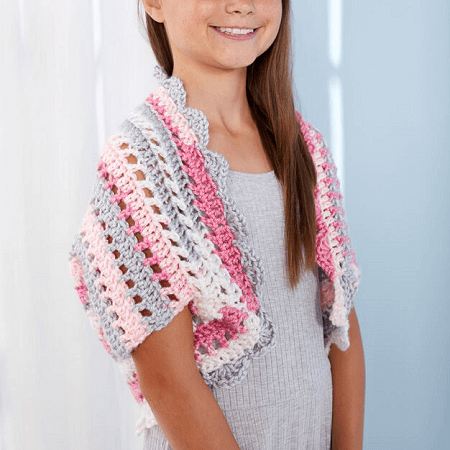 21. Crochet Long Sleeves Shrug Pattern by Ana D Design
This Crochet Long Sleeves Shrug Pattern is a perfect one to start if you have never crocheted a shrug before. It's short with full-length sleeves, and the pattern includes guidance on how to make different sizes.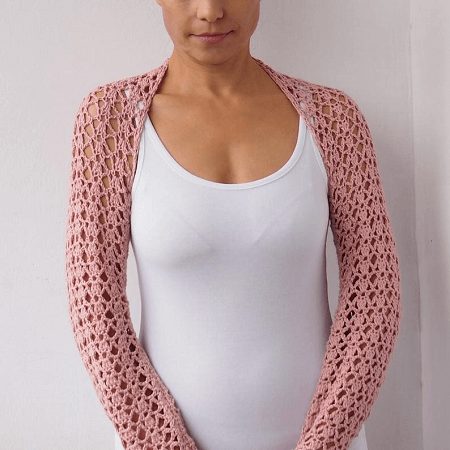 Get the Pattern by Ana D Design here

22. Meadow Lace Crochet Shrug Pattern by My Crochetory
Simple lightweight Meadow Lace Shrug made from one rectangle with zero shaping, increasing and decreasing. This casual and stylish summer cardigan is perfect complement to wear in many occasions.

The floral pattern keeps the crocheting interesting and the ribbing gives the shrug a knit-look. It will be your favorite crochet item to wear in summer.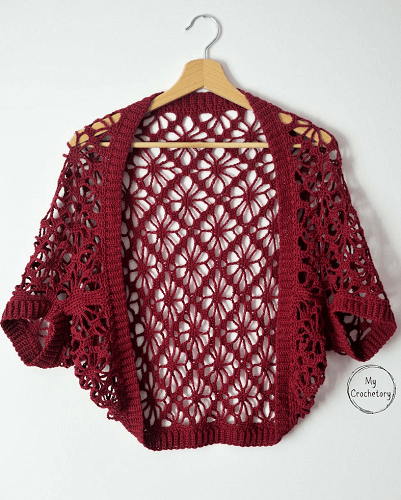 Get the Pattern by My Crochetory here

23. Fairy Garden Shrug Crochet Pattern by The Autumn Acorn
Sometimes you just need a quick little cover-up; something light you can throw in your basket when you head out to the fairy garden to gather acorns.

Keep your shoulders warm with this beginner-friendly shrug pattern. Lovely colorwork and the scalloped border will surely add a feminine touch to your look.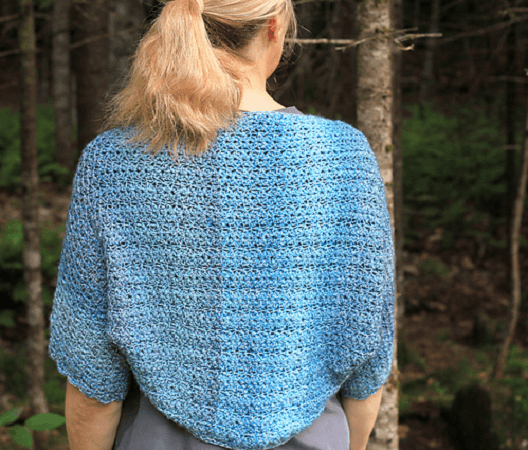 Get the Pattern here

24. Wrap Me Tender Shrug Crochet Pattern by Yarn Hild2
This Wrap Me Tender Shrug is very easy to make and you can choose between two sizes, S/M and L/XL You basically just need to make a rectangle and crochet a little bit around it.

Afterward, you sew or crochet the armholes together (however you prefer) and you are good to go!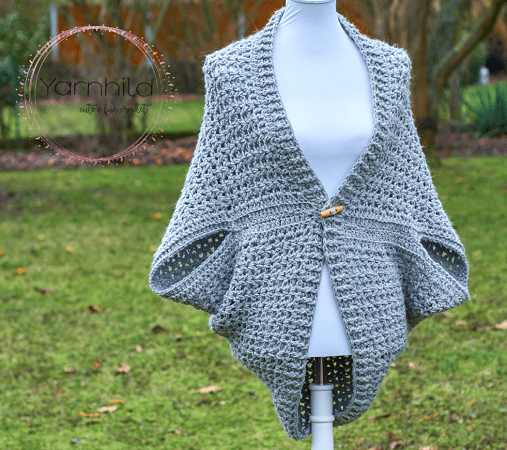 Get the Pattern here

25. Crochet Ash Rose Shrug Pattern by Outstanding Crochet
Going for casual or chic you will look and feel fabulous wearing this Crochet Ash Rose Shrug. Interesting construction and stitches make it a head-turner. The pattern includes crochet charts, schematic, step by step pictures, and videos for every stitch.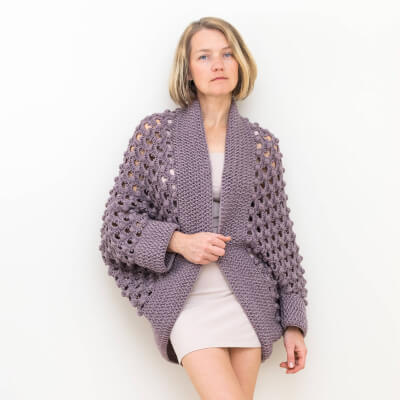 Get the Pattern by Outstanding Crochet here

26. Savy Shrug Free Crochet Pattern by Jessica Cooper
This Savy Shrug Crochet Pattern is a simple pattern constructed in one piece with minimal sewing. The short sleeves set if off perfectly, creating a perfect cover-up for cooler summer evenings. This lovely shrug is great for so many occasions though. You will need more than one color!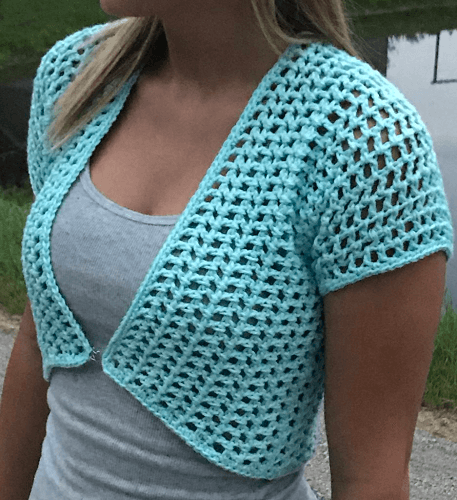 Get the Pattern here

27. No Seam Shrug Free Crochet Pattern by The Painted Hinge
This is a free pattern for a beautiful, comfy shrug that is relatively easy to make and has no seams! This pattern is roughly a size large, but it's not form-fitting so it should work well for anyone in the M-XL range.

It's one of the easiest ways of making something to wear that isn't a scarf or a shawl but that doesn't require a great deal of shaping like a traditional sweater, jacket or cardigan.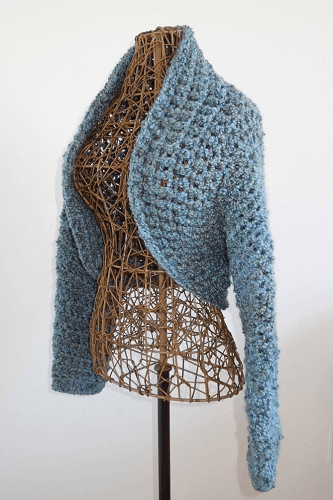 Get the Pattern here

28. Crochet C2C Shrug Pattern by Loopingly Made
This C2C Crochet Shrug is a wonderfully easy structural piece of clothing made with 3 pieces of fabric. It is a stylish and unique piece that is great for layering.

The pattern comes with 3 charts for sizes S-3XL. There are also many tips you will find useful on joining the pieces. This is certainly a pattern you must try. Easy as can be!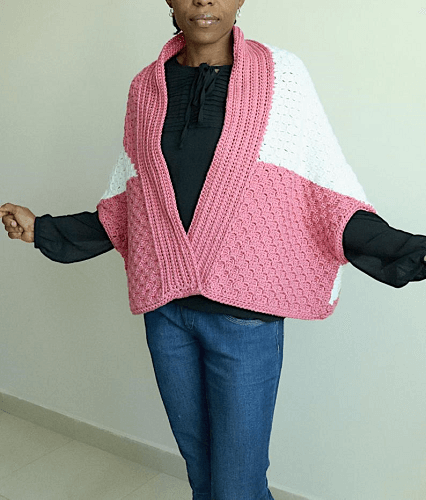 Get the Pattern by Loopingly Made here

29. Nova Shrug Crochet Pattern by Two Brothers Blankets
This Nova Shrug is a crochet shrug pattern that features a beautiful shell stitch combo and hand dyed yarn! It would make the perfect accent accessory for many of your favorite outfits! It's super easy to make and assemble and can easily be adjusted to fit any size!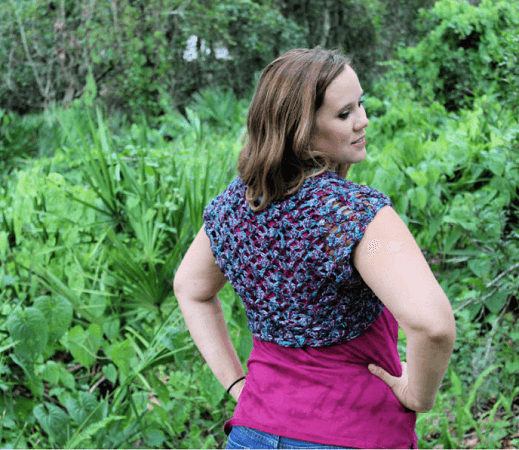 Get the Pattern here

30. Crochet Collared Cocoon Shrug Pattern by Yarnspirations
This darling Crochet Collared Shrug is cute 'n' cozy featuring a cocoon shape that keeps you interested as you work.

Choose the luscious painterly color that makes it special for you, or imagine a version to give as a gift. The pattern features 8 sizes to fit every adult on your list.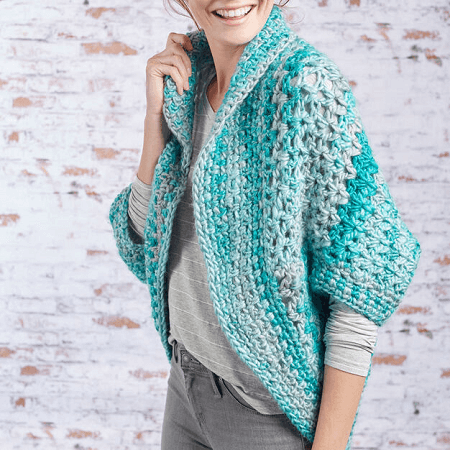 31. Willow Wrap Over Shrug Crochet Pattern by Mama In A Stitch
This unique Willow Wrap Over Shrug is both flattering and ultra-comfortable. It's perfect to throw on with just about any top for an extra layer warmth and a bit of style.

Wear it two ways, either with the wrap in front or in back. A versatile piece for cool days and evenings.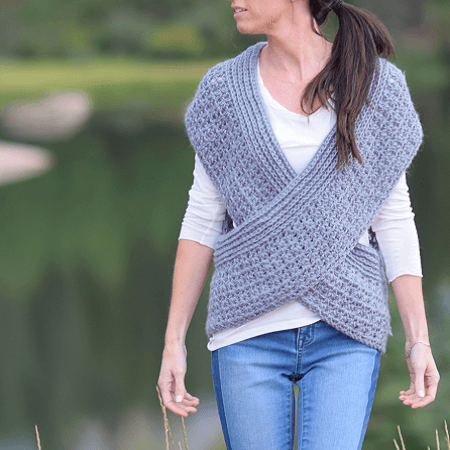 Get the Pattern here

32. Moonlit Hooded Shrug Crochet Pattern by Crystal Bear Designs
Make this cozy Moonlit Hooded Shrug yourself with this easy crochet pattern. The shrug features a button up lapel, slightly oversized hood, and dolman sleeves with a wide cuff. The ombre effects are created by using a self-striping yarn.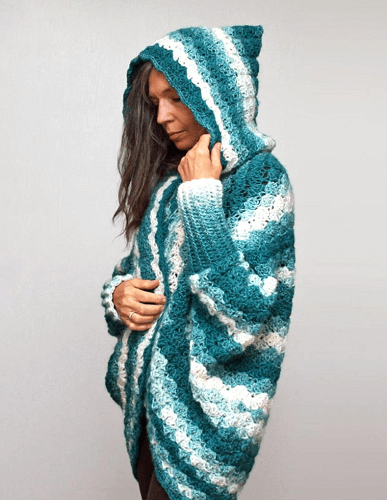 Get the Pattern by Crystal Bear Designs here
This collection of crochet shrug patterns has a shrug for every setting, from cozy snuggles on the couch to an elegant evening out!
Which project will you be making this season? Let us know by sharing a pic of your finished pieces on our Facebook Page. We would like to see you wrapping around in your new handmade hideaway!

In my opinion, you can never have too many crocheted wardrobe pieces, so here are more crochet patterns that will keep you busy, stylish, and warm. Wanting to try a poncho or shorts maybe more sweaters and cardigans?

Grab your hooks and your favorite shades of yarn, and start hooking some gorgeous crochet shrug patterns!