I have a real crush, you could call it a romance, with cooler weather. I just love it. The crisp bright air, hot drinks, the scent of the pines all goes to my heart. I can't wait to wrap up in all of my snuggly-soft cool weather pieces. Check out these crochet scoodie patterns if you're with me!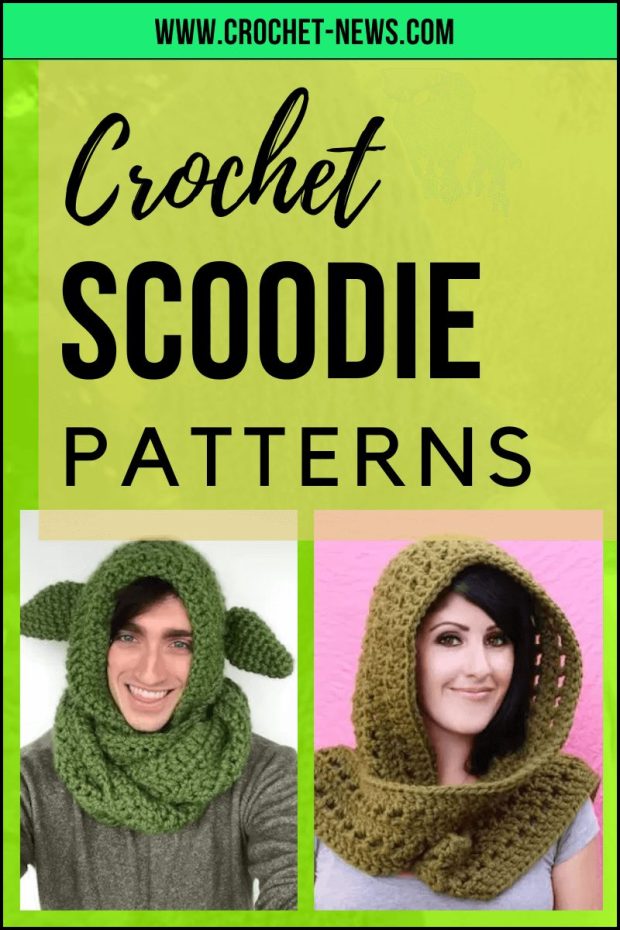 Cold weather requires that you carry so much stuff with you: hat, gloves, coat, scarf, ear warmers, and maybe even an extra layer just in case. Perhaps that's why we're always losing so many of our winter accessories! One way to reduce all that clutter? A hooded scarf or a 'scoodie' does double-duty, combining the warmth of a hat or hood with a scarf in one convenient accessory!
12 Scoodie Crochet Patterns


You don't have to wear the hood all the time, but you won't have to dig through your bag to find a hat when your ears and head feel the freeze! Do you love that idea? Read on for your inspiration!

1. Fireside Scoodie Crochet Pattern by Gleeful Things Crochet
This pattern allows you to make three variations of the hood: a hooded infinity scarf, a hooded scarf with pockets, or just the hood! All three versions are made in 13 easy rows and the super bulky yarn makes them very quick to work up! Alternatively, you can use 2 strands of worsted weight yarn held together.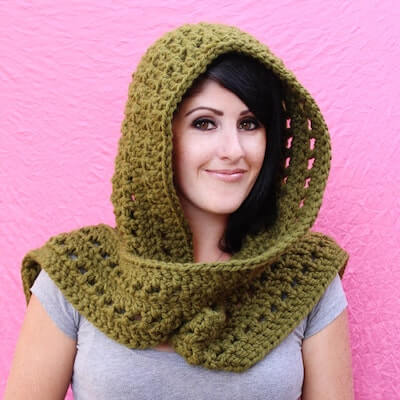 Get the Pattern by Gleeful Things Crochet here

2. Crochet Dragon Riders Scoodie Pattern by Spider Mambo
Dragon Rider's Scoodie, what the best dressed dragon riders are wearing. Light weight, but warm—it even has pockets in the tips of the wings so you can pretend to fly.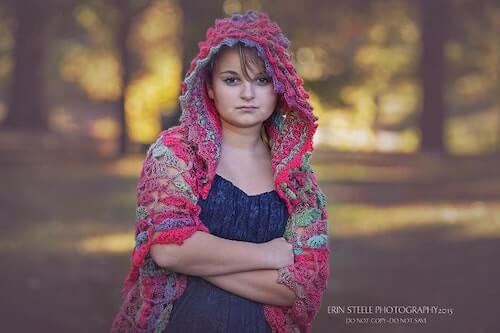 Get the Pattern by Spider Mambo here

3. Kunik Free Crochet Scoodie Pattern by Stardust Gold Crochet
This Kunik Scoodie makes me feel like I'm ready for the runway and the snow lodge. It dresses up and down easily. You can pair it with jeans and a sweater or dress it up with a sleek outfit for a night out. It is versatile, and functional, with pockets deep enough to carry your phone, wallet, and other goodies!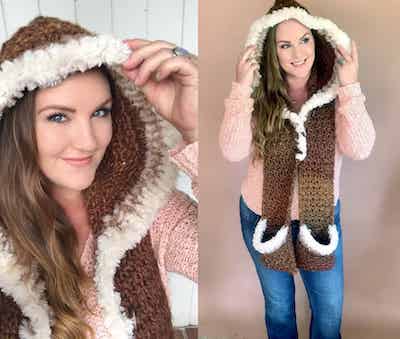 Get the Pattern here

4. Harvest Wave Scoodie Crochet Pattern by Made With A Twist
Whether you're on your way to Granny's house or just headed to pick up the kids from school, this hooded scarf has got you covered. With beautiful texture and pixie style, this one needs to go on your "have to make this one" list!

Work this pattern in your favorite, softest worsted weight yarn to add some coziness to your Autumn and Winter wardrobe.
Get the Pattern here

5. Lion Mane Fringed Scoodie Crochet Pattern by Earth Tricks
This Lion Mane Hood is a beautiful textural pattern, full of rich detailing that will set this piece apart from the others! Make yourself a super unique scoodie to rock this fall and winter. It can be worn a number of ways, wrapped around the neck twice, once, or let loose to dangle. The scarf ends can be made in two lengths, so its up to you how much fluff you're rocking!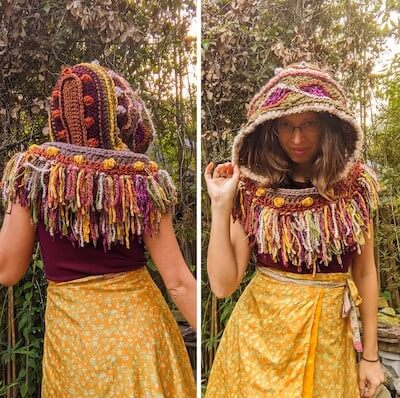 Get the Pattern by Earth Tricks here

6. Faux Fur Scoodie Crochet Pattern by Sigoni Macaroni
If you're looking for a pattern to make with some gorgeous faux fur yarn, you're in the right place. This Faux Fur Hooded Scarf with pockets is soft, warm, easy to make and the best part is that it can be done in a day. Yes, one day!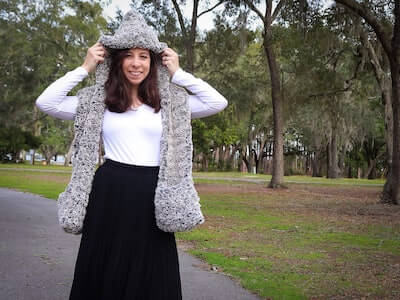 Get the Pattern by Sigoni Macaroni here

7. Granny's Hood Crochet Scoodie Pattern by Jessie At Home
Granny's Hood is actually a scoodie: a scarf with an attached hood. The scarf is made with granny squares, and the hood is made with sides of 1/4 circle grannies, and granny squares down the center. Bright, happy, rainbow colors of yarn are used making this piece full of joy.

Due to the way the scoodie is constructed, it fits many sizes. The parts of the scoodie are joined using the join-as-you-go method, so there is no seaming. If you want the scarf to be longer or shorter, just add or subtract squares from the scarf section, it's quite simple. Brighten up the white winter with Granny's Hood!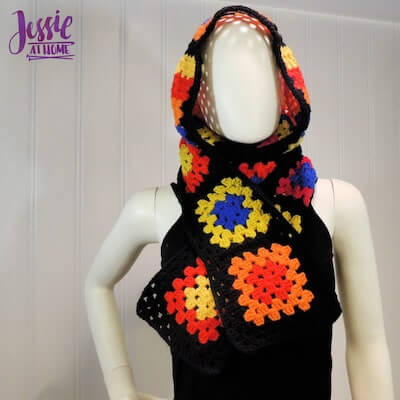 Get the Pattern by Jessie At Home here

8. Warm Fuzzy Kitty Scoodie Crochet Pattern by Cute Little Crochet
Have a cat lover in your life as I do? Any little girl would adore this fun warm hood. Maybe paint on a nose, whiskers and make a tail and you have a Halloween outfit, too.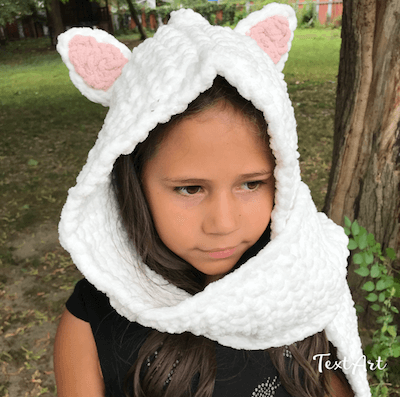 Get the Pattern here

9. Easy Crochet Scoodie Pattern by Nana's Crafty Home
This hooded pocket scarf is so easy — you won't believe it! The main body of the scarf is made with a rectangle and then the ends are folded up to create the pockets – so easy! The hood is made with another smaller rectangle sewn to the middle of the scarf and then seamed at the top to create the hood.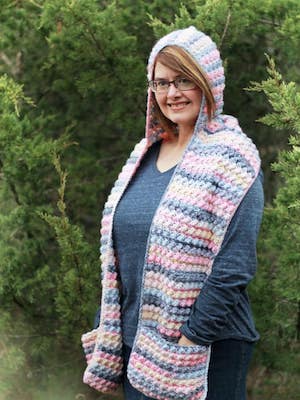 Get the Pattern here

10. Studio Scoodie Free Crochet Patten by Dora Does
This Studio Scoodie is a super warm and cosy hooded scarf. Unlike many crochet scoodies out there, the hood on this one has a rounded shape and no sharp angle at the back of your head; i.e., it's more than just a folded scarf with a little seam in the center.

The soft curved hood is what brings a unique finish to this scoodie. It's extra long for all the warmth and cozy blanket scarf aesthetic. And, you can turn it round and wear it with the hood draped at the front like a shawl to give you a bit of extra warmth on the top of your chest. I love it's versatility!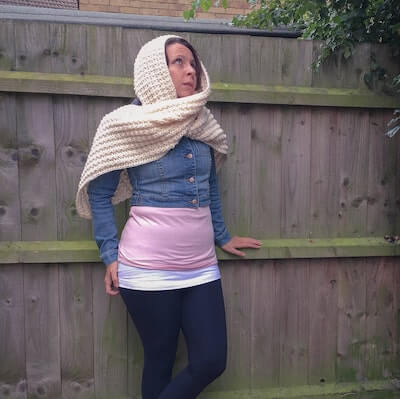 Get the Pattern by Dora Does here

11. Crochet Yoda Scoodie Pattern by Knot Bad Ami
Have you always felt like you belonged in a galaxy far, far away? Enlighten your spirit Jedi as Yoda with this Yoda Scoodie! Make with 3 skeins of super bulky yarn, this free crochet scoodie pattern works up nicely and allows option to be made as inifinity scarf or normal hanging scarf. Use with 10mm hook, a little bit of sewing required for ears.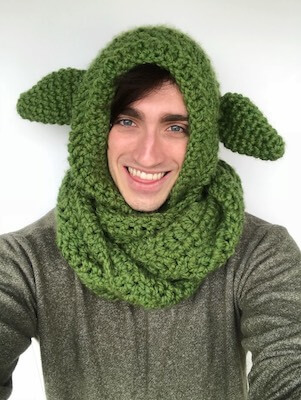 Get the Pattern here

12. Cuddly Cat Crochet Scoodie With Pockets Pattern by Moogly Blog
Of course, it doesn't have to be a cat — change the ear style and it can be any animal at all – the colors had me thinking both wolf and Totoro! In an orangey red it would make a great fox too. Your imagination is the only limit!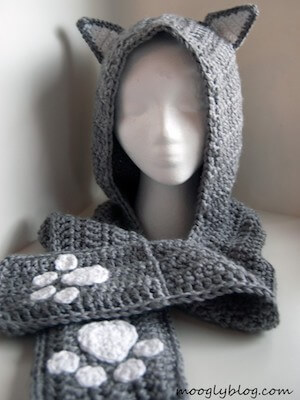 Get the Pattern here
WHIP UP ONE OF THESE AWESOME TWO-ACCESSORIES-IN-ONE CROCHET SCOODIE PATTERNS AND CONTROL THE CLUTTER OF WINTER ACCESSORIES!
Let the new-again look of a scoodie add style to your winter wardrobe! Once you're done making one, feel free to share picture of it on our Facebook Page. We'd love to see those gorgeous handmade pieces!

Do you get to this time of year and start to search for Winter crochet patterns that make great gifts? Check out these patterns for: 42 Crochet Beanie Patterns, 21 Crochet Hand Warmers Patterns, 27 Crochet Ear Warmer Patterns, 50 Crochet Sweater Patterns, 32 Hooded Cowl Crochet Patterns, and 32 Crochet Jacket Patterns. We have everything you will need to layer up from head to toe each winter and keep out the chill. I'm definitely making some of these myself!

Choose a look that complements your personality, or make several of these crochet scoodie patterns so you can always match your mood, whether you're feeling sweet, sassy, or sophisticated. Happy crocheting!