We love a good backpack, duffel, and purse, but sometimes you need a smaller pouch to store inside a larger bag or to carry on its own. Pouches can hold things like cosmetics, cards and keys, crochet hooks, and other items you need within your reach.
Plus, pouches prevent you from digging through larger bags and save time with an organizational boost. Look through to see my fave crochet pouch patterns!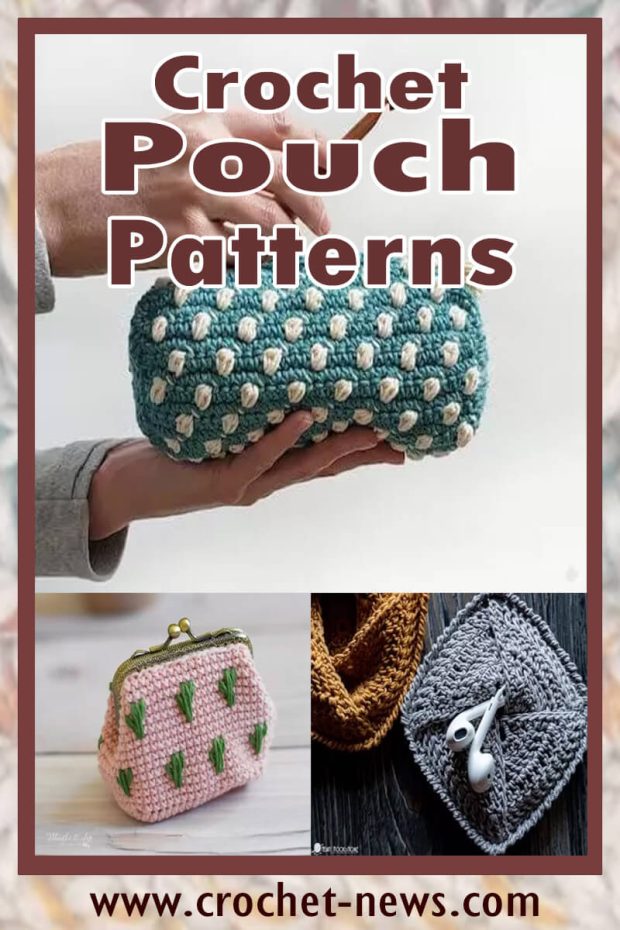 As a tote-using person, making several of these crochet pouch patterns is the most brilliant thing I could do. Do you want to bring order to your tote bag? Here's what you do: You separate your bag items into categories (pills, makeup, electronic accouterments), put them in different colored crochet pouches, put the whole haul back into the tote bag, and there you go! You're an organized Mary Poppins!

I adore being able to carry handmade items with me all the time. These pouches can help you carry essentials and make such a beautiful statement when you pull them out! From zipper to drawstring pouches – so much to love!
21 Crochet Pouch Patterns

1. Crochet Heart Pouch Pattern by Kathy's Kozies
Who said giving gift cards had to be boring? These Crochet Heart Pouches are great for Valentine's Day but by changing up theme and colors, you can use it for more occasions! Not only is this pattern so easy to whip up, but it will bring a smile to whoever you are gifting it to.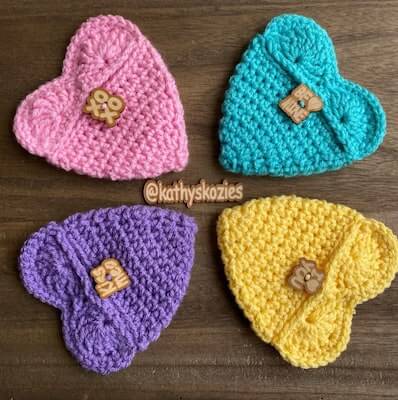 Get the Pattern by Kathy's Kozies here

2. Crochet Crystal Pouch Pattern by Shop Doe And Deer
This Granny Square Crochet Crystal Pouch Pattern is beginner-friendly and is a great stash-busting project! It's perfect for carrying your crystals (and other small items) with you on the go.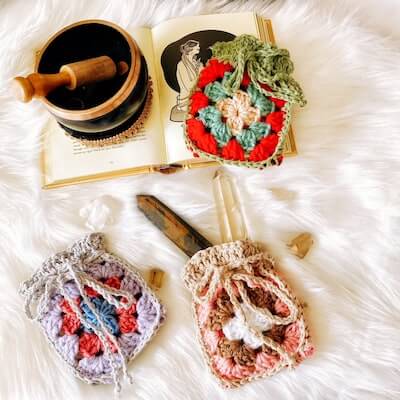 Get the Pattern by Shop Doe And Deer here

3. Bobble Notions Crochet Pouch Free Pattern by E'Claire Makery
This cute crocheted pouch is the perfect place to keep your crochet hooks safe and sound! It even zips up to keep your hooks securely inside, so you're ready to crochet at any time! Since this is a small bag, it's great for using up extra yarn.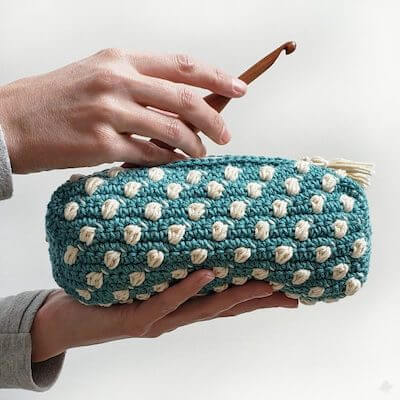 Get the Pattern here

4. Crochet Pouch Pattern by Winding Road Crochet
Are you ready for an adventure? You don't want to forget the essentials and that includes a first aid kit. This Mini First Aid Crochet Pouch Pattern will have you covered. Just fill it with all the must-haves and you will always be prepared.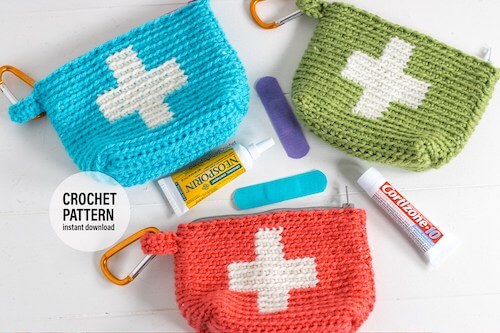 Get the Pattern by Winding Road Crochet here

5. Monogram Crochet Pouch Pattern by Yarnspirations
This pretty zippered pouch is perfect for holding crochet hooks, project notions, or small amount of makeup. Customize it in whatever color palette you like! You can also make an extra memorable, one-of-a-kind gift by embroidering your bestie's name on the front.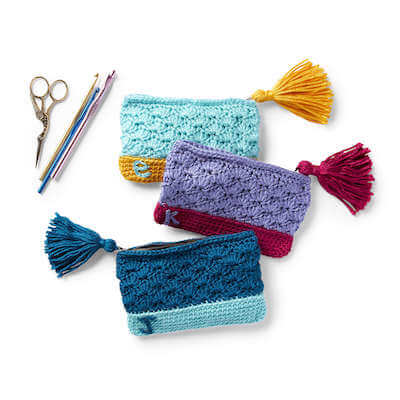 Get the Pattern here

6. Starry Night Crochet Pouch Pattern by Thoresby Cottage
This Starry Night Crochet Pouch Pattern uses very simple stitches and is a great project for beginners. While this crochet pouch is sized so that it can serve as a gift card holder, it can very easily be adjusted to bigger or smaller sizes.

This pattern is very versatile and can be tweaked in so many ways. Instead of the starry skies embroidery, you could attach brightly colored buttons – perfect for a teenager to store their phone!

Stitch the name of a loved one onto the front of the pouch so that they have somewhere to keep their treasures, or add stripes and keep it as a coin pouch for the car.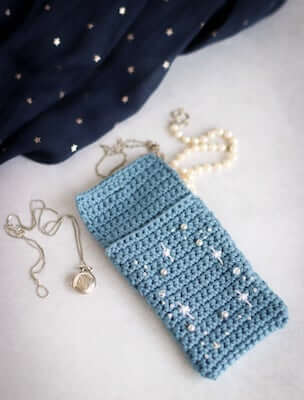 Get the Pattern by Thoresby Cottage here

7. Cactus Crochet Coin Pouch Pattern by Whistle & Ivy
Who wouldn't want a cute coin pouch? This one is perfect for a quick gift for a birthday or to brighten someone's day. This coin pouch features simple embroidered cactuses and a classic kiss clasp.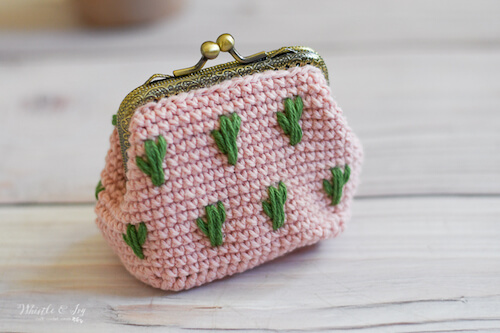 Get the Pattern here

8. Crochet Dreaming Way Drawstring Pouch Pattern by Annie Lupton
This crochet pouch is made with fingering weight yarn and an openwork eyelet design so it is lacy, delicate and a perfect accessory for a night on the town.

This is an unlined drawstring crochet pouch, which you may up to add lining to if you want to use it as a coin purse. It would work well as is for use as a cell phone pouch.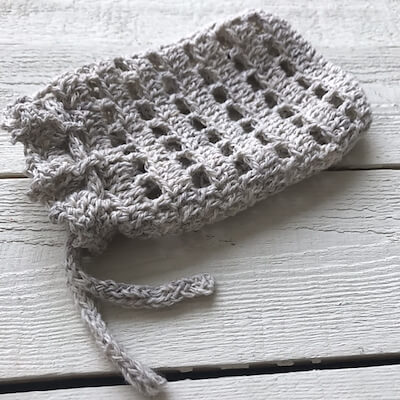 Get the Pattern here

9. Crochet Pixie Pocket Pouch Pattern by Ola Ogunlolu
This Pixie Pocket Pouch is ideal for storing a wide range of little goods, from stitch markers and needles to jewelry and small valuables, and it fits so easily in your pockets! It's a quick, fun, beginner-friendly project that allows you to use up any leftover fingering weight yarn scraps.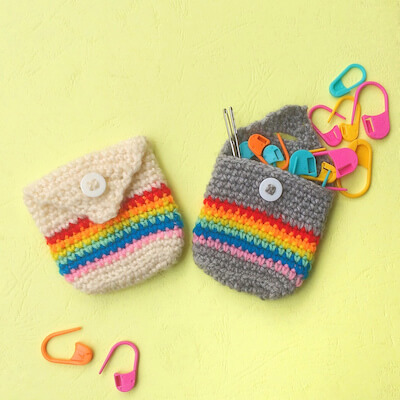 Get the Pattern here

10. Crochet Beaded Mini Drawstring Pouch Pattern by Rose Obom
This Beaded Mini Crochet Drawstring Pouch Pattern is an elegant and pretty crochet accessory that lets you experiment with embellishments. This pouch is just elegant! A pretty piece that is great for keeping your precious little jewelries and even as a keepsake.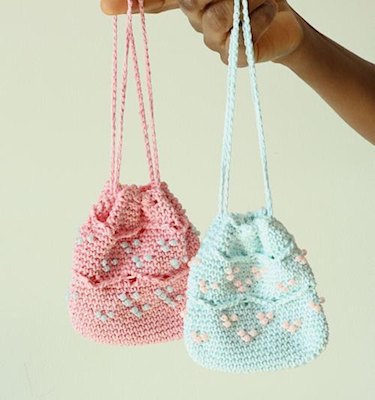 Get the Pattern by Rose Obom here

11. Crochet Granny Square Notions Pouch Pattern by Sew Happy Creative
This Notions Pouch is made out of one big granny square and is seamed up at the edges. For a touch of elegance, line the notions pouch and add a cute button. A perfect stormy Sunday project!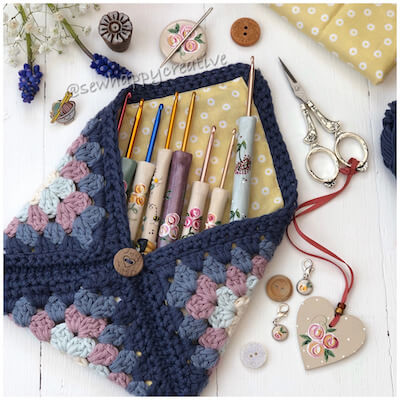 Get the Pattern here

12. Crochet Drawstring Pouch Pattern by Made In Elysium
Are you looking for a fun project you can whip up quickly? Try this easy crochet pouch that's just the thing for change, keys or other little knick-knacks. It measures 3″ x 4″ and includes a handy drawstring so you can conveniently hang it from your bag or knapsack for quick access.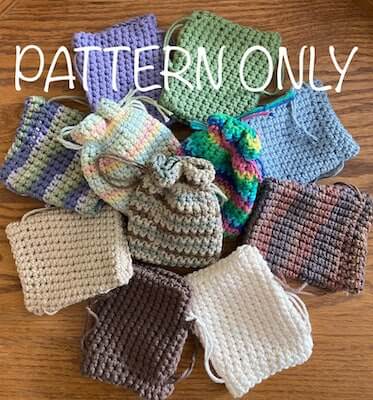 Get the Pattern by Made In Elysium here

13. Crochet Pencil Pouch Pattern by Yarnspirations
With the summer winding down and the school year about to begin, this Crochet Pencil Pouch is the perfect accessory and functional storage for your kids pens and pencils! Or maybe you are looking for a travel size crochet hook holder?! Make one for yourself, as well!

This pencil pouch is actually in the shape of a pencil making this design not only practical but cute and clever, too!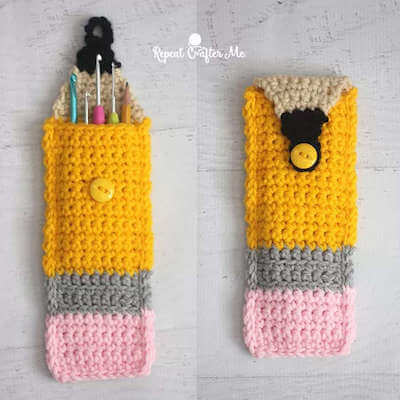 14. Crochet Fruit Pouch Pattern by Lily's Handmade Store
Here's another fun and adorable crochet drawstring pouch. With just changing the color yarn you use, you can make it look like a variety of different fruit! This is a very easy project and can be worked up fairly quick. A great scrap yarn project!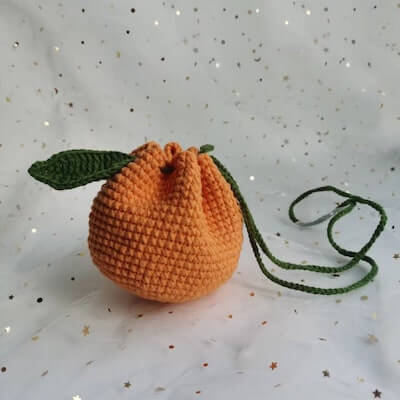 Get the Pattern by Lily's Handmade Store here

15. Crochet AirPods Pouch Pattern by Whistle & Ivy
This small crochet coin pouch will hold all your loose change and is the perfect size to be an AirPod pouch, as well! Hook it to your keyring so you always have what you need.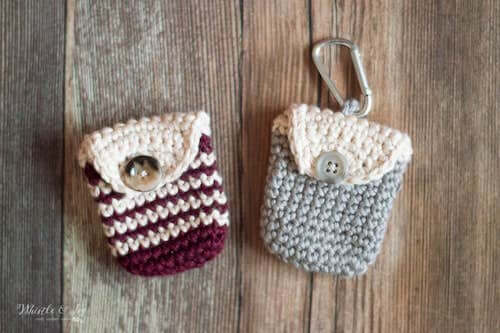 Get the Pattern by Whistle & Ivy here

16. Crochet Speedy Button Pouch Pattern by Moogly
Anyone who needs to craft a quick last minute gift will find that this crochet pouch pattern comes in handy. Worked up with an M hook and super bulky yarn, this 5″ x 6″ pouch is done almost as soon as you've started it. It's the perfect instant gratification project!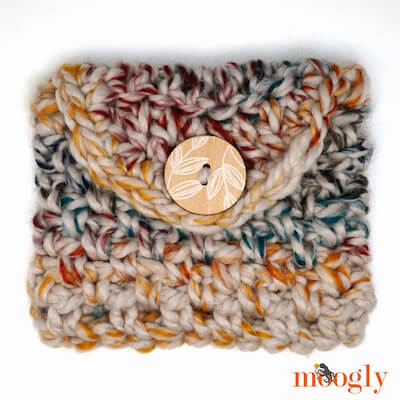 Get the Pattern here

17. Crochet Tapestry Zipper Pouch Pattern by Crochet
Here's another cute pouch that zips up to keep your belongings safe. This unique, compact project is best for intermediate crocheters.
Get the Pattern here

18. Florence, The Owl Crochet Drawstring Pouch Pattern by Irene Strange
Crochet a friendly, little owl pouch to keep necessities (phone, pair of glasses, crochet hooks) close at hand. He is wise beyond his years and is a great gift idea, as well!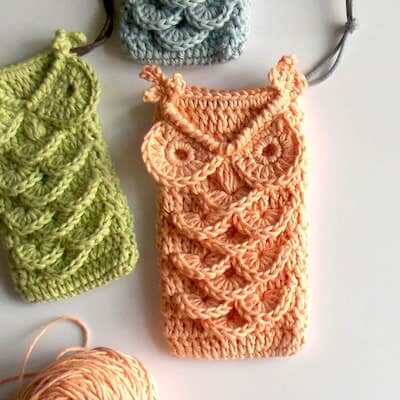 Get the Pattern by Irene Strange here

19. Crochet Monster Pouch Pattern by Mai Crochets
This Monster Pouch could serve as a cute holder for your grocery bags, or it could be a quirky smartphone case! It's also a perfect pouch buddy who happily safeguards a child's treasures.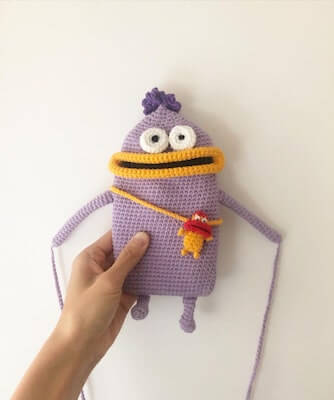 Get the Pattern by Mai Crochets here

20. Crochet Tissue Pouch Pattern by Winding Road Crochet
This Crochet Tissue Pouch is perfect for the cold and flu season – carry it in your purse or backpack to keep your tissues neat and organized and then wash the cover to remove any germs! Great for gift giving and super quick to crochet. You can easily make one out of stashed yarn.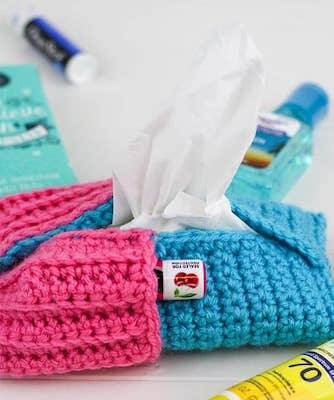 Get the Pattern here

21. Personal Pouch Crochet Pattern by Heart Hook Home
How fun are these little personal pouches? Whether you're looking for a quick stocking stuffer or just a little something for yourself, this crocheted pouch is perfect to store a number of different things. It would also be a good size for coin purse!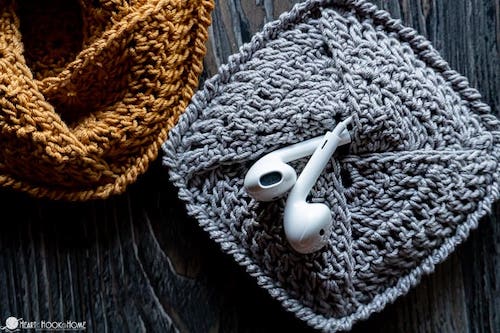 Get the Pattern here
IF YOU'RE A BAG LOVER, THESE CUTE CROCHET POUCHES ARE MUST-HAVES!
I can't wait to see what color combinations you come up with, and all the different ways you decide to use your pouches! Please share pictures of your crocheted pouches on our Facebook Page. Now all that's left to do is decide what you want to use your pouch for!
Crochet bags are all the rage, and with so many patterns to choose from, you will be sure to find something you love here: clutches, purses, tote bags, beach bags, market bags, handbags, and more.
These crochet pouch patterns are one of my favorite quick projects of all time! They are perfect for using up scraps, storing little bits, and easy to create for gifts. Just toss in a gift card and you're good to go! Happy crocheting!