Many of us don't have outside space of our own, or the time tend indoor plants. But we do have crafting skills! We love the idea of no-maintenance, handmade garden, and these crochet plants have us feeling inspired!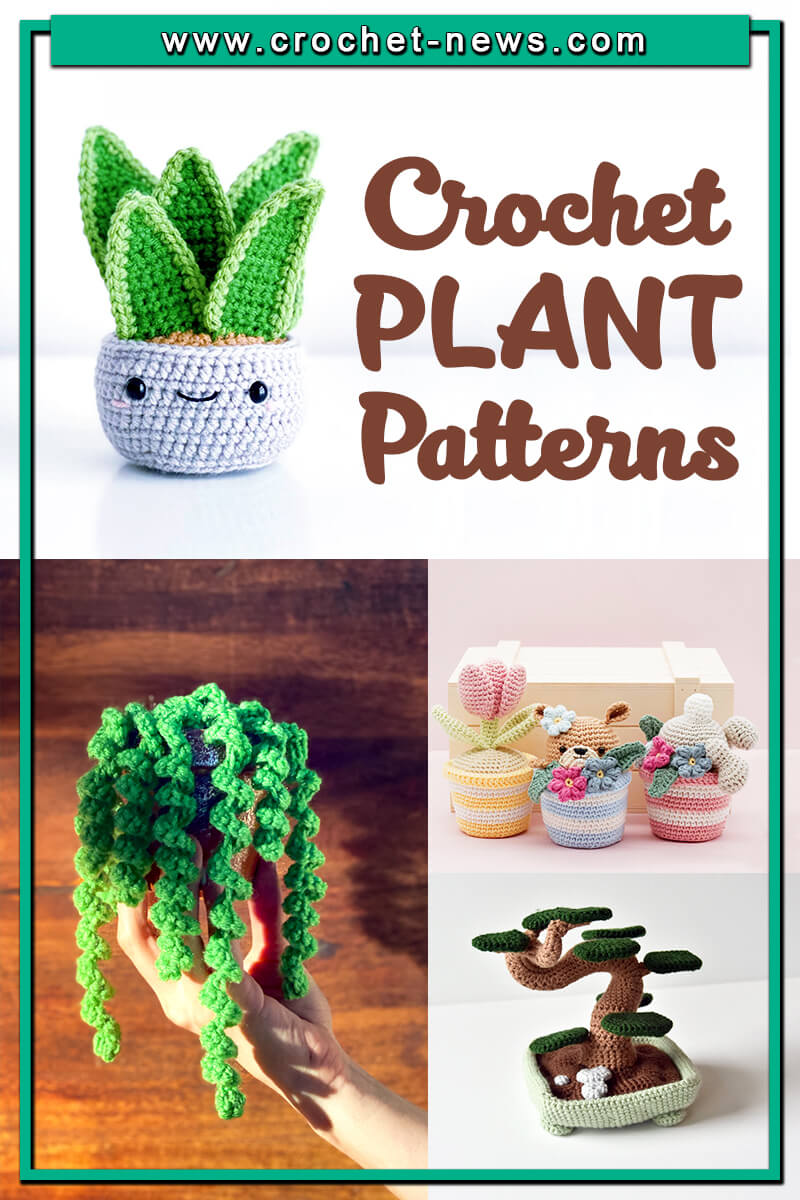 What happens when you're a wannabe plant parent, but every single plant you own just keeps dying? Just crochet one of these crochet plants!
26 Plant Crochet Patterns
This round-up of crochet plants isn't just ideal for brightening up your boudoir or adding a bit of kitsch to your kitchen – they make fab gifts! Who wouldn't want the gift of a plant that looks beautiful, but never needs watering?

1. Succulent Cactus Eyeball Plant Crochet Pattern by Crafty Intentions
This Succulent Cactus Eyeball Plant Crochet Pattern comes with instructions for ten different kinds of Cactuses, Succulents, and hanging plants with hidden eyeballs on the bottom!
These mischievous plants only hide your stuff sometimes, and they can never be killed!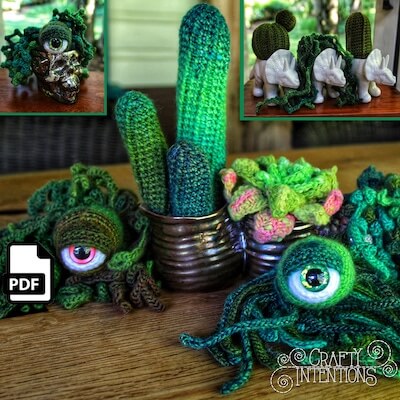 Get the Pattern by Crafty Intentions here

2. Venus Flytrap Crochet Pattern by Boy Mom Crochet Life
Plants can brighten up any space, from the office to the playroom. This friendly Venus flytrap is the perfect addition to any decor with its bright colors and cute little pot. Plus, you don't have to worry about feeding and watering it- it's a no brainer!
Get the Pattern here

3. Crochet Snake Plant Pattern by Knot Monster
The snake plant is a decorative plant that has been cultivated for centuries, and it's lovingly represented here in crochet.
This is a wonderful amigurumi plant project that will be a pleasant diversion from blankest, squares, and teddies, which are usual crochet fare.

The leaves are nicely rigid and stand just like on the real plant, and the whole pattern itself will be great for an area at home that doesn't get a whole lot of sunshine.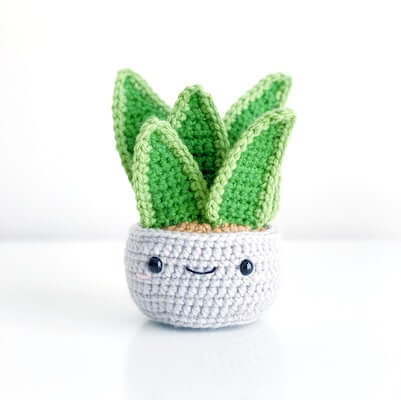 Get the Pattern by Knot Monster here

4. Crochet Bonsai Tree Pattern by Vliegende Hollander
Do you want to stay zen? Or are you just looking for house plants that won't need that much love and attention (also known as, water)?
Well look no more because with this clear and easy to follow crochet pattern, you can now make your very own crochet Bonsai tree!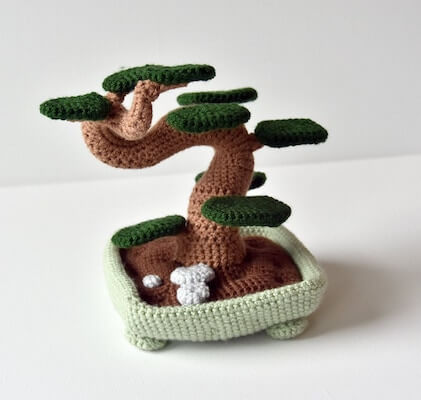 Get the Pattern by Vliegende Hollander here

5. Cactus Garden Crochet Plant Free Pattern by Artefacts Crochet Design
This is a fun project that includes patterns for 5 different cactus/succulent plants as well as the soil and the pot. You can follow the pattern as it is, or you can make up the plants individually and glue them into plastic or terracotta pots instead.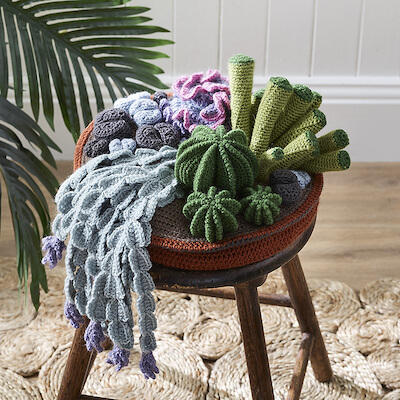 Get the Pattern here

6. Pull And Grow Amigurumi Plant Crochet Pattern by Crafty Is Cool
This sweet little potted plant is a fun and easy interactive toy to crochet! Pulling on the leaves makes him grow from a little seedling to a tall proud plant.
With a new beginning each time he grows, he'll inspire smiles and giggles from children and adults alike!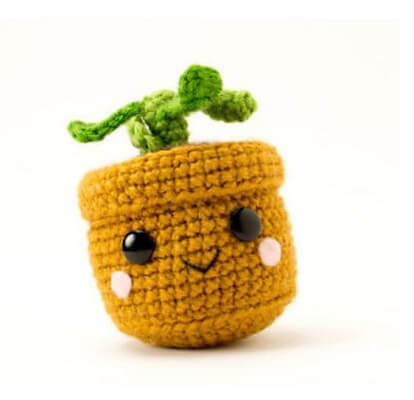 Get the Pattern here

7. String Of Hearts Crochet Plant Pattern by Hook And I Crafts Store
No need to water this little crochet houseplant, so at least you'll be able to keep this one alive. They make the perfect gift; for a birthday, housewarming gift and more.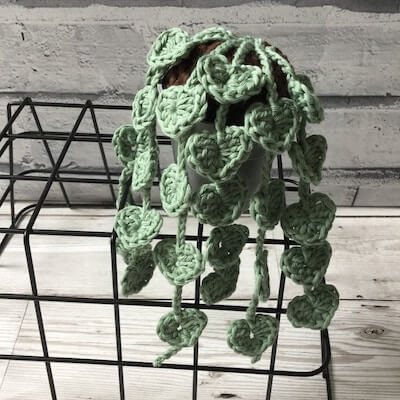 Get the Pattern by Hook And I Crafts Store here

8. Crochet Dragon Scale Plant Pattern by Pippa Patterns Crochet
Admired for its exotic emerald-green leaves with prominent venation that reminds of the mythical Dragon scales, this plant is an all-time favorite among plant lovers and crocheters! This Crochet Dragon Scale Plant is not only gorgeous, but it looks exactly as the real thing!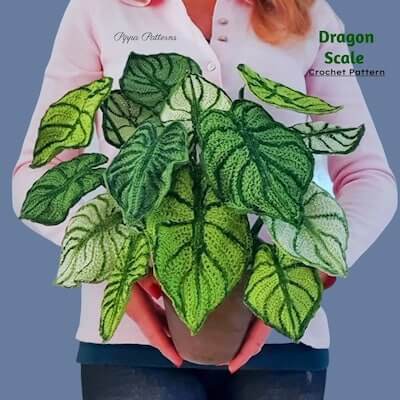 Get the Pattern by Pippa Patterns Crochet here

9. Crochet Coleus Pattern by Pippa Patterns Crochet
This Crochet Coleus Plant is beautiful foliage incorporating vivid color which is perfect for adding extra color to your space. Who would think it's fake?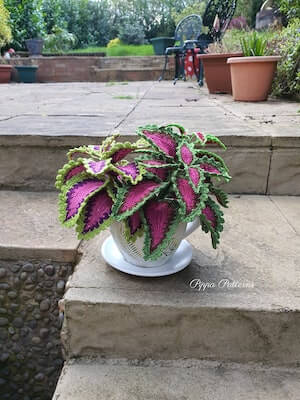 Get the Pattern by Pippa Patterns Crochet here

10. Dangling Curly Plant Crochet Pattern by The Hook Nook Life
Crochet your very own zero maintenance dangling curly plant. You never have to water it and it will be a forever plant friend by your side! Switch up the type and color of yarn to make a completely unique Dangling Curly Plant.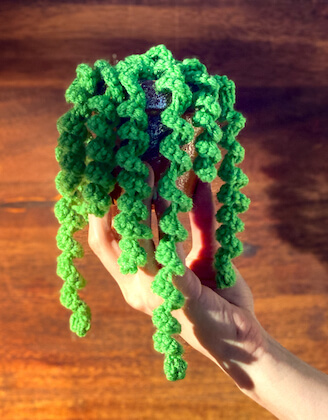 Get the Pattern here

11. Crochet Aloe Vera Plant Pattern by Pocketful Of Yarn
This succulent is a beautiful accent piece used on a desk, in your locker or displayed on a shelf. It looks eclectic and chic as well as quirky when you realize its crocheted! Makes a great gift or a fun project to learn.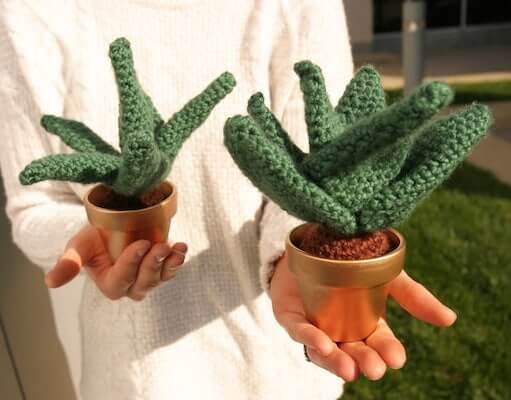 Get the Pattern by Pocketful Of Yarn here

12. The Pots Amigurumi Crochet Pattern by The Little Hook Crochet
Is your window sill looking a little bare? After a quick and easy crochet project that will be a great present for a friend or loved one? Looking for a potted plant fit for a non-green thumb? Look no further!
These little pots are aimed to bring a smile to anyone's face. Crochet one or make all three – it is all up to what you desire.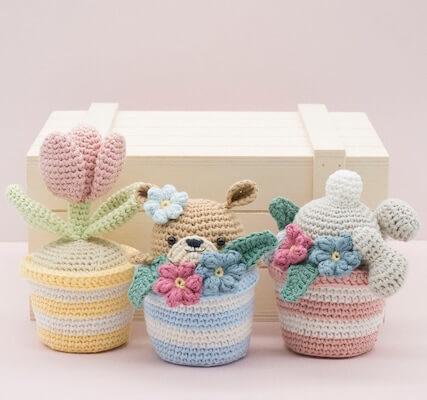 Get the Pattern by The Little Hook Crochet here

13. Crochet String Of Pearls Pattern by Moara Crochet
Made with easy crochet stitches, and broken down into steps, this easy crochet houseplant is a great pattern for beginners! It can also be repotted into any contained based on your current decor.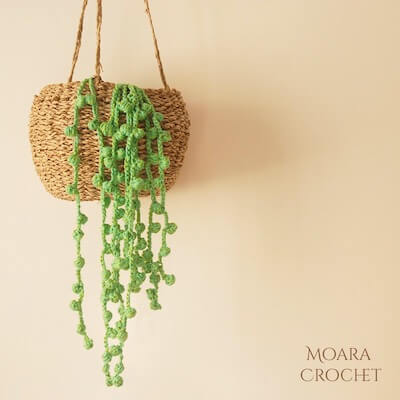 Get the Pattern here

14. Sprouting Oddish Crochet Plant Free Pattern by Knot Bad Ami
Here's Oddish the adorable crochet pokemon! With the plant pot, he/she can be added to any household as an adorable decorative piece hidden as plant, but surprise guests when Oddish sprouts!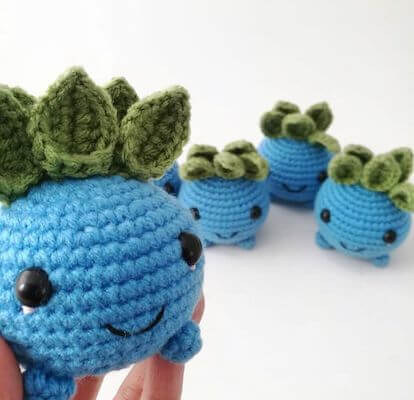 Get the Pattern here

15. Crochet Christmas Cactus Pattern by Planet June
The Christmas Cactus is a popular houseplant also known as Zygocactus, Schlumbergera, and Thanksgiving Cactus. They have flat, segmented stems that resemble leaves and beautiful bright flowers.

Christmas (or Thanksgiving) cacti are so named because they usually flower from November to February, but the crocheted variety can stay in bloom all year round!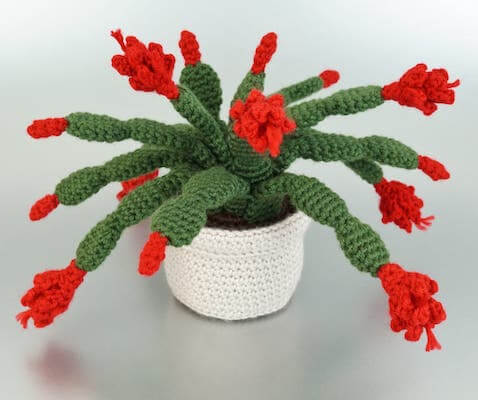 Get the Pattern by Planet June here

16. Easy Crochet Plant Hanger Pattern by Skein Spider
These easy crochet plant hangers are perfect for the car! Attach them to a keyring, and display your crochet plants with pride in your rear view window!
Follow the tutorial here

17. Crochet Car Fern Plant Pattern by For Goodness Keepsakes
Here's an adorable little car fern plant that will spruce up not jut your car but can go in any little space. You could stuff this with potpourri to make your car smell lovely, too!
Follow the tutorial here

18. Crochet Mini Hanging Plant Tutorial by Make It Yourself By Papari
This adorable hanging basket, complete with a string of pearls plant and mini yellow flowers, is the perfect way to bring a little bit of nature indoors.
Follow the tutorial here

19. How To Crochet A Mini Hanging Plant by Zero Crafts
This Mini Hanging Plant has so many uses! It's small enough to hang in your car. Add a little essential oils to the plant and now you've got yourself a car air freshener! This would also make a fun crochet gift.
Follow the tutorial here

20. Crochet Monstera Plant Pattern by Pippa Patterns Crochet
If you don't have enough space for a real monstera, make yourself a crocheted one, because it won't grow too big! To make the leaves keep the shape, you need to insert the wire in the edges.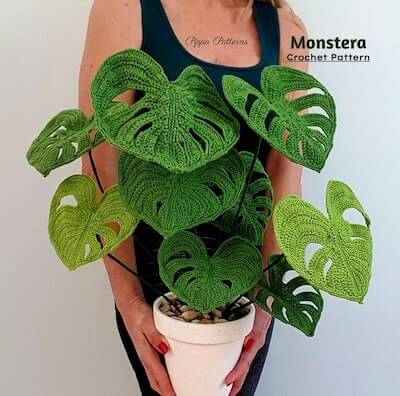 Get the Pattern by Pippa Patterns Crochet here

21. Crochet Spider Plant Pattern by Tracey Todhunter
Spider plants are one of the most popular houseplants for two reasons: it appears to be almost indestructible, and it has little offshoot babies that grow at the end of long stems. This attractive crochet version looks great in a hanging pot.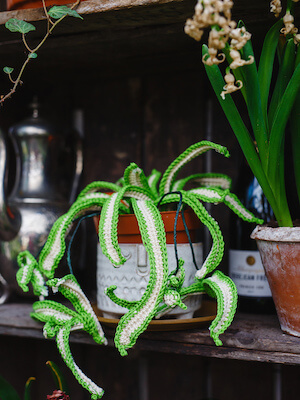 Get the Pattern here

22. Crochet Potted Plants Pattern by Knot Monster
This fun little project is a wonderful way to add a little cheer to your home, office, or home office. They would also make great gifts!

The pattern includes directions for 12 crochet potted plants: Succulent Echeveria, Sansevieria (Snake Plant), Lucky Bamboo, Aloe Vera, Palm Tree, Venus Fly Trap, Tree, Succulent Sedum, Bonsai Tree, 3 Hanging Plants.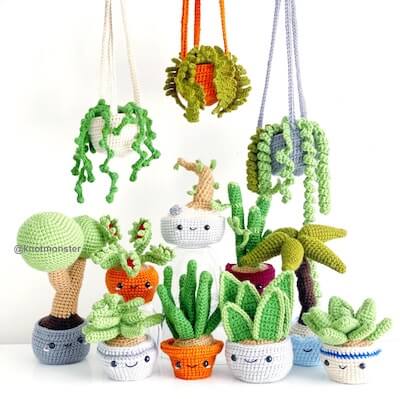 Get the Pattern by Knot Monster here

23. Crochet Polka Dot Begonia Pattern by Pippa Patterns Crochet
Known for its long, asymmetrical leaves and large white dots, this plant also goes by the simple name of "polka dot." This yarn version is definitely an eye-catcher in any gardens.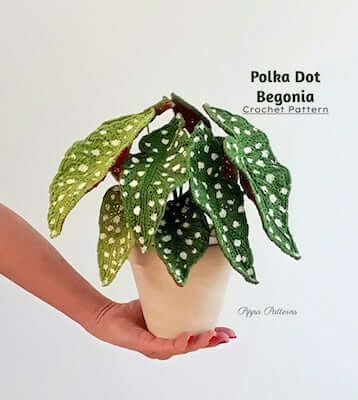 Get the Pattern by Pippa Patterns Crochet here

24. Monstera Mon Crochet Pattern by Twins Design
Create a ini Monstera friend to keep nearby. This crochet amigurumi project features a potted plant with several green leaves.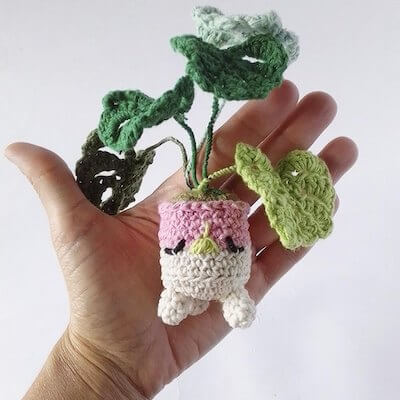 Get the Pattern by Twins Design here

25. Crochet Elephant Ear Zebrina Plant Pattern by Pippa Patterns Crochet
Ideal for proud plant parents and those who struggle to keep the real thing alive, this Crochet Elephant Ear Plant is stress-free as it requires no light or water!
This crochet replica is a truly unique and thoughtful gift which sits perfectly as an ornamental addition amongst real plants, make for beautiful office decor, or anywhere else in your home that's missing a touch of greenery.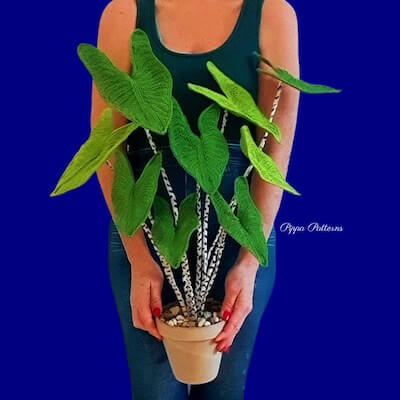 Get the Pattern by Pippa Patterns Crochet here

26. Crochet Houseplants Pattern by Lozco Crochet
No matter if you don't have green thumbs, these crochet houseplants will bring some greenery to your home without the hassle of watering.

The pattern includes nstructions to make the 5 crochet houseplants: Neon Pothos, Epipremnum Cebu Blue, Philodendron Pink Princess, Scindapsus Pictus, and Philodendron Florida Ghost.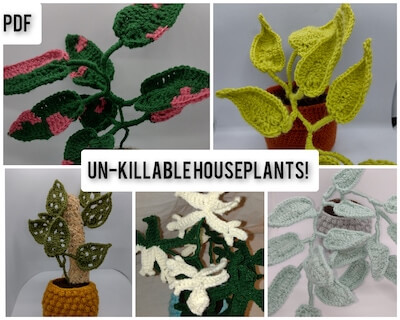 Get the Pattern by Lozco Crochet here
WHICH OF THESE CROCHET PLANTS WILL YOU BE MAKING FIRST? ONE WON'T BE ENOUGH – YOU'LL HAVE A WHOLE CROCHETED GARDEN IN NO TIME!
If you are planning to add real plants to your indoor space, you don't want to miss our collection crochet hanging plants. Please feel free to share your makes with us on our Facebook Page. We can't wait to see what you create!

Artificial plants can bring a natural appeal indoors with an added advantage of being completely maintenance free. So, if you want more of these, check out these crochet mushroom patterns, crochet cactus patterns, crochet flower patterns and African flower crochet patterns.

You don't always need to have real plants to enjoy their beauty. Using these awesome crochet plants patterns, you can decorate your home in style!