You'll go hog wild for these absolutely adorable Crochet Pig Patterns!
Oink, oink! I'm hunting for our favorite animal patterns and now I'm ready to show you all the super cute pigs I've found.

If you keep on seeing crochet pigs popping up everywhere, it's time for you to hop on the piggy bandwagon today!
You'll see all sorts of creative pig toys (Yes! Peppa Pig is included!), softies, and fun accessories. Make them for you, your kids, your friends, and everyone you know who loves Pigs!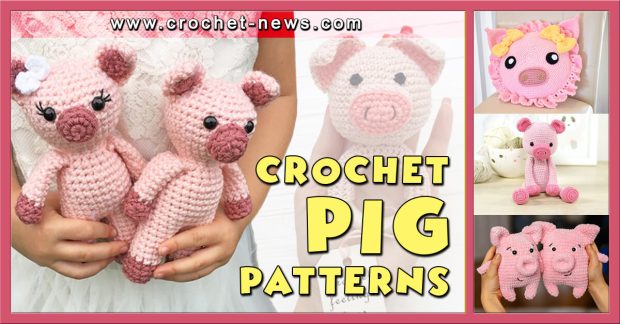 1. Pippa The Pig Amigurumi Pattern by The Little Hook Crochet
Meet Pippa, isn't she adorable with that floral headband and those precious wings?
If Pippa is made with Drops Safran 4 ply yarn and a 2.5 mm hook, she will measure 4.5 inches / 11.5 cm tall.
Handmade with love by a parent, grandparent, or friend – she will be a special keepsake. Sure to be a friend for life!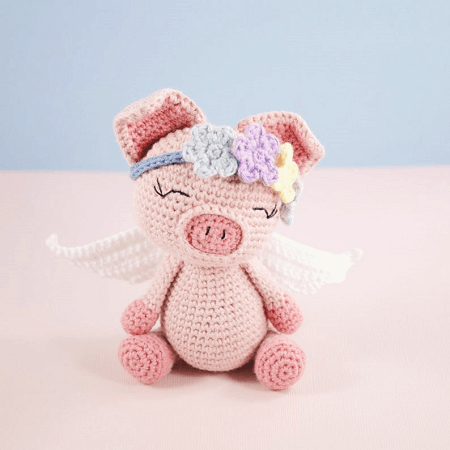 Get the Pattern by The Little Hook Crochet here

2. Crochet Pig Hat Pattern by Repeat Crafter Me
This Crochet Pig Hat Pattern will help you make the perfect beanie for all the pig lovers in your life! You can create an adorable Halloween costume or simply a sweet winter hat.
It's pretty easy with not many embellishments and it only takes two colors of yarn!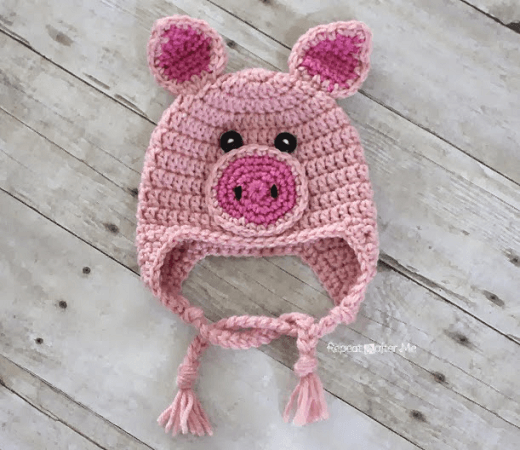 Get the Pattern here

3. Free Peppa Pig Amigurumi Pattern by Amigurumi Today
This Peppa Pig Free Crochet Pattern will help you to create an amigurumi toy that looks exactly like the famous character Peppa Pig!
Her finished size is 18cm. Stuff her perfect to be soft, squishy, and ready to love. This cute crochet pig toy will be a real happiness for your children!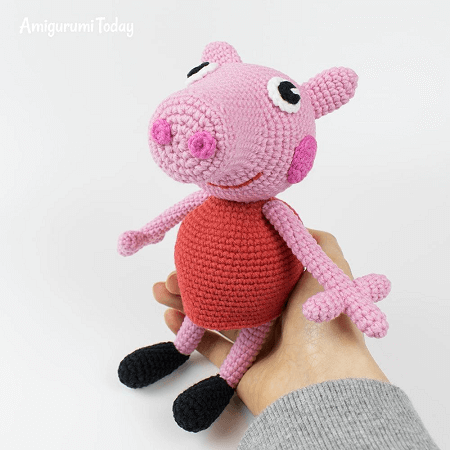 Get the Pattern here

4. Crochet Pig Rattle Pattern by Crochet Feelings Toys
When finished, the size of this crochet pig rattle is 4.3 inches (11 cm) – baby shower or christening gift for a newborn baby!
As it's a baby neutral rattle, it would be both perfect for both baby girls and baby boys. But you can also embellish it with ribbons, bows, etc.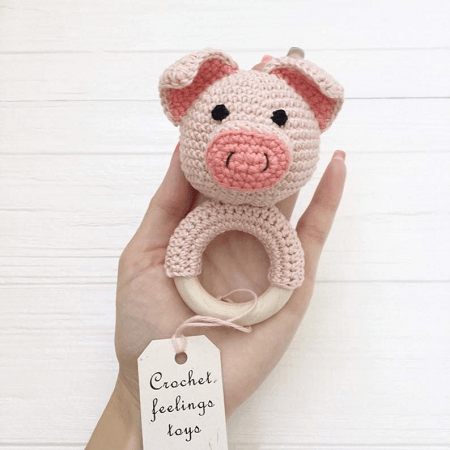 Get the Pattern by Crochet Feelings Toys here

5. Mini Amigurumi Pig Crochet Pattern by Grace And Yarn
Create your own mini amigurumi pig (or should I say piglet!) with this easy to follow pattern!
Using a worsted weight yarn and a 3.5mm hook, this mini pig measures about 7 inches tall, making it a super-fast make!
The legs, body, and head are made as one piece to cut down on sewing!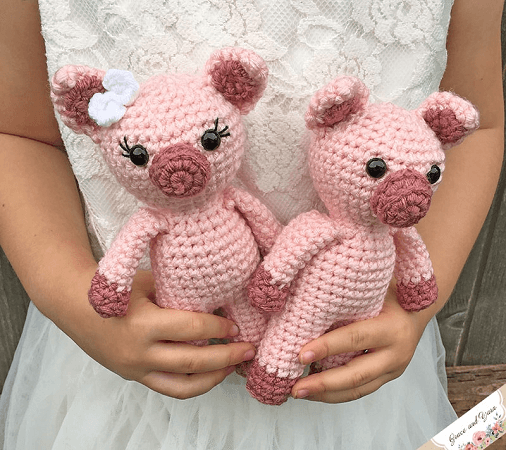 Get the Pattern here

6. Crochet Pig Potholder Pattern by Crochet For You
Make a farm theme crochet potholder in the form of an adorable pig! Perfect for hot pots and pans or hot plates and bowl.
This Crochet Pig Potholder Pattern creates a fun and unique potholder that brings the farm to your table!
It's also perfect for gift-giving, selling, and to brighten up your own kitchen space with his cute little face.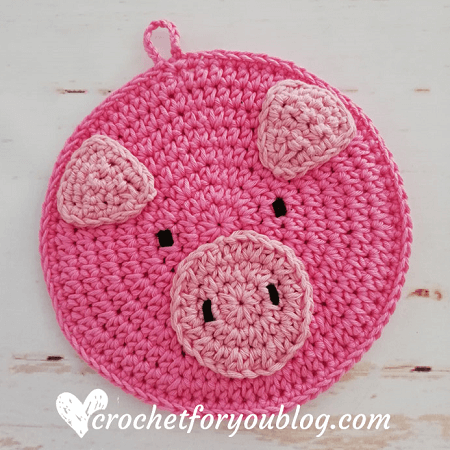 Get the Pattern here

7. Pig Crochet Amigurumi Pattern by Little Bear Crochets
This is a pattern to make this lovely pig amigurumi, including the owl backpack!
It has a cute piggy nose and short legs and arms. Its body is stuffed firmly so that it can hold up easily. Of course, it also has a curly tail!
The pig in the picture is made with Stylecraft Special DK yarn on a 2.75 (size C) hook and turned out to be 25 cm tall (about 9.8 inches).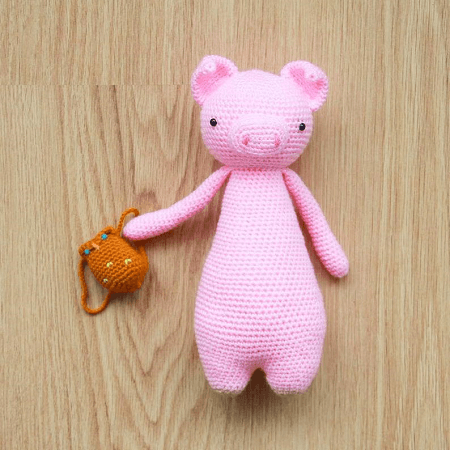 Get the Pattern by Little Bear Crochets here

8. Pinky, The Piggy Pillow Crochet Pattern by Ira Rott Patterns
Pinky, the piggy pillow will be a unique addition to your bedroom, nursery, child's room, or toy room.
She measures approximately 17 1⁄2" (44.5 cm) in diameter, including edging. Your finished size may vary slightly depending on the materials used & your tension.
Pinky will surely bring lots of smiles and joy to your couch or bed! Please welcome this whimsical fellow into your home!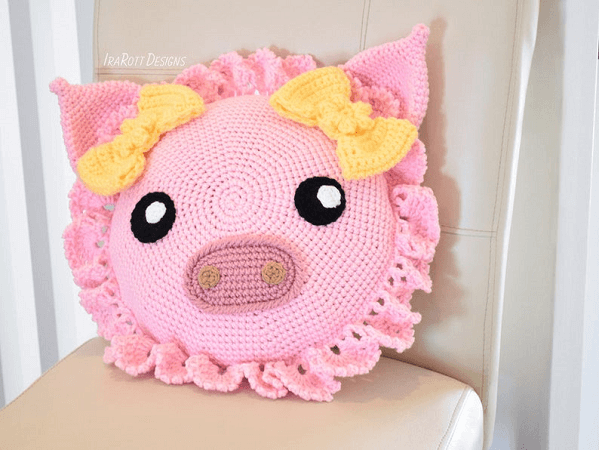 Get the Pattern by Ira Rott Patterns here

9. Piggy Baby Booties Crochet Pattern by Croby Patterns
With some pink yarn and a standard 3.5mm crochet hook, you can create a pair of these piggy baby booties for your little angel in no time.
The pattern is written in 2 sizes: 0-6 months and 6-12 months.
These booties will keep even the tiniest tootsies warm! And the best part, they're easy and fun to crochet!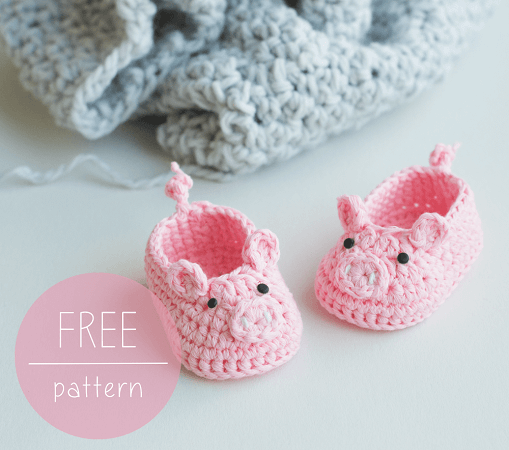 Get the Pattern here

10. Crochet Pig Stuffie Pattern by Yarnspirations
Inspired by Fat Cat and kawaii toy trends, snuggle up to this endearing crochet pig stuffie that kids will love!
Stitching in Bernat Baby Velvet, this irresistibly soft and cushy toy is stitched almost entirely in the round using single crochet.
Tight crochet ensures a nice dense fabric that won't let the stuffing show through. Practice single crochet, simple shaping, and even embroidery to complete this project.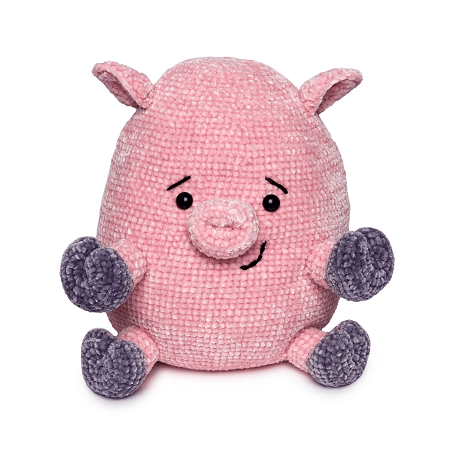 Get the Pattern here

11. Crochet Pig Applique Pattern by Nella's Cottage
This crochet pig applique is the perfect addition to any nursery or room decor for a children's room, decoration on tote bags, or any other surface that you can think of.
This applique works up to be about 7″ tall with a 3.75mm hook – perfect to use as an embellishment to other of your crochet projects!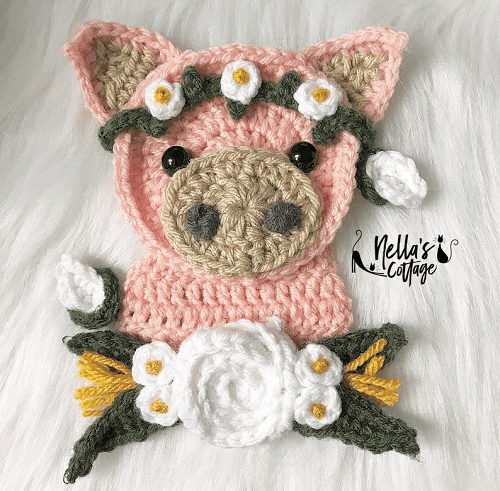 Get the Pattern by Nella's Cottage here

12. Pig Baby Blanket Crochet Pattern by Crochet Arcade
This Pig Baby Blanket will be your baby's favorite toy to play as well as something to cuddle and keep warm while sleeping.
This blanket is especially handy when traveling either in a pram or a car seat. It's not only space-saving (blanket and toy 2 in 1) but it also keeps the baby occupied in both folded and unfolded form.
This 2 in 1 pig blanket will make a cute, original, and at the same time practical crochet baby shower gift!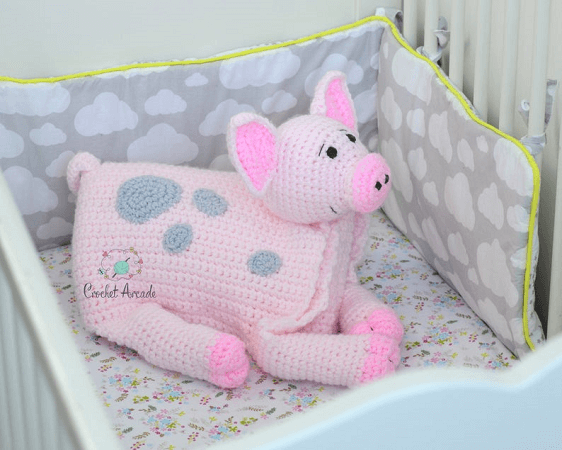 Get the Pattern by Crochet Arcade here

13. Pretty Pig Headband Crochet Pattern by Hopeful Honey
If you love pretty pink piggies, why not create a lovely headband? This Pretty Pig Headband Crochet Pattern is easily adjustable to fit all sizes.
It's perfect for all ages, great as a piggy costume, or if you just want to look warm and cute during the chilly days.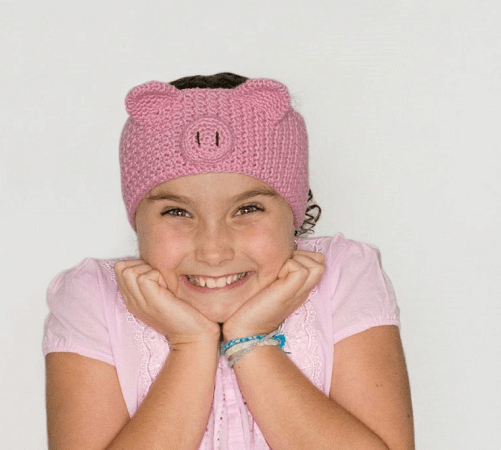 Get the Pattern here

14. Crochet Piglet Soft Toy Pattern by Mumigurumi
These cute little piglets are super cute and cuddly toys. They are so warm, soft, and plushie!
They measure 20cm in height but the actual size of the toy depends on yarn thickness and hook size. If you use thicker yarn and a bigger hook your pigs will turn out bigger.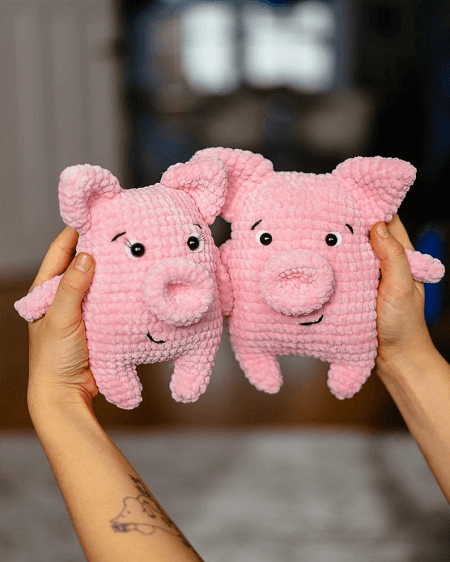 Get the Pattern by Mumigurumi here

15. Crochet Pig Bookmark Pattern by Supergurumi Shop
Do you love to read and love pigs? This Crochet Pig Bookmark Pattern is for you!
This bookmark has a long body, with an amigurumi head that pokes out of the top of the book. The result is a cute design that brightens your bookshelves!

Do you like this bookmark? Check out our roundup with crochet bookmark patterns for more options.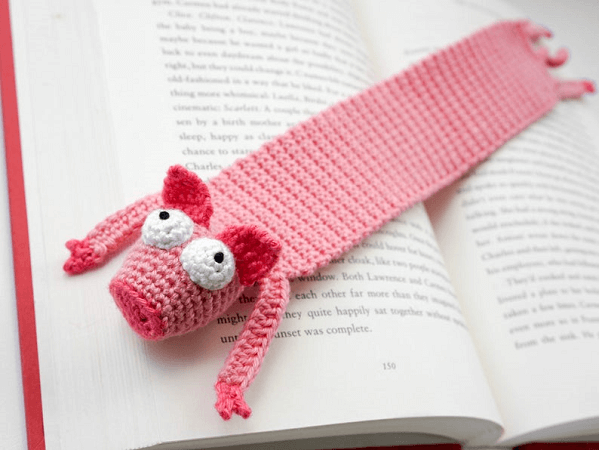 Get the Pattern by Supergurumi Shop here

16. Amigurumi Pig Crochet Pattern by Little Owls Hut
Aren't these two the most realistic-looking pigs on this list?
This Amigurumi Pig Crochet Pattern is not for the faint of heart though, because the designer rated it as an advanced pattern or for those experienced crocheters.
These beautiful pigs will fit perfectly in any farm scenes and will be a great addition to your home decors, as well.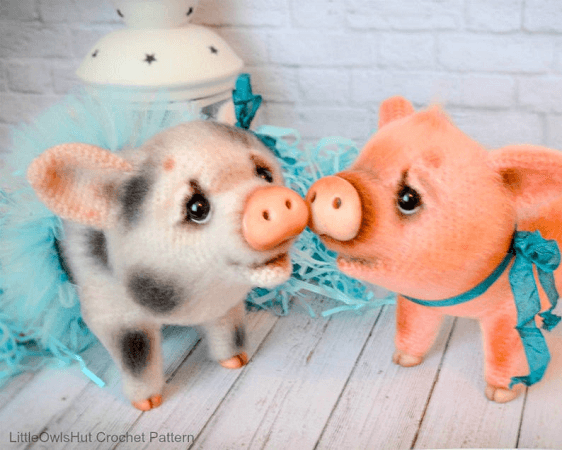 Get the Pattern by Little Owls Hut here

17. Crochet Pig Backpack Pattern by Chabe Patterns
Practice tapestry crochet to make the pig print and form the bag. Then make the pig's head that will work as a lid and adds the fun touch to the design.
The backpack straps can be crocheted for 3-6-year-old kids. This Crochet Pig Backpack is sweeter than sweet!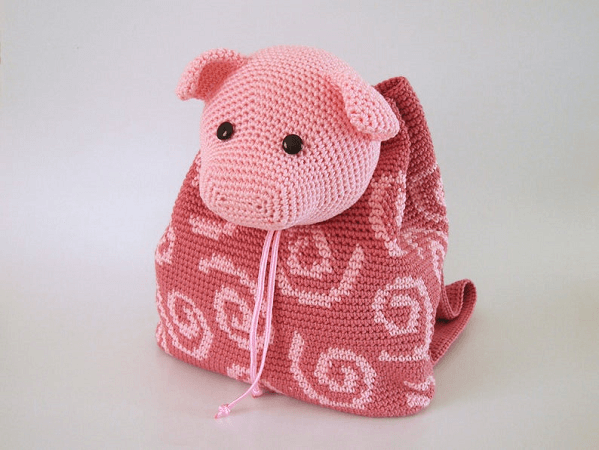 Get the Pattern by Chabe Patterns here

18. Piglet Amigurumi Pattern by Kristi Tullus
This crochet pattern includes all the instructions needed to make this cute piglet amigurumi.
Arms and legs are attached using doll joints (or buttons and yarn) to make them movable.
This adorable piglet will delight any little one, and that could become the first toy of a baby with which would be the ideal gift for a newborn.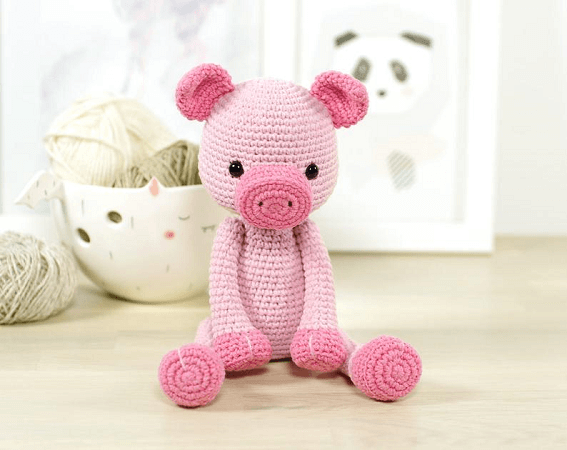 Get the Pattern by Kristi Tullus here

19. Playful Pig Scrubby Crochet Pattern by Yarnspirations
Any sort of clean-up is much more fun with the help of this endearing playful pig scrubby!
Kiddies will love bath time with a washcloth to get between all those cute piggy toes, while adults will enjoy its effective cleaning power on messy dishes in the kitchen too!

Check out our favorite crochet scrubbie patterns here.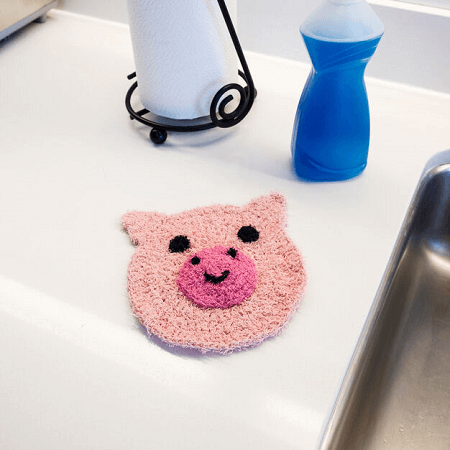 Get the Pattern here

20. Crochet Pig Toy Pattern by Favorite Plush Toys
Now every caring mother can crochet this cute toy to her baby!
This pig toy is made of puffy and pompon yarn. It is so soft you want to make one for yourself too!
When finished. the final size of this toy with the indicated yarn is 50-55 cm (19'6-21'6 inch) – big enough for a cuddle buddy!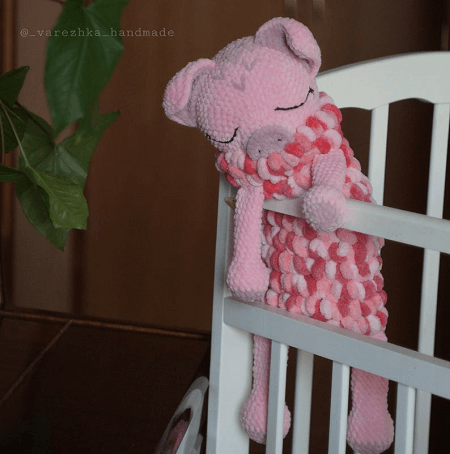 Get the Pattern by Favorite Plush Toys here

21. Small Pigs Amigurumi Pattern by Tiny Amigurumi
These small pigs amigurumi are perfectly sized for little hands to hold and play with.
You can use a bigger hook size and a different yarn for the crochet pig, the design won't change, your piggie will be bigger ( but small ones are still the cutest).
These cute small pigs are honestly the most ridiculous things and I'm sure you'll agree that you need a lot of them!
Get the Pattern by Tiny Amigurumi here

22. Crochet Pig Purse Pattern by Mad Toy Maker
Funny pig coin purse, what can be cuter? You can certainly make one by yourself!
This Crochet Pig Purse Pattern is a quick and easy project with lots of photos to help you along the way.
Great as a stash buster and a surefire seller at craft fairs, too!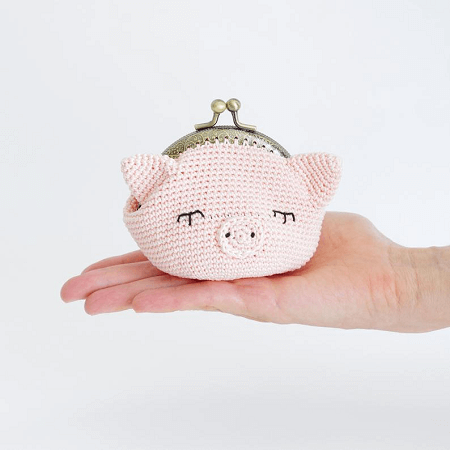 Get the Pattern by Mad Toy Maker here
There is something about pigs that are so cute! Now you make your own little crochet pig family!
We can't wait to see your very own pink little buddies. Please share a pic of your finished crochet pigs on our Facebook Page. We'd love to see how they turned out!
Don't go far because more gorgeous animal roundups are just around the corner!

Check them out here. We have gathered crochet patterns for zoo animals, sea animals, and even mythical creatures like dragons and unicorns. They are too adorable to pass on!
For now, let's get our hands busy and snort with glee with these super easy crochet pig patterns!