It's the time of year for cozy sweaters, pumpkin spice, and fall decor! Say hello to the season with these crochet patterns for fall featuring pumpkins, acorns, leaves, and more. And if you're thinking about all the warm and cozy pieces to make and wear this season, we have some in here, too!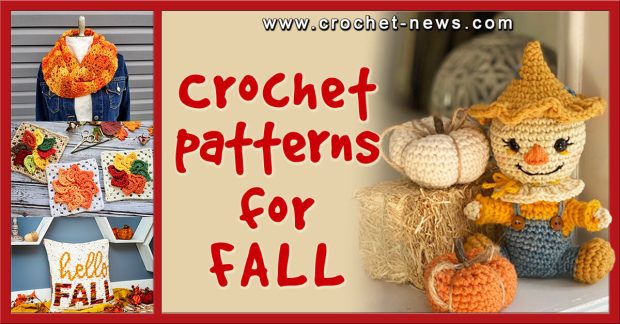 Embrace the warm colors and coziness of the season by settling in for a night of fall crocheting. Fall really is a treasure trove of fun projects for crocheters so, grab your favorite autumn colors of yarns, a mug of coffee or tea, and read on for the best fall crochet patterns to try!
21 Crochet Patterns For Fall

1. Fall Leaves Crochet Pattern by Cat Lady Crochet Shoppe
Bring autumn inside by scattering a handful of crocheted leaves around your home. With just small amount of yarn, you'll be able to make four different realistic fall leaves.

You can scatter them to accent your Thanksgiving table, string several together to make a festive garland, or attach a single leaf as decoration on a hostess gift. The possibilities are only limited by your imagination!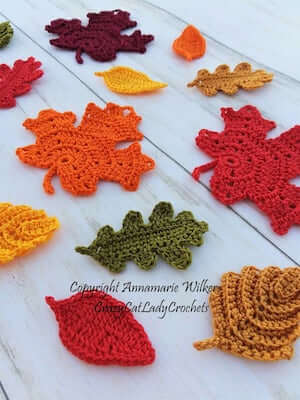 Get the Pattern by Cat Lady Crochet Shoppe here

2. Hello Fall Crochet Pillow Pattern by Briana K Designs
This Hello Fall Crochet Pillow is a festive fall decor piece for any chair or couch. And if you love everything pumpkin, it's also a way to show off that pumpkin pride.
Get the Pattern here

3. Maple Leaf Shawl Crochet Pattern by Artistic Mind Magazine
Nothing says fall more than the deep oranges, fiery reds, and rustic browns of changing leaves. Make this beautiful Maple Leaf Shawl that will be a stunning addition to your autumn wardrobe.

As you wrap it around, you're enveloped in the warmth of autumn's rich hues, feeling a connection to nature's beauty and the changing seasons!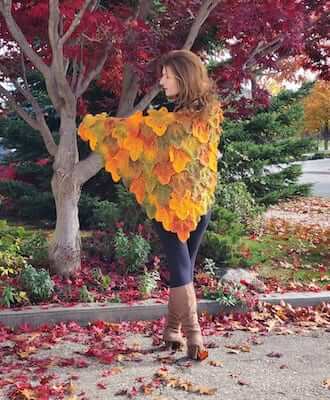 Get the Pattern by Artistic Mind Magazine here

4. Farm Fresh Fall Blanket Crochet Pattern by Crafty Kitty Crochet
Let's celebrate some of there finest things about fall – apples, pumpkins, and sunflowers! What could be more perfect than snuggling up with this autumn-themed afghan, showcasing all these beloved seasonal symbols? Keep it handy in the family room for easy cuddling on chilly autumn nights!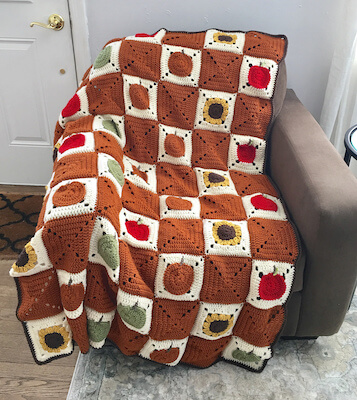 Get the Pattern here

5. Autumn Gnome Crochet Pattern by Pam Gnomes
Welcome the fall season in style with this charming autumn gnome! This adorable piece of decor features a pliable hat with crocheted fall leaves – making it the perfect addition to your seasonal display. This cute gnome will bring a smile to everyone's face and a perfect way to kick off your fall decor.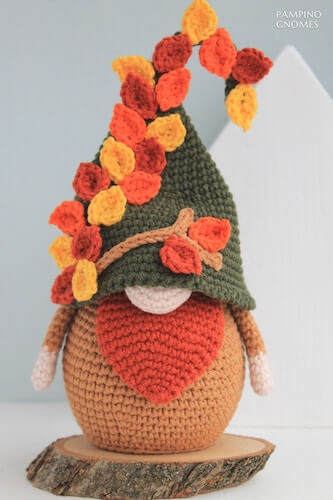 Get the Pattern by Pam Gnomes here

6. Pumpkin Spice Latte Crochet Pattern by Crafty Gibbon
It's Pumpkin Spice season, and nothing quite represents the pumpkin craze like pumpkin spice lattes! These signature fall drinks are one of the early signs that fall is on its way again. Not everyone cares for the taste, but even if you're not a pumpkin spice fanatic, you can appreciate the cuteness and relevance of this sweet little amigurumi.

How cute would this little latte be as a gift to the pumpkin spice lover in your life? It also makes a great play food toy for kids. The possibilities are endless!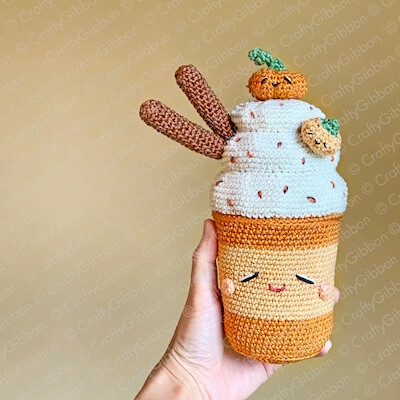 Get the Pattern by Crafty Gibbon here

7. Pumpkin Spice Treats Set Crochet Pattern by Pinky Pinky Blue AU
Here's another sweet treat for fall lovers! This Pumpkin Spice Treats Set Crochet Pattern is a fun set of life-sized pumpkin spice crocheted treats: pumpkin spice latte mug, pumpkin pie, apple pie, 2 types of cupcakes, caramel apple, and cookies.

Perfect for adding a touch of seasonal sweetness to your decorations or gifting handmade delights to friends and family.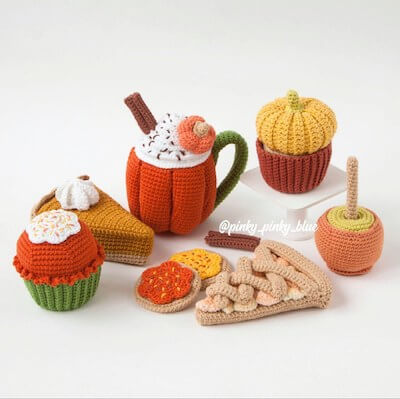 Get the Pattern by Pinky Pinky Blue AU here

8. Fall Applique Crochet Pattern by Bella's Cottage
This Fall Applique Crochet Pattern set has easy instructions to make cute scarecrow, pumpkin, turkey, and cornucopia.

These little crochet pieces are perfect for decorating hats, scarves, or any other crochet project. They bring a touch of autumn fun to your creations, making your projects cozy and festive for the fall season.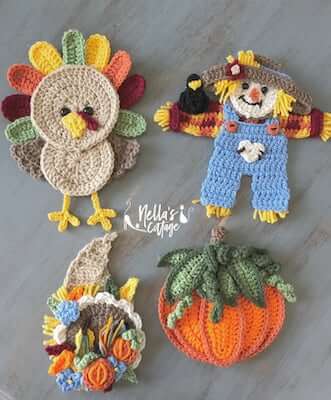 Get the Pattern by Bella's Cottage here

9. Fall Wreath Crochet Pattern by Red Heart
Fall decorating isn't quite complete until there's a festive wreath hanging from our front door. Bursting with autumn colors, this wreath features acorns, grapes, and leaves that come together to create a seasonal home decor that will last until you're ready to take it down.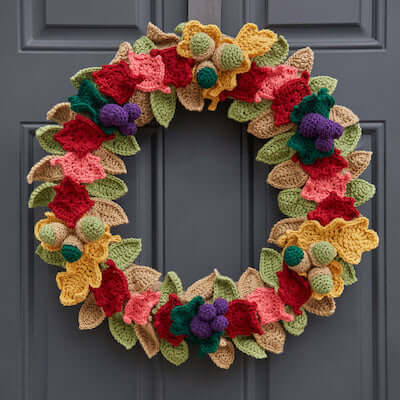 Get the Pattern here

10. Fall Table Runner Crochet Pattern by See Love Share
Here's a simple Autumn pattern that can take you all the way through Thanksgiving. It's also a pretty adaptable pattern where you can modify to make a throw (by adding more panels) or skinny it down to make a scarf (single panel!), couch pillow—endless choices.

This is a 7 row repeat so grab your crochet hook and your remote, you can get this one done on auto-pilot!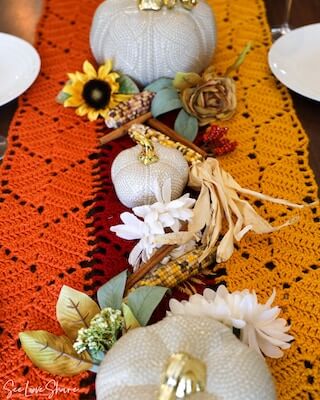 Get the Pattern by See Love Share here

11. Farmhouse Bobble Pumpkin Crochet Pattern by Hygge Crochet Co
Autumn wouldn't be complete without some pumpkins. These lovable tributes to the real thing perfectly adorn any harvest table. They're so perfect for the season, definitely make extras to showcase as playful accents on any autumn décor project.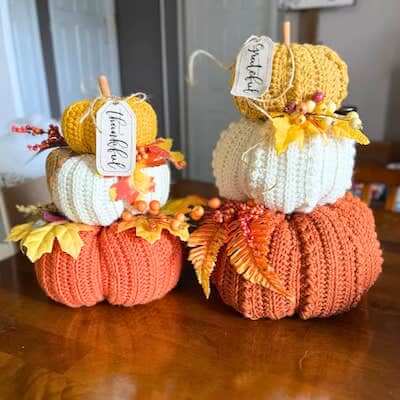 Get the Pattern by Hygge Crochet Co here

12. Harvest Crochet Pullover Sweater Pattern by Make & Do Crew
Stay snug in the fall chill with this easy-to-make crochet sweater with removable cowl. Made with your favorite fall-colored Jeans yarn, it's perfect for enjoying crisp autumn days. The simple design ensures a cozy fit, making it a must-have for your seasonal wardrobe.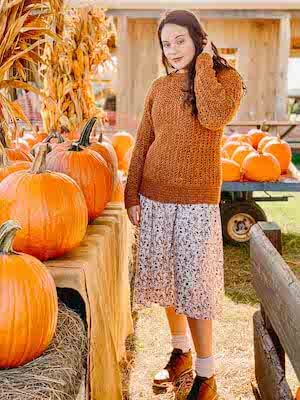 Get the Pattern here

13. Fall Earrings Crochet Pattern by Golden Lucy Crafts
Get into the autumn spirit with these charming crochet leaf earrings. Consisting of leaves and one flowers embellished with black seed beads, these earrings are perfect for celebrating the fall season in style.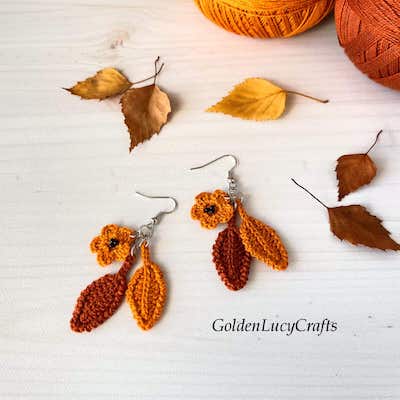 Get the Pattern here

14. Hello Autumn Blanket Crochet Pattern by Little Duck Crochet
Filled with bobble stitch pumpkins and a seasonal 'Hello Autumn' banner, this blanket is sure to become a popular choice as the weather cools and the leaves change color.

Though being yarn-intensive, the bobble stitches help to give this blanket a perfect weighted feel and will keep you cozy all the way through to Christmas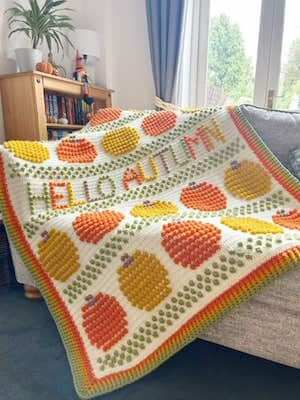 Get the Pattern by Little Duck Crochet here

15. Fall Pumpkin Beanie Crochet Pattern by One Stop Wonders
This Fall Pumpkin Beanie is a cozy hat adorned with playful pumpkin bobbles. This simple pattern lets you create a stylish accessory that's perfect for fall. The tiny pumpkins add a touch of charm, making it a fun and festive beanie for the season.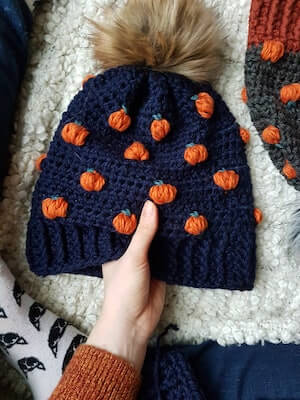 Get the Pattern by One Stop Wonders here

16. Crochet Fall Bunting Pattern by The Mayfield Makery
Dress up your space with this easy-to-make fall bunting, featuring crocheted leaves and acorns. The warm autumn colors add a cozy touch to any room. Hang it up and enjoy the seasonal vibes!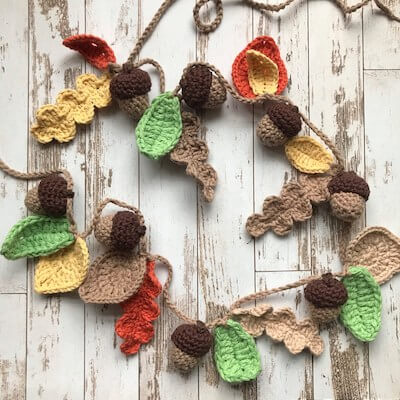 Get the Pattern by The Mayfield Makery here

17. Autumn Sunrise Infinity Scarf Crochet Pattern by Highland Hickory Designs
This Autumn Sunrise Infinity Scarf is the perfect wardrobe accessory to launch you into the fall season! The lacy design fights off the slowly chilling temperatures without being too warm.

If the vibrant orange hues aren't for you, you can crochet this beautiful scarf using any medium weight yarn you choose!
Get the Pattern here

18. Autumn Leaves Granny Square Crochet Pattern by Kristyn Hertrich
This beautiful and unique fall themed granny square pattern would make an absolutely gorgeous blanket. Mix and match colors to use up your scrap bits of yarn to make a beautifully unique throw!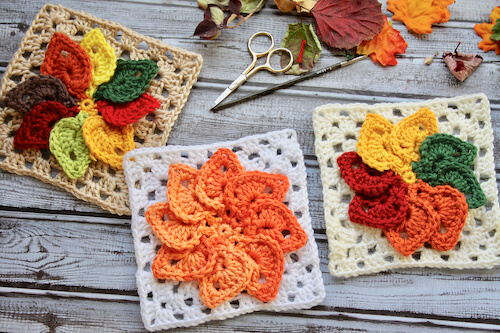 Get the Pattern here

19. Scarecrow Crochet Pattern by Cloud 9 Knots
You will love this 16″ adorable crochet scarecrow doll sitting with all your other fall decorations. The pattern is easy to follow and makes the perfect decoration for Thanksgiving and Halloween, too!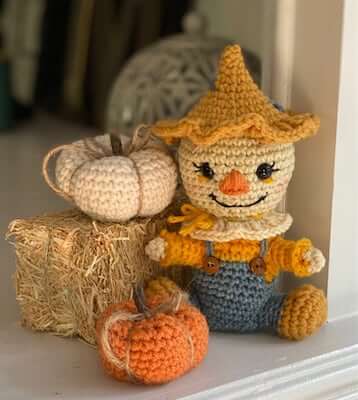 Get the Pattern by Cloud 9 Knots here

20. Autumn's Kiss Fingerless Mitts Crochet Pattern by Stitches N Scraps
Fingerless mitts are perfect for chilly fall days. They keep your hands warm, while leaving your fingers free to send a text or juggle your coffee and keys.
Get the Pattern here

21. Fall Wall Hanging Crochet Pattern by Little Light Design Com
This minimalist, boho pumpkin wall hanging is perfect if you favor neutrals over color but still want some fall decor. Made with bobble stitches and basic crochet techniques, its versatile design makes it suitable for hanging year-round!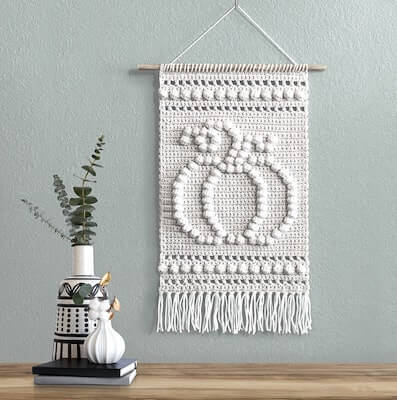 Get the Pattern by Little Light Design Com here
GET CRAFTY THIS AUTUMN WITH THESE VIBRANT RANGE OF FALL CROCHET PATTERNS!
Add to the magic of the season with cozy crochet sweaters, cardigans, shawls, and scarves to keep you warm all season long (P.S. The holidays are right around the corner)!

If you're looking for crochet projects for the spookier side of this season, you'll find loads in our pick of halloween crochet patterns!
Celebration this season's spirit with these fall crochet patterns. Happy crocheting, and may your autumn be as vibrant as your yarn palette!