The loop stitch is a fun stitch to learn. It may look complicated at first, but once you get the hang of it you will be creating loops just as quickly as you create a single crochet.
If you want to learn how to make the loop stitch or are looking for loop crochet stitch patterns, continue reading. I have put together a quick tutorial followed by 10 loop stitch patterns.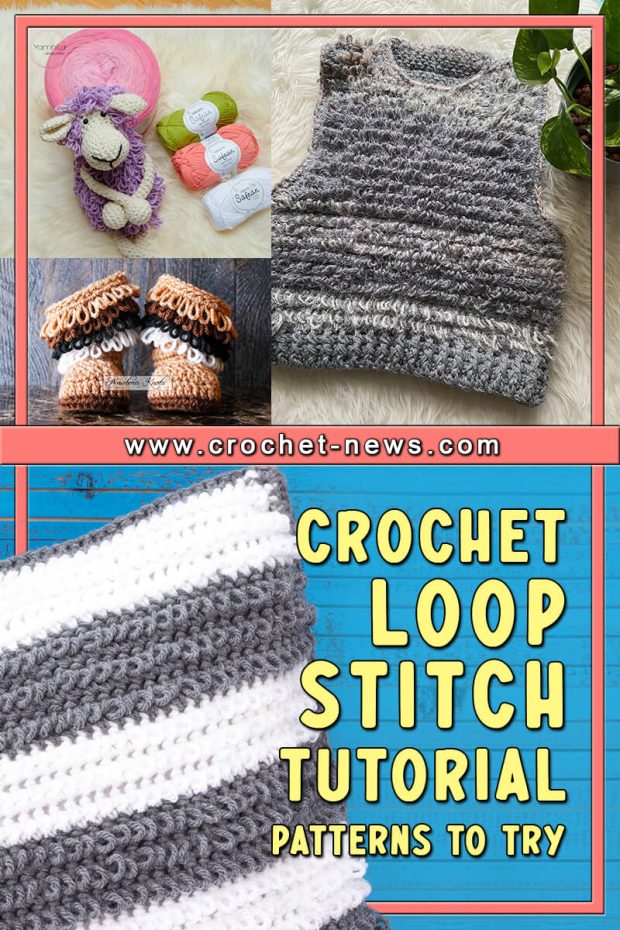 What Is the loop stitch in crochet?
The loop stitch is just what it sounds like. It is a stitch that creates a big loop. You create the loop by wrapping your working yarn around your finger. Then you grab both pieces of yarn and pull it through your stitch. Wrapping the yarn around your finger stops you from pulling the yarn all the way through, leaving a loop.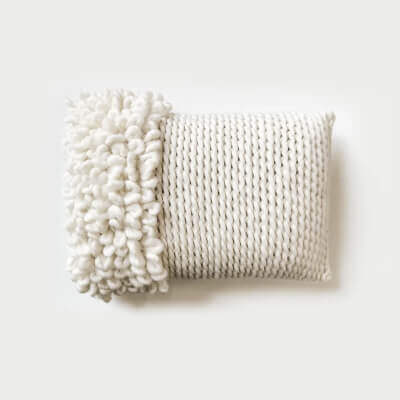 Projects That Sometimes Use the Loop Crochet Stitch
The loop crochet stitch is not the most common stitch used in crochet. However, it is a fun stitch. If you are looking to add a new, eye-catching stitch to your repertoire, give it a try.
Some projects you will find the loop crochet stitch used in are:
Blankets
Scarves
Cowls
Pillows
…and More
How to Make the Crochet Loop Stitch
The loop crochet stitch is very easy to make. When creating the stitch, you will want to use a crochet hook larger than what is recommended for the yarn.
Crochet Loop Stitch Tutorial: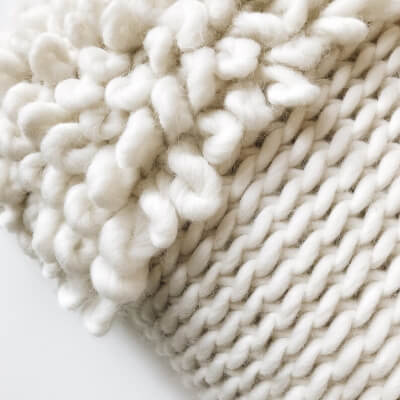 1. Make a slip knot.
2. Create a row of chain stitches. You can make as many as you want. You do not have to have a certain multiple for the stitch to work.
3. Starting in the second chain from the hook, create single crochets (UK double crochet) the whole length of the project.
4. Chain 1 and turn your work.
5. Insert your hook into the first stitch.
6. Loop the working yarn around your finger you use to create tension.
7. Yarn under and grab both strands and pull through.
8. Let go of the loop you created. You can adjust the size, if needed.
9. Yarn over and pull through all 3 loops on your hook.
10. You have finished one loop stitch.
11. Continue making loop stitches across the project.
12. Chain 1 and turn your work
13. Repeat steps 3 through 12 until you reach your desired length.
10 Crochet Patterns that Use the Loop Stitch
The loop crochet stitch is fun to make, and it adds a lot of texture to your projects. It is not a common stitch found in a lot of patterns. However, you can find it in patterns such as pillow covers and blankets. Below you will find 10 projects that use the loop crochet stitch.
1. The Twazyè Throw Pillow with Loop Stitch Pattern by DeBrosseNYC
Add texture to your decor with this unique throw pillow. The pillow will add a modern pop to any room. The cover is identical on both sides.
The pattern works up quickly and can be completed in one sitting. It is a beginner-friendly pattern written in US terms. The finished size is 12 inches (30.48 cm) x 16 inches (40.64 cm).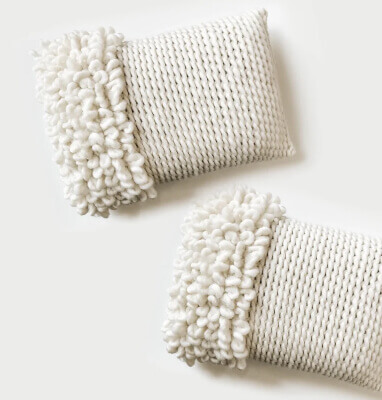 Find the Pattern by DeBrosseNYC here
2. Le Louvre Collar Pattern by TwoOfWandsShop
The Le Louvre Collar is an easy, beginner-friendly pattern. It was inspired by the elegance of Paris. To make the sophisticated scarf, you will need to know single crochet, slip stitch, and loop stitch. Completed, the scarf will measure 3.5 inches (9 cm) wide x 32 inches (81 cm) long.
Find more crochet collar patterns here.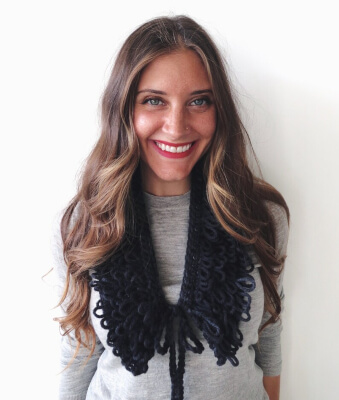 Find the Pattern by TwoOfWandsShop here
3. The Loop Stitch Sheep Pattern by Yarnhild
This little sheep is absolutely adorable. It would make a great decoration for a nursery decorated in farm animal decor. This crochet pattern is a fun and challenging project. You will need to know the basics of amigurumi. The pattern is worked in continuous rounds.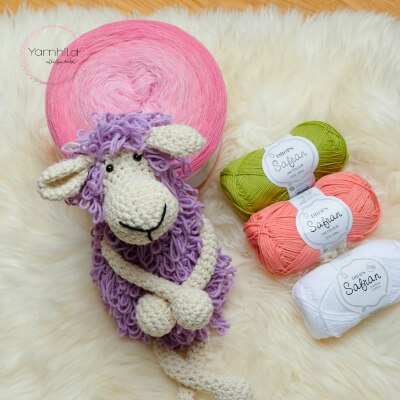 Find the Pattern by Yarnhild here
4. Crochet Baby Booties Pattern by NewbornKnots
Crochet a pair of baby booties using the loop crochet stitch. The booties are stylish and fun. They can be worn by boys and girls. They work up quickly and have eye-catching texture.
This baby booties crochet pattern is made using the loop stitch. Included is a photo tutorial. The booties pattern comes in 3 sizes up to 12 months.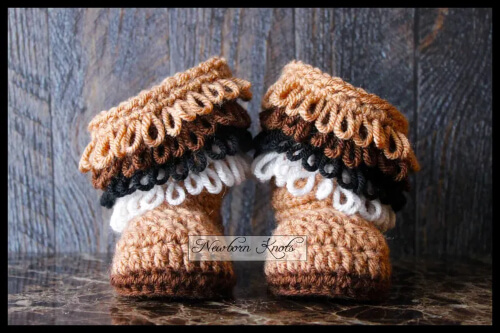 Find the Pattern by NewbornKnots here
5. Bermuda Triangle Crochet Loop Stitch Cushion Pattern by LottieAndAlbert
Make this fun and fluffy crochet cushion to add texture and design to your decor. You can use any colour combination you prefer. You can also use the pattern to make a throw pillow for Christmas.
The pattern is worked using a combination of loop stitch and double crochet. It is made using a 5 mm crochet hook and Aran weight yarn. Included are instructions for making an envelope crochet back or an envelope sewn back. It is written using UK terms with US translations.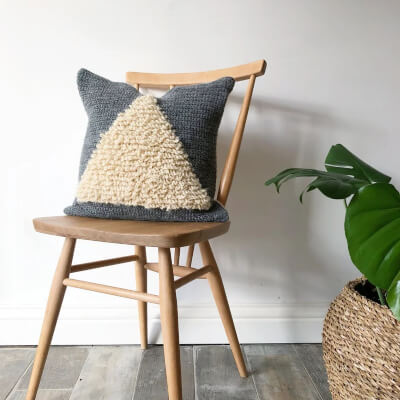 Find the Pattern by LottieAndAlbert here
6. Crochet Loopy Baby Cardigan Pattern by ShiFio
Keep your little one warm while staying stylish in a cardigan. The pattern includes 4 sizes 0-3 months to 3 years. The sweater is made using (3) light-worsted yarn (UK-DK). You will also need buttons and a US size E (UK 3.5 mm) crochet hook.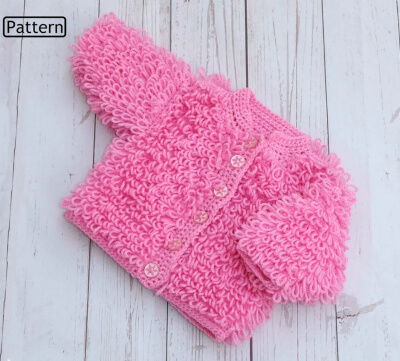 Get the Pattern by ShiFio here
7. Bernat Loop Stitch Chevron Crochet Pillow Pattern by Yarnspirations
This pillow has a stylish chevron design. The chevron pattern works well with a lot of decors. The free crochet pattern is easy and works up quickly. Finished, the pillow cover will measure approximately 30 inches (76 cm) square.
Also see: Chevron Crochet Blanket Patterns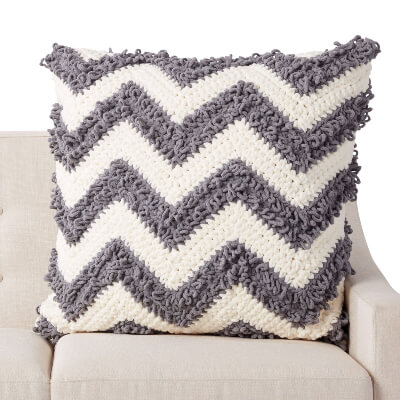 Find the Pattern by Yarnspirations here
8. Lidia Loop Stitch Vest Crochet Pattern by Manateesquares
The Loops! I did it again vest is a unique piece that uses the loop stitch. It is a sassy vest for those that want to make a statement with their wardrobe.
The vest is made using two strands of DK yarn held together. The double strands create a lot of fun loops. This pattern includes sizes XS – 5XL.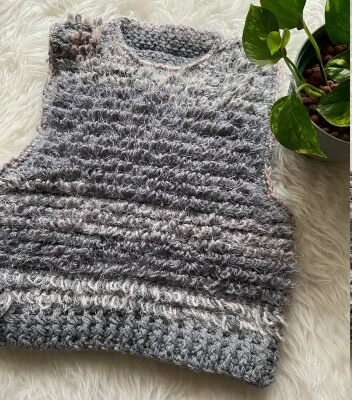 Find the Pattern by Manateesquares here
9. Crochet Swiffer Duster Cover by Ivesgifts
Are you tired of buying new Swiffer Duster refills? Instead of buying new ones just to throw them away, create your own reusable duster cover. The machine washable duster will fit a standard yellow handle Swiffer duster. The covers make great projects for craft fairs.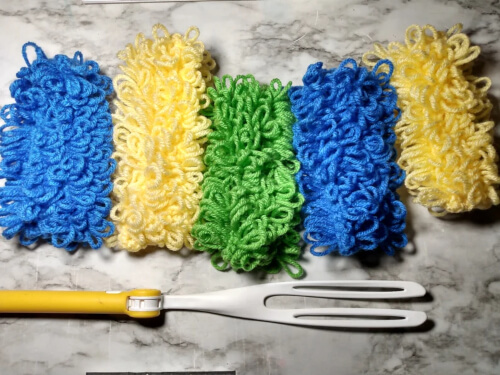 Find the Pattern by Ivesgifts here
10. Loop Stitch Pillow Crochet Pattern by YouShouldCraft
Here is a great loop crochet stitch pattern you can use to match your decor. Use classic, monochromatic colours, or choose your own combination. The finished pillow would make a great housewarming gift.
The crochet pillow has three buttons on the back to make it easy to insert and remove a pillow form. The finished pillow will measure 16 inches (40.64 cm) x 16 inches (40.64 cm).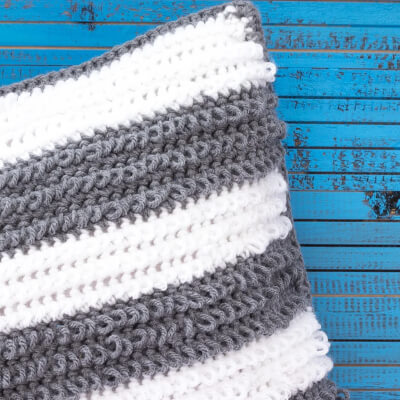 Find the Pattern by YouShouldCraft here
Are you looking for a new crochet stitch that is easy to make? Give the loop stitch a try.
Show us your finished creations by sharing a pic on our Facebook Page. We'd love to see them.
The loop stitch is an interesting stitch that creates large loops on your project. These loops add texture and interest. If you are ready to put your newfound knowledge to use, work on one of the above crochet patterns.