Before looking any further, please make sure that you are here for a crochet lobster pattern and not a tasty recipe for lobsters! These are amazing, but it's pretty unlikely that they would taste very good!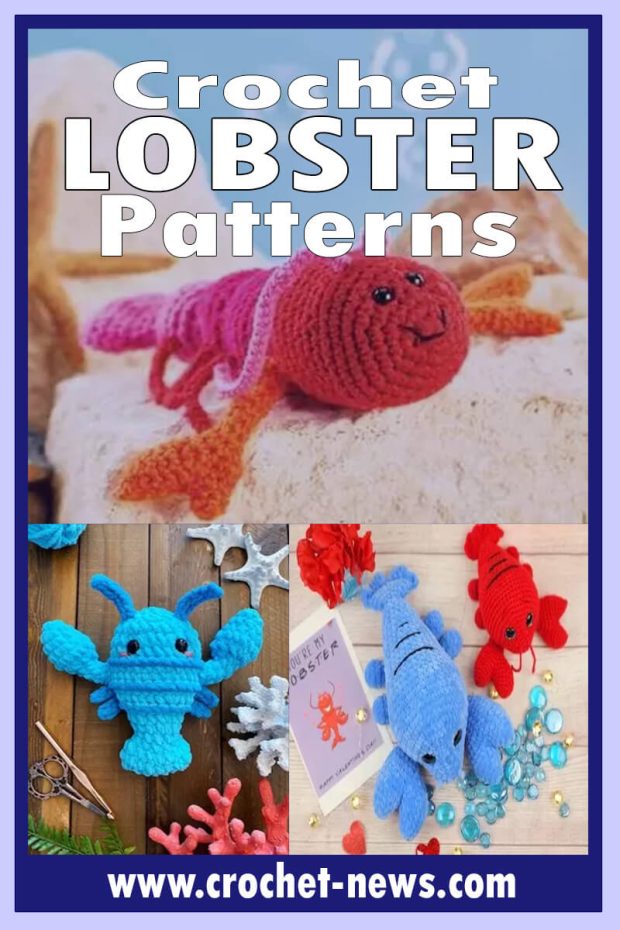 10 Lobster Crochet Patterns
Crocheted lobsters just doesn't make a pleasant meal, no matter how good your recipe might be! Now, if you're looking for a cute and fun crochet animal to be a cuddle buddy, then this post can surely help you out!

1. Crochet Lobster Pattern by Vliegende Hollander
This adorable 10″ amigurumi lobster makes it easy to smile when you're in a pinch! Besides awesome claws and little white eyes, this amigurumi lobster plush has two little antennae to feel out its new friends. Imagine making a blue one, as well.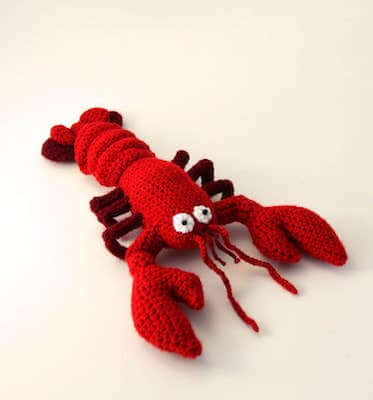 Get the Pattern by Vliegende Hollander here

2. Lobster Applique Crochet Pattern by Repeat Crafter Me
This lobster crochet appliqué is a catch! With its cute claws and antennae, this is the perfect addition to your bag or jacket, as a souvenir for your Summer travels to the East coast, or because you have a special place in your heart for delicious lobsters. 
Also see: Crochet Applique Patterns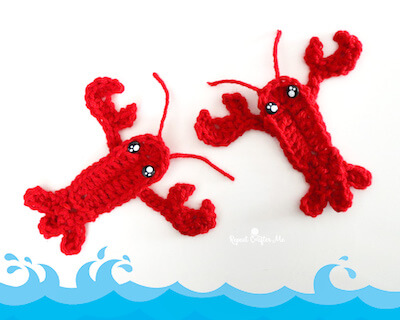 Get the Pattern here

3. Lobster Crochet Pattern by Gennadi Shop
If you're ready for some playful ocean fun, then you're ready for this 21″ plushie to join your amigurumi collection.
You might not think of crustaceans as the most cuddly of all the sea creatures, but when it comes to this amigurumi lobster, you'd be wrong because he's the snuggest of them all!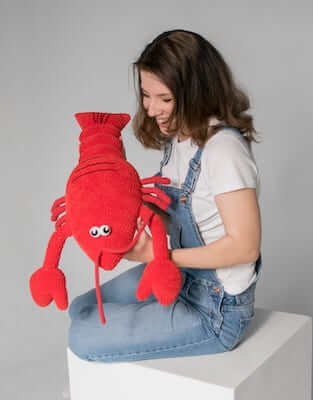 Get the Pattern by Gennadi Shop here

4. Lobster Bookmark Crochet Pattern by Supergurumi Shop
If you're a reader who particularly appreciates funny and unusual reading accessories, this lobster bookmark will become a real decorative accessory for your reading time. The finished bookmark has a length of approximately 32 cm.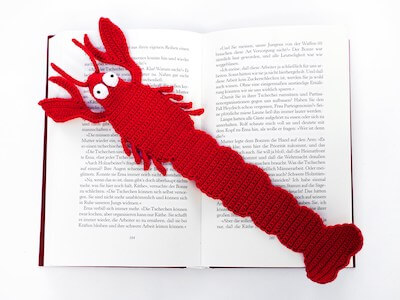 Get the Pattern by Supergurumi Shop here

5. Amigurumi Lobster Chef Crochet Pattern by Vliegende Hollander
Expand your child's interest in marine life and animal care with this adorable Lobster chef cooking a delicious meal right from his Parisian kitchen!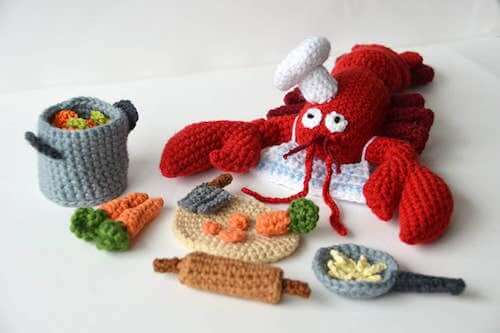 Get the Pattern by Vliegende Hollander here

6. Free Lobster Crochet Pattern by Heather Gibbs
Get you a lobster that smiles like this! Lulu, the Amigurumi Lobster is made in segments, and then the adorable claws, simple limbs, and antennae are added separately.

Work tightly so that the stuffing does not escape from the main body — no need to stuff the claws or tail.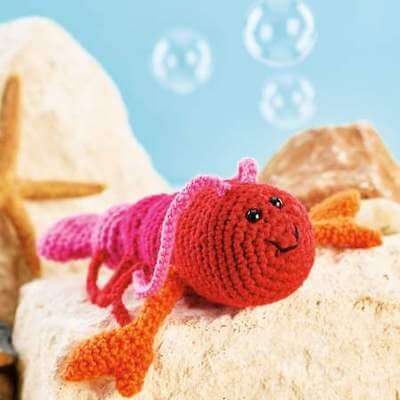 Get the Pattern here

7. Blue Lobster Free Crochet Pattern by Spin A Yarn Crochet
This Blue Lobster Crochet Pattern is a fun amigurumi that is quick to work up and perfect for cuddling! If you love working with velvet yarn, you should certainly try this out. This little amigurumi lobster evidently wants to cuddle!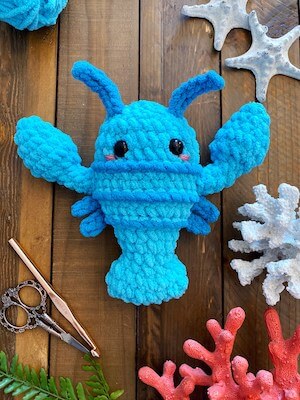 Get the Pattern here

8. Cushion Lobster Crochet Pattern by Zoe P
Looking for something a little different to hook up for your home? This unlikely romantic hero makes for stunning home decor. I'm sure this quirky crustacean cushion will claw its way into your heart. The cushion bases are made in simple double crochet, with lobster appliques.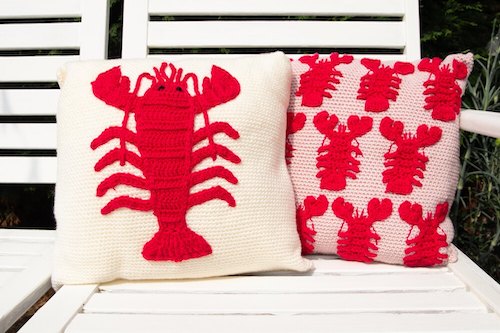 9. Lucy, The Lobster Crochet Pattern by Drunken Aunt Wendy
Lucy, the lovely realistic lobster is the perfect companion to go into adventures! Measuring 15″ tall from tips of claws to end of tail, she can be a special gift that will create beautiful memories or make a lovely decorative piece. Change colors to brown or blue for an uncooked version.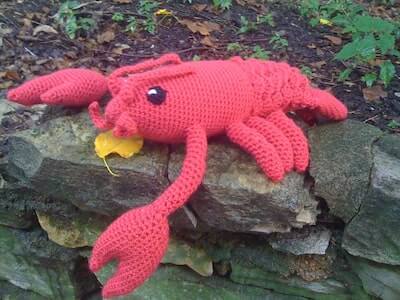 Get the Pattern by Drunken Aunt Wendy here

10. Crochet Amigurumi Lobster Pattern by Sweet Oddity Art
Bring to life and fall in love with these charming amigurumi lobsters! In no time, you'll have a couple of super cute characters when you're done.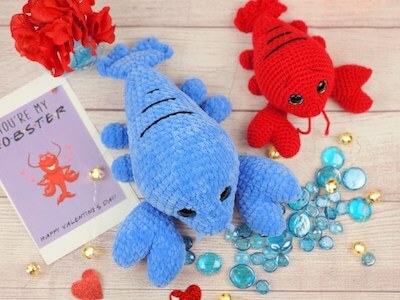 Get the Pattern by Sweet Oddity Art here
THESE CROCHET LOBSTER PATTERNS ARE SURE TO GET YOUR CLAWS TAPPING!
When you complete one, please share it on our Facebook Page. We love seeing your work!
If someone special in your life can't get enough sea food, treat them with a crocheted item that expresses that. Here are more crochet patterns any sea animal lover will swoon over:
Have fun this summer with a crawling friend that you can make at home (but not eat) with these crochet lobster patterns today!