If you're one of the millions who've started watching the HBO hit series, undoubtedly you've been clamoring for Crochet Game of Thrones Patterns. And I have got you covered!
The show may have ended, but the fandom shows no signs of slowing down. By my estimation, there are no half-way Game of Thrones fans. People either love it or don't watch it—and those who love it tend to be obsessed.

The next time you're looking for a project to gift for one of your dragon slaying pals (or for yourself!), consult this list for the coolest Game of Thrones-inspired crochet patterns that'll remind them of their love of GoT (and you) on the daily.
10 Crochet Game Of Thrones Patterns

1. Daenerys Crochet Game Of Thrones Pattern by Ptitepeste
In need of a daily reminder that you're a true queen? Khaleesi is here to serve as a reminder. She's burning villages to the ground, abolishing slavery, trudging her troops to Westeros, but she'll drop everything to hang out with a fierce lady like you for awhile.

Keep this 27cm tall Daenerys Amigurumi on a desk, dresser, or shelf to serve as a reminder to always live life like a Khaleesi!
Get the Pattern by Ptitepeste here

2. Daemon Targaryen Crochet Pattern by My World Amigurumi Shop
There are a lot of characters in the Game of Thrones universe. It can sometimes be hard to remember who is who. Of course, there is a certain who that will always be easy to remember.

Whenever the Prince and husband to Rhaenyra steps onto the scene, there is sure to be high praise for the ultimate warrior. Show your favoritism for this white-haired hero with this Daemon Targaryen Crochet Pattern.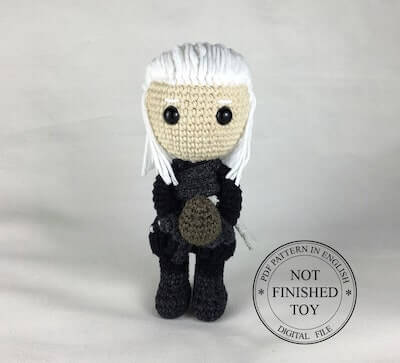 Get the Pattern by My World Amigurumi Shop here

3. Crochet Game Of Thrones Blanket Pattern by Wayward Pineapple Creations
What's better to cozy up and watch House of the Dragon than a Game of Thrones-themed crochet blanket! This crochet blanket consists of a quilting-style design which combine several crochet sigils found throughout the series.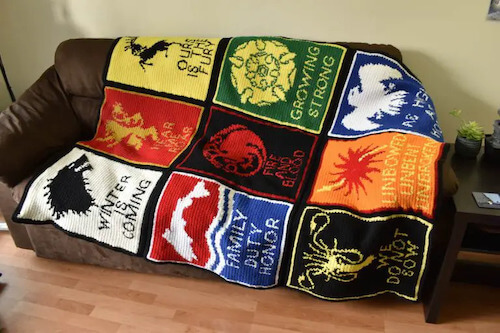 Get the Pattern here

4. Crochet Game Of Thrones Dragon Pattern by Cortney Nicole
Become the Mother of Dragons by adding this incredibly detailed Game of Thrones Dragons: Drogon, Rhaegal, and Viserion. These dragons will measure about 31 inches from wingtip to wingtip when complete, and are the perfect size to sit on your shoulder!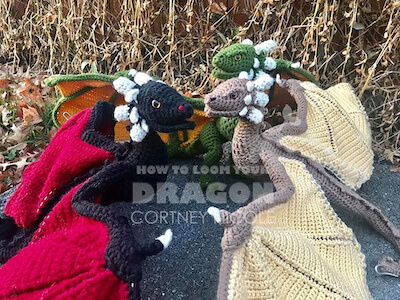 Get the Pattern here

5. Jon Snow Amigurumi Crochet Pattern by Lucy Raven Scar
He's known by many names: The Bastard of Winterfell, Lord Snow, The White Wolf, Aegon Targayen. But Lord Crow worked his way into our hearts and minds as Jon Snow. A fun-size Jon Snow in crochet amigurumi form? It doesn't get any better than that!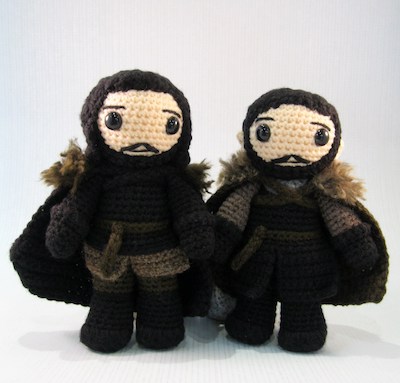 Get the Pattern by Lucy Raven Scar here

6. Crochet Dragon Eggs Pattern by Bad Mushroom
Looking for an appropriately crafty project to keep your hands busy while you watch the next episode of Game of Thrones? Why not get started on these crocheted dragon eggs? This version will have you channeling your inner "Mother of Dragons" in no time.
This pattern can be used to create a gorgeous plush egg that looks almost identical to Daenerys' dragon eggs from the Game of Thrones series.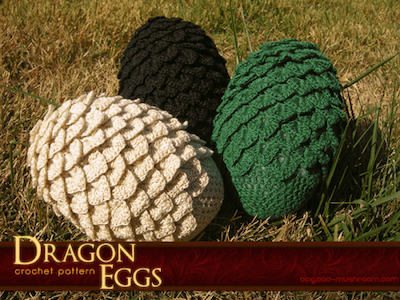 Get the Pattern here

7. White Walker Crochet Game Of Thrones Pattern by Blue Rabbit Toys
Here's the Game of Thrones' terror of the north, White Walker, as a 3.9in tall amigurumi toy. They might be trying to take over the world, but I think this crocheted White Walker is just brilliant!
Get the Pattern by Blue Rabbit Toys here

8. Mother Of Dragons Lovey Crochet Pattern by Adventures In Yarnia
The perfect functional nursery accent for a Game of Thrones fan, this Mother of Dragons Lovey is the perfect companion for your little stormborn princess. It measures approximately 15″ when completely spread out.

Daenerys Targaryen is a woman who knows what she wants! Here she is in all her crochet glory.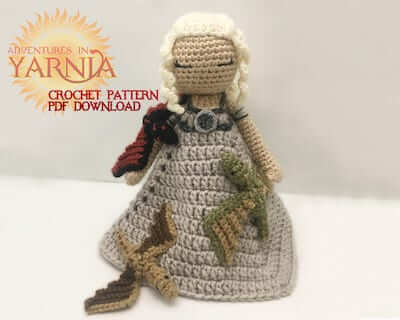 Get the Pattern by Adventures In Yarnia here

9. Crochet Game Of Thrones Pattern by Lucy Raven Scar
You've watched every single episode. You have your own feelings about the series' end. But there's no way you're going to pass up this Daenerys Targaryen and Dragons Amigurumi Patterns! They're an absolute must for any GoT fan.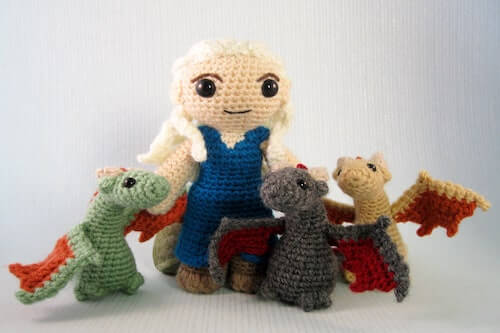 Get the Pattern by Lucy Raven Scar here

10. House Stark Crochet Sigil Pattern by Olive And Brook
This House Stark Crochet Sigil is done in a simple black and grey color scheme featuring the Stark Direwolf and the Stark Words. Wouldn't this make a perfect gift for the Thronie in your life?
Get the Pattern here
YOU'LL BE THE TALK OF WESTEROS WITH THESE CROCHET GAME OF THRONES PATTERNS!
The night may be dark and full of terrors, but crocheting for the Game of Thrones in your life doesn't have to be. Share your progress with me by posting photos on our Facebook Page!
From timeless stories to modern day stars, take a look at some of my favorite crochet characters:
Ready to take on any of these interesting crochet Game of Thrones patterns? Choose your favorite one to start with and be sure to let us know how it goes! Happy crocheting, fellow GoT fans!