Finger puppets are a fun toy for people of all ages! With some creativity and crochet skills, you can make the puppets resemble anything you would like with these crochet finger puppets patterns.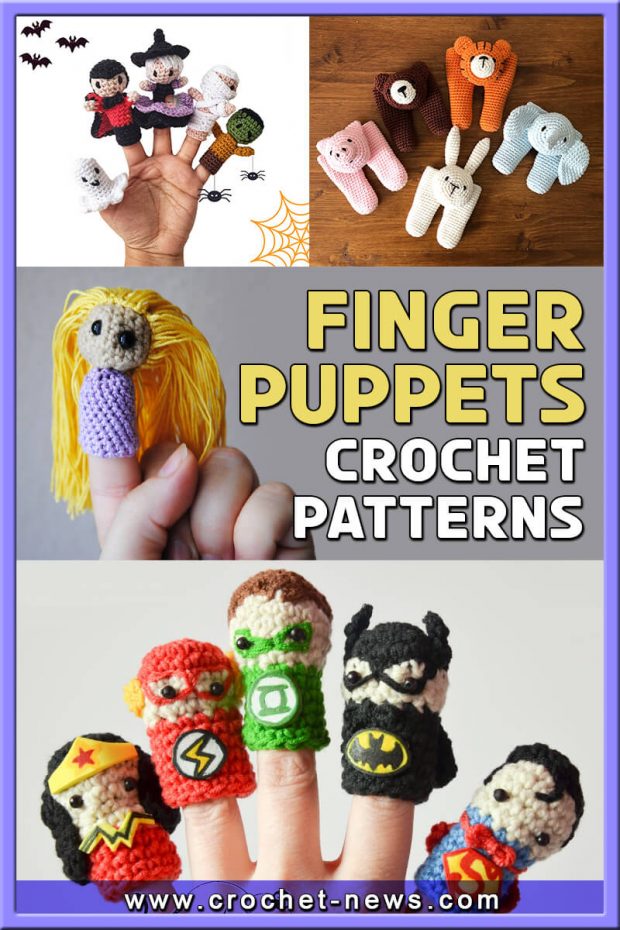 Finger puppets are playthings with endless scope. Kids of different age groups can play with these cute puppets that fit on a finger or two, for a long time with different stories and different settings.

Finger puppets are the perfect take-along toys – small, quiet, easy to stash, creative, and did I mention quiet? All things you want from a toy at a restaurant, waiting room, airplane, or backseat. These finger puppets below fit the bill!

1. Free Crochet Finger Puppet Pattern by Furls Crochet
This Free Crochet Finger Puppet Pattern is sure to make any little one in your life super happy. These crochet finger puppets would make an awesome holiday gift.
They can be customized in so many different ways, and the pattern even includes a couple of pets.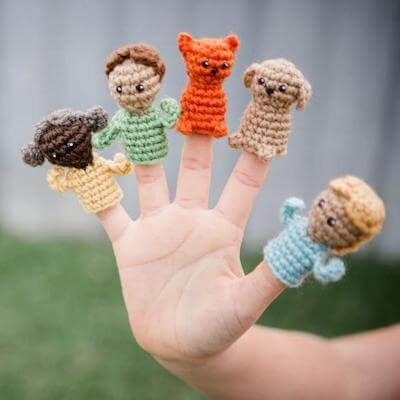 Get the Pattern here

2. Santa's Family Finger Puppet Crochet Pattern by Hansen's Crochet To Play
These Christmas Finger Puppets are great Christmas party favors as goodie bag fillers, Christmas gift, school classroom rewards. It's a gapped set for storytelling, role-playing, and teaching.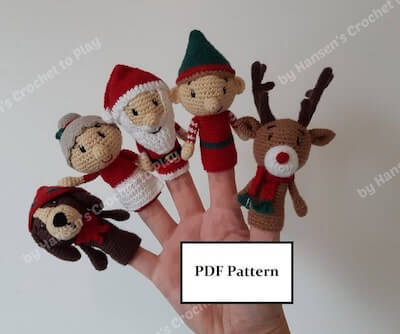 Get the Pattern by Hansen's Crochet To Play here

3. Crochet Finger Puppet Pattern by Savanali Toys
Make storytelling fun and interactive with these unique crochet finger puppets! Here, you get five of the famous animals: bear, rabbit, tiger, pig and elephant! The little ones love them; and they are fun to make and a beautiful, personal gift.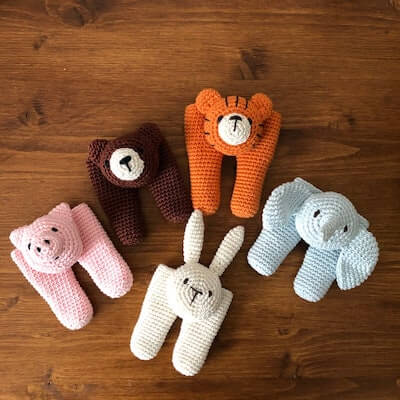 Get the Pattern by Savanali Toys here

4. Nativity Finger Puppets Free Crochet Pattern by Amelia Makes
Just a couple of main pattern pieces in this set means that you can easily whip up a set in a few hours or less-perfect for gifting or for acting out the Christmas story with the children in your life.

For this set of puppets, you will focus on creating six characters: Baby Jesus, Mary, Joseph, a wise man, a shepherd, an angel, and king Herod.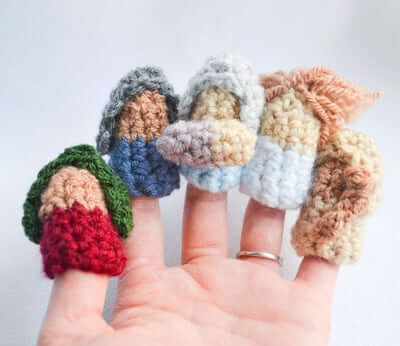 Get the Pattern here

5. Star Wars Crochet Finger Puppets Pattern by Desi Boneka
This Crochet Star Wars Finger Puppets Pattern lets you craft the heroes of the Rebel Alliance and their foes from the Galactic Empire! Star Wars has some classic characters we all know and love – and 5 of the most popular are included in this pattern!

DIY you own Princess Leia, Yoda, R2D2, Storm Trooper, and Darth Vader finger puppets. As you can see, they're all adorable!
Check out our compilation of crochet Star Wars patterns for more ideas.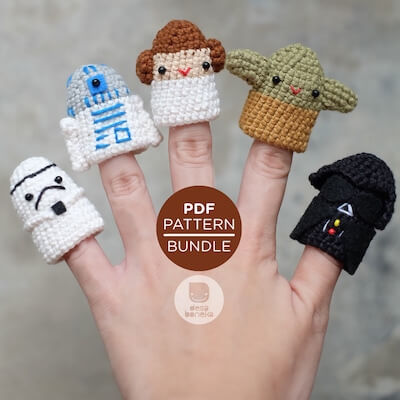 Get the Pattern by Desi Boneka here

6. Farm Animal Finger Puppet Playset Crochet Pattern by 5 Little Monsters
This little farm animal finger puppet playlet includes a few animal finger puppets and a drawstring bag that looks like a barn to keep them in.
There are 4 animals made with the same base pattern so you could use it to make whatever other animals you can think of, just add different ears, faces, etc.
Get the Pattern here

7. Rapunzel Finger Puppet Crochet Pattern by Lauren Burns
Bring your favorite fairy tales to life by making finger puppets out of the characters. You cam begin by making Rapunzel. The yarn hair is fun on this one ad will give you ideas about how to adapt yarn on other puppets.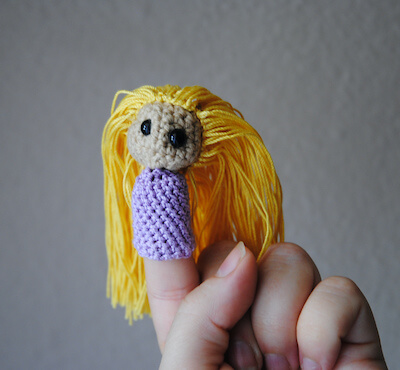 Get the Pattern here

8. Finger Puppets Crochet Turkey Toy Pattern by Cozy Choice
These finger puppets, hand-crocheted with love, are great baby toys learning and tool for Thanksgiving games. Child development toy turkey will be an original thanksgiving decor for children's room.

You can crochet as many Montessori baby toys as you need. You can crochet different color and size toys to make it more fun to play.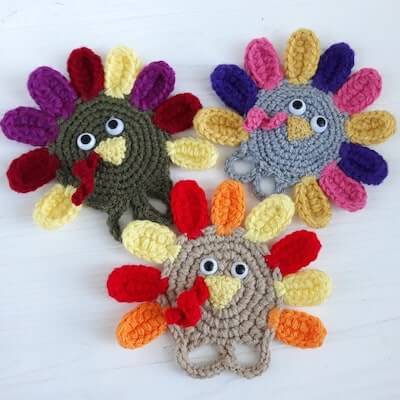 Get the Pattern by Cozy Choice here

9. Crochet Halloween Finger Puppets Pattern by Yarn With Lynn Designs
These Halloween Finger Puppets would be so fun to create and share with your children for Halloween! A healthier alternative to the traditional Halloween candy!
The pattern included the instructions to crochet Witch, Dracula, Mummy, Frankenstein, Ghost and a Pumpkin pot.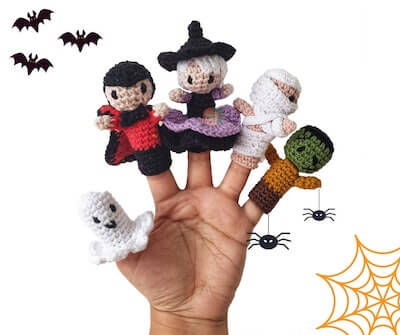 Get the Pattern by Yarn With Lynn Designs here

10. Shapes Finger Puppets Crochet Pattern by Selena Lazarus
These puppets are made with really basic shapes. That makes them easy to crochet. Use them to help teach a little one the names of different shapes including the triangle and circle. Make them with or without the eyes.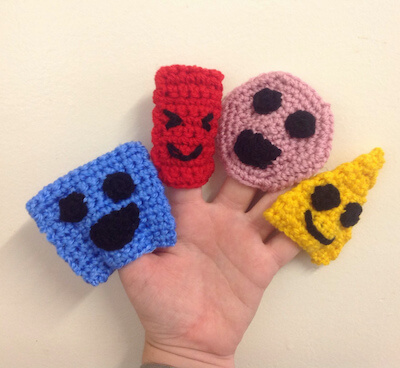 Get the Pattern here

11. Crochet Superhero Finger Puppets Pattern by Krawka
Put on a great show with this wonderful assortment of superhero finger puppets that includes Wonder Woman, Flash, Green Lantern, Batman and Superman.
Filled with bright colors and cool characters, kids will play with these finger puppets for hours! Perfect for birthday parties with a superhero theme, classroom games, or as prizes or an activity at carnivals and other fun events.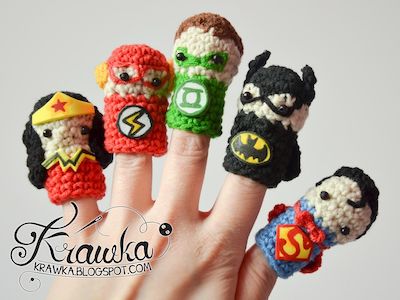 Get the Pattern here

12. Magical Toadstool Finger Puppets Crochet Pattern by Moogly
The Toadstool here is actually a handy pouch, as well as a magical forest setting. Fitting neatly inside are the Flower Fairy, Butterfly Fairy, and cute little Gnome – all ready to come out and play!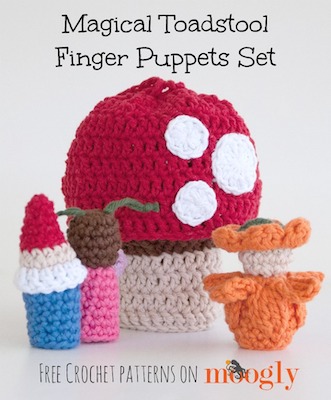 Get the Pattern here
IF YOU'VE NEVER CROCHETED A FINGER PUPPET BEFORE THEN IT'S DEFINITELY TIME TO TRY IT, AND HERE ARE THE CROCHET FINGER PUPPETS PATTERNS THAT YOU NEED TO DO SO.
We love to see these designs out there in the world, so if you are inspired to make these cute little guys, we would love you to share your pictures with us across Facebook. We look forward to seeing what you have been up to!

Do you want your little darling to have more fun and safe playtime? Check out these patterns: Crochet Toy Patterns, Crochet Baby Mobile Patterns, Crochet Baby Rattle Patterns, Crochet Doll Patterns, and Crochet Baby Toys Patterns.

These crochet finger puppets are simple and fast completing crochet patterns and a perfect way for cleaning out your yarn bins. It's time to use up that abundance of scrap yarn you have laying around. Have fun!