Prepare for the warmer weather by working on this crochet cropped sweater pattern!
Because of the super soft yarn used in this pattern, this crochet sweater is light and airy perfect for the warm weather. So if you live in an area where Summer days can be so hot, we're sure you'll love this cropped sweater pattern.
You don't even have to be an intermediate crocheter to make finish this crochet sweater pattern. Would you believe that majority of this sweater pattern is made using just a double crochet stitch?
If you want to find out more about this cropped summer sweater, continue reading the article!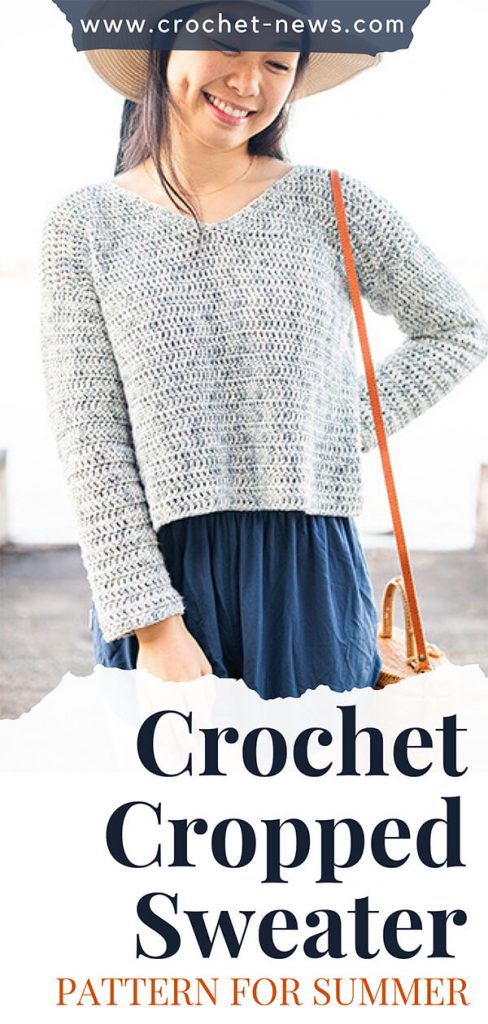 Comfy and Cozy Garments from ForthefrillsStore
If you're planning to make simple yet elegant looking garments, you have to give the ForthefrillsStore a visit! Their pieces are so comfy and cozy, they are perfect for any weather.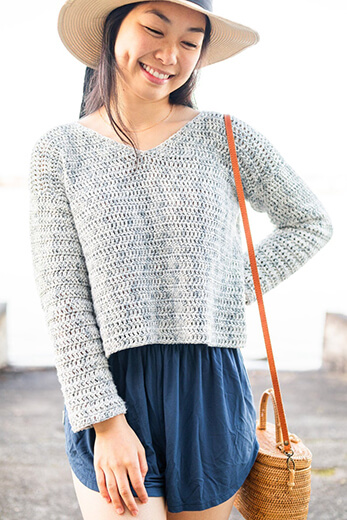 For instance, they have v-neck cotton garments that are great for warm weather. They call this the Breeze series, two garments that are similar to the crochet cropped sweater pattern.
Aside from clothes, they also have patterns for cute little beanies and boho-inspired placemats and coasters.
Make your Crochet Cropped Sweater Standout with this Soft Yarn
You don't always need detailed patterns to make an eye-catching garment. In fact, this crochet cropped sweater is made with the simplest stitches, and yet it still managed to stand out.
To add subtle texture to the crochet cropped sweater, the designer recommends using the Comfy Color Mist Yarn in Tidewater.
This ivory-colored yarn has light grey-blue speckles that help add texture to the finished product.
Aside from its colors, crocheters also love using this yarn because it is incredibly soft and it creates lovely drapes. Made with 75% Pima cotton and 25% Acrylic, the Comfy Color Mist Yarn is perfect for clothing and baby blankets.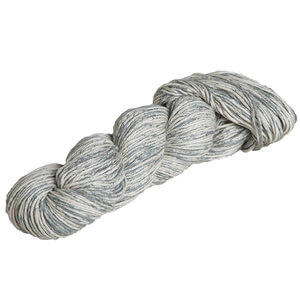 This yarn is available in 100-gram hanks that are 200 meters long. You can choose from a wide range of pastel colors and bright shades with a cream base and a sprinkle of color.
However, if this type of yarn is not available, you can also use an affordable acrylic alternative, the Brava yarn.
Know more about the Crochet Cropped Sweater Pattern
Get ready for summer by working on this crochet cropped sweater pattern!
This light and airy cropped summer sweater is so easy to make, even beginners can easily finish it! In fact, as long as you know the basic stitches, you can complete this crochet cropped sweater.
To make it even easier for beginners to follow the pattern, they even included a video on how to make the project.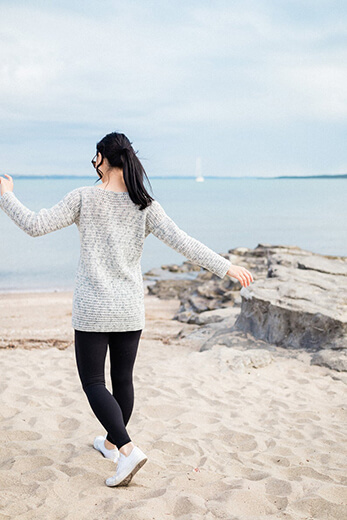 Aside from its beginner-friendly pattern, crocheters will also love how you can make different types of garments by just using one pattern. You heard that right, you can make a cropped crochet sweater, a long pullover, a dress, and even a beach coverup!
Since it's created from the shoulder down, you can easily crochet the garment in any length. You can make a cropped crochet sweater for the summer, or go for a longer length and make a dress.
So if you want a customizable pattern that will work well with any season, you should give this crochet cropped sweater pattern a try. Although make sure you use different yarn colors so you won't end up having multiple garments with the same color.
Skill Level
Beginner
Gauge
4" square = 14 sts wide x 8 rows tall in Double Crochet
Materials Needed
Yarn – Comfy Color Mist – number of skeins will depend on the size you're going to make
5mm (US H) Crochet Hook
Darning Needle
Scissors
Finished size
XS – S – M – L – XL – 2XL – 3XL
To fit Bust: 28 – 32 – 36 – 40 – 44 – 48 – 52
Bust Circumference: 33 – 36 – 40 – 44 – 48 – 52 – 56
Body Panel Width: 16.5 – 18 – 20 – 22 – 24 – 26 – 28
Cropped Length: 18 – 19 – 19 – 19 – 20 – 20 – 20
Full Length: 24.5 – 25.5 – 25.5 – 25.5 – 26.5 – 26.5 – 26.5
Sleeve length: 15.5 – 15.5 – 16 – 16 – 16.5 – 16.5 – 17
Stitches Used
Chain Stitch – Chain Stitch Complete Beginner's Guide
Slip Stitch
Single Crochet – Single Crochet Stitch Tutorial | Written + Video
Double Crochet – Double Crochet Stitch Tutorial | Written + Video
Work on this Crochet Cropped Sweater Pattern and be Prepared for Warmer Weather!
Have you finished working on your crochet cropped sweater pattern? It's incredibly easy to make, isn't it?
After finishing your cropped summer sweater, we are positive you can't wait to make another crochet clothing so be sure to check our Half Ribbon Drape Ruana Crochet Pattern, Flower Cardigan Rainbow Pattern, and Crochet Duster Patterns.
Also, we are more than excited to see your finished works! Feel free to share it with the whole crochet community by posting a picture of your finished cropped crochet sweater on our Facebook Page.
If you're planning to add more crochet sweaters and pullovers to your closet, you can also check out our list of other trendy crochet hoodies you can make.
We hope you enjoyed working on this crochet cropped sweater pattern and we're excited to know what project you'll be working on next!