So, your fancy dress costume needs some facial hair, but you don't want to grow your own? Don't worry, these crochet beard patterns can help! This list of fake beards is just what you need. We can finish off a range of outfits, including Vikings, Santa, and more!
Whether it's for a dress-up, a cosplay, or a play, knowing how to make a fake beard can come in handy. Guaranteed fun and laughs but is also practical to wear during mother nature's coldest weather! Go with traditional beard color, or let your quirky flag fly with a bright one!
10 Crochet Beard Patterns

1. Crochet Santa Beard Pattern by Golden Lucy Crafts
Use your crochet skills for a bit of holiday fun. Wearing this beard with your Santa hat will make anyone feel like a jolly ol' elf! This Crochet Santa Beard is quick to make, you can finish it in one evening!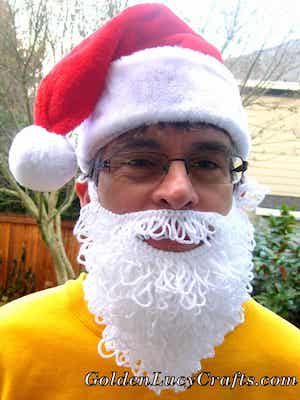 Get the Pattern here

2. Easy Crochet Beard Pattern by The Loopy Lamb
Fur yarn helps to give this Easy Crochet Beard Pattern a realistic look without having the hassle of attaching individual yarn strands and brushing them out. This pattern is available in three different sizes so that you can make a crochet beard for the whole family.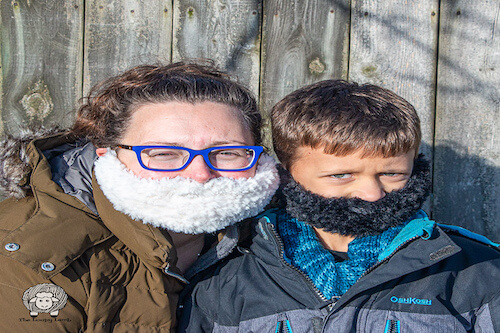 Get the Pattern by The Loopy Lamb here

3. Crochet Bobble Beard Pattern by Ashlee Marie
Beards, they grow on ya! Help your little guy look like the rugged man he'll one day become with this Crochet Bobble Beard.

And if you like you're missing out on all the crochet beard action, you could, of course, make one for yourself – they're not just for babies!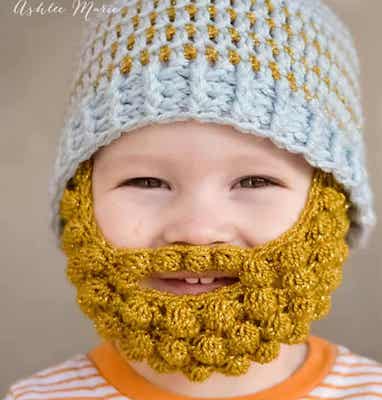 Get the Pattern here

4. Crochet Mountain Man Beard Pattern by R Crafty Creations
Brush off the frigid weather like a real mountain man by strapping on this crochet beard and mustache. Ideal for skiing, running, football games, and other cold-weather activities. It also makes an excellent costume!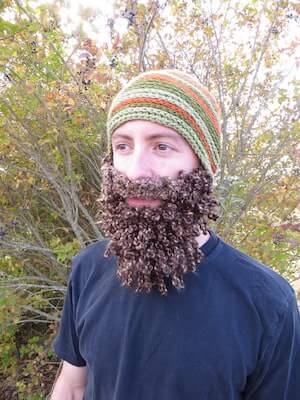 Get the Pattern by R Crafty Creations here

5. Crochet Duck Dynasty Beard Pattern by Ashley McCauley
Follow in the fashionable footsteps of America's beloved family with this Crochet Duck Dynasty Beard. This beard will not only give you the epic and distinguished beard you've always dreamed of, but it is also a great way to keep your face warm during cold weather.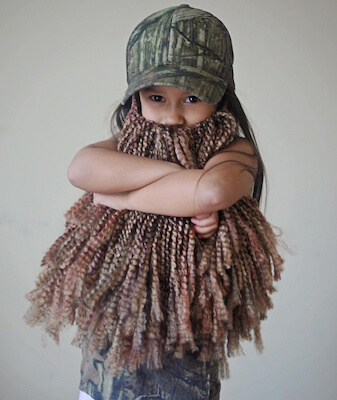 Get the Pattern here

6. Crochet Kids Ultimate Bearded Beanie Pattern by Burly Beardco
This adorable bearded beanie is a dress-up costume essential for any toddler or kids. With just one beard, they can dress-up like Dad, St. Patrick's Day, 4th of July, and Christmas. Heck, you might even be able to use it on Halloween! Kids love it and adults think it's pretty darn cute.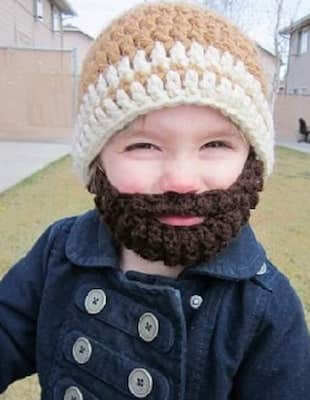 Get the Pattern by Burly Beardco here

7. Crochet Irish Beard Beanie Pattern by Simply Collectible
For this year's St. Patrick's Day, it would be fun to create an easy costume accessory that embraces the spirit of the holiday.

Keep it simple with the traditional ginger-toned beard or crochet it in any color combination for a whole host of characters.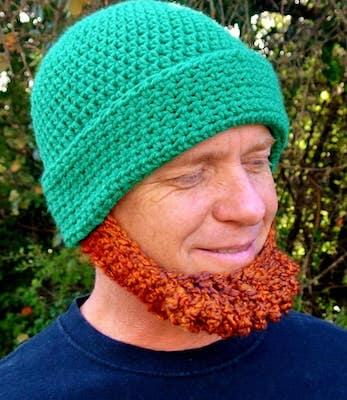 Get the Pattern by Simply Collectible here

8. Crochet Beard Free Pattern by Traverse Bay Crochet
You don't need skill to tackle those black diamond courses, just the incredible confidence instilled in you by wearing this crochet beard while you ski.This imposing beard is the stylish and eye catching way to keep your face warm from the howling cold air on the slopes.

The beard is made such that the ends glide over your ears, allowing you to wear it with any hat you already own or quickly sew it into any hat.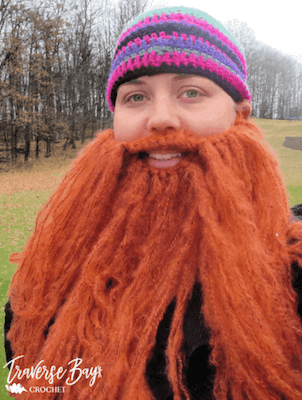 Get the Pattern here

9. Crochet Gimli Inspired Beard Pattern by R Crafty Creations
Fend off the cold by transforming yourself into Middle Earth's most relentless Dwarf warrior by crafting your own Gimli Inspired Beard. The pattern guides you through every step necessary to crochet a thick, luscious fiery red beard.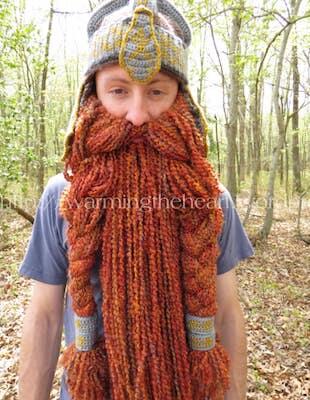 Get the Pattern by R Crafty Creations here

10. Lumberjack Party Crochet Beard Beanie Pattern by Simply Collectible
Looking for a costume, funny gift, or an accessory to fulfill your lumberjack party dreams? Then look no further than this amazing beard beanie!

Needless to say it makes a great boyfriend gift, or just a funny present for the jokester in your life.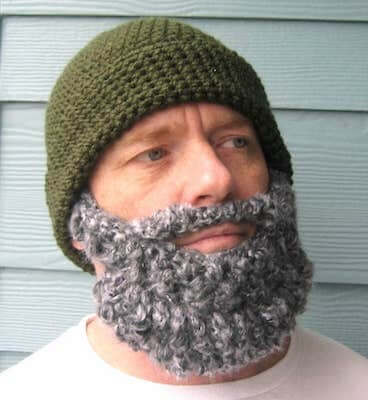 Get the Pattern by Simply Collectible here
ISN'T THIS LIST OF CROCHET BEARD PATTERNS THE MOST AMAZING, WHIMSICAL, WONDERFUL, QUIRKIEST THIS YOU'VE EVER SEEN?
Would you wear a crochet beard? Let us know by sharing photos of you wearing one on our Facebook Page. What color beard will you be rocking?
We like to be a bit quirky sometimes, too. Browse through these crochet patterns below and prepare to smile!
These crochet beard patterns will be sure to give you that extra manly look while keeping your face nice and warm! Make one (or all!) today!