Have you heard of BLO crochet stitch? It refers to the technique of working in the Back Loops Only–or BLO.
Our written and video tutorials will help you learn this handy stitch technique step by step!
Crochet back loops allows you to completely transform your work with even simple crochet stitches by working in only the back loops.
Keep reading to find out how to work in the crochet back loop only to learn the BLO crochet stitch!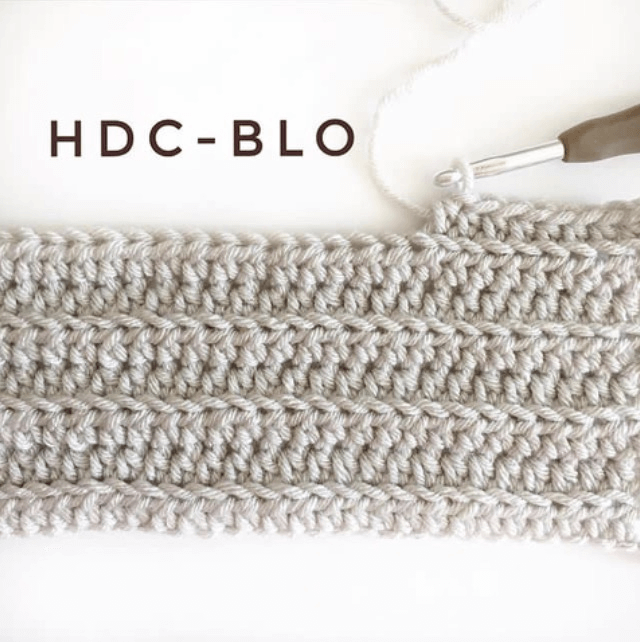 BLO Crochet Stitch Written Instructions
Begin by working up a foundation chain of 20 stitches.
Next, work a row of single crochet stitches all the way across the foundation chain.
***Stop and look at your chain and first row of single crochet. Insert your hook like normal. Stop and look again.
Do you see the "V" shape created by the loops? The loop that is closer to you is the front loop, while the loop furthest from you is the back loop. You will be working in the BACK loop.
Remove the hook from the stitch.***
Now to begin the BLO crochet stitch insert your hook into the BACK loop. Yarn over and work the stitch of your choice, be it double crochet, single crochet, treble crochet, you get the idea. Continue through the row working the stitches in the BACK loops only. At the end of the row, make a turning chain and work back through the row.
You'll use the same technique in the FRONT loops to work FLO!
BLO Crochet Stitch Video Tutorial
Patterns to Use the BLO Crochet Stitch
Using the BLO crochet stitch is a great way to change up a simple pattern or basic crochet stitch.
There are many times that those who crochet can't quite find the pattern they are looking for so they create their own.
Even beginners with crochet can take a very basic half double crochet pattern and make it more interesting simply by working the back loops only!
Try it with these 42 Crochet Beanie Patterns.
Or work up this quick and easy baby blanket with a twist!
For more patterns to start with, you can also check out this Crochet to Calm Book.
BLO (Back Loops Only) Crochet Stitch Tutorial
We hope you've enjoyed learning the BLO crochet stitch!
Be sure to post the patterns you make to our Facebook page.
Check out all our crochet stitch tutorials here.
Happy crocheting with your new crochet BLO stitch!