America, land of the free, home of the brave as they say. These American Flag Crochet Blanket Patterns are the perfect items for celebrating the Fourth of July, Veterans Day, and Memorial Day.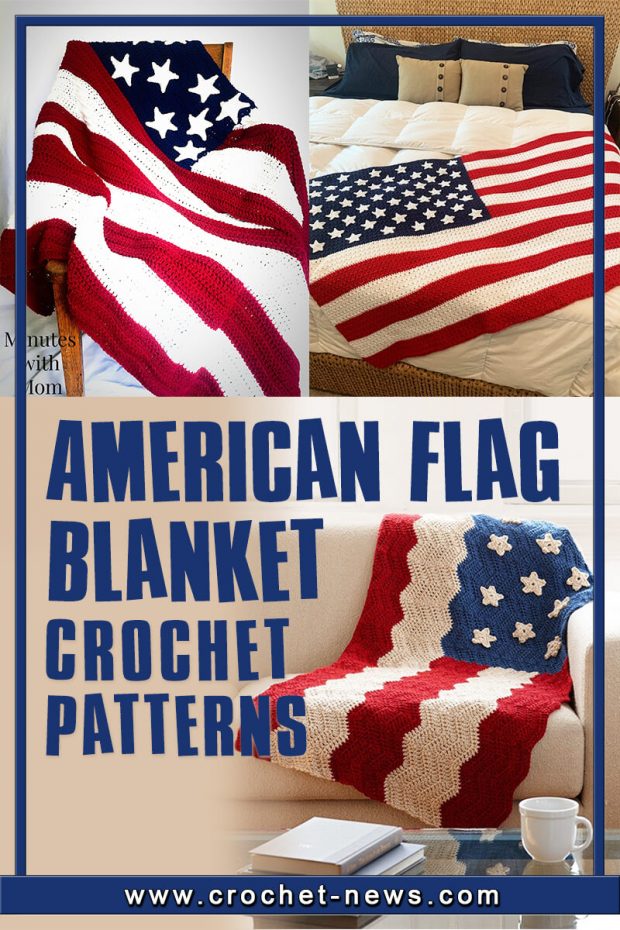 These American flag crochet blankets are also great gifts for retired or active members of the military and are great for hosting charity events for veterans.
10 Crochet American Flag Blanket Patterns
American flags come in all patterns and colors which may include a stars and stripes theme in red, white, and blue, the 13-star saltire in red, white and blue of the Confederate flag and more.

1. American Flag Crochet Pattern by Yarnspirations
Use your crochet skill to show your patriotism! These flags are a testimony to American pride and will be handed down for generations.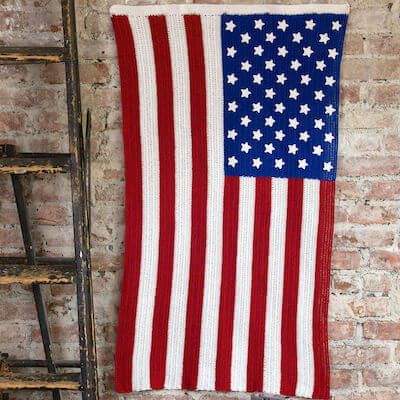 Get the Pattern here

2. American Flag Crochet Blanket Pattern by The Hyper Hook
This American Flag Crochet Blanket is the perfect summer blanket. It is lightweight and soft making it perfect for picnics, cozying up on a summer night, and for watching fireworks.
The stitch pattern is simple making this the perfect summer project.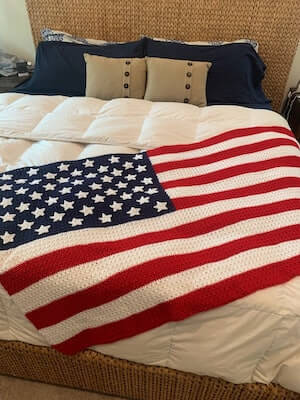 Get the Pattern by The Hyper Hook here

3. American Flag Crochet Blanket Pattern by The Turtle Trunk
This pattern is for a large (48″ by 60″) crochet blanket using a chevron design. This blanket would make a wonderful gift for any patriots or veterans you may know!
It works up surprisingly quick and it easy enough for an advance/confident beginner.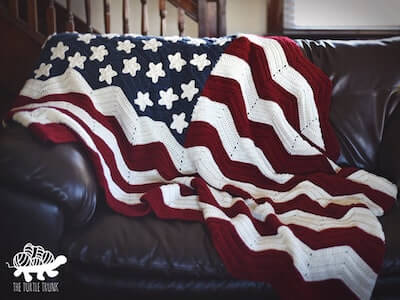 Get the Pattern by The Turtle Trunk here

4. Old Glory American Flag Crochet Blanket Free Pattern by Highland Hickory Designs
This Old Glory American Flag Crochet Blanket makes a wonderful gift for a veteran or any patriotic person in your life – perhaps even yourself!
The main body of the flag uses the Suzette Stitch to give it a wonderful, squishy texture.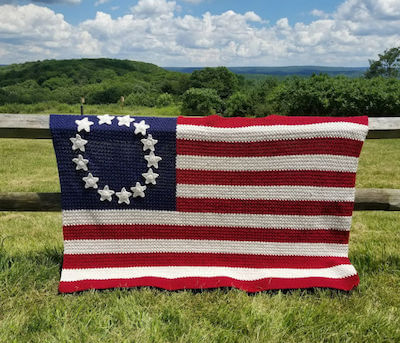 Get the Pattern here

5. American Flag Crochet Afghan Pattern by Lion Brand
With a classic Americana look and beautiful textures, this American Flag Crochet Afghan Pattern is sure to be your new favorite.
This piece makes a fantastic gift for loved ones who have served in the military or love showing off their patriotic love.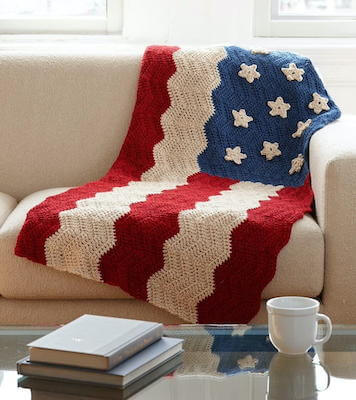 Get the Pattern here

6. Crochet American Flag Blanket Pattern by I'm In Stitches 13
This pattern is written in the correct number of stripes and stars to accurately depict the great American Flag. This blanket would be a great throw for the couch because it was made to fit over the back.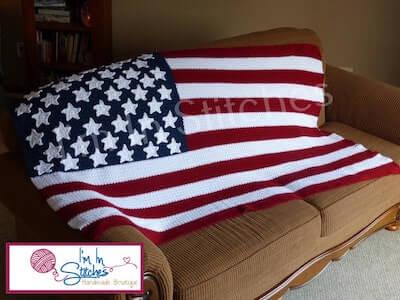 Get the Pattern by I'm In Stitches 13 here

7. American Flag Blanket Crochet Pattern by Ambassador Crochet
This is big enough to cover a full size bed when finished, so it will keep you busy for a lovely long time and then keep you warm and snuggly for even longer.

The design stays as true to the real flag as possible, and the stars and stripes are nicely proportioned for a very authentic finish.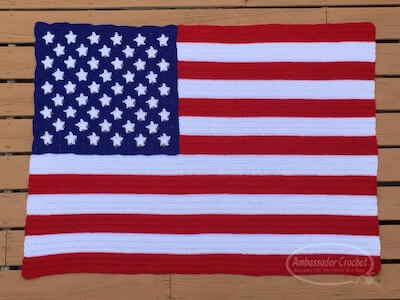 Get the Pattern by Ambassador Crochet here

8. Stars And Stripes Afghan Crochet Pattern by Craft Yarn Council
This Stars and Stripes Afghan is made with your favorite brand of worsted weight yarn. The optional gold border adds a decorative touch to this American flag, and you can make it in any other color you prefer.

The pattern allows you for lots of personal touches, which makes this design even more special when giving it as a gift!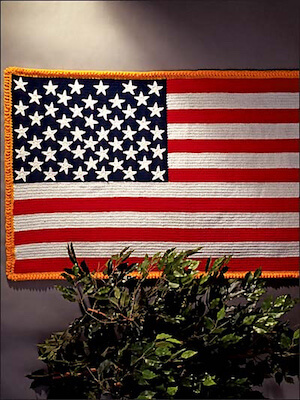 Get the Pattern here

9. American Flag Baby Crochet Blanket Pattern by The Crochet Crowd
This 36″ square crochet baby blanket is a really easy pattern. Of course, it's coloured to look like the American Flag. Crocheters are welcome to embellish the blanket with stars or whatever else they have in mind.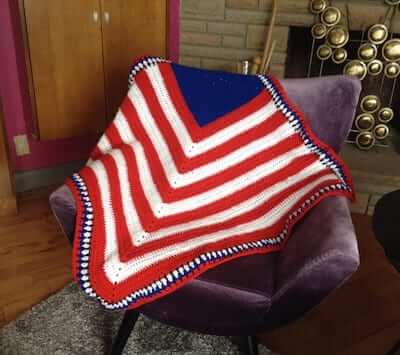 Get the Pattern here

10. American Flag Crochet Blanket Free Pattern by Yarn Hook Needles
If you or anyone you love is equally as enthusiastic about the stars and the stripes, you should check out this simple blanket pattern. You can use it to whip up your crochet blanket dedicated to the U.S of A.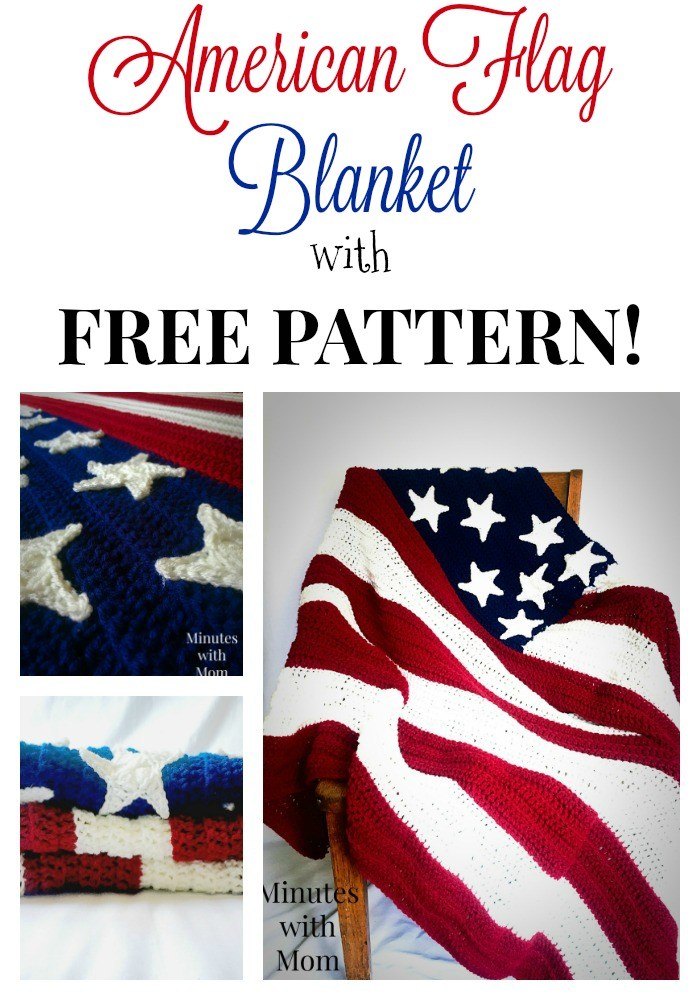 The pattern, however, needs some assembly in the sense that it requires a hot glue gun to stick down the points of the stars. You can however simply sew down the points if you prefer not to use the hot glue gun. A perfect pattern for a crochet beginner.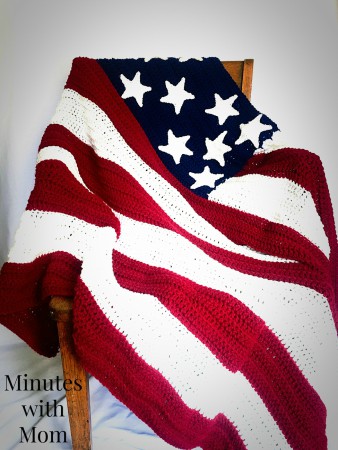 American Flag Blanket Materials:
Hook size K-6.5oMM
Scissors
Tapestry Needle
Hot Melt Glue Gun
Believe it or not, this isn't my first or second American flag crochet blanket. Yep, that's right. Be sure not to just glue the stars on. The stars should be stitched on as well, making sure that they stay in place.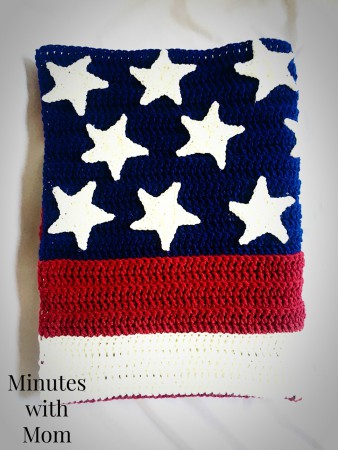 Betsy Ross Would Be Proud, I Am Sure Of It
I enjoy crocheting the American flag blanket so much I'm starting to think maybe I love this crocheting thing too much. The American flag crochet blanket is, however, my favorite and I reckon I wouldn't trade it for anything in the world.
I can happily and confidently say that it is among my most prized possessions. I'm telling you, you have to get one for yourself.
The blanket would make an amazing gift to anyone who is proud to call themselves an American. While in the spirit of giving, you could also crochet up a couple of these babies and donate them to your local elderly care home?
That'll surely make some senior citizens very happy, major points for you. That will be a well spent 10 hours of your time and effort.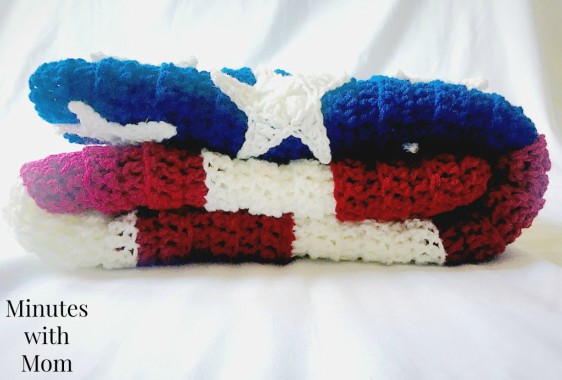 The Perfect Crochet Gift For All Occasions
A few years ago, my family was having a family reunion shortly after my brother returned home from his second deployment. My Dad, an Army veteran couldn't have been prouder. I couldn't think of anything better to share with my family than a warm, American flag crochet blankets.
I put my heart and soul into the project and the finished items came out fantastic. The boys were so impressed my Dad had the blanket on the entire time. Since then, my Mom says if you want to pick up a fight with the old man, mess around with his favorite blanket.
I have been lucky to attend a handful of Army veteran events alongside my dad and I can't think of anything better to crochet for such events. As luck would have it, my Dad went around showing off his American flag crochet blanket to his army buddies.
The next thing you know, everybody wants one and is willing to pay a pretty penny for it. That right there would have been the perfect opportunity to mint some serious coin but no.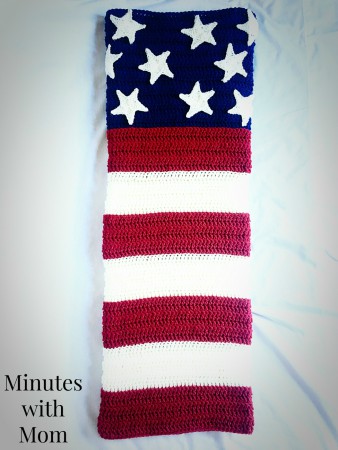 WITH THESE AMERICAN FLAG CROCHET BLANKET PATTERNS, ALL THE PATRIOTIC GUYS AND GIRLS WILL FINALLY HAVE A WAY TO STAY WARM DURING THE WINTER!
We love to see your finished projects! Post some pictures on our Facebook Page and show off your stitches.
Is American flag blanket not your thing? Browse through our huge collection of crochet blanket patterns which includes: Chevron Crochet Blanket Patterns, Gingham Crochet Blanket Patterns, Rainbow Crochet Blanket Patterns, Crochet Flower Blanket Patterns, Crochet Star Blankets, and a lot more!
Show off your patriotism with some stars and stripes by making these American flag crochet blanket patterns today!