Use these adorable, little preemie crochet patterns to welcome an early baby into the world!
If a precious baby in your life has arrived a little early, mama might have a lot of things on her mind. For sure, there's always going to be plenty to stress about, but there's so much more to celebrate. In this situation, we're fortunate to live in a time when crochet patterns for premature babies are plentiful, and they're cuter than ever!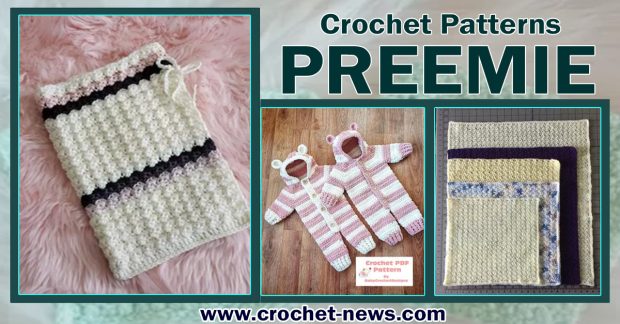 Crocheting for preemies is not only easy, but it's fun and quick. From hats to baby booties, there's so much you can do to keep your hands and hooks busy as the little one adjust to his her bright, new world!
10 Preemie Crochet Patterns

1. Crochet Octopus For A Preemie Pattern by But First Crochet
Not only is this little buddy super cute, but these toys provide a great comfort to preemies! Studies have shown that babies who cuddle a toy octopus in their incubator are less likely to pull at their monitors and tubes!
These toys are quick to work up and use small amount of yarn, making this the perfect item to donate to your local NICU.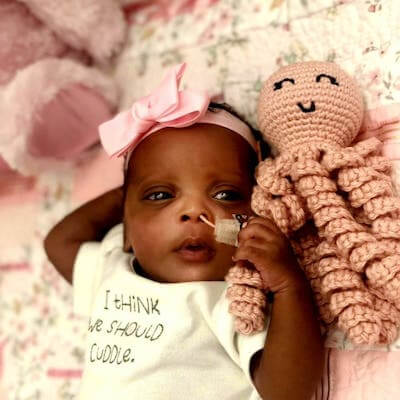 Get the Pattern by But First Crochet here

2. Hat Free Preemie Crochet Pattern by Crochet 365 Knit Too
Hats are a must in the NICU, even for very small or very sick preemies. Covering their heads helps babies stay warm, and preemie hats are an easy crocheting project.
Do you have some leftover worsted weight yarn that's too short for most projects? Turn it into a tiny hat for a preemie baby! Most of the hat is worked in half double crochet stitch in the round, so it is easy, fast crocheting.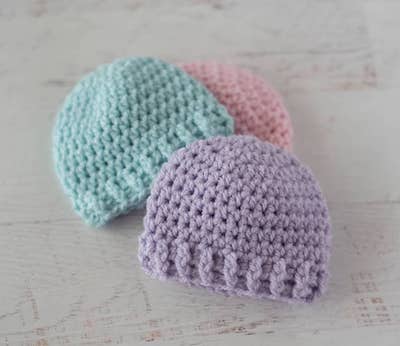 Get the Pattern here

3. Blanket Preemie Crochet Pattern by Nancy S
Baby blankets are a must for all babies and especially for preemies in both the NICU and at home.
These preemie blankets come in a variety of small sizes for premature babies born very early or just a little early. It's lightly textured, with holes kept to minimum to help keep little fingers and toes from being caught and causing circulation problems.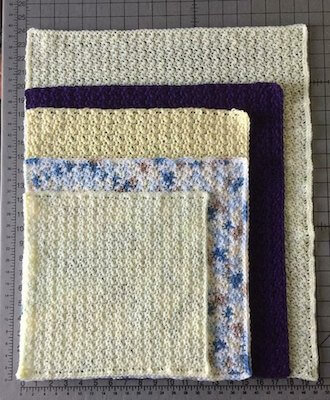 Get the Pattern by Nancy S here

4. Preemie Crochet Bonding Squares Pattern by Crafting Each Day
These squares are designed to help premature babies bond with their mothers. Choose a soft DK weight yarn. If you'd like to donate the squares, make sure the yarn meets the requirements of your chosen charity or NICU.

The squares use a solid shell stitch pattern that creates a beautiful texture. The pattern is written for squares that are approximately 5″ x 5″. Adjust the width and length of the squares if you'd like to turn the project into a small blanket.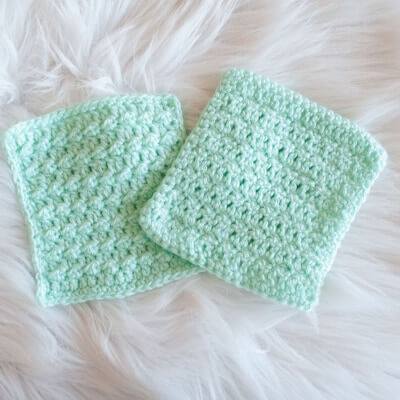 Get the Pattern by Crafting Each Day here

5. Crochet Preemie Socks Pattern by Mamma That Makes
Although it can be hard to keep socks booties on tiny feet, they are adorable and can often be worn by even very small babies with complex medical condition.
Use this simple preemie socks pattern designed to fit preemies as small as 26 weeks, with other sizes for larger babies included. These socks are tiny, adorable, and very easy to make.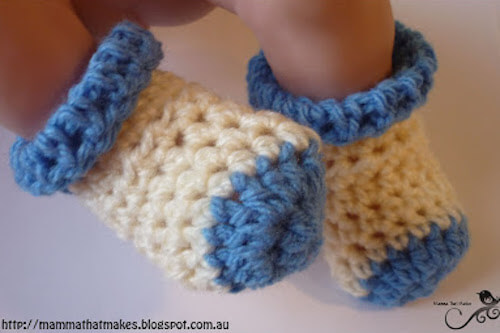 Get the Pattern here

6. Crochet NICU Jellyfish Pattern by Chrisette Designs
What if I told you that crocheting this doll for a preemie baby could improve their breathing, regulate their heartbeat, and give them strong oxygen blood levels? This NICU jellyfish is a fresh take on the traditional preemie octopus, it's cute and cuddly!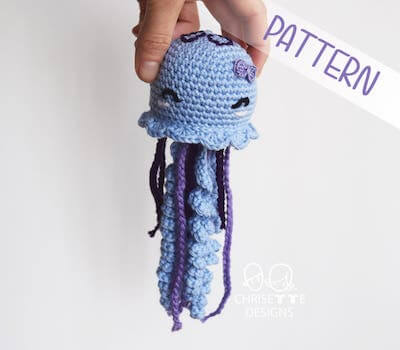 Get the Pattern by Chrisette Designs here

7. Free Preemie Crochet Pattern Baby Vest by Blue Star Crochet
Go ahead and crochet something special with this picture-perfect layer that always finds a home in baby's closet. This adorable wrap-around vest will make dressing and undressing your sweet bundle a breeze!

The two front panels simply wrap over each other and are attached with a simple tie. This way, it won't get in the way of any tubes your child may need!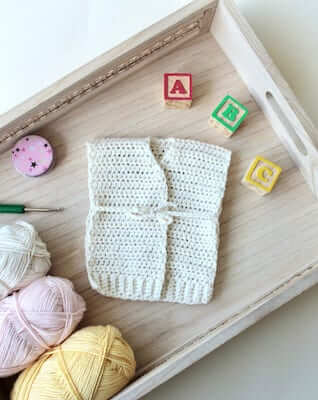 Get the Pattern here

8. Onesie Preemie Baby Crochet Pattern by Baby Crochet Designs UK
This adorable onesie is perfect to pamper any little prince or princess with the comfort and warmth they deserve!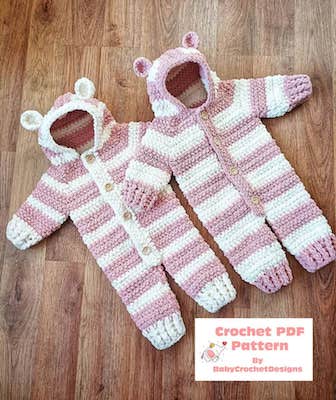 Get the Pattern by Baby Crochet Designs UK here

9. Crochet Baby Mittens Pattern by Crochet Club Store Co
You really need a good pair of baby mittens because those sharp little nails can scratch baby's face, so here's a quick and easy mitten pattern for preemies that doesn't have a thumb to worry about. They're also great to keep those precious little hands warm on chilly winter days!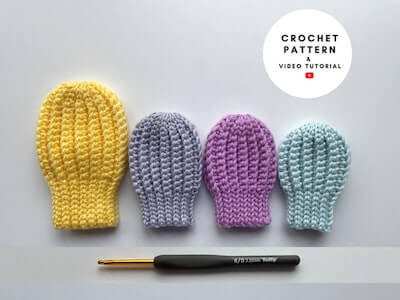 Get the Pattern by Crochet Club Store Co here

10. Sadie Baby Cocoon Premature Baby Crochet Pattern by One Little Hook
This cocoon is specifically designed for NICU preemies so it would be easy to put on and take off a baby, easy to open and close, and have enough room for anything medical that may be attached to the baby. This Sadie Baby Cocoon is simple, gorgeous, and easy to use!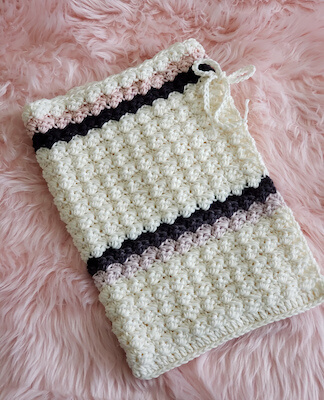 Get the Pattern here
WHETHER YOU'RE LOOKING FOR PREEMIE CROCHET PATTERNS TO DONATE, GIFT, OR TO ADORN YOUR OWN LITTLE ONE, I HOPE YOU'VE FOUND PLENTY OF INSPIRATION!
Who can resist crochet patterns for babies? There's nothing we enjoy more than whipping up a tiny project for a precious new arrival. Check out the patterns below for more ideas:
Share your creations with us by posting your finished projects on our Facebook Page. We really love seeing your works!
Beginners, intermediate, and advanced crocheters, grab your hooks and yarn and get started on one of these adorable preemie crochet patterns this weekend!