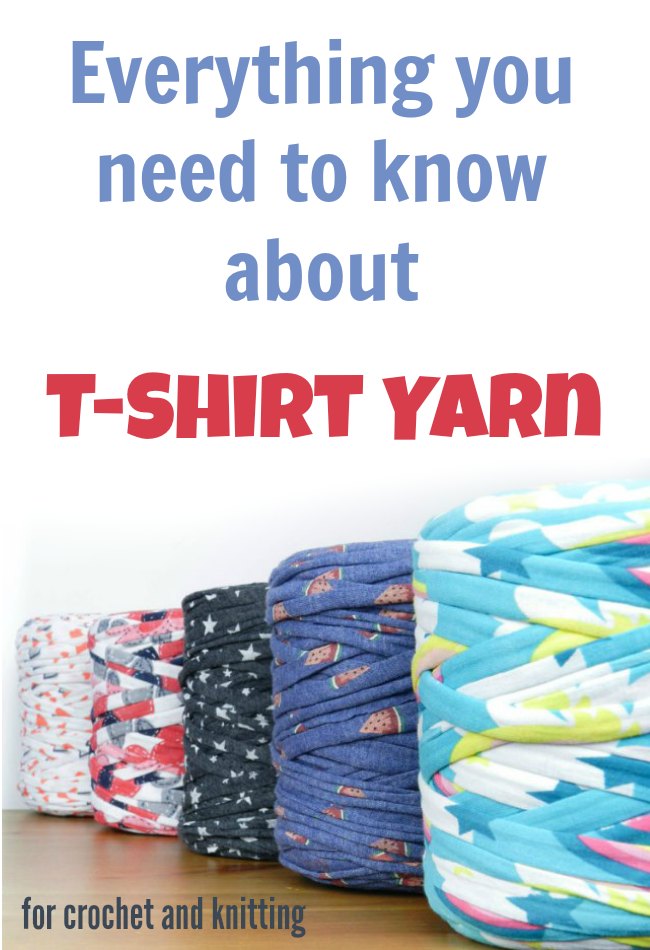 T-Shirt Yarn Learn All You Need To Know
T-shirt yarn is it a fad. Fads always seem to come and go in crafts of all sorts. Some are awesome while some are just 'meh'. But one we think is here to stay is the use of "t-shirt yarn" for both knitting and crochet projects.
There is always a place for the very fine lacy yarns and crochet work. Sometimes when you need something hard-wearing or a project that you can crochet up quickly, working in a heavier weight yarn is the way to go.
T-shirt yarn is also great for beginners because it's nice and thick and chunky, you can really easily see the stitches, and any projects work up quickly, giving instant satisfaction and then enthusiasm to try another one.
The use of T-shirt yarn seemed to have originated in Europe some time ago now, but is now creating quite the storm in the US and across the world too.
What is T-Shirt Yarn?
T-Shirt Yarn is a crafting product made with the remnants of the textile industry. When a clothing company manufactures a t-shirt, or a bed spread, there is inevitably going to be leftover fabric.
The fabric that would otherwise go in a landfill is sliced up. Into strips, sewn together, and rolled into a skein for your crafting pleasure. It's every bit as environmentally conscious as it is pretty.
The yarn is soft, but tough, and can take on the wear and tear of everyday life.
What does T-Shirt Yarn look like?
We're glad you asked because that gives us the chance to show you some of the gorgeous colors, both in prints and solids. The yarn sort of curls in on itself, making for a very smooth rounded surface, like a cord.
Imagine you cut a strip an inch wide across the middle of a t-shirt and then pulled it tight. The raw edges don't fray because it's a knit fabric, and it has plenty of stretch while being super-soft.
Is T Shirt Yarn Eco-Friendly?
It's a completely recycled material. We use the remnants of the textile industry and turn that excess fabric into something beautiful and usable. Everything one of our skeins has its own little story.
EPA studies show up to 4.5% of our landfills are still comprised of textile waste. 2.5 billion pounds of clothing and household textiles are recycled annually. It is estimated that this represents only 20% of all textile waste.
By using those leftover textiles to make t-shirt yarn, and by you then using that yarn to create your projects instead of another material, you are making a small but important impact towards reducing waste.
What can I make with T-Shirt Yarn?
What can't you make with it! It's very versatile, comes in a host of colors, and can be used to crochet anything from bed spreads, rugs, bags, jewelry, home decor items, and of course even clothing.
Check out our round up of patterns. All using t-shirt yarn or other chunky yarns, that can easily be replaced with t-shirt yarns.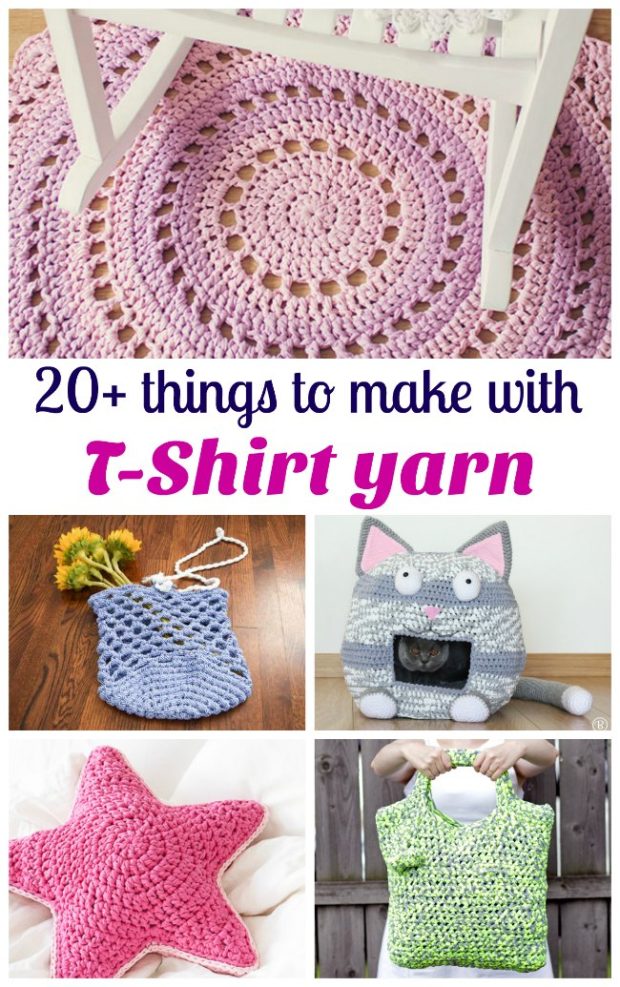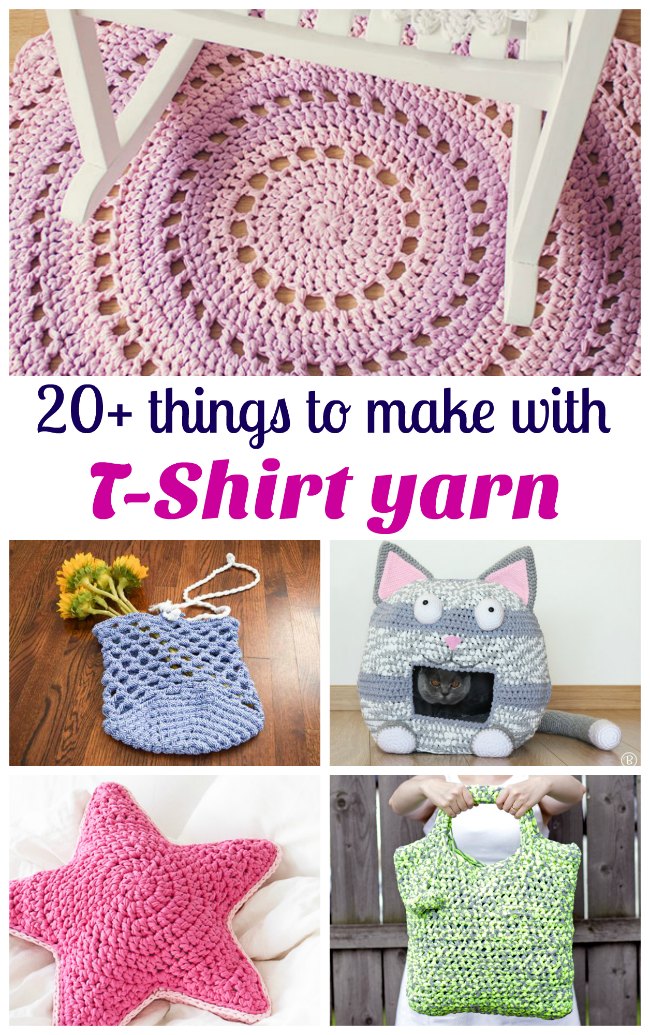 Do I need any special equipment?
That depends. Do you already have some large crochet hooks? Because the t-shirt yarn is much thicker than the usual yarns you might be using, then you'll need larger hooks to make it easier to work with.
Yarn suppliers will usually sell the right sized hooks to fit their yarns, and of course it also depends on what any pattern asks for, if you are following one.
Where can I buy t-shirt yarn?
Actually, despite how awesome it is to work with, you might find it hard to track down a good source of t-shirt yarn. There are a number of specialist suppliers on Etsy, most of which are in Europe in places such as Latvia, Greece, Turkey, Poland etc.
Although all of them usually will ship worldwide, you might feel more comfortable ordering from a local supplier to help with shipping costs.
Our Favourite T-Shirt Yarn Supplier
Our favorite supplier is a company called Fab-U-Loop on Etsy, based in New Jersey. Great products and a wide range of neutrals, bright and bold colours and prints available.
One of the original and leading sellers of t-shirt yarns, you can't go wrong with an order from them. They also sell lovely bamboo crochet hooks and knitting needles to match their yarn.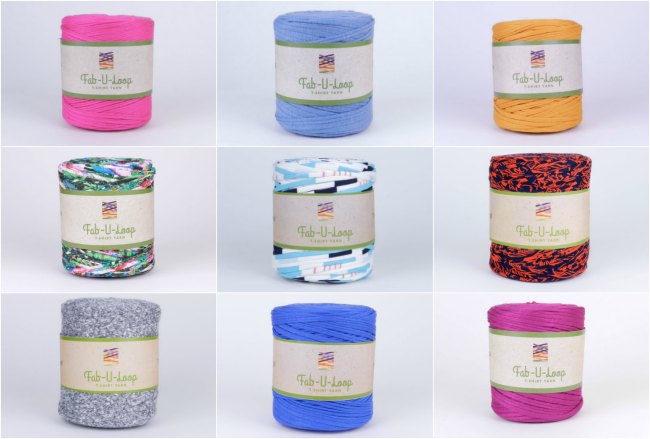 If you would like something utterly gorgeous, check out ChennaPenna Creations, also on Etsy, and based in Missouri. Jennifer hand dyes all of her t-shirt yarns personally in a fabulous rainbow of colors. She has a great eye for what colors work together so her range of multi-dyed yarns will blow you away!

Of course there is also a range of solids too – we love the neons! She also offers yarn sampler packs so you can give the yarn a try before you invest in a larger order. Ideal for smaller projects too.

Also check out Ganxxet Yarns on Etsy for your t-shirt yarns (based in Florida). Ganxxet means crochet in Catalan and having moved to the US, Nuria now enjoys selling fabric yarns for us all to enjoy. With a nice range of solid colors and a very large range of prints, you are sure to find something here that you are aching to buy and use soon.
They also sell needles and hooks here.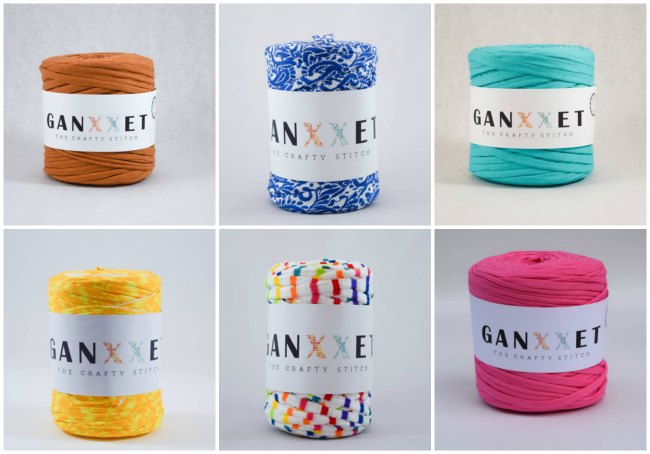 We Hope T-Shirt Yarn Has You Inspired
We hope that this has inspired you to splash out on something a little bit different. Put your crochet skills to use with a different material and different style of working. You just might be 'hooked' with this fabulous material and how quickly you can make up very colourful projects. We love to see what you make so do drop into the Facebook page for Crafting News and share any of your projects with us HERE.
Don't forget to check out our round up article for some great patterns, ideas and inspiration for things to make with your new yarn.