A cozy, comfy place to relax is welcomed all throughout the house for everyone in it! These crochet bean bag patterns will take the family's lounging to the next level.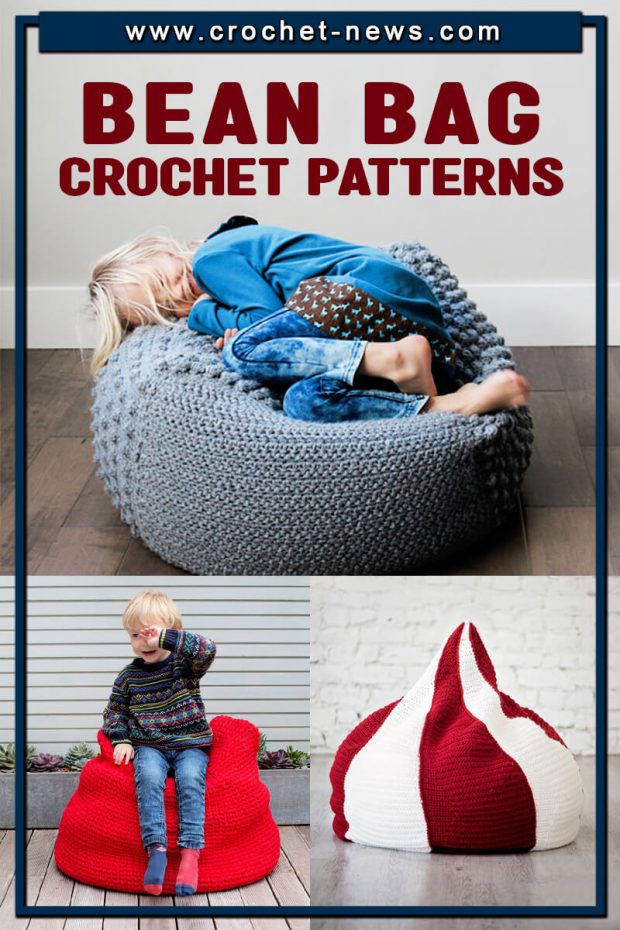 Bean bags are perfect extra seats in your home. They are portable and very comfy too. What's even better is that you can easily make your own bean bag chair that you and the kids will love. Pick one (or two) that matches your decor!

1. Argyle Bean Bag Crochet Pattern by Red Heart
The versatility of this crochet bean bag is appreciated whenever you need an extra seat or resting surface. Put your feet up as you stitch in shades of that you like to reveal a popular argyle design.

Make it as shown, or crochet it with lustrous colors that fit your décor. It perfectly enhances the function and beauty of any living area. Use an inexpensive bean bag chair to fill the form and complete your ottoman.
Get the Pattern here

2. Free Crochet Bean Bag Pattern by Make And Do Crew
Learn some new stitches while crocheting your own oversized pouf ottoman. This Free Crochet Bean Bag Pattern is comprised of six simple squares and stuffed with inexpensive household items to create a high-end looking piece of DIY furniture.

This pouf makes a great seat or ottoman, or set a tray on it to make a texture-rich side table. Perfect crochet project for nurseries, living rooms or bedrooms.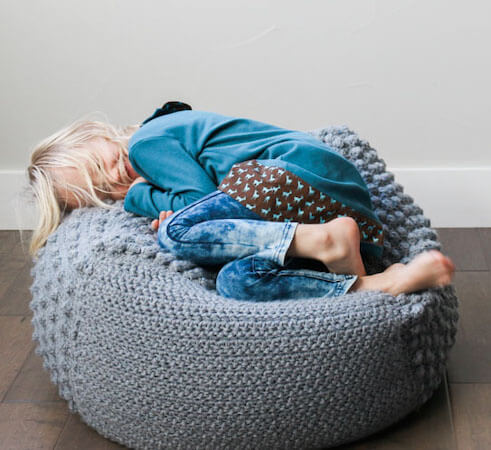 Get the Pattern here

3. Big Bean Bag Crochet Pattern by Annaboos House
Simply crocheted in T-shirt yarn, this big ol' beanbag is a lovely statement piece for you home and it's tough enough to withstand family life. Just choose the colour to suit your interior.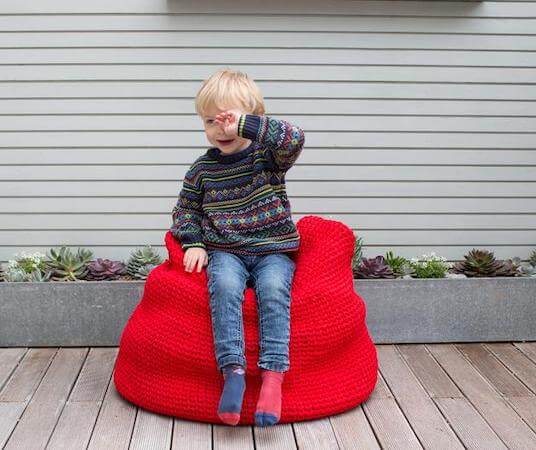 Get the Pattern by Annaboos House here

4. Crochet Bean Bag Chair Pattern by KT And The Squid
This Crochet Bean Bag Chair Pattern come with two size options, small and large. There's also two striping options. One option is to plan and use three colors that blend well together (shown in size small) or you can use up all that worsted weight yarn you've been stashing away for a funky colorful pouf (shown in size large).

There are several stuffing options for these poufs. You can use blankets, old bean bag chairs, or all that yarn you want to hide.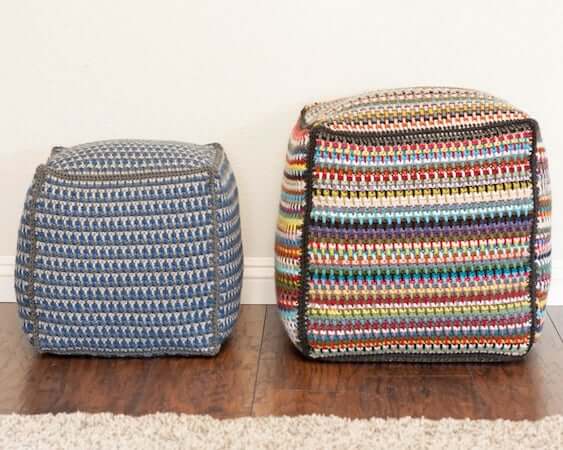 Get the Pattern by KT And The Squid here

5. Peppermint Kiss Beanbag Crochet Pattern by Crafting Friends Design
Whether you're reading a book, watching the television or just lounging about, you will have fun sitting on this comfortable Chocolate Kisses Pouff Crochet Bean Bag Pattern!
Add a quirky chair to your living room, bedrooms or any other part of your house with this bean bag. Kate W. of CraftingFriendsDesign designed this stylish and functional furniture for your home.

The bean bag's closed-knit fabric and fillings provides a soft yet breathable texture perfect for relaxation. what makes this bean bag crochet more special than other bean bags is that you'll be the one to make it for your little ones! Even if you're just lounging about, you will feel comfortable in this.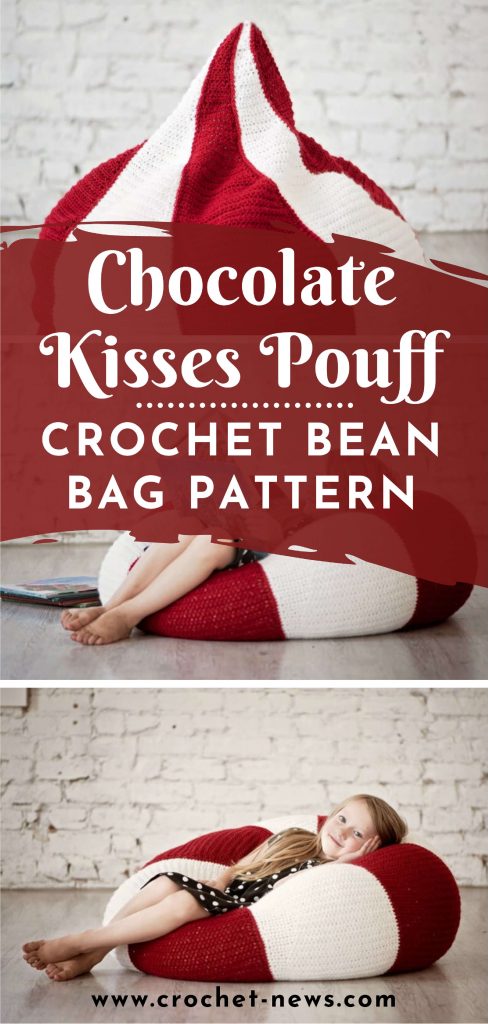 You can also give this crochet bean bag as a present to your closest friends and relatives. You, your kids, and your friends will definitely make this your favorite piece of furniture!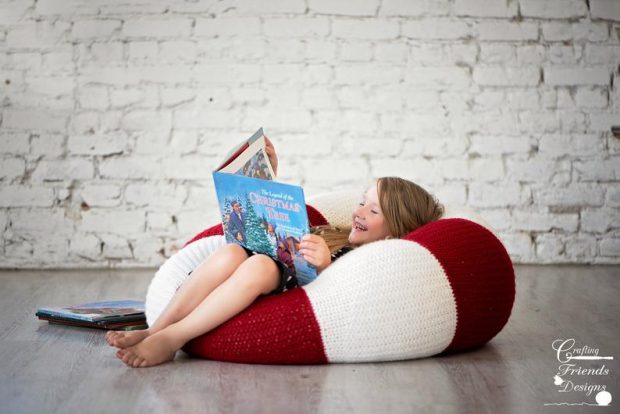 ABOUT THE CROCHET BEAN BAG COVER PATTERN
Makers can choose the hues and shades of the bean bag to their preference. Customizing the colors of yarn to use will make this quite the versatile chair!

You can match the bean bag to your living room and your little one's bedroom. Adding a new furniture to your existing theme has never been this easy!
CROCHET SKILL LEVEL FOR MAKING THE POUFF
If you know the basic knowledge and stitches in crocheting, then you can easily make your very own bean bag. This pattern is easy – even beginners can make this!

Crochet terms used for this pattern is in US crochet terminology.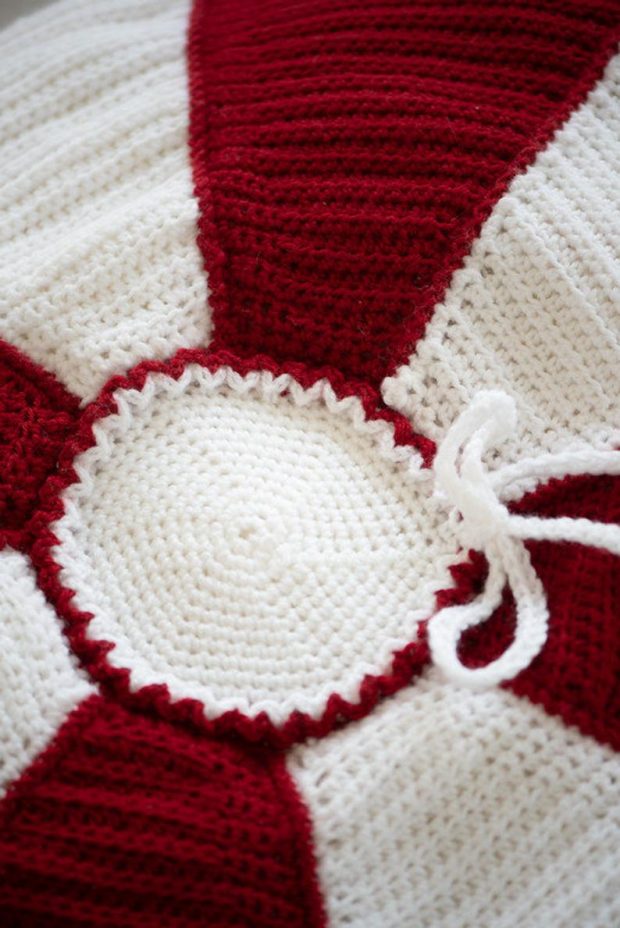 CHOCOLATE KISSES STITCHES
MATERIALS YOU WILL NEED
Yarn – Each section will need around 142 yards. Allot some for creating the base, making the tie and for binding the sections together.

Specific yarn used is a 4ww yarn from Lion Brand Pound of Love. An approximate 580 yards white and 570 yards cherry were used.

Needle for the yarn
100 liters of bean bag fillers or extra blankets as fillers
Hook – I or any hook that makes 4 inches gauge using 14 single crochet stitches and 12 rows
FINISHED SIZE OF THE CROCHET BEAN BAG PATTERN
Finished size is about 88 inches in diameter at the widest section, and 24 inches high if fully filled.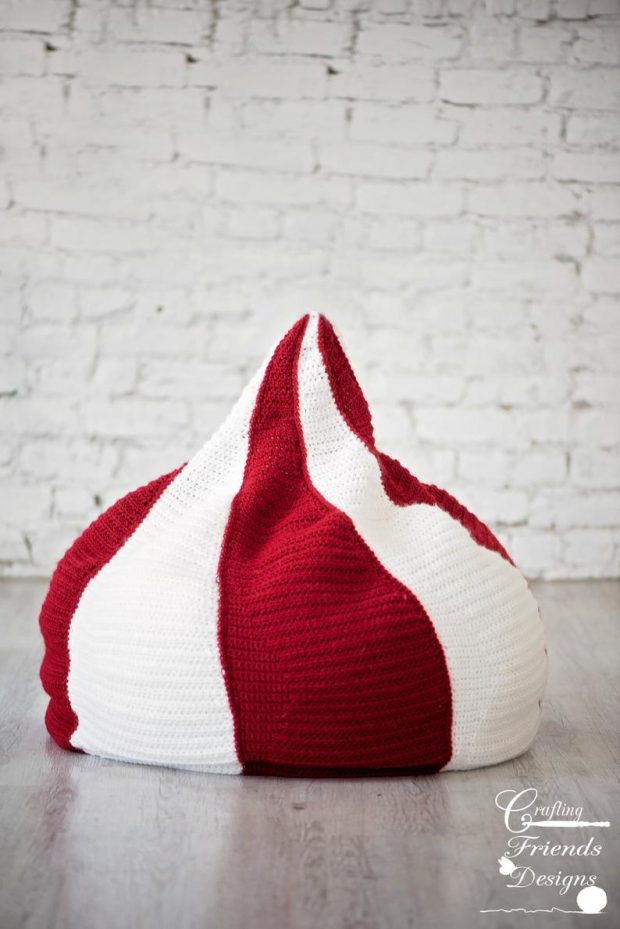 CHILL AND COMFORT ANYWHERE WITH THIS BEAN BAG
This crochet bean bag is a perfect spot for relaxation of your little ones. They can chill and stay here when they get back from school, or if they just want to unwind by watching their favorite TV shows before doing some homework.

Anyone will definitely feel special if they receive this crochet bean bag as a gift! Aside from the time and effort that has been a lot to make this bean bag, the texture of this bean bag will definitely give comfort to anyone who sits or sleeps on it.
Can't wait to chill anymore? Grab your materials and start crocheting this Chocolate Kisses Pouff Crochet Bean Bag Pattern now!

With an appropriate yarn, the filling material of your choice, and a crochet bean bag pattern as inspiration, you can create a comfy chair that will satisfy your most slothful dreams!
We're excited to see what you make, so please do share them on our Facebook Page! And for more comfy cushions ideas, you may also want to check our collection of crochet pouf and pillow patterns. After all, it's never bad to have too many poufs and pillows around the house!

Happy crocheting with your favorite crochet bean bag patterns!