As you learn to crochet more and more, you will have small pieces of leftover yarn. Never throw these away! Trust me, you will find a use for it, no matter the size. A lot of people make scrap blankets or things of that nature, but if that isn't your thing, these crochet worry worms are meaningful crochet ideas for you to use your scrap pieces on.

I'm always looking for super easy projects I can do in the car or while the family is watching a movie. Recently, I saw these super fun crochet worry worms and instantly know they are right up my alley. They will literally take about 10 minutes to create and with all the yarn I have stashed away, I know I could make up a bunch of them.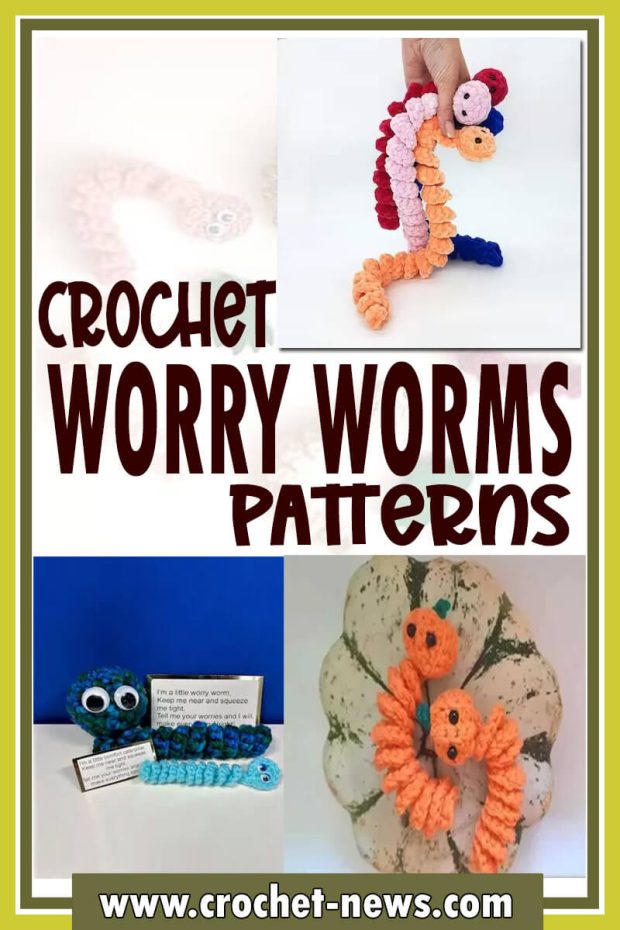 What are Crochet Worry Worms?
A worry worm is a type of therapy tool that combines the act of crocheting with the practice of mindfulness to help manage stress and anxiety.
The idea behind a crochet worry worm is that the repetitive and calming motion of crocheting can help soothe and refocus the mind, reducing the grip of worry and anxiety.
How to use crochet worry worms?
Besides using them for bookmarks, you can also use them like 'worry stones' and 'worry dolls' and 'fidget toys'. They give you something to hold onto and to play with in your hands. Pulling on the springy little crocheted worm can be comforting and calming.
10 Crochet Worry Worms Patterns

1. Crochet Worry Worm Fidget Toy Pattern by Crocreate By Sarah
Meet Pastel, the fidget worm! This easy crochet pattern is perfect for a quick make, stash buster or to give to someone that really needs a crochet worry pet in their life.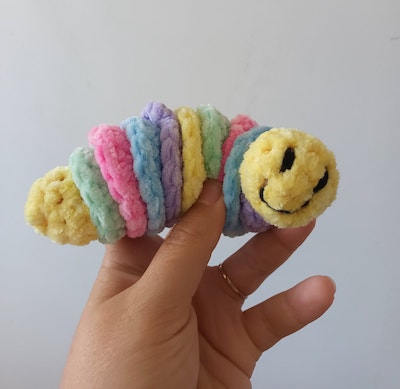 Get the Pattern by Crocreate By Sarah here

2. Crochet Large Worry Worms Pattern by Natalia Kononenko
Here's a large worry worm designs as a fidget toy fir anxiety relied or as a sensory toy. It can be made in different sizes so that anyone, child or adult, can keep one in their lap or their pocket to fidget with just like a stress ball. This is a pattern that can be made by new beginners.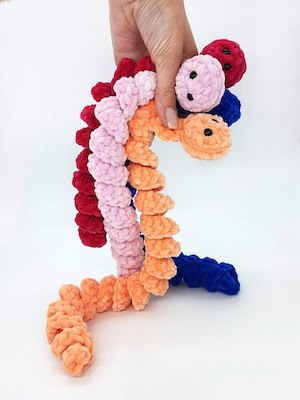 Get the Pattern by Natalia Kononenko here

3. Crochet Pumpkin Worry Worm Pattern by Start Crochet
Make someone smile with this cute Pumpkin Worry Worm this fall. Great for Halloween gifts, use as a fidget in a classroom or hand out to someone who needs a hug.

This is a quick and easy project ideal for beginner crocheters. You do not need to have amigurumi experience since this worry worm is worked flat.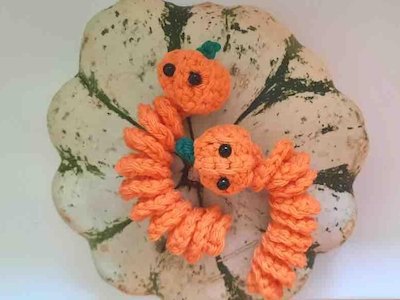 Get the Pattern by Start Crochet here

4. Worry Worm Crochet Pattern by Teenie Crochets
Worry worms spread joy and hope, they remind people to smile and that they are not alone. They are super easy to make and enjoyed by all who receive them. These worry worms are so cute with their googly eyes, don't they?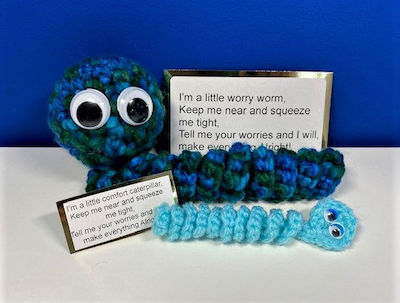 Get the Pattern here

5. How To Crochet Worry Worms by Start Crochet
In this tutorial, you'll learn how to crochet a 3-dimensional spiral that twirls around itself creating this cute curly texture that is so ideal for this crochet worry worm project.

The best thing about these crochet worry worms is that they are super easy and fast to whip up, which make them ideal projects for beginner crocheters.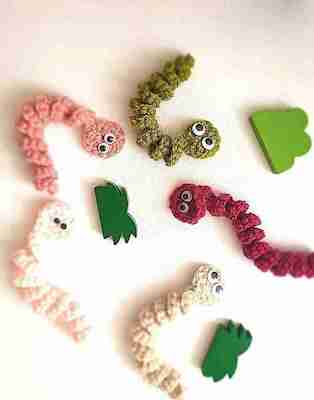 Get the Pattern here

6. Crochet Worry Worm Pattern by Hooked By Robin
This easy crochet worry worm pattern comes with a video tutorial only. Make a few of and donate to brighten someone's day. Everyone could use a little act of kindness right now.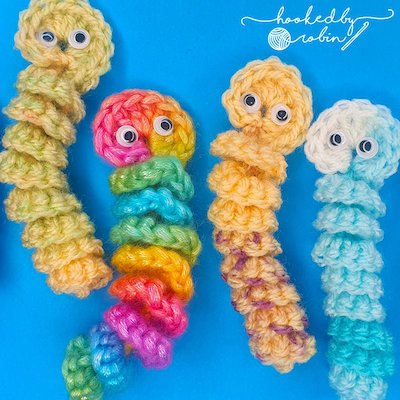 Get the Pattern here

7. Crochet Worry Worm by Lito Magic Crochet
Here's a cute crochet worry worm measuring 4.5″ with wiggly eyes—just the right size for little hands to hold as a security friend. Make it in all sorts of colors!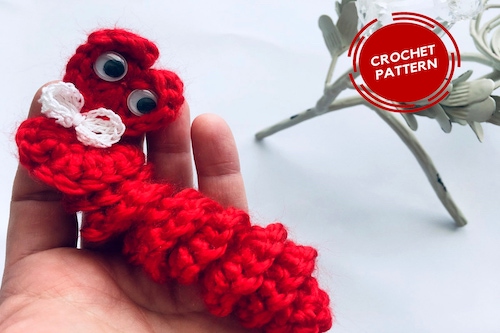 Get the Pattern by Lito Magic Crochet here

8. Free Worry Worm Crochet Pattern by Jay Robertson
These Worry Worms are the perfect pocket pal for anyone feeling a little sad or dealing with big emotions. Their cute little faces and tactile bodies mean they're just the right size to squeeze reassuringly in times of need.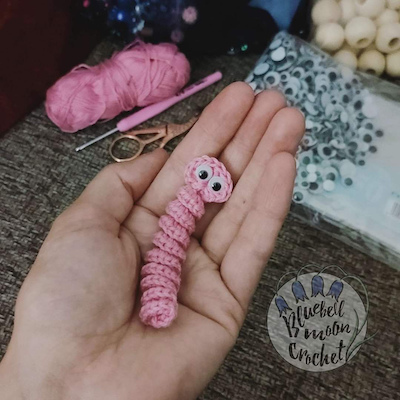 Get the Pattern here

9. Crochet Worry Worm by The Yarn Bowl Crochet
Whether you are a teacher or a parent and want to make these cute crochet worry worms for the kids, these come with great printable poems, too.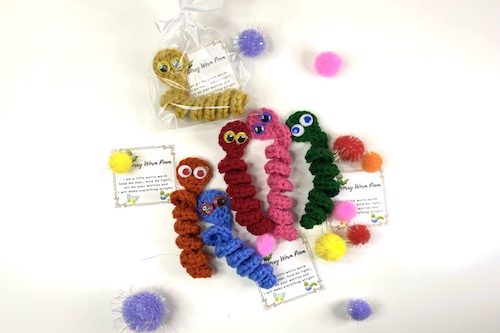 Get the Pattern here

10. Elf Worry Worms Crochet Pattern by Start Crochet
Add some holiday touch to your crochet worry worms by crocheting an elf head instead. This Elf Worry Worm would be great to use as Elf On A Shelf, Christmas stocking stuffer and an addition to kids' Christmas gifts. It would surely put smiles on their faces!
Get the Pattern here
HOWEVER YOU CHOOSE TO USE THESE CROCHET WORRY WORMS, YOU'LL AGREE THAT THEY ARE TOO CUTE AND EASY NOT TO TRY!
I'd love to see what you create! Make sure you share your crocheted pieces on our Facebook Page and tell us which one is your favorite!

You may also like:
Put a smile on someone's face today by giving them a handmade crochet worry worms made by you! Spread the love!