Introducing crochet sweater vests, my new favorite layering pieces to make this year! Sweater vests have clearly made a comeback, and I am 100% here for it. From classic to checkerboard, statement or minimalist, there are plenty of fresh styles below—along with straightforward designs that will stand the test of time.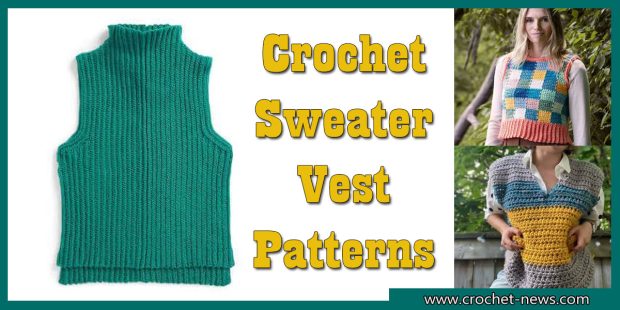 Wear them atop spring dresses, t-shirts and blouses, or even on their own on balmier days. It's a trend that's as simple as it is stylish, and during those pre-summer days when the temperature drops? You'll be grateful for the extra layer, I'm sure!
27 Crochet Sweater Vest Patterns

1. Crochet Sweater Vest Pattern by Well Loved Crochet
This crochet sweater vest is a fun, quick project that's great for beginner crocheters and fun for more advanced. This vest can be worn on its own or over your favorite t-shirts, dress, or collared shirt. Attractive on many body types, pattern is offered in a range of sizes.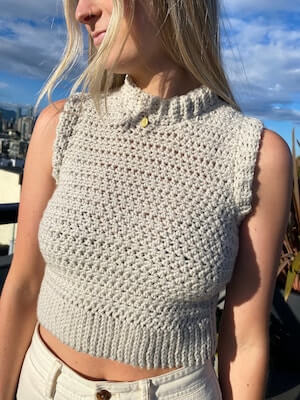 Get the Pattern by Well Loved Crochet here

2. Fab Ribbed Crochet Vest Pattern by Yarnspirations
You'll adore this Fab Ribbed Crochet Vest with its pretty ribbing and rich texture. It features gorgeous, feminine shaping, a comfy turtleneck, and side slits that make it ideal for layering, This pattern is best for intermediate crocheters.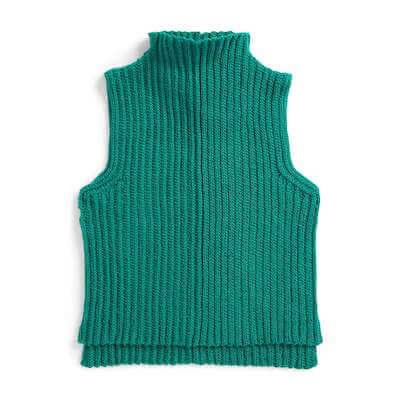 Get the Pattern here

3. Crochet Checkerboard Sweater Vest Pattern by Loove 2 Craft
Step out in casual style wearing this cool Crochet Checkerboard Sweater Vest that's designed for layering. Worn over a button-up, blouse, or on its own, it's a combination of prep and polish.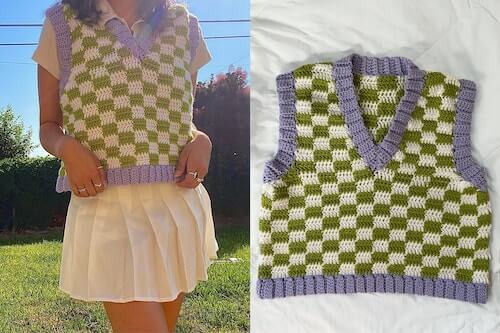 Get the Pattern by Loove 2 Craft here

4. Chunky Crochet Sweater Vest Pattern by Carroway Crochet
This gorgeous super bulky, oversized sweater vest is beginner-friendly and so stylish. It is made with half double crochet stitch and a 15 mm crochet hook so it works up very quickly!

This Chunky Crochet Sweater Vest is perfect for oversized look. It is meant to have a loose fit but if you want a snugger fit, just go down a size or two.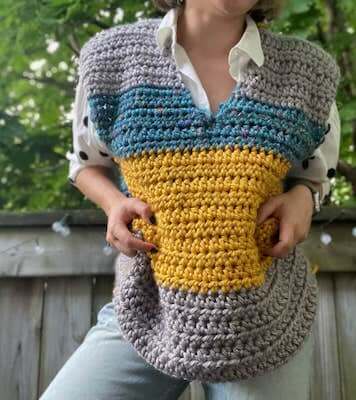 Get the Pattern by Carroway Crochet here

5. Crochet Mock Neck Sweater Vest Pattern by TCDDIY
Keep warm as the temperature drops, with this rich layer that features a gorgeous texture. The mock neck and midriff length make it a new take on the classic sweater vest, keeping its comfort while still looking chic!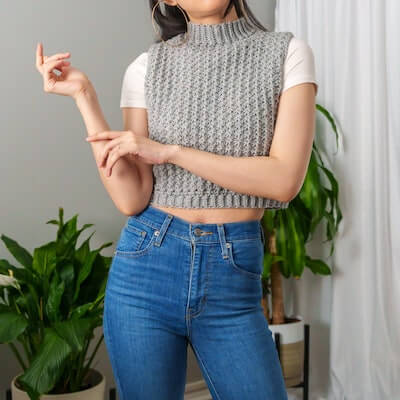 Get the Pattern by TCDDIY here

6. Mika Vest Crochet Pattern by TL Yarn Crafts
Layer any winter outfit in opulence when you wear this Mika Vest, a sleeveless faux fur vest with ribbon belt, generous hood, and cozy pockets.

Designed to be slightly oversized with gentle arm shaping for a comfortable fit. Layer your new vest over thin turtle necks or cable sweaters for an instant festive flair.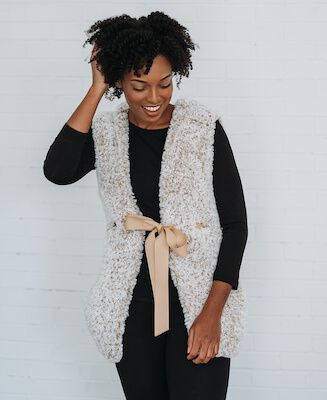 Get the Pattern here

7. Granny Square Crochet Sweater Vest Pattern by Make & Do Crew
I'm sure you can't help but feel like giggling when you see this colorful way to wear a crochet granny square. Two granny squares are joined together with no shaping to make a topper that can be worn over a t-shirt or dress. Make your own version of this tried and true favorite!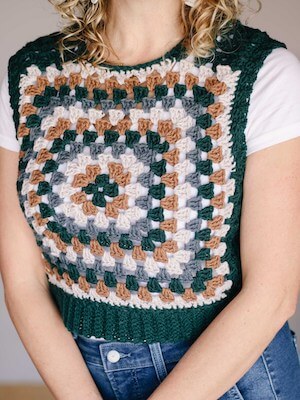 Get the Pattern by Make & Do Crew here

8. Wow Chunky Vest Free Crochet Pattern by Wilmade
Featuring a V-neck and a ribbed texture, this crochet pattern includes a simple but timeless design that will work well in neutral colors over a shirt or a dress.

It's a simple design that was created with beginners in mind. The only stitches used in this pattern are half double crochet and slip stitches.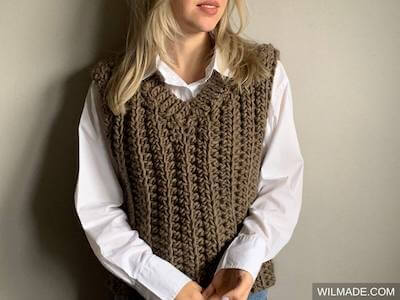 Get the Pattern here

9. Crochet Strawberry Sweater Vest Pattern by Hayhay Crochet
This Crochet Strawberry Sweater Vest is great for both beginner and advanced crocheters! It's a great top for lounging or dressing up, and would look perfect on a picnic!

You can also change the pattern colors to match your particular style! If strawberries aren't your thing, the strawberry stitch can be fully eliminated with simply two regular rows of half double crochet.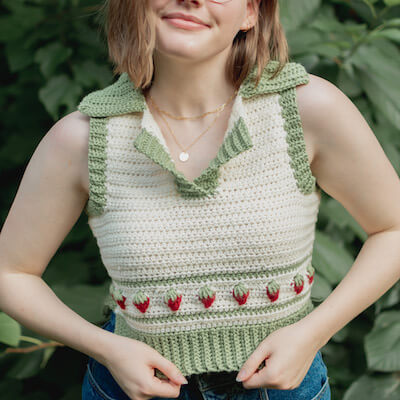 Get the Pattern here

10. Simple Cozy Vest Crochet Pattern by Miss Kochkina
This chic and slouchy classic V-neck vest is effortlessly cool. It uses DK-weight yarn, making for a light, breathable top but also superb for layering when the weather gets chilly.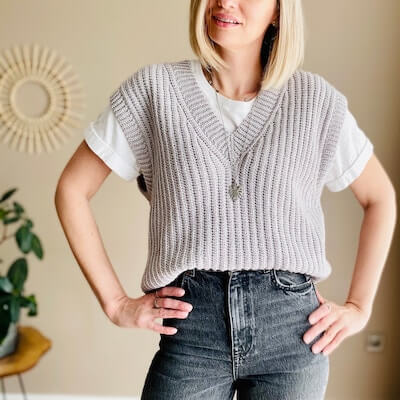 Get the Pattern by Miss Kochkina here

11. Crochet Cropped Sweater Vest Pattern by Daisy And Peace
This beautiful Cropped Sweater Vest is a top pick for crocheters and there's no wonder! With its beautiful minimalist design and flattering shape that can be worn any day of the week, it's certainly on my crochet-list this winter!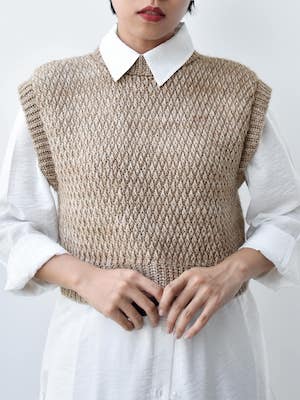 Get the Pattern by Daisy And Peace here

12. Cable Braided Crochet Sweater Vest Pattern by Rebecca's Stylings
This cabled pattern is best for experienced crocheters with a few stitches under their belt. Great for teaming with a dress or wearing with jeans for a cozy fashion ode to the city that never sleeps!

Included in the pattern are instructions to make a full pullover with balloon or puff sleeves, as well!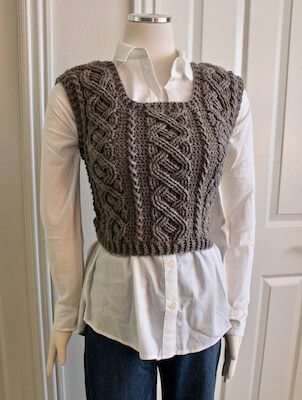 Get the Pattern by Rebecca's Stylings here

13. Color Block Party Crochet Vest Pattern by Yarnspirations
This crochet pattern is made in 2 pieces and seamed together to complete. You'll practice intarsia single crochet working from chart, and back loop single crochet ribbing techniques.

Match your shades to the pattern or choose your own – it's a lot of fun to do in any colors that complement your best outfit.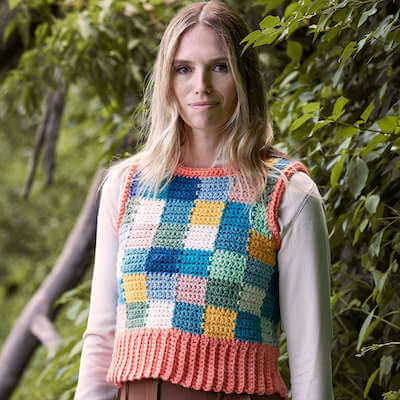 Get the Pattern here

14. Women's Crochet Sweater Vest Pattern by Blue Star Crochet
Stay cozy and stylish this season with this beautiful crochet sweater vest for women! Perfect for layering over your favorite tops and dresses, this vest is made from soft and high-quality yarn that will keep you warm and comfortable all day long.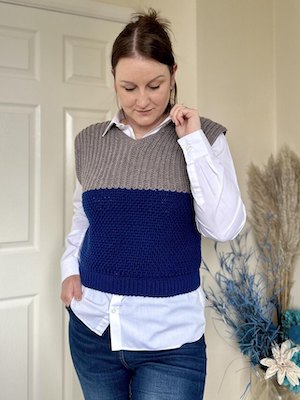 Get the Pattern here

15. Houndstooth Crochet Sweater Vest Pattern by Pop Culture Crochet CA
If you're just getting on the sweater vest train, I would suggest starting with this Houndstooth Crochet Sweater Vest. It features a beautiful classic houndstooth design that will perpetually be in style and always look great in the process.

With a range of sizes available, you can whip up this vest in a slew of different staple colors like black and brown, or some fun pastel options like pink, purple, and blue if that better suits your vibe.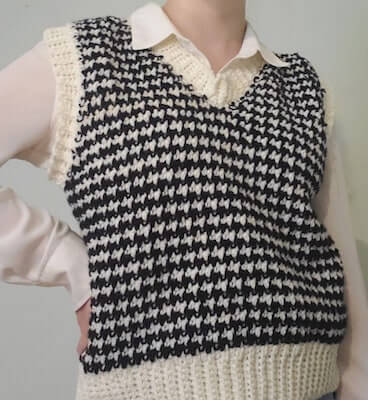 Get the Pattern by Pop Culture Crochet CA here

16. Sweater Vest Crochet Pattern by Hooked Homemade Happy
When you need a versatile garment to complete the look of your outfit, count on this bulky and cozy sweater vest. The cowl neck brings warmth, while the lemon stitch gives this piece a texture. It looks great in striped neutrals but would also be fun with bright colors!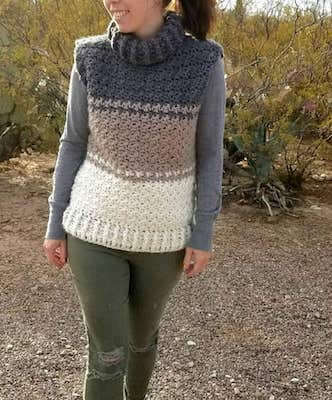 Get the Pattern by Hooked Homemade Happy here

17. See My Vest Crochet Pattern by Zeens And Roger
See My Vest is a granny stitch crochet vest pattern that comes in 9 different sizes. Made using acrylic DK yarn, this is a great top for stash busting yarn you already have in your collection.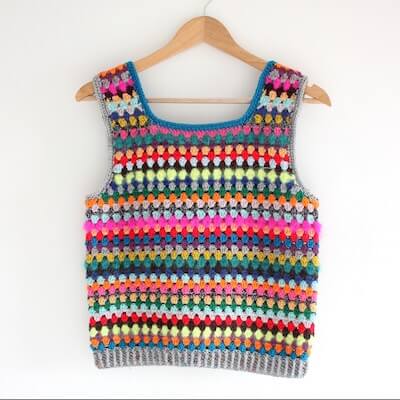 Get the Pattern by Zeens And Roger here

18. Simple Waterfall Vest Crochet Pattern by Moogly
This Simple Waterfall Vest may look complicated, but the concept behind the design is actually quite simple. It's basically just a big crochet rectangle with armholes! It works up quick and looks fabulous both open and closed with a shawl pin.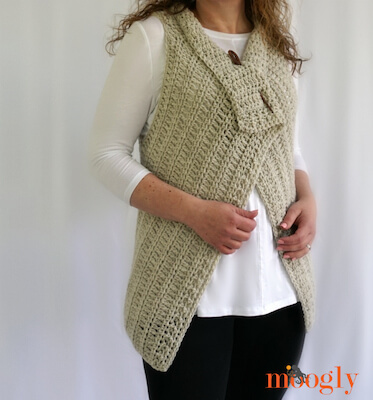 Get the Pattern here

19. Alice Cabled Vest Crochet Pattern by Coco Crochet Lee
As sweater weather rolls in, this snug sweater vest is the one! With cozy cables and beautiful Diamond stitch, it's a pretty layering piece for the changing of the seasons. What's more, the pattern is completely free!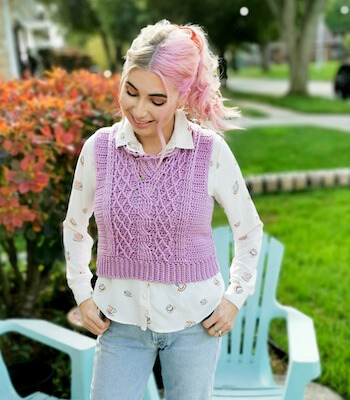 Get the Pattern here

20. Crochet Wednesday Vest Pattern by Hooked By Kimi
On Wednesdays we wear black and white! Show off your gothic style with this Wednesday-inspired checkered vest – perfect for winter and for some passionate "Wednesday" fans.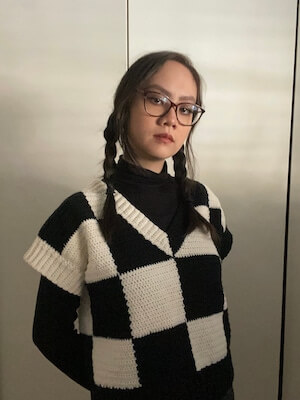 Get the Pattern by Hooked By Kimi here

21. Fun Times Vest Crochet Pattern by Hobbii
Created using timeless granny squares, this crochet sweater vest offers a cool retro vibe.

Featured in a rainbow of colors, you can make it as shown or assemble your own combination of shades for a custom look that suits your style and taste. Flattering on a variety of body types, pattern is offered in a range of sizes.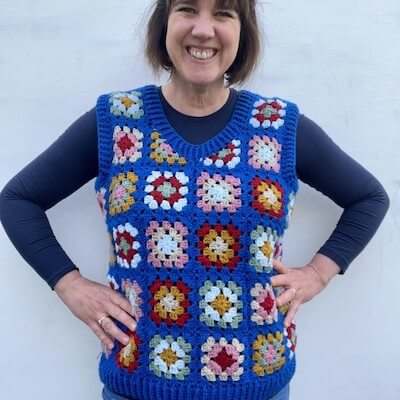 Get the Pattern here

22. Women's Crochet Sweater Vest Pattern by Knitcro Addict
This crochet sweater vest is so warm and cozy! It's not overly big or bulky, but it does come down below the waist, so you don't have the bottom riding up, making you cold and inadvertently showing your butt.

This hooded sweater vest is accented with a different color on the edges and trim, but you can just make a single color if you prefer.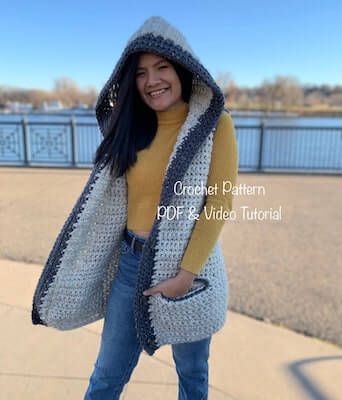 Get the Pattern by Knitcro Addict here

23. Crochet Chocolate Plate Sweater Vest Pattern by Muto Crochet Designs
Isn't it sweet to have a crocheted sweater vest that reminds us of our favorite chocolate bar? Ambitious yet classic, with its beautiful texture and loose fitting drape, I can't get enough of this charming vest!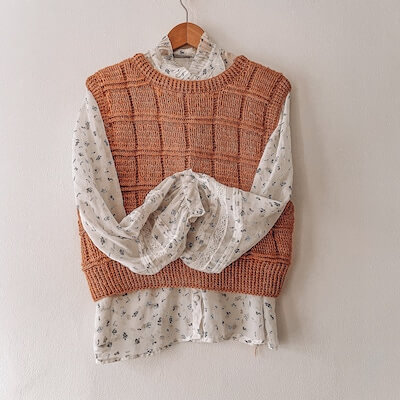 Get the Pattern by Muto Crochet Designs here

24. Crochet Toffee Shop Vest Pattern by Coffee Crocheting
Made with the granite stitch, this Crochet Toffee Shop Vest has a great texture. It is designed to have a deep V-neck that match perfectly with a tee or a blouse and a long necklace. It is shorter in length so that your garment under will be seen also below.

The pattern also guides you through how to make the V less deep and the body longer, if that is what you prefer.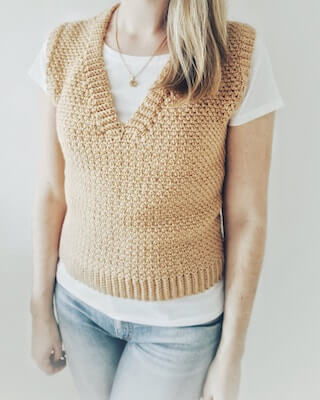 Get the Pattern by Coffee Crocheting here

25. Lake View Vest Crochet Pattern by DROPS Design
This beautiful Lake View Vest is a wardrobe staple. Worked bottom up with relief-pattern, this minimalist best is designed in DK yarn for a chic and versatile piece you can layer to your heart's content!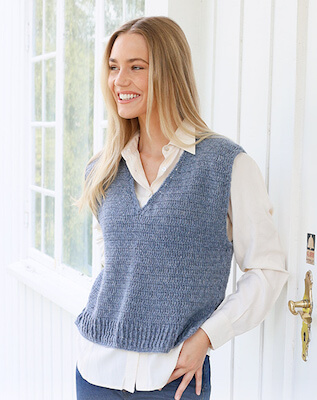 Get the Pattern here

26. Crochet Nantucket Sweater Vest Pattern by The Cozy Knot Crochet
This Nantucket Sweater Vest is a preppy style vest featuring a modern bobble texture. It's perfect for layering with your favorite chambray button-up or basic t-shirt.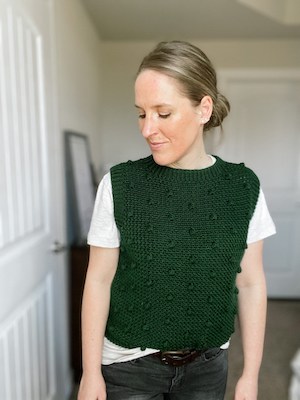 Get the Pattern by The Cozy Knot Crochet here

27. Walnut Vest For Men Crochet Pattern by Hooked for Life
How about something for him? Crochet patterns for men can be hard to find, and this sweater vest is a great basic every man should have in his closet!

It is made to suit most men's preferences: simple, textured, and designed with comfort in mind. This Walnut Vest is a classic sweater vest that goes with just about everything.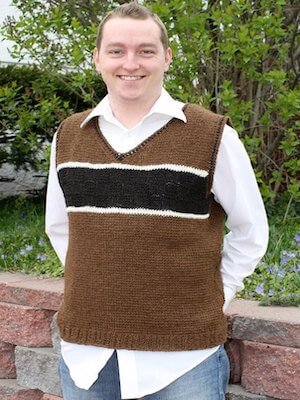 Get the Pattern by Hooked for Life here
WHETHER YOU ARE MAKING SOMETHING TO DRESS UP OR DRESS DOWN, THESE CROCHET SWEATER VESTS MAY BE THE NEXT CROCHET PROJECTS FOR YOU.
Let me know what you make and share pics on our Facebook Page. After all, it isn't much of a crochet community without you, too!

If you're not ready to let go of sleeves, browse our range or cardigans, jackets, and sweaters for a more classic look.
Whether you're looking for a cute way to stay comfortable while on-tend or are actually stepping into your nerdy chic self, there's a crochet sweater vest here to match every style. So, go ahead and make a few!