If sharks are your thing, then you'll want to dive into this fun, cozy crochet shark blanket patterns. It'll just take an afternoon to create some snuggly fun for you or that special person who just can't get enough shark action.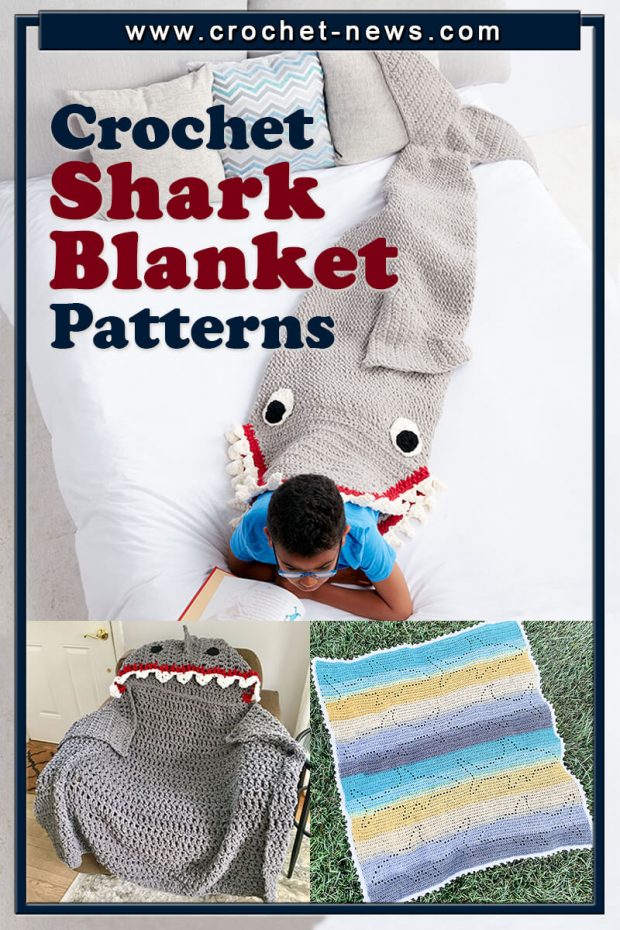 Celebrate sharks all year long with these projects inspired by this powerful, intelligent ocean predator that inspires such fascination and fear in us.
With a crochet shark blanket, the shark lovers in your life can wrap up in jaw-dropping comfort and transform to a cuddly shark at the same time!

1. Meg Shark Blanket Crochet Pattern by Owl B Hooked
Simple, modern and gender neutral design, it makes for an adorable and unique 1st birthday or baby shower gift! The written size allows it to be used as a security or snuggle blanket well into toddlerhood!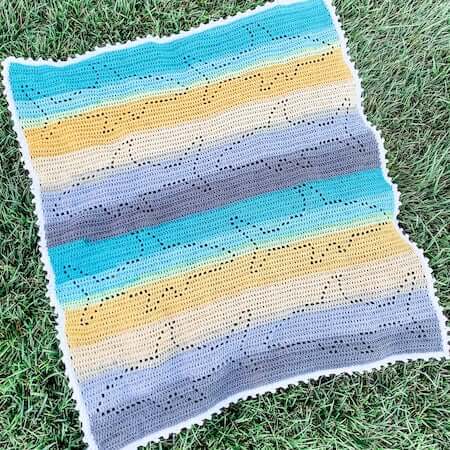 Get the Pattern by Owl B Hooked here

2. Shark Hooded Blanket Crochet Pattern by Crafty Kitty Crochet
Here's a pattern that you can really sink your teeth into! This Shark Hooded Blanket is so soft, cozy, and designed with a fun, comedic look in mind!

The hood is made to look like the face of a shark, with the opening of the hood looking like the open mouth of a shark just about to enjoy a hearty meal: the person wearing the hood!!
Complete with gums, teeth, eyes, and a fin – this blanket is hilariously detailed!
Get the Pattern by Crafty Kitty Crochet here

3. Fin-tastic Shark Snuggle Sack Crochet Pattern by Yarnspirations
Whether reading a book, watching a movie, or just hanging out, kids will have a "fin-tastic" time in this snuggle sack! With its energetic range of bright shades, this pattern lets you create a Great White, or any other color shark imaginable!
This one makes a perfect gift since it can't help but put a twinkle in the eyes of any child.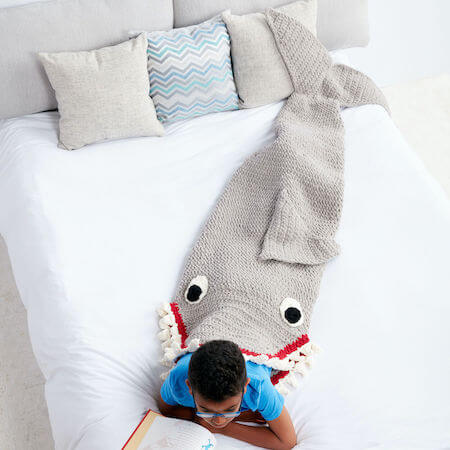 Get the Pattern here

4. Adult Great White Shark Blanket Crochet Pattern by O Mad Fruit
This is a crochet pattern only and it gives the instructions to make this great white shark cocoon style blanket that should fit most adults. The finished size is about 7.5 feet.

It is worked in simple stitches like SC, DC, and HDC. It does involve sewing pieces together with a whip stitch and will take some time to complete it because it is such a large blanket, but it will be well worth the effort because in the end you get a more detailed and realistic looking shark.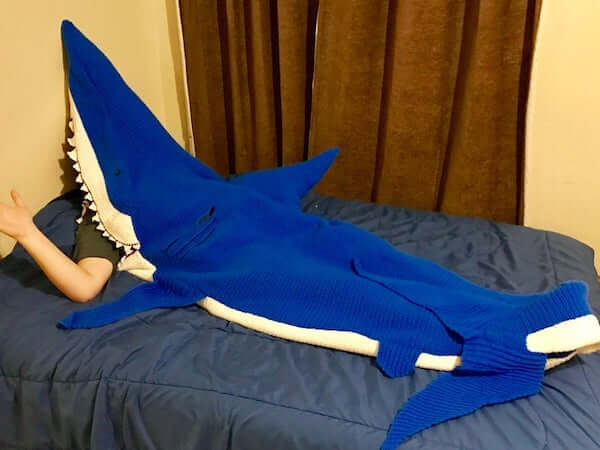 Get the Pattern by O Mad Fruit here

5. Crochet Shark Blanket Pattern by Yarnutopia
Our crochet shark blanket pattern will guide you, step by step, to make an amazing and warm blanket that you and your loved ones will adore. The best part?
You'll be more confident in your crocheting, make fewer errors throughout the process, and in the end, create a beautiful, shark blanket crochet. With such delicate detailing you're going to thank yourself. But first, why the crochet shark blanket?
It will keep you warm and toasty on those chilly nights and it looks phenomenal too. It can easily be changed and turned it into a mermaid tail.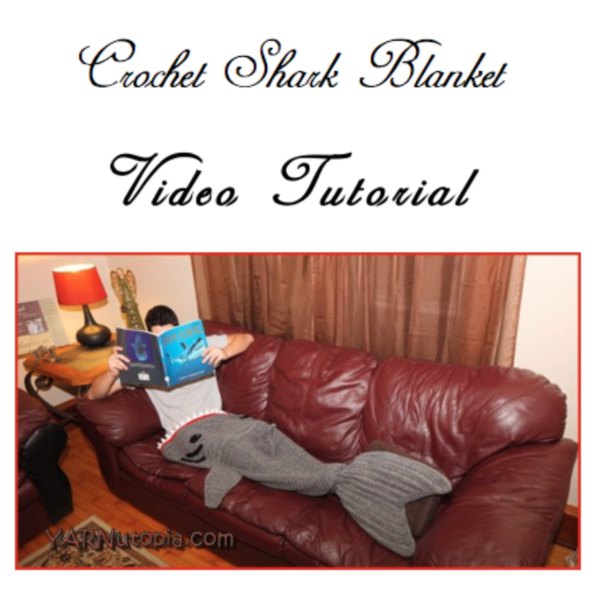 Here at Crochet News we absolutely love marine life, and what better way to celebrate our mystical ocean brothers than with this fabulous crochet shark blanket!
It will keep you nice and toasty on those chilly nights and it looks a treat too. Our personal tip on this blanket: you can change up the colors and turn it into a mermaid tail as well.
Crochet Shark Blanket Materials
Crochet Skill Level
The skill level required to make this blanket project a success is intermediate.
The finished shark snuggle sack makes a perfect item to wrap yourself in and stay warm while reading a good book on a cold evening. Some crochet stitches you will require to be well versed with include;
About The Shark Blanket Pattern
The crochet shark blanket pattern free is available in PDF format for those who prefer written instructional material. The pattern comes with pictures and illustrations detailing exactly what you need to do at every stage.
You do, however, need to purchase it first for a small fee before you can download it. It is copyrighted content after all.
The finished blanket is meant to serve the warming needs of an adult but you may, if you prefer, perform some tweaks here and there to make it into whatever size you want.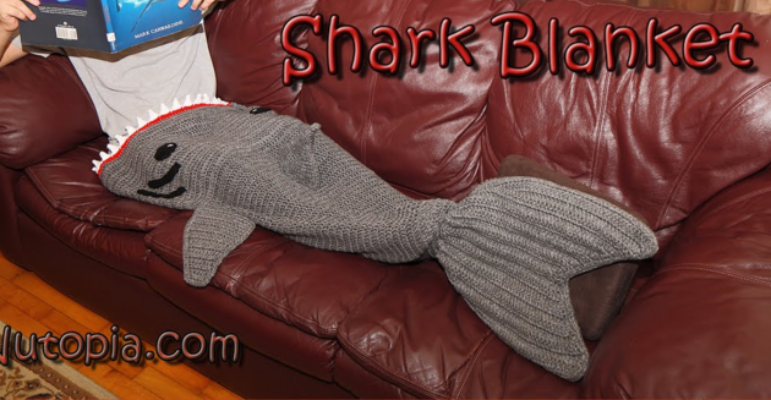 How To Downsize From The Adult Shark Blanket Pattern
The crochet shark blanket is such a beauty it would be a tragedy if it only came in one size.
The blanket would look simply amazing on your little ones and for that reason, we had to find a way to downsize the pattern to a smaller child or toddler size. Here's how;
For the main body, crochet a distance of 12 inches instead of the original 24 inches for the adult shark blanket.
On the tail part, reduce the half double crochet rounds from to 3. This means essentially subtracting 2 rounds per section making the tail much shorter while still keeping the accurate counts.
So basically, the starting circumference should remain the same. The fin, eyes, teeth, gums, and jaw also remain the same. The blanket size changes in length by subtracting out the growth distances.
How To Crochet An Adult Shark Blanket Video
About The Color Choices
The thing about sharks is most have a greyish appearance so for the sole purpose of retaining authenticity, we recommend you stick to grey heather yarn. A crochet shark blanket would be a hard sell if you used any other colors.
Also, you have an option to skip stuffing the fins with Fiberfil. However, you don't see a shark with a fin lying over its side, so don't skip the stuffing. The small details matter a lot. You will be pleased that it won't take you that long to start and finish this project.
In one evening, you can get started on your crochet shark tail blanket and have it ready to go by the time you go to bed.
How To Crochet An Adult Mermaid Tail Blanket
Download The Free Written Shark Blanket Pattern Here
We sincerely hope you are going to have a blast putting together these wonderful crochet shark blanket patterns.
Once you're done, be sure to share your finished works with us. Post some pics of your crochet shark blankets on our Facebook Page. We'd love to see them! Who said that sharks cannot be cute?
This list of Amigurumi Shark Crochet Pattern definitely is! We hope you enjoyed these crochet shark blanket patterns as much as we did. Happy crocheting, everyone!