If you've not crocheted a seahorse before, why not? Today, I'm sharing another list of irresistible characters to fall in love with. Bring the sea home with you by making your own crochet seahorses! If you love seahorses, you'll be delighted with these projects dedicated to these beautiful ocean creatures.
Seahorses might just be the coolest creatures in the sea. They're gentle, they're graceful, and they look like they're wearing little crowns. What's not to love? And one of the best ways to get up close and personal with one of these fascinating fish is to crochet one for yourself! Get ready for some fun sea-worthy projects!
15 Crochet Seahorse Patterns

1. Mommy And Me Seahorse Amigurumi Pattern by Loops And Love Crochet
This pattern includes instructions for making the mommy and the baby sea horse. When finished, Mommy seahorse measures about 6.5 inches from top to bottom, while baby seahorse is about 5 inches.

There are so many possibilities with color combinations that you could make a whole family of seahorses, each one looking unique!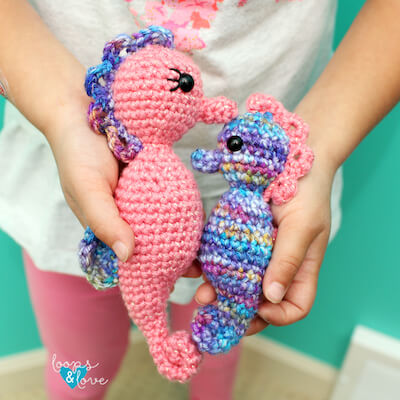 Get the Pattern here

2. Crochet Tiny Seahorse Pattern by Amigurumi Today
The sight of these cute creatures will warm the cockles of hearts young and old. Measuring as little as 10 cm tall, these sea creatures will fit right in your pocket!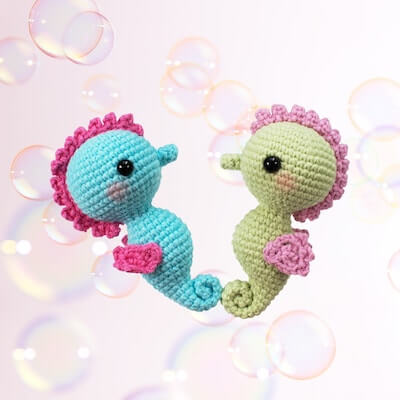 Get the Pattern here

3. Crochet Seahorse Amigurumi Pattern by 1 Dog Woof
If you want to keep your crochet seahorse on the small scale, how about hooking up this amigurumi seahorse pattern! It's not only a sweet pattern that won't take you long to make, but it's the head, body, and tail are all made in one piece, so you'll only need to sew on the mane and tail!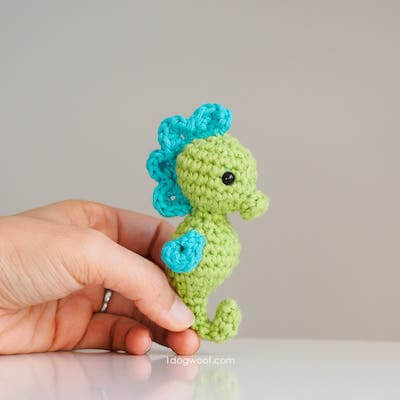 Get the Pattern by 1 Dog Woof here

4. Crochet Dancing Seahorses Pattern by Red Heart
Dive into the crochet pool and let your hook do the swimming with this fantastic pattern. The vibrant summery yarns and simple stitches make this duo a joy to stitch.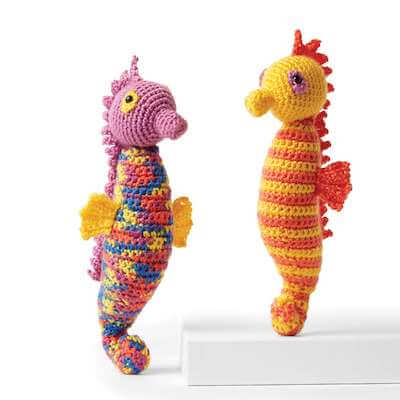 Get the Pattern here

5. Crochet Seahorse Pattern by Woolay Mo
This pattern is wonderful if you're looking for a quick, easy, and cute project to work on. The seahorse is made quite small and so it is easy to work up one or a whole family of seahorse!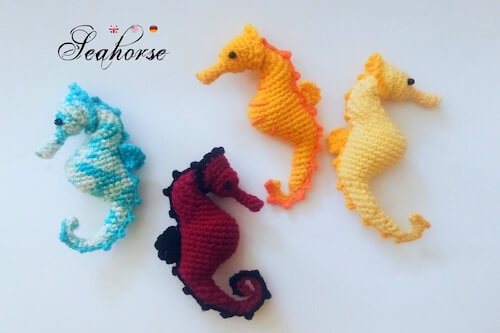 Get the Pattern by Woolay Mo here

6. Crochet Newborn Seahorse Pattern by Briana K Designs
I've seen so many cute underwater nursery themes and this Newborn Seahorse would be a cute addition. Or, if you live near the ocean or just love ocean life, it's perfect for the nautical family.

Match a nursery, or just for fun, this newborn photography prop is a unique look. The bottom cocoon snuggles the baby right to sleep so you can capture a precious moment.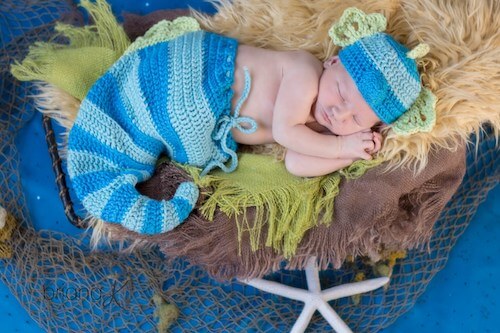 Get the Pattern by Briana K Designs here

7. Crochet Seahorse Pattern by ATERG Crochet
Bring something unique from under the sea, into your own amigurumi collection. These unusual crochet seahorses are perfectly pleasing in the featured shades or give them colorful personalities that you imagine.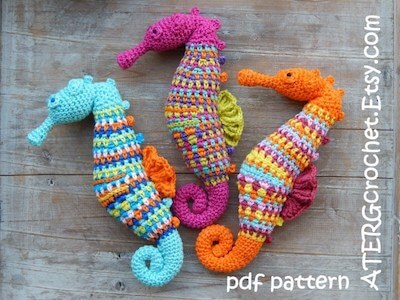 Get the Pattern by ATERG Crochet here

8. Crochet Seahorse Serenade Blanket Pattern by The Craft Pixie
This Seahorse Serenade is a fun crochet design that uses simple overlay mosaic techniques. Use the pattern to make a blanket for a baby, toddler or just for someone who loves seahorses! Make it extra-special by letting kids select their favorite colors, too!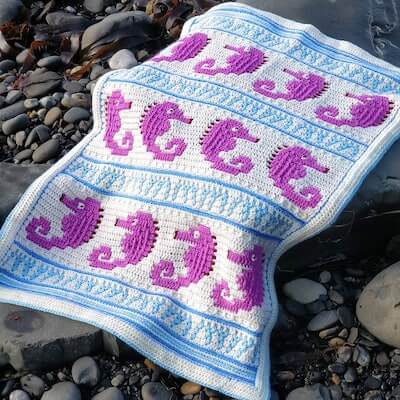 Get the Pattern by The Craft Pixie here

9. Crochet Seahorse Applique Pattern by Jenny & Teddy
Make these lovely seahorse appliqués and sew them on a blanket, a bag, or use it to decorate a theme party. These cute little creatures can also be used to teach kids about the sea life. It's an easy project that you can finish in as fast as 15 minutes!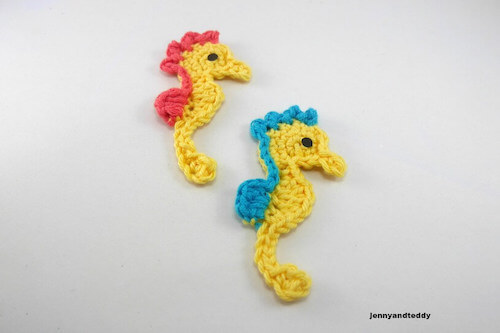 Get the Pattern here

10. Seahorse Crochet Amigurumi Pattern by Crafty Intentions
This beautiful Seahorse comes in two body variations in the same pattern – smooth and ridged! The result is amigurumi-like, yet some different techniques are used that are not used in single crochet-only amigurumi.
I love the stunning details on these crochet seahorses with many options for the body, head and fins.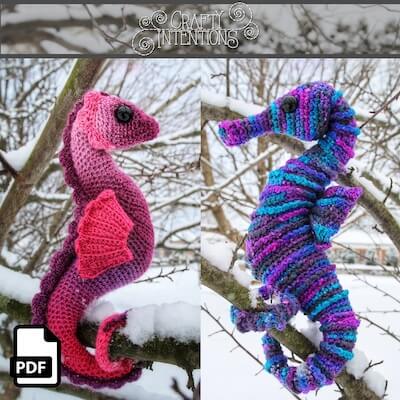 Get the Pattern by Crafty Intentions here

11. Crochet Pygmy Seahorse Pattern by Sweet Potato 3
Isn't this the cutest? For those of you who love making amigurumi but hate sewing the parts together, this Crochet Pygmy Seahorse Pattern is perfect for you! Use different yarn weights to change the final size of your stuffed animal.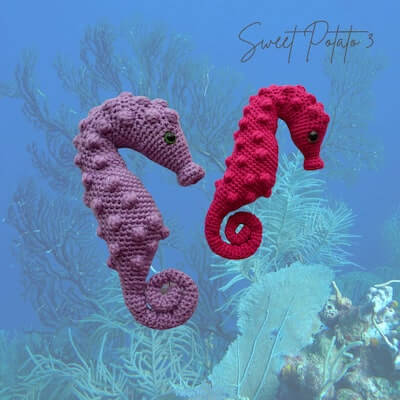 Get the Pattern here

12. Speckled Seahorse Crochet Pattern by Irene Strange
You never know when you will need a little companion so it is best to keep this amigurumi seahorse nearby at all times! The bobble texture along her spine is just so cute!
The seahorse made in DK weight cotton yarn and 3mm hook will measure 23cm/9in tall.
Get the Pattern by Irene Strange here

13. Crochet Seahorse Rattle Pattern by Yarn Wave Shop
Crochet this adorable Seahorse Rattle for a sweet little baby. The rattle is made with a wooden ring that the baby can chew on and it has an optional rattle insert, so that it makes noise when the baby plays with it. Crochet it in 100% cotton yarn in your favorite colors!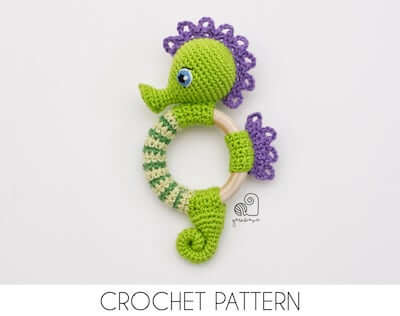 Get the Pattern by Yarn Wave Shop here

14. Crochet Seahorse Family Pattern by Yuki Yarn Designs
Seahorses are among the most adorable residents in the ocean, particularly this Seahorse family! The seahorse dad comes with seahorse babies that you can tuck inside his pouch. It's a family affair!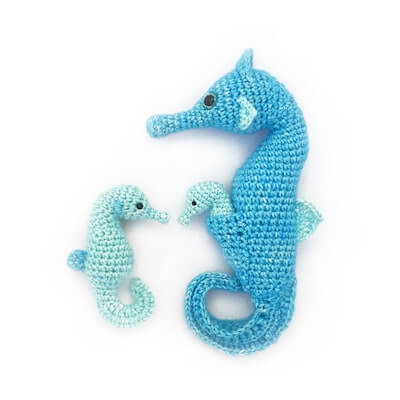 Get the Pattern by Yuki Yarn Designs here

15. Crochet Seahorse Toys Pattern by Sarah Louise Read
With their frilly fins and curly tails, these amigurumi crochet animals are creatively designed with bright color yarn for whimsical appeal. This project involves turning at the end of a row to start a new one; a handy skill as it maintains the height of each row.

Add them to your collection, or give these cheerful toys as gifts to be treasured for years.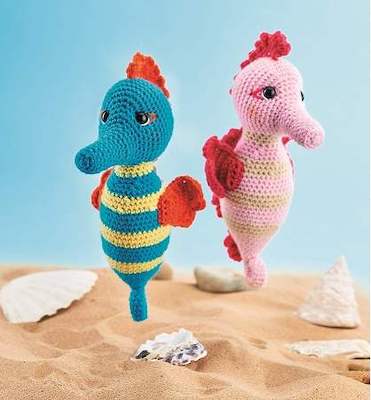 Get the Pattern here
LET YOUR IMAGINATION SOAR WITH THESE CROCHET SEAHORSE PATTERNS!
I can't wait to see what colors everyone makes their seahorses! Share your photos with me by posting them on our Facebook Page.
If you would like to set your crochet seahorses in a whole nautical scene, be sure to check out these crochet patterns for octopus, jellyfish, turtle, lobster, crab, squid, fishes, and more!
Time to get started on your favorite crochet seahorse patterns! Enjoy crocheting, friends!