Make a poppy flower with these crochet poppy flower patterns to adorn your outfit or to give as a gift!

Poppies are bright, bold flowers that usually grow in the warm, summer months. However, it's easy to crochet a poppy any time of year to wear on its own or to sew onto a garment.
Spring is just around the corner. It's the perfect time to start crocheting a new flower pattern. Browse through and find your new favorites!

Plenty of crochet poppy patterns that can be used for ANZAC Day and Remembrance Day in Australia and New Zealand.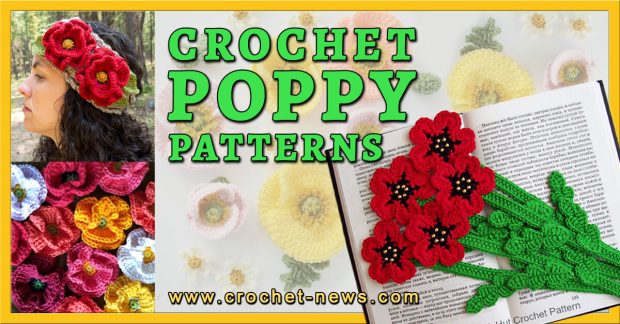 My 12 Favorite Crochet Poppy Patterns

1. Poppy Crochet Pattern by Little Conkers
This field poppy is designed to be as realistic as possible, featuring long stitches replicating the delicate striations of the petals, slightly uneven edges to the petals and the characteristic cross of black in the center.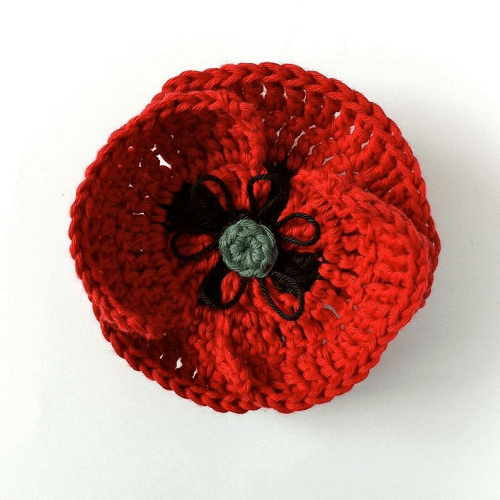 Get the Pattern by Little Conkers here

2. Crochet Poppy Free Pattern by Vera Matrebo
There is a small, subtle color change at the center of this poppy. Simple stitches worked in only one loop create the dimensional petals that give you the poppy shape.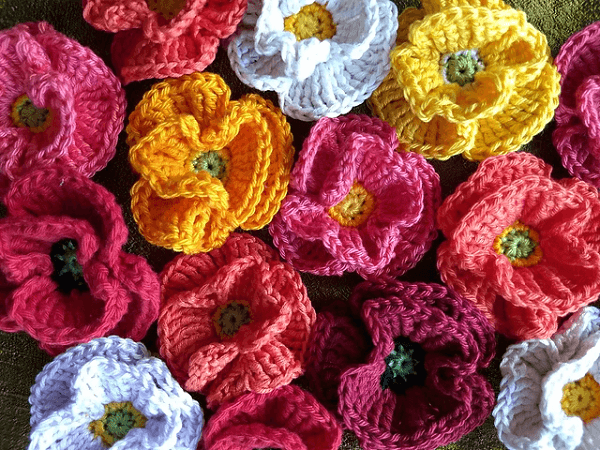 Get the Pattern here

3. Poppy Flower Bookmark Crochet Pattern by Little Owls Hut
Combine your love of reading and poppy flowers with this bookmark. This poppy bookmark would be a perfect gift for lovers of flowers and books.

Make a lot for yourself and someone you love. These poppies would be great appliques too!

30+ Crochet Bookmark Patterns Here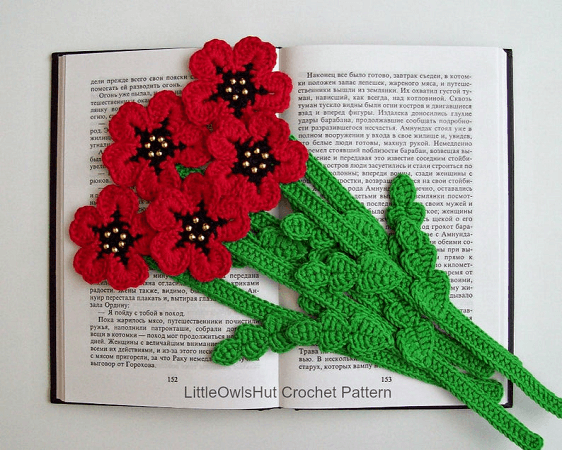 Get the Pattern by Little Owls Hut here

4. Iceland Poppies Crochet Pattern by Picot Pals
This pattern uses a combination of worsted and DK weight yarns. You can use almost any fiber type to create these poppies.
Cotton yarns produce a more stiff petal. Wool creates a fuzziness that makes the stamen of the flower look a bit more realistic.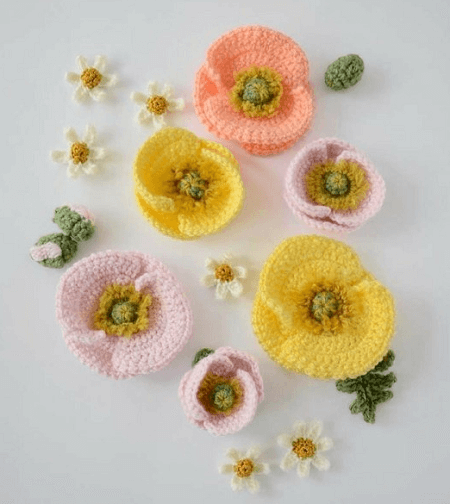 Get the Pattern here

5. Micro Crochet Pattern For Poppies by Steffi Glaves
This crochet pattern shows you how to make a dainty little poppy jewelry set – pendant, dangle drop earrings, and ear studs. The flower motif in this pattern is super tiny, measuring just 1cm across, and would make a gorgeous treat for yourself or a gift for someone else.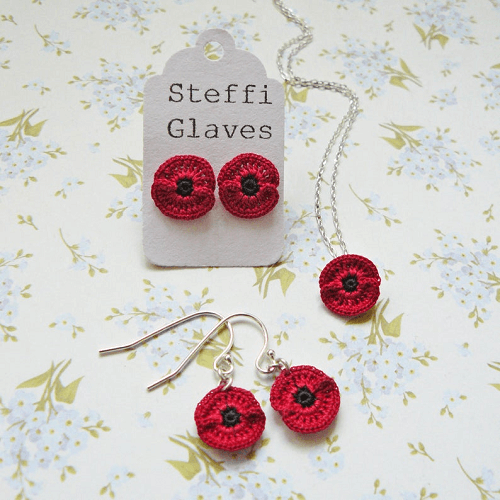 Get the Pattern by Steffi Glaves here

6. Crochet Poppy Brooch Pattern by Vendulka M
This crocheted poppy is perfect for a wide variety of craft projects: you can make hair accessories, bracelets, greeting cards, or add a pin and attach them to a coat, dress, hat, bag or anything you like. A perfect accessory for Remembrance Day and everyday wear.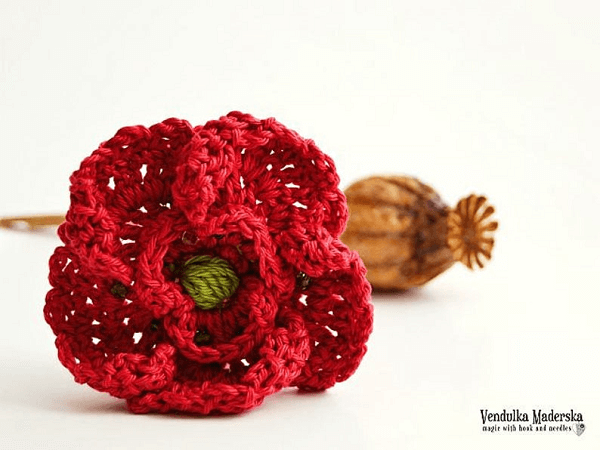 Get the Pattern by Vendulka M here

7. Poppies Pot Holder Crochet Pattern by Hoooker
The pattern comes with a colorful graph, as well as written instructions for the potholders. The graph can also be used to make scarves, dishcloths, squares for baby blankets, afghans, blankets, and anything else involving color change crochet squares.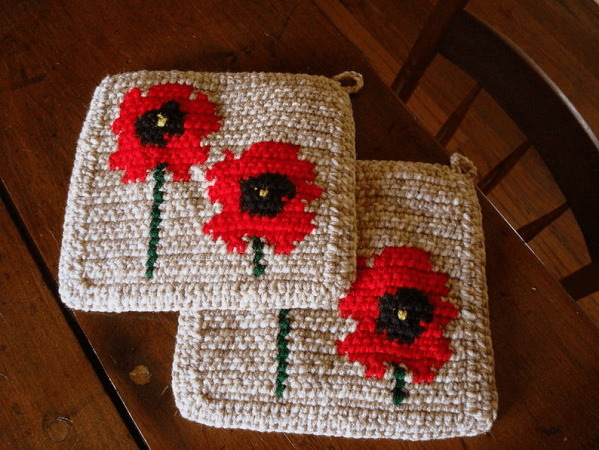 Get the Pattern by Hoooker here

8. Crochet Poppy Necklace Pattern by Hanci Crochets
Crocheted red poppies with green leaves around your neck will bring you a unique fashionable style! It would be a perfect gift for women on Valentine's Day! It also fits perfectly with any casual clothing for daily use.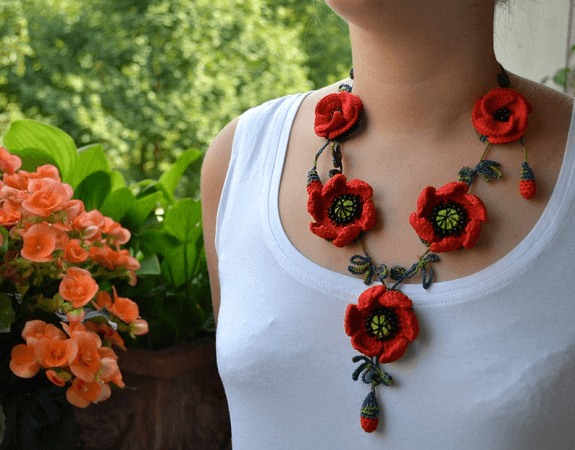 Get the Pattern by Hanci Crochets here

9. Poppy Headband Crochet Pattern by Kirsten Holloway Designs
This poppy headband is a late-summer, Boho-style statement crochet pattern, that is sure to make you stand out in a crowd! Because this headband is worked from one end to the other, it is easy to customize for children as well as adults.

Discover more then 30 Crochet Headband Patterns Here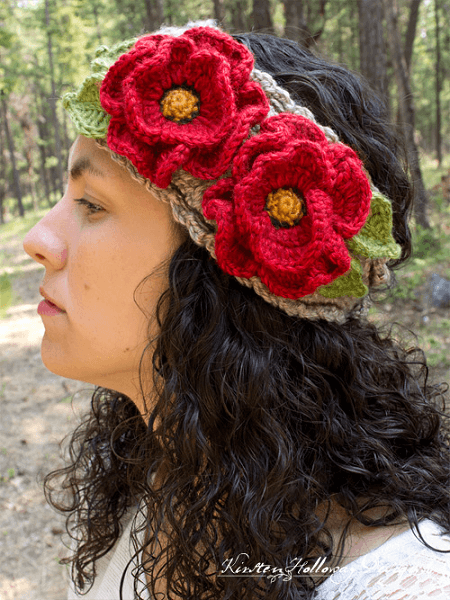 Get the Pattern here

10. Field Poppy Crochet Pattern by Turtle Bunny Creations
Crochet your very own Remembrance Poppy, and take a moment to remember those who have served and those who have given their lives in service to their country. Crochet these beautiful poppies to keep and share with those you love.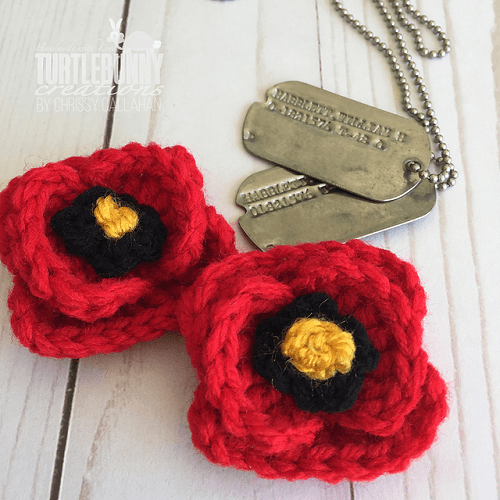 Get the Pattern here

11. Crochet Poppy Flower Blanket Pattern by Crafting Happiness
This beautiful blanket/afghan has a soft and warm texture doubled by the beautiful 3D poppy flowers scattered across it. It will make a great present for babies or adults alike as this blanket can be made as large or small as you like.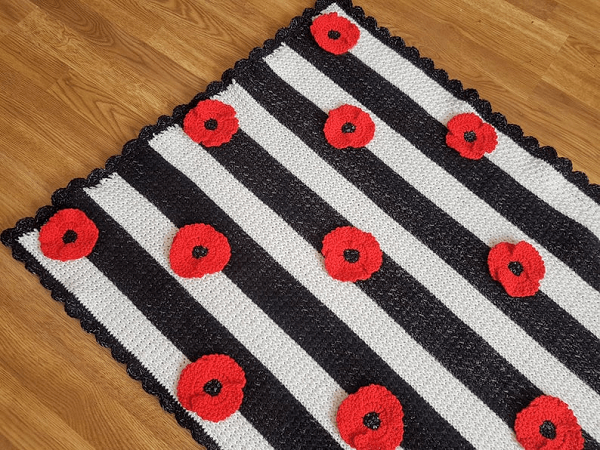 Get the Pattern here

12. Pot Poppies Crochet Pattern by Renirumi
Create your own poppies and leaves for remembrance day with this pattern. These poppies would also look great in a Mother's Day flower arrangement or a Spring flower crown. You can make them in any color of your choice.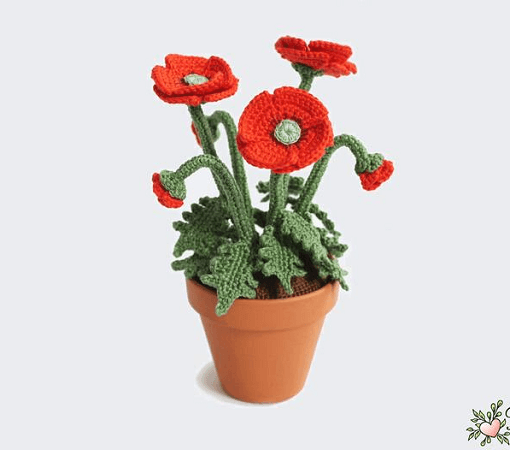 Get the Pattern by Renirumi here
We hope you enjoy reading through what we think are the best crochet poppy patterns!
If you give it a go, share the photos with us on our Facebook Page. You may also like to check our posts for crochet lily and crochet orchid. Crochet flowers and crochet flower bouquets are easier to handle than real ones, trust us!
Enjoy a poppy that will last all year long with one any of the above Crochet Poppy Patterns!