Sure, you can order a Halloween costume online, but if you want to have a little more fun, exercise your creativity and crochet skills with these crochet Halloween costume patterns that you can put together right at home!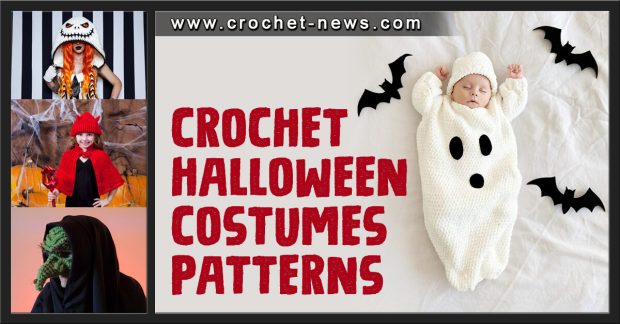 If you love a good Halloween crochet and are looking for something spooky, silly, or stylish, everyone in the family—yes, even your dog—can consider these crochet Halloween costume ideas below.
25 Crochet Halloween Costumes
Check out these 25 best crochet Halloween costumes to get you into the spirit. Have a spook-tacular Halloween!

1. Crochet Oogie Boogie Halloween Costume Pattern by Girl Can Hook
Being bad never looked so cute! Your little one will look absolutely adorable when you slip them into this Oogie Boogie Costume.

This halloween costume crochet pattern is written for an infants 0-6 and 6-12 months of age. It is the perfect costume as Halloween can be a chilly holiday, and this costume will keep your babe nice and warm!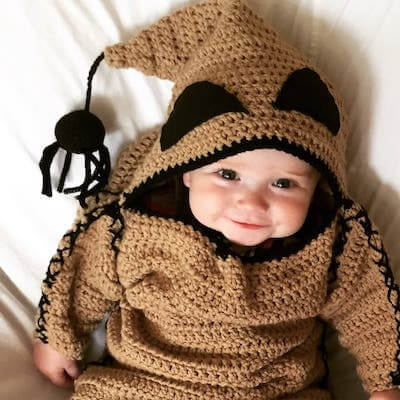 Get the Pattern by Girl Can Hook here

2. Crochet Spider Web Halloween Costume Pattern by Patterns Island
Simply drape this spider web design over any black outfit and you'll have a creepy costume in no time! Crocheted easily with basic stitches, you can whip this up in time for Halloween.
Get the Pattern by Patterns Island here

3. Crochet Halloween Top Hat Pattern by Red Heart
Make a statement with this crocheted top hat that has a unique and eye-catching design. Decorate it with crocheted flowers, sequins, and netting, or let your imagination run wild and customize it as you wish.

This hat can be crocheted in the original colors or any other shade that catches your fancy. Wear it to turn heads on Halloween, or make it in red for a festive Christmas accessory.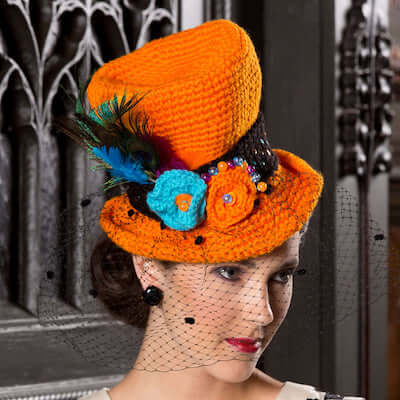 Get the Pattern here

4. Cupcake Crochet Halloween Costume Pattern by Repeat Crafter Me
You'll look sweet as you want to be this Halloween when you wear this Crochet Cupcake Halloween Costume complete with cherry on top frosting headband that will complement the end result! It's a fairly quick project you can finish within a day.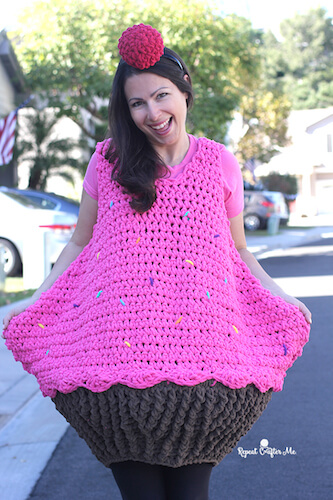 Get the Pattern here

5. Crochet Forest Witch Halloween Costume Pattern by Dasha House
A witch costume is a Halloween classic: not only is it easy to put together but it's an icon of Halloween. Stand out from the rest of the witches with black pointy hats by making yourself a witch hood and hand gloves and dress as a forest witch.

With make-up, a witch's broom or a magic wand, you can put the whole Halloween party under your devilish spell!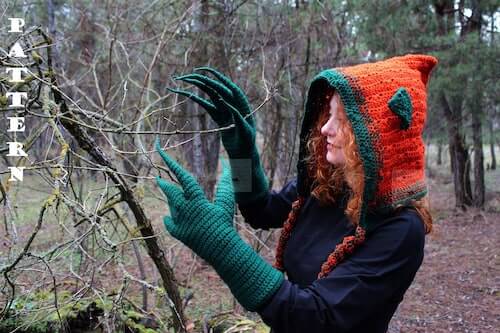 Get the Pattern by Dasha House here

6. Crochet Chicken Hood Costume Pattern by Crochetverse
Be ready to lead the Chicken dance at your nest Halloween party with this Crochet Chicken Hood Costume. Wear it with a yellow dress and you'll be the biggest chicken in town!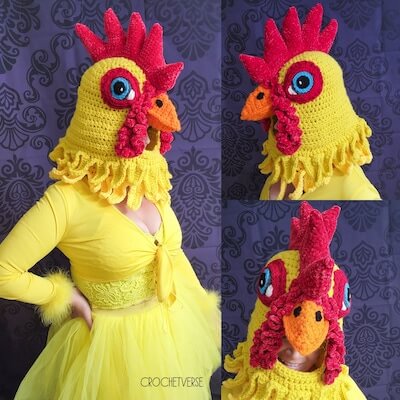 Get the Pattern by Crochetverse here

7. Crochet Sally Dress Pattern by Cozy Day Designs
Get in costume as Sally, the creation on Dr. Finkelstein that has a crush on Jack Skellington in Tim Burton's The Nightmare Before Christmas. You'll catch Jack'e eyes with ease in this pretty patchwork dress! It's perfect for Halloween and beginner-friendly with basic crochet techniques.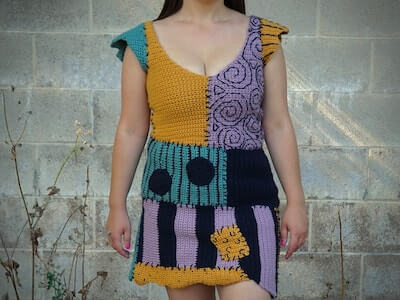 Get the Pattern by Cozy Day Designs here

8. Twisted Saber Crochet Pattern by The Twisted Hatter
If you're dressing up as a Star Wars character this Halloween, make sure you have the right weapon to complete your look. I'm not really sure how this twisted saber works, but I am sure of one thing—it is beyond cool! Add this accessory to complete your costume, and you'll have the hottest look of the season.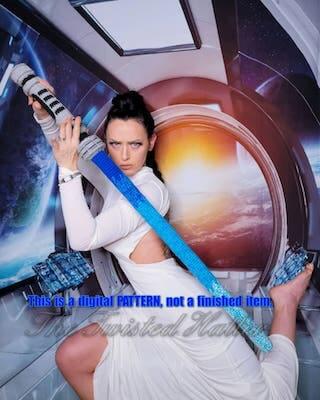 Get the Pattern by The Twisted Hatter here

9. Jack Sparrow Inspired Halloween Beanie Free Crochet Pattern by Heart Hook Home
Captain Jack Sparrow may seem a little 'cuckoo' in the head, but he is my first preference when it comes to dressing like a pirate. You will need brown pants, white top with a brown vest, a red bandanna, some beads, and this Jack Sparrow-inspired beanie to go with the attire!

If you're going for the Jack Sparrow look, make a ponytail with the top dreads on this beanie and add some makeup!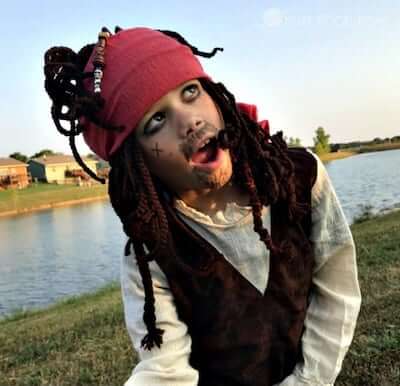 Get the Pattern here

10. Crochet Vampire Ascot Pattern by Red Heart
This lacy ascot is a free crochet Halloween costume pattern is the perfect finishing touch for your vampire costume. The ascot measures 7″ x 44″ and is fairly easy to make – just many rows of the same lacy stitch pattern.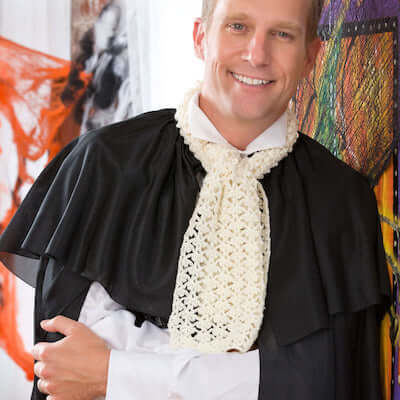 Get the Pattern here

11. Witch Crochet Halloween Mask Pattern by Top Stitches Crochet
Look ready to cast spells in this Witch Crochet Halloween Mask! This bold mask can work as its own costume or as part of a full witch costume to get you looking Halloween-ready.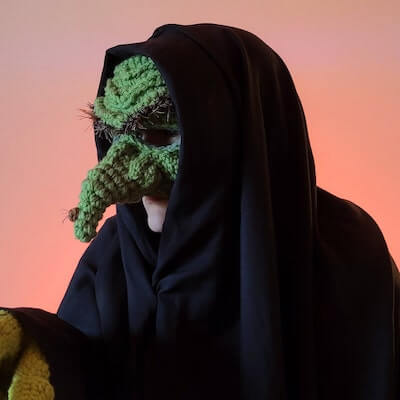 Get the Pattern by Top Stitches Crochet here

12. Crochet Old Lady Wig Pattern by Antique And Or Unique
Dressing up like your grandma can be as easy as borrowing some of her clothes. If they fit, that is. If not, crochet an old lady wig to get the perfect old-fashioned look to go with your grandma costume!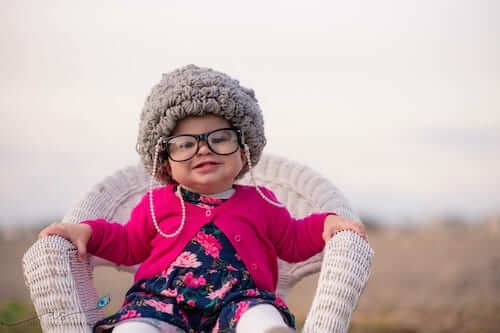 Get the Pattern by Antique And Or Unique here

13. Crochet Masquerade Mask Pattern by Persia Lou
If you have a Halloween party coming up and need a super-quick crochet halloween costume, you'll be the belle of the ball with this pretty crochet lace mask! Throw it on with a favorite dress and some lipstick, and you are ready to go!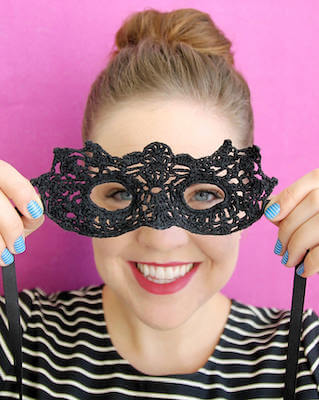 Get the Pattern here

14. Crochet Ghost Halloween Costume Pattern by Daisy Farm Crafts
You'll have the most adorable ghost on the block when your little one wears this cute ghost costume. Turn your child into a pint-sized Casper while still keeping him snug as a bug!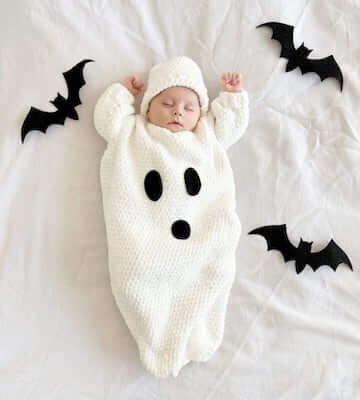 Get the Pattern by Daisy Farm Crafts here

15. Crochet Hooded Cape Pattern by Loving Hands Crochet
Hooded capes are a Halloween staple and can be used for a different costume every year. Just change up the accessories for a whole new character! With sizes from child to large adult, you can make one for each member of the family.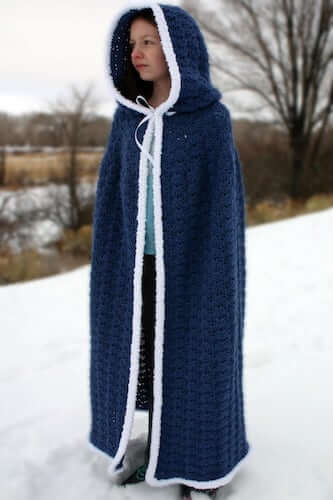 Get the Pattern by Loving Hands Crochet here

16. Little Devil Hat And Cape Crochet Pattern by Red Heart
Your little one sure is a charming devil. Get them looking the part with this Little Devil Hat and Cape that suits their beguiling personallity!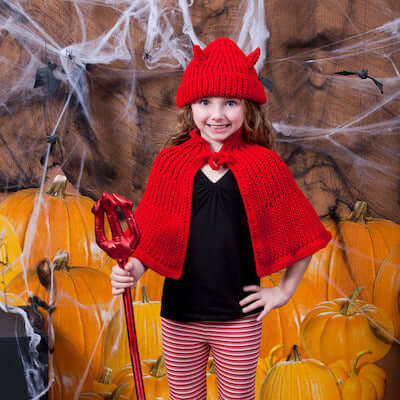 Get the Pattern here

17. Skull Poncho Crochet Pattern by My Fingers Fly
This exquisite design is not only ideal for Halloween and Day of the Dead festivities but also perfect for fans of the Walking Dead and anyone with a love for the Gothic style.

It's a versatile accessory that allows you to express your unique sense of fashion and make a statement on different occasions!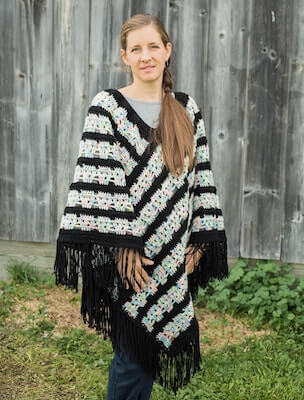 Get the Pattern by My Fingers Fly here

18. Butterfly Wing Shawl Crochet Pattern by Crochetverse
Complete your metamorphosis with this Butterfly Wing Shawl. With its textured wings that drape beautifully over your shoulders, this shawl is perfect for the fairy butterfly goddess. Inspired by the Cecropia moth, the colors radiate from the inside, adding to its magical look.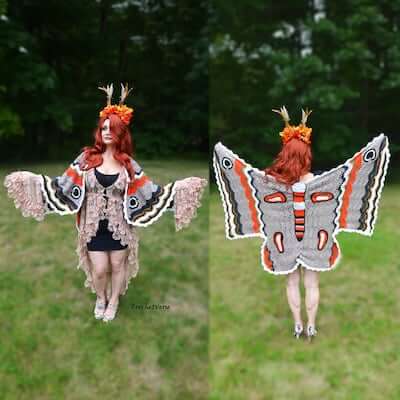 Get the Pattern by Crochetverse here

19. Bone Daddy Hood Crochet Pattern by The Twisted Hatter
Be scary and stylish this Halloween with this Bone Daddy Hood Costume! This accessory is perfect for your next haunted house or Halloween party this spooky season, or even for celebrating Day of the Dead!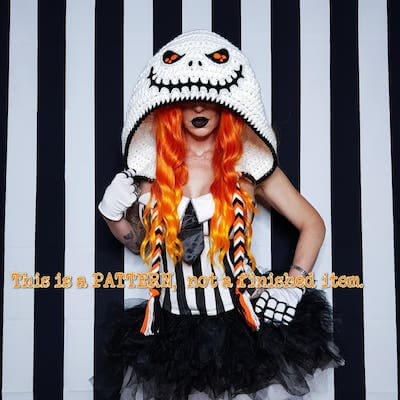 Get the Pattern by The Twisted Hatter here

20. Crochet Bat Themed Top Pattern by Skump Stitch
Looking for a costume that's sexy and spooky? This low-maintenance, bat-themed corset will do the trick—perfect for vampires, gothic queens, or dark fairies.

Whether you're attending a Halloween party, haunting the neighborhood for treats, or just in the mood for some eerie elegance, this corset is your go-to choice.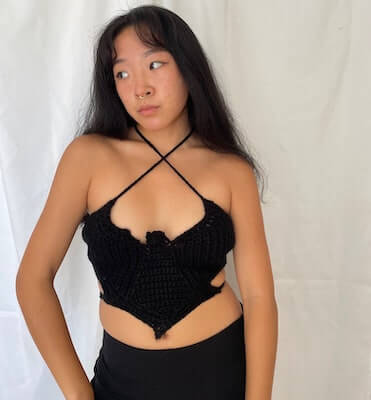 Get the Pattern by Skump Stitch here

21. Crochet Halloween Pirate Pattern by Yarnspirations
Unleash the adventurer within with these pirate-themed accessories, perfect for the pirate enthusiast in your world! This crochet pattern includes a pirate hat, belt, and eye patch, all designed to bring out the swashbuckler spirit!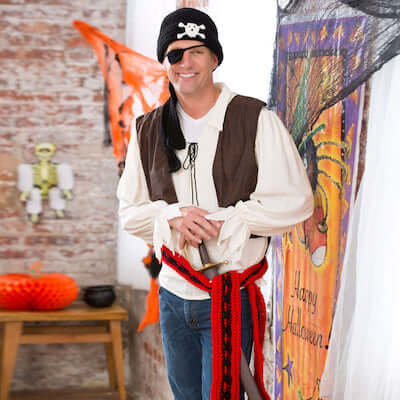 Get the Pattern here

22. Nerd Emoji Inspired Costume Crochet Pattern by Michelle M
There's nothing wrong with being a little nerdy! Dress up your kids as your favorite emoji nerd this Halloween. It is a quick and easy project that can be whipped up in a few hours.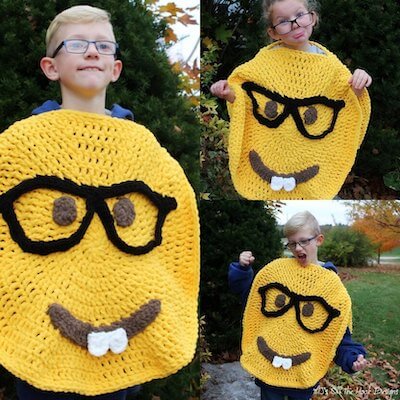 Get the Pattern by Michelle M here

23. Dog Spider Halloween Costume Crochet Pattern by Sharon Santorum
If your dog loves getting all dressed up for Halloween just as much as you do, you're probably already planning his trick-or-treating outfit. And if you're looking for something classic, you can't go wrong with a spider costume.

Even if you're not a fan of arachnids, its hard to resist the cuteness of this Crochet Dog Spider Costume.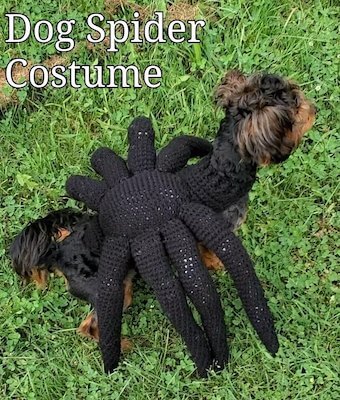 Get the Pattern by Sharon Santorum here

24. Pink Soldier Hooded Cowl Crochet Pattern by Crafty Kitty Crochet
Love pink soldier costume in the Squid Game show? With this Pink Soldier Hooded Cowl Crochet Pattern, you can easily create a fantastic costume inspired by this popular show. It's a functional fall and winter accessory that also hits the iconic look spot on!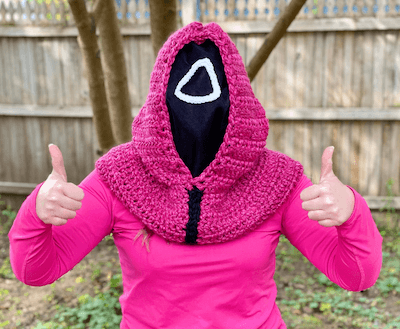 Get the Pattern here

25. Crochet Dog Monster Costume Pattern by Red Heart
Don't be surprised if your pup's bark turns into a "Rawr!" after you put your furry friend in this fur-ocious costume. While he may not send chills down anyone's spine, he's guaranteed to receive plenty of treats!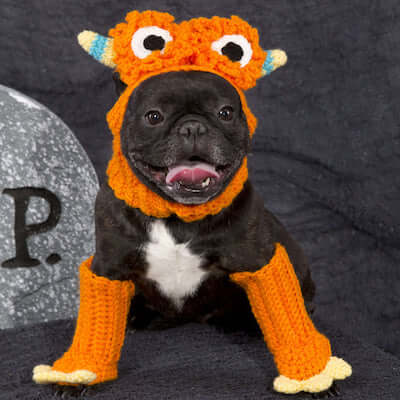 HALLOWEEN IS FAST APPROACHING, WHICH MEANS IT'S TIME TO GET THESE CROCHET HALLOWEEN COSTUMES STARTED!
Use these ideas for inspiration, get your Halloween candy at the ready, and spend an evening making the best costume your friends and family have ever seen! Don't forget to show your creations to us, as well! Share your finished pieces on our Facebook Page—we'd love to see who you are going to be this October 31st!
Discover more terrifyingly Halloween crochet projects with Crochet News:
Get creative with your crochet Halloween costumes, have fun, and remember: anything goes on Halloween!