Whether adorning your own garden oasis or gifting these handmade creations to fellow garden enthusiasts, these crochet garden patterns are sure to infuse your outdoors with warmth, whimsy, and a touch of crochet charm! From amigurumi plants to functional and decorative garden accessories, these patterns offer something for every green thumb (or for a crocheter who never really had much of it).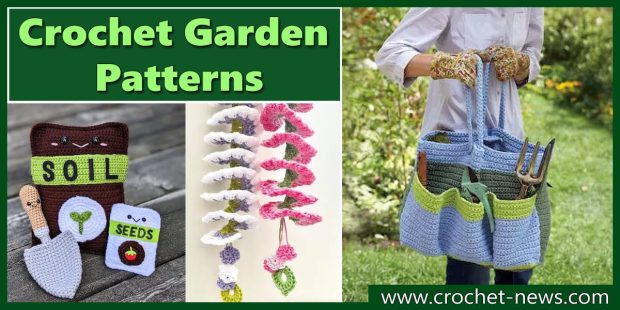 Perhaps you've thought carefully about every plant in your garden, and now you want to focus on making your yard more inviting. Or maybe you just need something to crochet for the gardener in your life. No matter what crochet garden idea you choose to tackle, you're going to give your garden or someone else's outdoor space a unique look that you can't buy at the store!
No dirty hands this time!
15 Crochet Garden Patterns

1. Big Star Tent Crochet Pattern by Esme Crick
This Big Star Tent will provide a safe place for children and pets to play while you relax in the garden. It's the ideal summertime escape!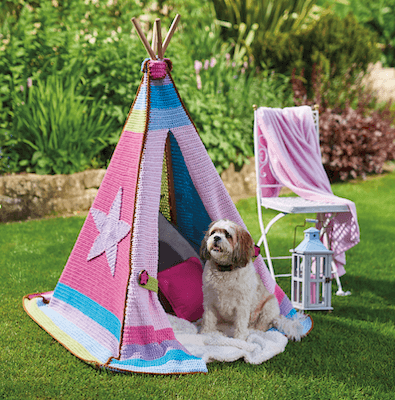 Get the Pattern here

2. Crochet Colorful Boho Lantern Pattern by Elealinda Design
Looking for an original and cheerful light? Crochet a colorful boho lantern that's nice to hang in your garden, or even in your living room. The possibilities are endless!

Whether with a decorative tassel, a pearl border, charm pendants, motley or tone on tone – everyone will find their favorite model. In our gardens on warm summer evenings, these lanterns create a unique and cozy atmosphere!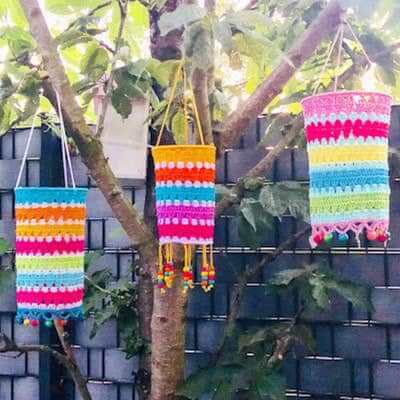 Get the Pattern by Elealinda Design here

3. Crochet Garden Wind Spinner Pattern by Crochet Lounge Design
What would a colorful wind spinner look like on your balcony or terrace or in your garden? These are easy make and suitable for a beginner crochet project.

A wind spinner doesn't require a big amount of yarn, so it's a great way to use up some of the leftovers.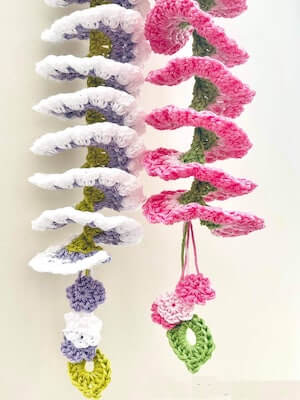 Get the Pattern by Crochet Lounge Design here

4. Gardening Kit Crochet Pattern by Simply Rose By Rosalie
Here's a cute crochet gardening kit brought to life kawaii-style and a perfect addition to garden-lovers collection. This garden kit makes any gardener smile, but never more so than when they are Ade out of crochet with sweet little faces!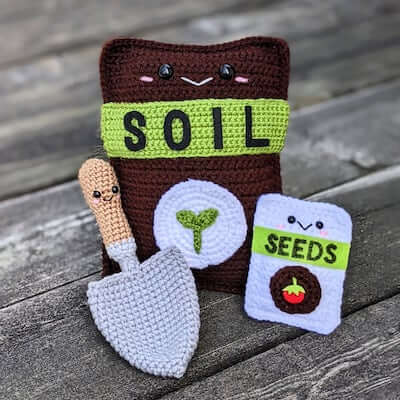 Get the Pattern by Simply Rose By Rosalie here

5. Crochet Garden Gnome Pattern by Crochet Page
Let's throw it back to the original gnomes – garden gnomes. Although inspired by those whimsical statues. this garden gnome couple is much softer and smaller than their outdoor cousins. My favorite part of this pattern is the fun and colorful embellishments and their outfits!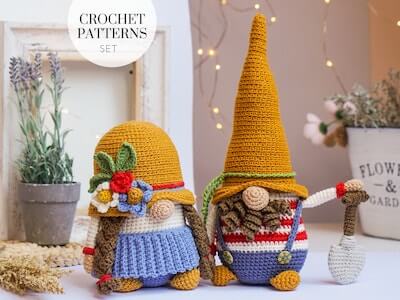 Get the Pattern by Crochet Page here

6. Crochet Garden Tote Bag Pattern by Yarnspirations
This crochet tote bag is a gardener's dream! It allows you to safely organize all your gardening tools in one place. You get six spacious pockets for all your quick-use stuff to save you from having to grope around and a large interior pocket.

Made with durable cotton yarn, it won't tear off easily under heavier workloads – making this tote a perfect gift for your favorite gardener.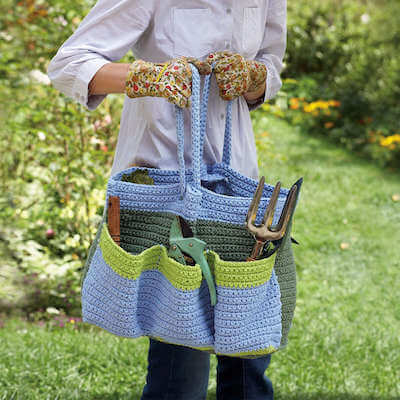 Get the Pattern here

7. Crochet Kneeling Garden Cushion Pattern by Fave Crafts
Gardening is a beloved pastime for many people, but kneeling for long periods can cause sore knees and pain. You can ease pressure and constant shifting by crocheting a kneeling cushion for yourself or the gardener in your life. Providing it's well-padded, allows you to carry on with garden chores in comfort.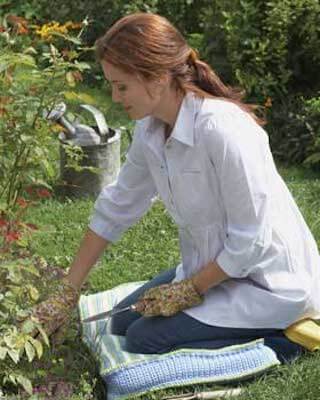 Get the Pattern here

8. Crochet Hanging Pot Holders Pattern by Esme Crick
If you can't go back from grocery shopping without a new plant, chances are, your garden will eventually run out of space! That's where these beautiful hanging pot holders come in, because all you need is a hook or a nail in the fence.

These are also a great stash-busting project because you can use up whatever odds and ends you have on hand.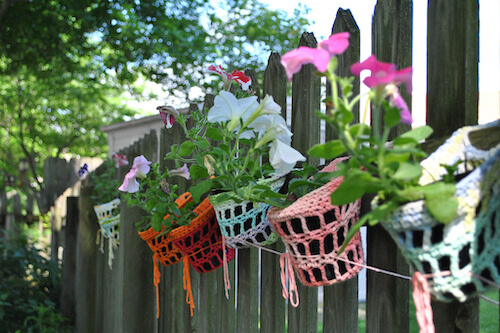 Get the Pattern here

9. Crochet Bird Feeder Pattern by Whistle And Ivy
Craft crochet feeders to attract birds to your garden, offering you the opportunity to observe and enjoy their visits, bringing nature closer to your home. Know a bird enthusiast? This would also make a great gift!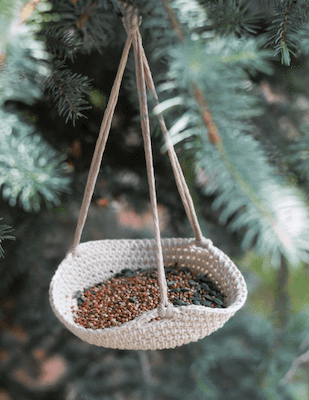 Get the Pattern here

10. Crochet Flower Garden Bunting Pattern by Elealinda Design
String together crocheted bunting or garlands to drape along fences, trellises, or pergolas, bringing a festive and whimsical atmosphere to your garden. if you love flowers and bright colors, this is the pattern for you!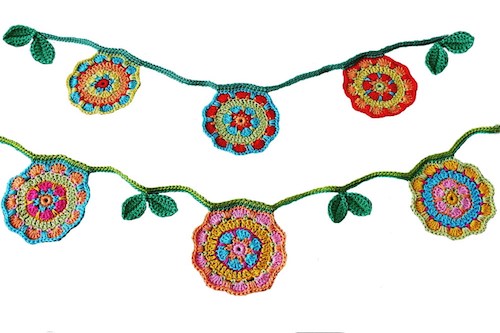 Get the Pattern by Elealinda Design here

11. Crochet Garden Insects Pattern by Happy Coridon
Five delightful insects amigurumi, each the size of a hand, to play with kids in the garden. These garden insects can be a delightful and imaginative way to add whimsy and charm to your outdoor space. These creatures are not only visually appealing but also a reflection of your creativity and love for nature.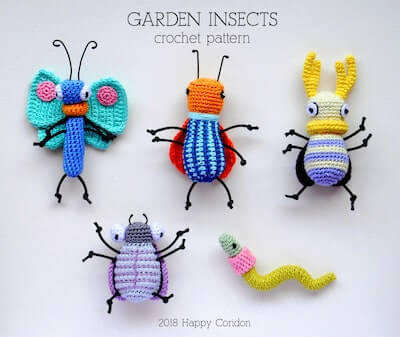 Get the Pattern by Happy Coridon here

12. Easy Crochet Hammock Pattern by Roxanna June
Sure garden chairs or lying on the grass is fine, but how does relaxing in your very own hammock sound? By crocheting a hammock for your garden, you not only create a functional and comfortable space for relaxation but also infuse your outdoor area with the warmth and charm of a handcrafted creation.

It's a delightful way to enjoy the fruits of your labor while basking in the natural beauty of your garden. Be sure it's made with strong, durable yarn, though!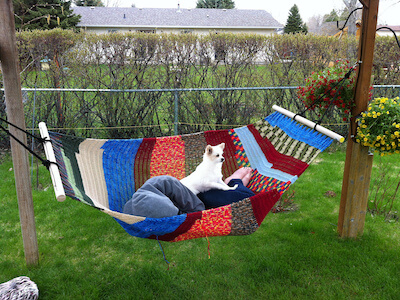 Get the Pattern here

13. Crochet Planter Apron Pattern by Classy Lady Yarnworks
It's time to get on your knees, grab a tool or two and get a little dirty! This Crochet Planter Apron provides a handy solution for holding tools, seeds, and other essentials while tending to plants and flowers. It's a practical project that can make gardening even more enjoyable and convenient.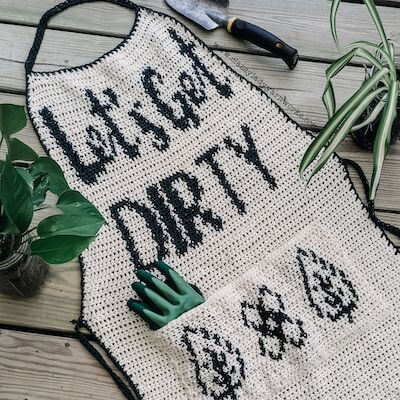 Get the Pattern here

14. Crochet Garden Pattern by Victoria Kairis
Who loves the idea of no-maintenance, handmade garden? Design a miniature crochet garden scene with mix of flowers, plants, and small creatures, creating a whimsical display.
The pattern includes a Rose Tree, Hydrangea Bush, Grass Plant, and Tomato Plant, as well as three adorable tiny bugs that will add some wildlife to your garden.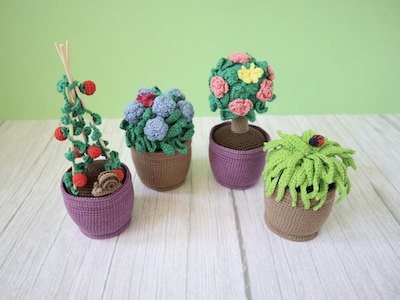 Get the Pattern by Victoria Kairis here

15. Crochet Flower Pot Coaster Set Pattern by Brunaticality
A decorative flower pot that turns into coasters, an easy and quick project, decorative and functional. These flower pot coaster will surely brighten up your garden-themed kitchen or outdoor dining area. Your dining guests will be ever so impressed!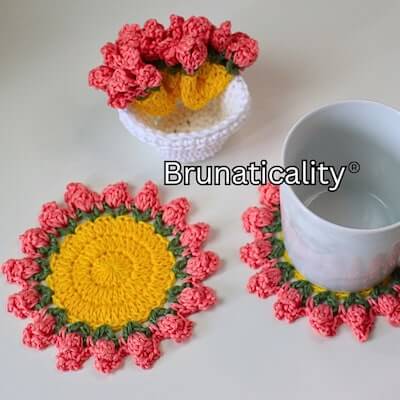 Get the Pattern by Brunaticality here
TIME TO BEAUTIFY YOUR OUTDOOR SPACE WITH THESE CROCHET GARDEN PATTERNS!
You'll love the variety of garden ideas you can create. Pick a favorite or two and get crafting! Just don't forget to share your crochet projects with us on our Facebook Page, please!
Do you love adding a personal touch to your living spaces? Here are some delightful crochet ideas for the home:
Happy crocheting with your favorite crochet garden patterns, and may your garden be forever be a testament to the harmonious blend of crochet and nature!