Interested in a collection of pretty crochet earrings? From statement earrings to everyday earrings – earrings that you can mix and match to your special events or everyday fashion – you can have all these to your heart's content!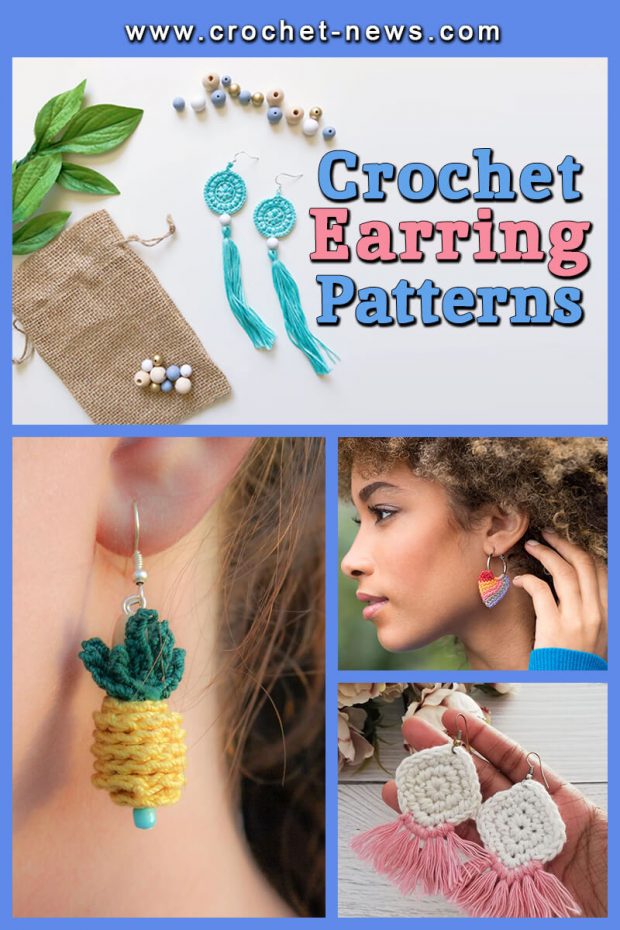 While diamonds may well be a girl's best friend, there's a lot to be said about low-cost alternatives. And, if you're a little crafty, you'll find that you can make some stunning handmade earrings using your crocheting skills. From formal to playful, there's something for everyone in this collection of crochet earrings patterns.
But for those of you who have no time to crochet one, I've also included here some Etsy stores that sell beautiful handmade earrings. Etsy is home to countless independent designer stores that are bursting with beautiful, handmade jewelries that are sure to dazzle you. Not only will you receive a wearable work of art, but you, as a consumer, can take pride in knowing you've supported small businesses. Check them out below!

Here are 10 Etsy stores that sell one-of-a-kind, crocheted earrings.

Asymmetrical Sunflower Dangle Earrings Crochet Handmade by Crochet By Alison AU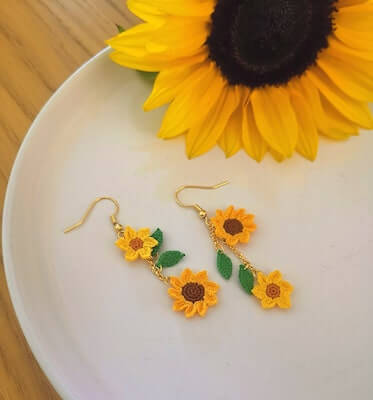 Find more from Crochet By Alison AU Etsy store here

Multicolor 18k Gold-Plated Wire Crochet Earrings by Lavish By TM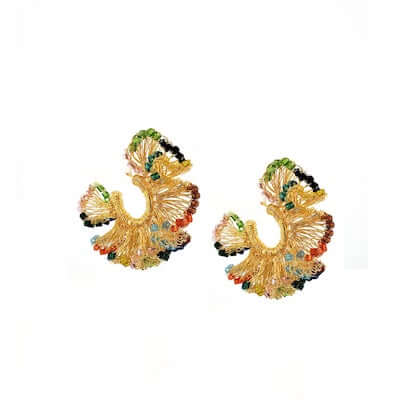 Find more from Lavish By TM Etsy store here

Teardrops Handmade Crochet Earrings by Yarn Unique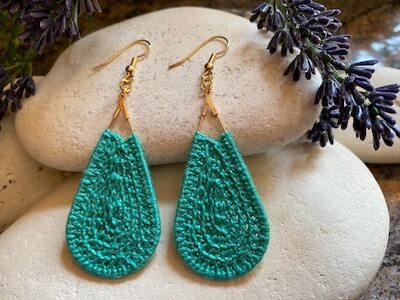 Find more from Yarn Unique here

Turquoise Blue and Cream Crochet Lace Flower Earrngs by Steffi Glaves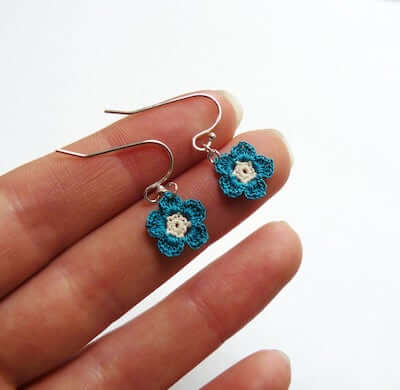 Find more from Steffi Glaves Etsy store here

Crochet Butterfly Earrings by Shannon Leih Designs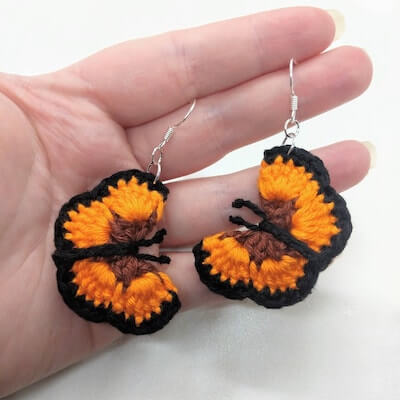 Find more from ShannonLeihDesigns Etsy store here

Pink Fan Crochet Earrings by Adorn Yourself Co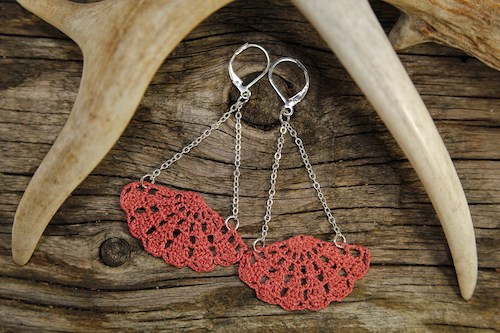 Find more from Adorn Yourself Co Etsy store here

Crocheted Lace Earrings by Maraeilis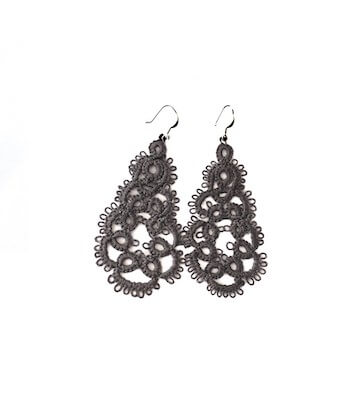 Find more from Maraeilis Etsy store here

Oak Leaves And Acorns Crochet Earrings by Lovely Crochy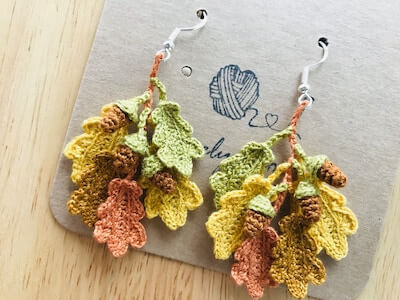 Find more from Lovely Crochet Etsy store here

Crochet Neon Earrings by The Dance With Colors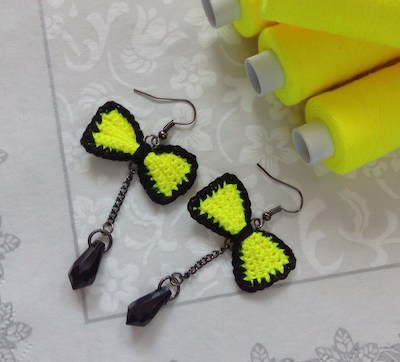 Find more from The Dance With Colors Etsy store here

Boho Crochet Earrings by Othalaz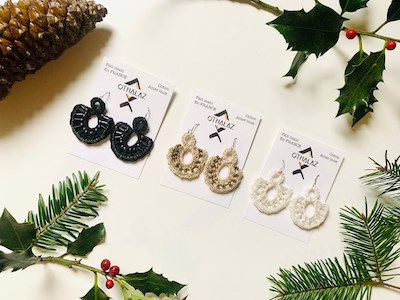 Find more from Othalaz Etsy store here
Do you have to stiffen crochet earrings?
You can shop for beautiful crochet earrings made by the skilled designers below. They offer a wide variety of styles, from bohemian to modern and classic. There is definitely a pair of handmade earrings that will match your style.
35 Crochet Earrings Patterns

1. Crochet Rainbow Earrings Pattern by A Crafty Concept
This Crochet Rainbow Earrings Pattern is super easy, full of personality, and complements any outfit! These easy DIY rainbow earrings can be made in any color combination. You can go for the traditional primary colors or a subtle combination that matches your outfit!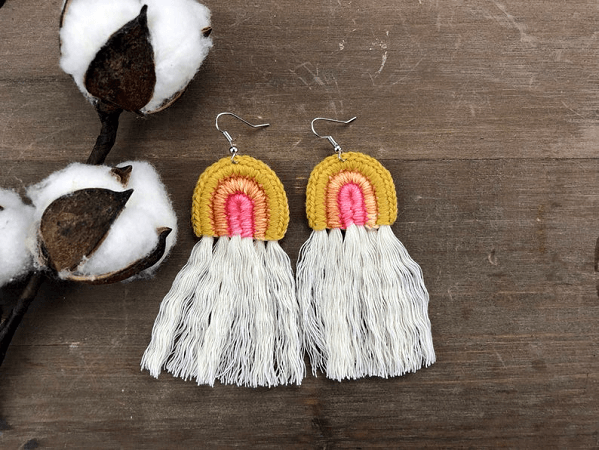 Get the Pattern by A Crafty Concept here

2. Mini Doily Earrings Crochet Pattern by Yarnspirations
Use your crochet talents to create these pretty lacy earrings. They are perfect for the bride in white metallic thread or in other shades for more casual days and a more colorful look. This is a wonderful gift idea!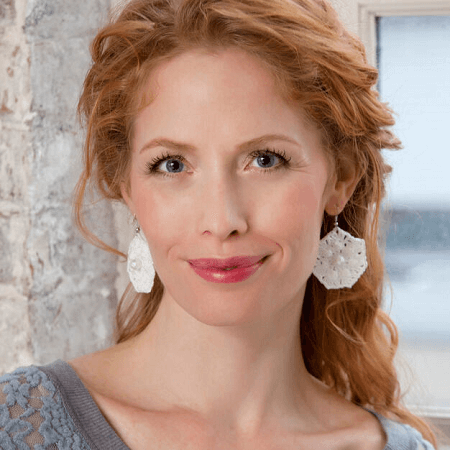 3. Crochet Earrings Pattern by Marmotescu
These colorful earrings are bound to get noticed. They are very lightweight and comfortable to wear despite the size, there are no glued elements so they are very resistant. Not only are they delicate and chic in appearance but you can use your favorite colors to make them your own.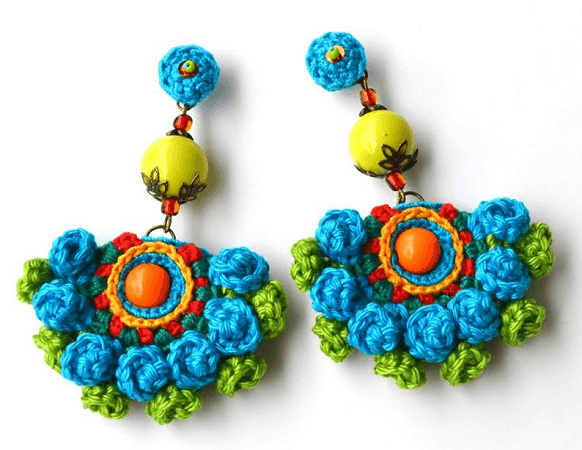 Get the Pattern by Marmotescu here

4. Heart Earring Crochet Pattern Steffi Glaves
This Heart Earrings Crochet Pattern is a great starter project for those who want to get into crochet jewelry. It can be easily customized by adding beads or sewing them together to make a bracelet. Scale it up with DK yarn to make a larger but equally cute heart applique.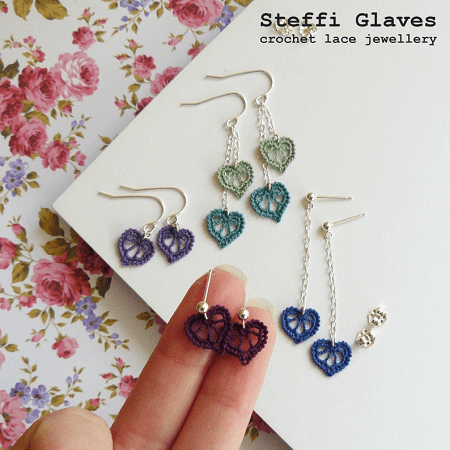 Get the Pattern by Steffi Glaves here

5. Roses Crochet Earrings Pattern by Lucia Knit
Following the instruction, you will be able to crochet tiny and elegant earrings in the shape of roses wreaths. Such earrings will be a perfect gift for those who love roses and likes gardening.
These micro crochet roses are made with sewing thread and a crochet hook 0.4 mm. The pattern is suitable for bigger hooks.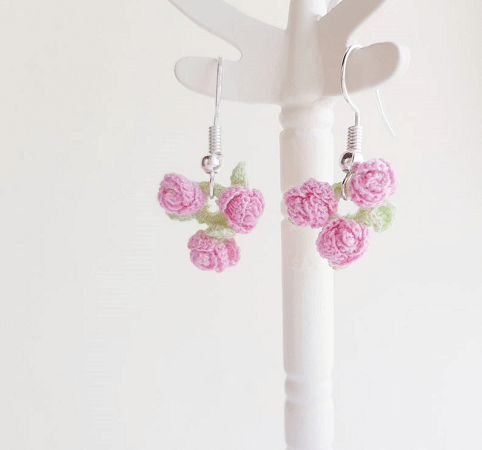 Get the Pattern by Lucia Knit here

6. Crochet Skull Earrings Pattern by Crochet Knit Jewelry
Who doesn't love a pretty skull? These skull earrings are absolutely adorable!
These are unique and memorable and are a great accessory for wearing to work, or any time you want to be festive and can't wear a whole costume. They would be perfect for Halloween or even just cause you like skulls!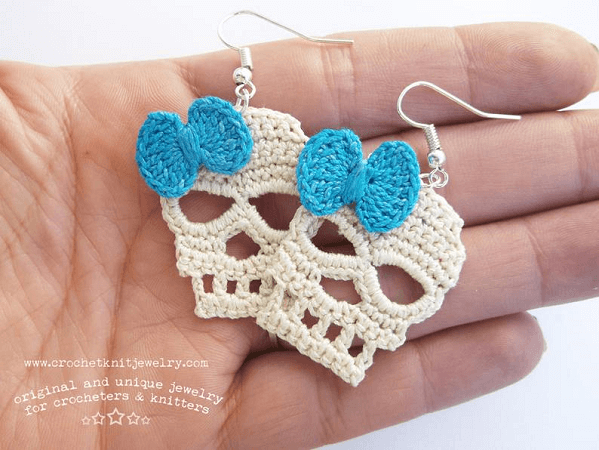 Get the Pattern by Crochet Knit Jewelry here

7. Dream Catcher Earrings Crochet Pattern by Red Heart
Need a new pair of on trend earrings to freshen up your look? Crochet these in very little time-plus these are definitely unique and can be made to coordinate with your wardrobe.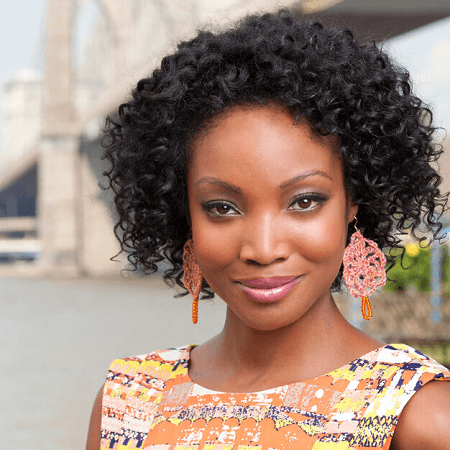 Get the Pattern here

8. Mint Spirit Earrings Crochet Pattern by Sweet Softies
Looking for another quick, easy crochet project that is trendy and fashionable for the warm weather season? This lovely, turquoise pair of dreamcatcher-esque earrings with beads and tassels is just screaming happy, summer vibes!

You can whip it so quickly, and you won't imagine how inexpensive it is to make.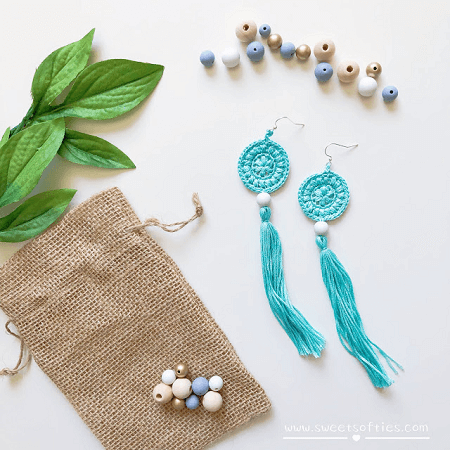 Get the Pattern here


9. Peacock Feather Earring Crochet Pattern by Steffi Glaves
This crochet peacock feather tells you how to crochet a peacock feather motif, which can be made into earrings or scaled up with thicker yarn to make larger items such as bunting, bag accessories, or appliqués to embellish other projects.
It is light, dainty, and can be easily customized by using different colors or adding bead embellishments.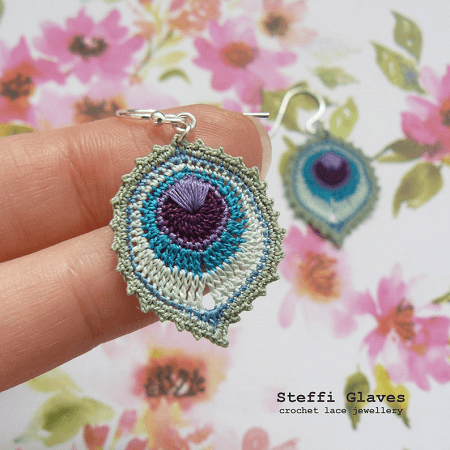 Get the Pattern by Steffi Glaves here

10. Sunburst Earrings Crochet Pattern by You Should Craft
Crochet a pair of Sunburst Earrings using embroidery floss and a 2.5 mm hook. These sweet sunburst earrings have a boho flair and are inspired by breezy spring days and the sunburst granny square. This lovely pair is the first two rounds of the sunburst granny square!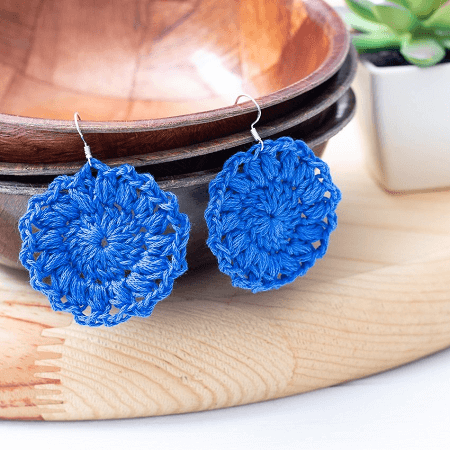 Get the Pattern here
11. Floral Hoop Earrings Free Crochet Pattern by Eye Love Knots
Got some leftover embroidery thread? Then, grab a steel hook and make some fun-to-make and colorful Floral Hoop Earrings, with a center flower that really pops.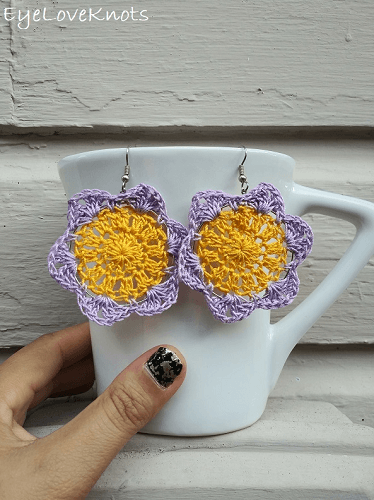 Get the Pattern here

12. Crochet Cactus Earrings Pattern by Whistle And Ivy
These darling Crochet Cactus Earrings make a quick gift or a fun evening crochet project. The whimsical design makes them fun for summer barbecues or a day spent at the farmer's market. These crochet earrings are made using embroidery floss, so the color options are endless.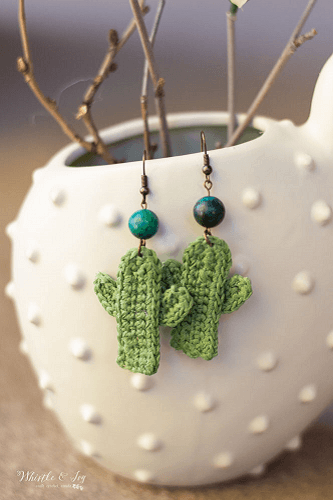 Get the Pattern here

13. Rainbow Mini Mandala Earrings Crochet Pattern by Divine Debris
Looking for some statement earrings? These Rainbow Mini Mandala Earrings are for you. But if you're not into earrings, you can definitely make these into something more your style – maybe some cute motifs to hang from a garland?

Or secure them together along the last row to make a lovely doily table runner? Or even a large lapghan can be made if you use thicker yarn. It's all up to you and your creativity!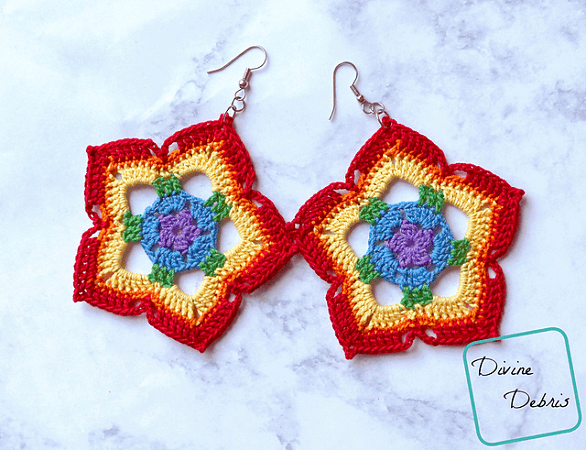 Get the Pattern here

14. Crochet Snowflake Earrings Pattern by Jola's Patterns
Make holiday jewelry for yourself, your family, and your friends. These lightweight snowflake earrings are easy to make and will add a nice touch to any of your outfits.
The finished snowflake measures just over 3.25 inches (8 cm) in diameter, and it is finished with sterling silver ear wires.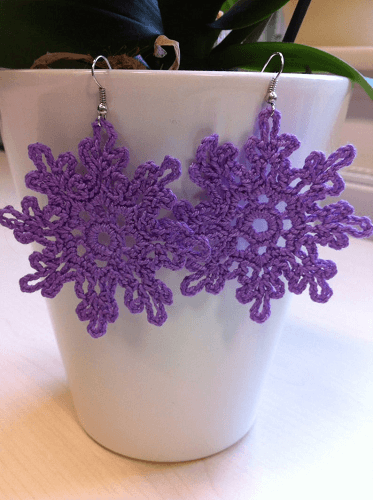 Get the Pattern by Jola's Patterns here

15. Crochet Pineapple Pendant Pattern by Winding Road Crochet
This Crochet Pineapple Pendant is a great addition to any summer outfit. It can be worn as earrings, on a necklace, on a bracelet, or even used as a zipper pull for your favorite pouch. Now you can have a taste of summer dangling from your ears, neck, or wrist!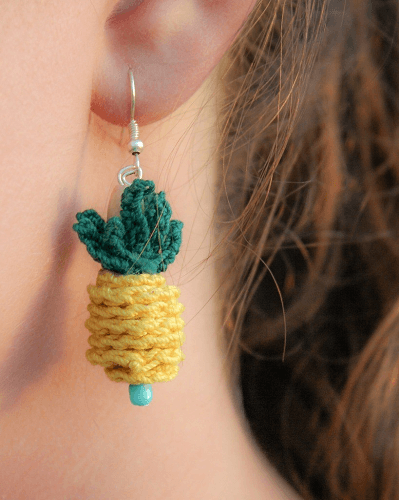 Get the Pattern here

16. Dangling Star Earrings Crochet Pattern by Red Heart
Add dangling beads to these stunning crocheted earrings and give them extra appeal! Delicate and lightweight, these crochet earrings will be a delight to wear, so consider making an extra pair for your family and friends!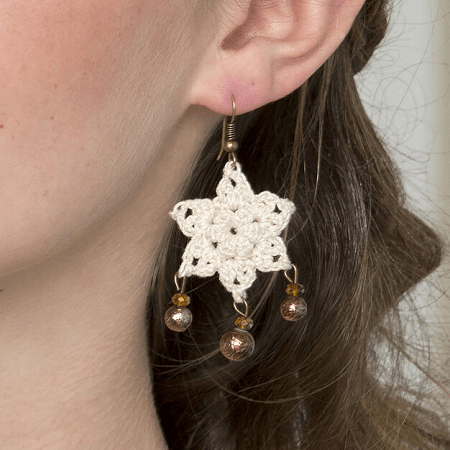 17. Jellyfish Crochet Earrings Pattern by Crochet Knit Jewelry
They will swing playfully when you turn your head. Perfect finish to your summer outfit. This beautiful crochet jellyfish set of earrings is something that every girl will love to have in her collection.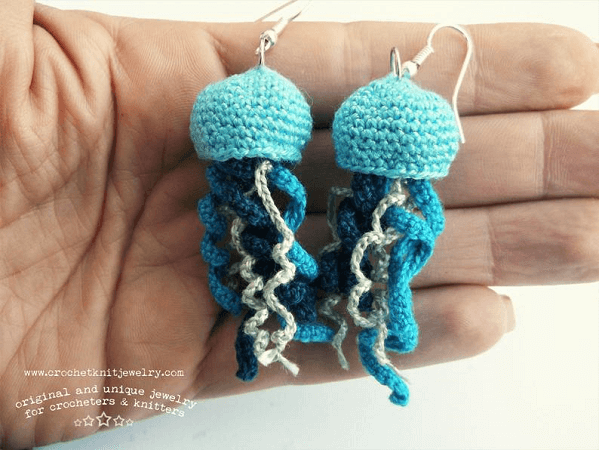 Get the Pattern by Crochet Knit Jewelry here

18. Crochet Feather Earrings Pattern by Crochet For You
These beautiful lightweight Crochet Feather Earrings are made of embroidery threads so they have a more delicate look to them. You will love wearing them because they work with casual and dressier outfits. They just make every outfit more fun!
Once you start making them, you'll be making them for everyone you know. They're super fast to make and they are an amazing gift!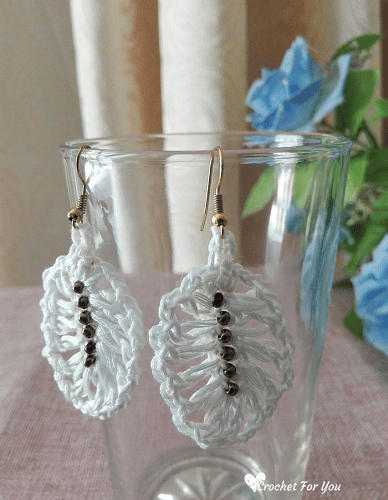 Get the Pattern here

19. Crochet Festival Hoop Earrings Pattern by Crafting Happiness UK
Make yourself a beautiful, one of a kind, pair of crochet hoop earrings with this quick beginner-friendly pattern to wear all summer long. It also makes a beautiful present for someone who likes to be fashionable and trendy.

This pattern creates a hoop earring 7.5cm in diameter in off white color, but you can customize it by changing the thread color or the size of the hoops, this pattern easily adjust to your needs.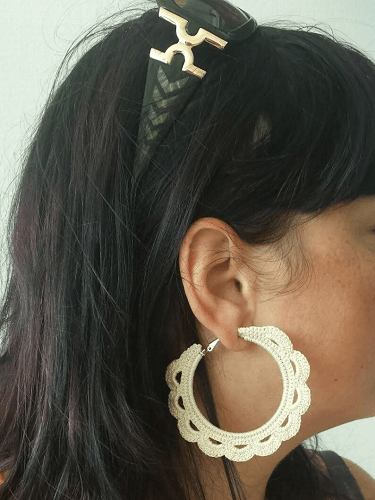 Get the Pattern by Crafting Happiness UK here

20. Watermelon Earrings Crochet Pattern by Lucia Knit
Get the perfect pop of color and a fun juicy look with these Crochet Watermelon Earrings. You can wear them around the pool, at the beach, or when going out with friends. These happy fruit earrings are great accessories for a fun personality.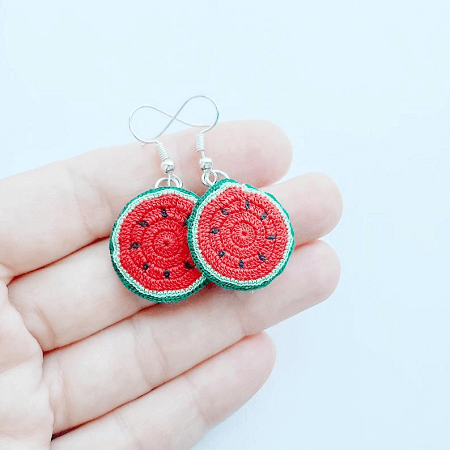 Get the Pattern by Lucia Knit here

21. Crochet Boho Earrings Pattern by A Crafty Concept
These Crochet Boho Earrings are super fun with their bobble stitch texture and trendy fringe! These are simple, trendy, and all your friends are going to be lining up for pairs. It's time to use up all those scraps!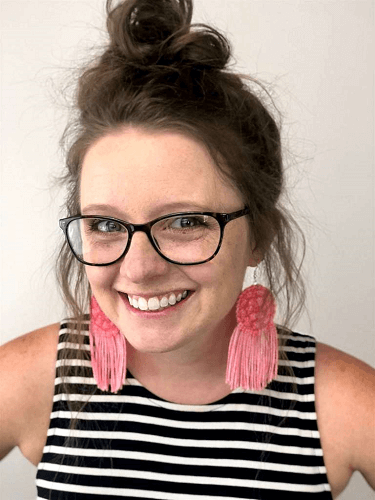 Get the Pattern here

22. Paw Print Earrings Crochet Pattern by Simply Hooked By Janet
Need a quick gift idea for a dog or cat lover? Or do you just have a passion for pets? Then these Paw Print Earrings are the right pair for you! This pattern uses a few simple crochet stitches to make the cutest paw print on the planet!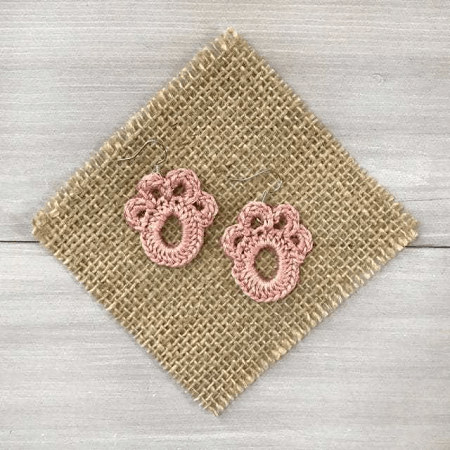 Get the Pattern here

23. Quick And Easy Crochet Earrings Pattern by Desert Blossom Crafts
Sometimes we all just need a quick project. There's something so great about whipping up a project in a day, don't you think? These quick and easy summer earrings are so fun to make! You can easily make a pair in one day. Plus, the color schemes you could use are endless!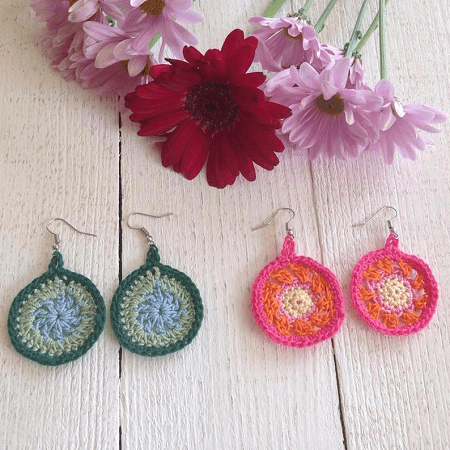 Get the Pattern by Desert Blossom Crafts here

24. Crochet Cherry Blossom Earrings Pattern by Golden Lucy Crafts
Using this crochet pattern, in one evening you will be able to make amazing-looking Cherry Blossom Crochet Earrings! The Cherry flowers are made with Puff Stitch. The flowers are embellished with Czech glass beads on each side as well, and they look pretty from both sides.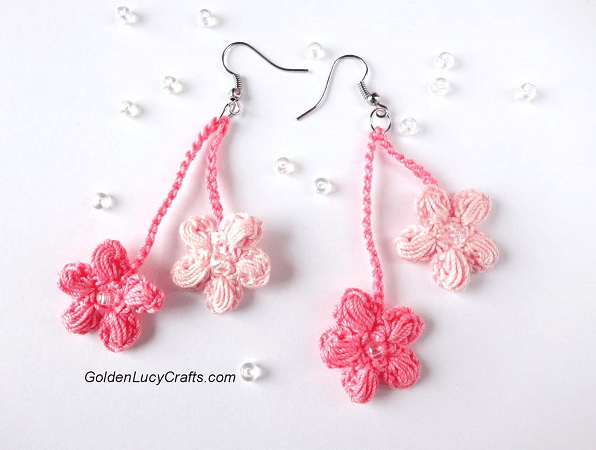 Get the Pattern here

25. Cherry Drop Earrings Crochet Pattern by Tundra Knits
These Cherry Drop Earrings are a must-have summer accessory to have this year. So fun, unique, and very simple to make. Works up super quick and only basic stitches used!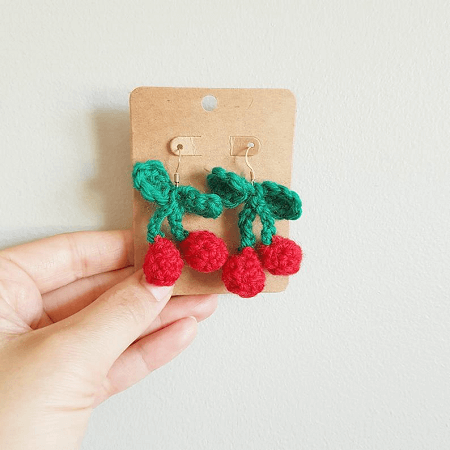 Get the Pattern by Tundra Knits here

26. Caribbean Wave Hoop Earrings Free Crochet Pattern by Fiber Flux
These Caribbean Wave Hoop Earrings are a fun and fast little project! Gorgeous little scallops are crocheted right onto the earring hoop of your choice in just two rows.

A great project to upcycle a plain old pair of hoops too! The satiny embroidery floss gives it a gorgeous glossy sheen as well. Make one set just for you and one for a friend!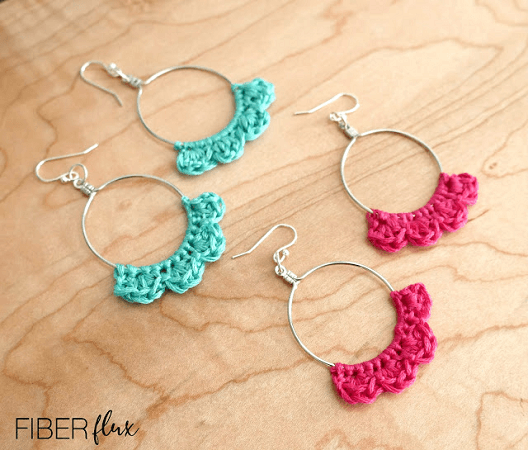 Get the Pattern here
27 Teardrop Earrings Crochet Pattern by The Knitting Network
This folksy earring crochet pattern will look fabulous in any color. Using a fine cotton yarn and jewelry wire to form teardrop shapes, work the crochet motif and attach it to the wire on the final round.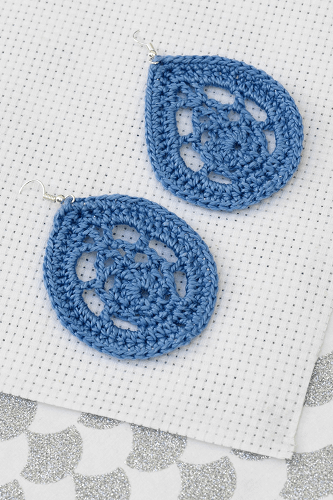 Get the Pattern here


28. Crochet Earring Pattern by Kabloom Studios
This outrageously fun ice-cream-inspired crochet earring pattern will have you wanting to make a pair for everyone you know! Dangly and light as a feather, these earrings are perfect for spring, Easter, Mother's Day. weddings, bridesmaid gifts, teacher gifts, or—just because!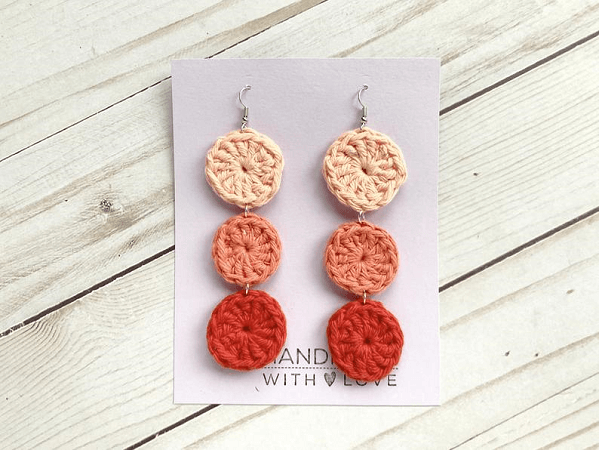 Get the Pattern by Kabloom Studios here

29. Tunisian Hoop Earrings Crochet Pattern by Yarnspirations
These beautiful earrings are made with just one multi-colored shade of crochet thread giving them a rainbow effect. Crocheted using the Tunisian simple stitch, they are lovely to give or to add to your own jewelry collection.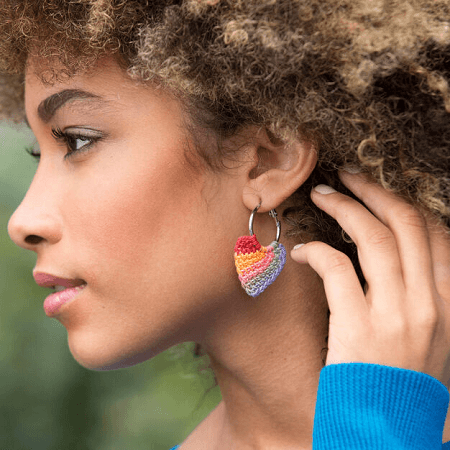 Get the Pattern here

30. Toilet Paper Earrings Crochet Pattern by Bossy Stuff
These adorable little toilet paper roll earrings make a great gag gift.
You can make these any size but with the hook and yarn found in my instructions your toilet paper rolls will be tiny at just 1.5cm wide. Entire earring hangs 1.5″ from top of ring. These make a perfect funny gift for her!
Get the Pattern by Bossy Stuff here

31. Free Crochet Earrings Pattern by Storey
These striking hoop earrings are a fun way to personalize any look and the perfect project when you're craving a quick and satisfying craft activity.

If you are already familiar with crochet, these earrings are quick project that yields amazing results — thread crochet over purchased 2-inch hoops. You can make a pair for every color in your wardrobe.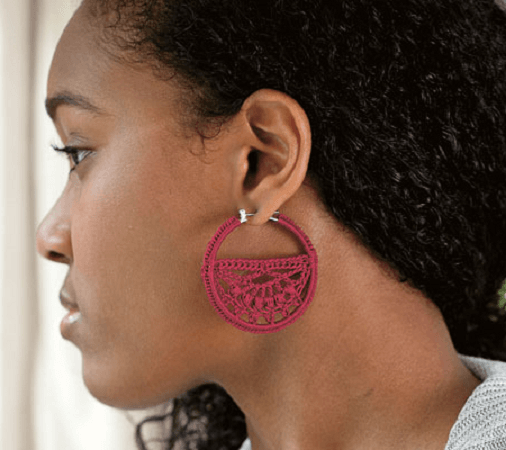 Get the Pattern here

32. Free Festival Earrings Crochet Pattern by Gathered
Bold colors and a marvelous mandala – what's not to love about these fab festival crochet earrings! These over-sized crochet earrings use a bangle to help keep the shape, then you just add it onto a pair of hoop earrings to complete the project!

It's a fab way to show off your crochet skills with some bright and bold colours, and we think that as well as being the perfect accessory for your festival outfits, they'll also find their way into your crochet jewellery collection even when it's not festival season!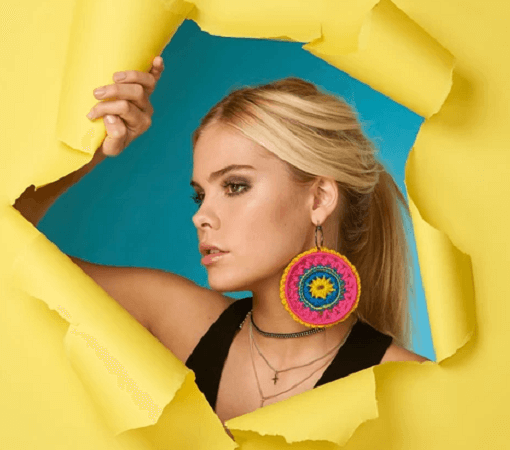 Get the Pattern here

33. Sea Shell Earrings Crochet Pattern by Golden Lucy Crafts
The design of these beautiful Sea Shell Earrings is inspired by the sea. They are made in the shape of nautilus seashells and are embellished with pearl beads. Such earrings will be a wonderful addition to your summer beach outfit!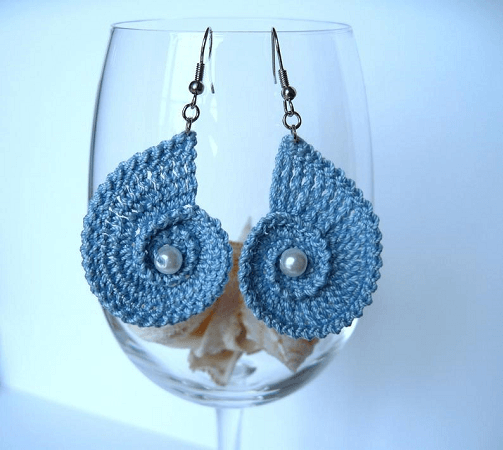 Get the Pattern by Golden Lucy Crafts here

34. Easy Tassel Earrings Crochet Pattern by Stitch 11
If you've ever been interested in making your own jewelry, these Crochet Tassel Earrings are the perfect project for you. These earrings are so unique and will really stand out. If you're looking to make a statement with your jewelry, you should give them a try.

The pattern starts off using the magic circle and explains how to make your own tassels. And you can customize the color to go with all your outfits.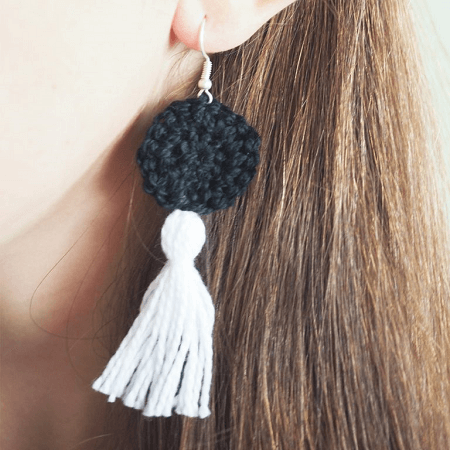 Get the Pattern here

35. Crochet Boho Style Earrings Pattern by Crochet For You
This pair of earrings can be made in 45 minutes and use only single crochet stitches for a whole pattern. These earrings have square shape, finally you need to add fringe to the crocheted piece. It's easier than you think.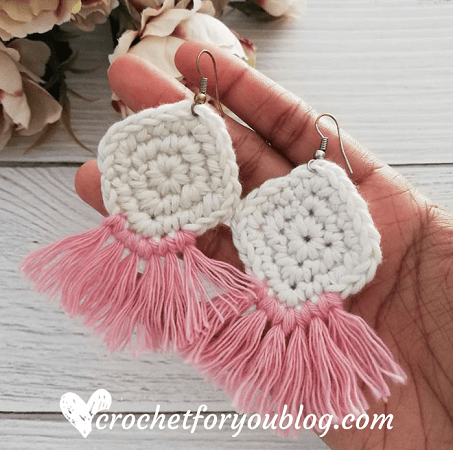 Get the Pattern here

Crochet Earrings Frequently Asked Questions
Which yarn is best for crochet earrings?
Sport yarn is ideal for making jewelry. It is more durable than lace or super fine-weight yarn and develops an incredibly beautiful texture, especially when intricate patterns are used. Crochet jewelry made with sport yarn has a delicate and luxurious appearance.
What do you need to make crochet earrings?
In order to crochet these earrings, you'll need different materials such as an earring hook pack, jewelry pliers, earring wire, embroidery/crochet thread or thin yarn, and possibly a yarn needle, depending on the pattern.
Plus, you'll always need your crochet hook! Make sure to check the actual pattern description before purchasing for a full list of materials.
Do you have to stiffen crochet earrings?
Yes. Crochet earrings that are stiffened help them keep their shape. There are numerous ways to accomplish this, ranging from using items already in your home cabinet to more creative methods.
What is the best way to make crochet earrings stiff?
Before stiffening your crochet earrings, "block" them by stretching and shaping them while they're still damp. The crochet earrings can then be stiffened with glue, starch, sugar, water, or wax.
The method you choose depends on how stiff you want your crochet earrings to be.
What kind of yarn is best for crocheting earrings?
The best yarn for crochet earrings depends on the type of earrings you are making. Consider factors like durability, elegance, delicacy, weight, and allergic reactions.
How do you stiffen crochet earrings?
There are several options for stiffening crochet earrings. These include starch, cornstarch, sugary solutions, and a 50/50 mix of glue and water. Simply soak your completed piece in the stiffener, remove excess liquid by squeezing it out, reshape as desired, and let it air dry.
How do get crochet earrings to stay flat?
There are a few things you should do to help ensure your crochet earrings stay flat. You will want to maintain an even tension, block the completed earrings, and use a stiffener.
What hook size is recommended for crochet earrings?
The recommended crochet hook size for creating earrings will vary depending on the project you are working on. You will need to take into consideration the gauge of the yarn, the look of the project, and the type of hook.
Can cornstarch be used to stiffen crochet earrings?
Yes, cornstarch can be used to stiffen crochet earrings. Stiffening crochet items with cornstarch is a common technique that helps give them shape and structure.
If you want to start making your own jewelry, making your own crochet earrings is a great place to begin.
We would be so glad if you share your finished works with us on our Facebook Page. Once you start making fabulous crochet earrings patterns, you'll be hooked!

Opting to create a piece of jewelry yourself is a fun alternative that will surely provide you with something crafty and out-of-the-ordinary. Here are crochet necklace patterns and crochet bracelet patterns that are all worthy addition to your jewelry collection.

These crochet earrings are quick and easy, why not make multiple pairs?