Our crochet crossed ripple stitch tutorial will guide you step-by-step to start using this awesome stitch.
Let us guide you on your road to learning this amazing stitch that any crochet enthusiast should have in their collection.
Keep reading for our written and video crossed ripple crochet stitch tutorial.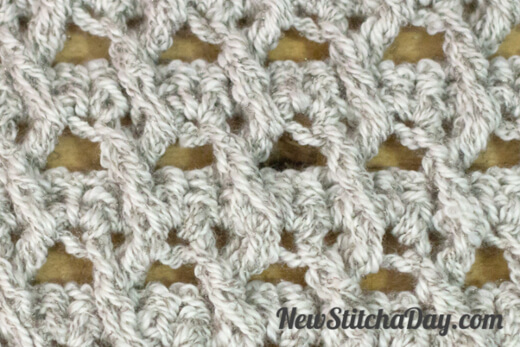 Crochet Crossed Ripple Stitch Written Instructions
Multiple of 3 sts + 2. (add 1 for base chain)

1st base row (wrong side); 1dc into 2nd ch from hook, 1dc into each ch to end, turn.

2nd base row: 3ch (count as 1tr), miss first st, *miss next 2 sts, 1tr into next st, 1ch, 1tr back into first of 2 sts just missed – called Crossed Pair; rep from * ending 1tr into last st, miss tch, turn.

Commence Pattern

1st row: 1ch, 1dc into first st, 1dc into next and each st and each ch sp to end working last st into top of tch, turn.

2nd row: As 2nd base row, except as 2nd st of each Crossed Pair work 1tr/rf loosely round first st of corresponding Crossed Pair 2 rows below.

Rep these 2 rows.
Crossed Ripple Crochet Stitch Video Tutorial
Crochet Crossed Ripple Stitch Tutorial
We hope you've enjoyed learning the crochet crossed ripple stitch!
Also see our Crochet Ripple Stitch Tutorial and Vintage Rippling Block Stitch.

Be sure to post the patterns you make to our Facebook page.

Check out all of our crochet stitch tutorials here.

Happy crocheting with your new crochet crossed ripple stitch!