Our crochet broomstick lace stitch tutorial will guide you step-by-step to learn this versatile and fun stitch.
Crocheters can never get enough of stitches to add to their arsenal and this one is certainly one of them.
Keep reading for our written and video broomstick lace crochet stitch tutorial.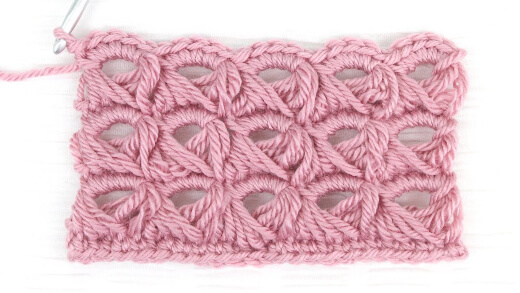 Crochet Broomstick Lace Stitch Written Instructions
Multiple of sts. (add 1 for base chain)
1st row (right side): 1dc into 2nd ch from hook, 1dc into next and each ch to end, turn.

2nd row: 1ch, 1dc into first st, 1dc into next and each st to end, miss tch, turn.

3rd row: *1ch, draw loop on hook up to approx height of ttr, keeping loop on hook and not allowing it to change size through yarn slippage, insert hook into next st, yo, draw loop through; rep from * to end keeping all lace loops on hook.

(Hint: slip some sts off handle end of hook if they become too numerous.)

At end remove all except last lace loop from hook, yo, draw loop through, insert hook under back thread and work 1dc as for Solomon's Knot, to lock last lace loop, turn.

4th row: *Always inserting hook through next 4 lace loops together work 4dc; rep from * to end, turn.

Rep 2nd, 3rd and 4th rows.
Broomstick Lace Crochet Stitch Video Tutorial
Crochet Broomstick Lace Stitch Tutorial
We hope you've enjoyed learning the crochet broomstick stitch!
For more stitch tutorials, here is our Crochet Petal Stitch and Crochet Cable Stitch Tutorial.

Be sure to post the patterns you make to our Facebook page.

Check out all of our crochet stitch tutorials here.

Happy crocheting with your new crochet broomstick lace stitch!