There are just a couple of crochet stitches that are show-stoppers. The block stitch is unquestionably one of them! It's a modern and fun stitch pattern that adds a beautiful graphic twist to your work, while allowing you to experiment with colors. If you're looking for the perfect crochet stitch for your next blanket project, these crochet block stitch blanket patterns should be on your crochet lists!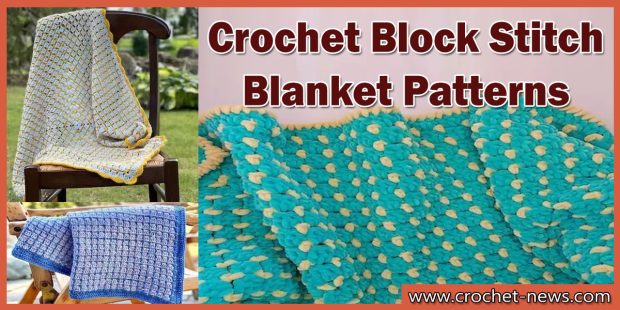 The Block Stitch has a similar effect to the Granny Stitch but creates a more closed crochet stitch so is great for blankets—and pretty much anything! You can use it with one color, but I suggest using two or more to really bring out is beauty. I imagine using a color-changing cake, alternating solid colors, or even using black and white to create a classic fabric.

I see this block stitch blankets popping a lot in my future and I hope you see it, too!
10 Crochet Block Stitch Blanket Patterns

1. Crochet Boxed Block Stitch Blanket Pattern by Daisy Farm Crafts
This Crochet Boxed Block Stitch Blanket is a fun and simple way to create a vintage look for a baby blanket. Make as designed, or dream up your own color palette.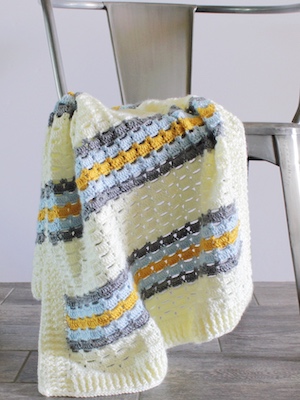 Get the Pattern here

2. Crochet Block Stitch Blanket Pattern by You Say I Crochet
Who doesn't love a colorful crochet blanket? Here's a fun blanket pattern using the block stitch made with easy crochet techniques: treble crochet, double crochet, and half treble stitches.

Whether to spruce up a plain piece of furniture or for a layer of warmth in the kids' room, it's a decor accent that's sure to get noticed!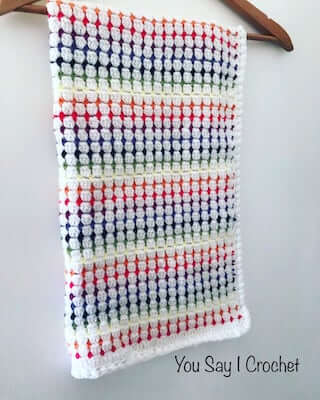 Get the Pattern by You Say I Crochet here

3. Crochet Blissful Blocks Baby Blanket Pattern by Madame Stitch Crochet
This Blissful Blocks Baby Blanket is unique and modern, with a simple elegance. Perfect for your special little one or the next baby shower.

Finish the square off with a simple shell border in the yellow color to really make it pop and bring the look of the blanket together.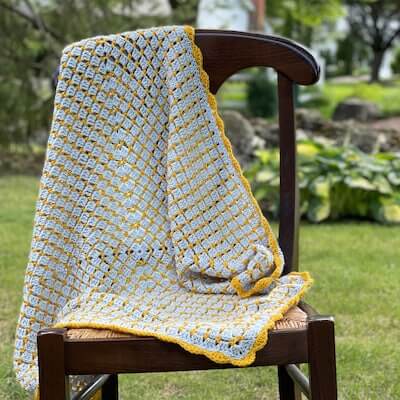 Get the Pattern by Madame Stitch Crochet here

4. Strawberry Shortcake Crochet Block Stitch Baby Blanket Pattern by The Loophole Fox
This Strawberry Shortcake Crochet Baby Blanket utilizes the block stitch to create a lovely baby blanket and uses three colors adds a pop of personality.

This blanket is easy to customize for any gender, or any colors. You can also change the size as you see fit.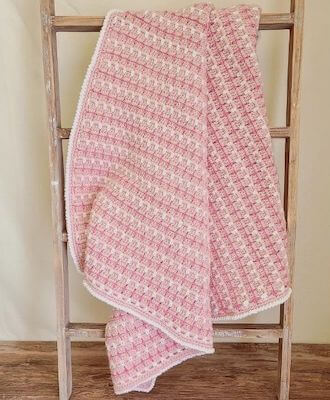 Get the Pattern here

5. Crochet Mulberry Afghan Pattern by TL Yarn Crafts
Simple yet stunning, this Mulberry Afghan is a gentle introduction to Tunisian crochet. Let the ombre yarn do all the work as you fall into the rhythm of the block stitch, creating an heirloom baby blanket to be cherished for generations.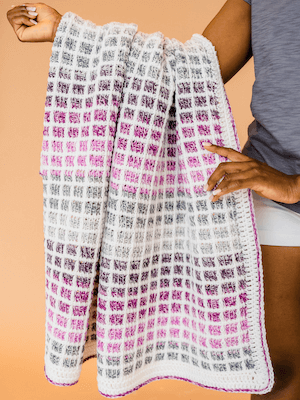 Get the Pattern here

6. Modern Crochet Block Stitch Blanket Pattern by Make & Do Crew
Discover the creative trick to create stripes without adding extra ends to weave in with this crochet blanket pattern. It's a cinch to make worked entirely in single and double crochet!

Measuring 40 x 50 inches, lay it over a sofa or add to your warmest bed linens with a pop of style that complements both modern and traditional décors.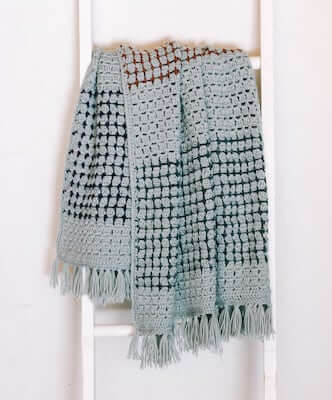 Get the Pattern by Make & Do Crew here

7. Crochet Chunky Block Stitch Blanket Pattern by Dublin Bay Crochet
Stunning yet simple, watch this chunky blanket add bold beauty to your home. Stitched in cuddly bulky yarn, the pattern features a beautiful block stitch design that creates a classic and timeless look. It looks cozy on a bed, or toss a couple over the sofa for quick cuddling access.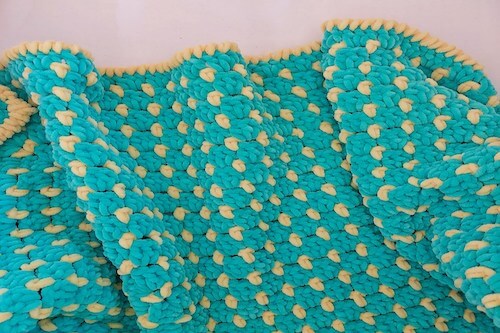 Get the Pattern by Dublin Bay Crochet here

8. Hearthside Crochet Blanket Pattern by Mama In A Stitch
Do simple techniques like chain, single crochet, and double crochet to complete this luxurious blanket. Make it in neutrals or explore colors for a version that agrees with any interior setting.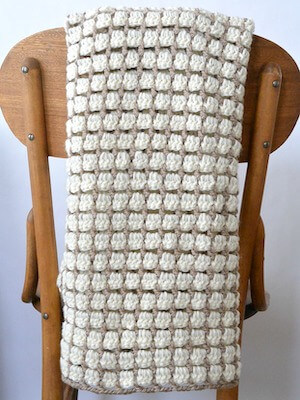 Get the Pattern here

9. Chunky Crochet Baby Blanket Pattern by Crochet Dreamz
The block stitch is a clever combination of stitches which produces a visually stunning effect wherever it is applied. Married with the softness and weight of the chunky yarn, this blanket will be your baby's go-to item on those chilly evenings.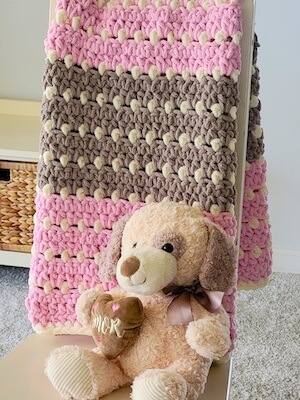 Get the Pattern here

10. Block Stitch Lap Blanket Crochet Pattern by See Love Share
This is a small/medium sized lap blanket that comes together quickly. It's made with light DK weight yarn so it can also be used as a baby blanket, but the size can be adjusted by increasing in multiples of 3+1. Keep it in cool blues, or imagine a color that brings this irresistibly soft blanket to life in your space.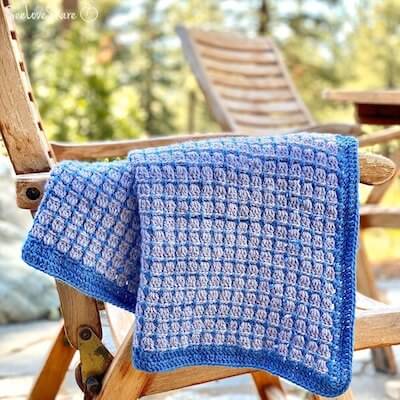 Get the Pattern by See Love Share here
WITH THESE CROCHET BLOCK STITCH BLANKET PATTERNS, YOU'LL BE WELL ON YOUR WAY TO CRAFTING A BLANKET YOU LOVE, EVEN IF YOU'RE A BEGINNER.
You'll love the way the block stitch builds up so fast, you'll have a blanket before you know it! Finished one? I'd love to see it and so would the world, so get sharing! Share your projects on our Facebook Page.

Looking for more stitch options? Check out this list of Crochet Stitches For Blankets that is packed full of stitch inspiration—from beginner-friendly to intimidating stitches.
Of course, you can always just find a crochet blanket pattern that you love. Find plenty of inspiration with our crochet blanket patterns archives.
This list of crochet block stitch blanket patterns is a classic that anyone can tackle. All you need is a bunch of your favorite color yarns from your stash and you're away. Happy crocheting, friends!