Winter is in full swing, right down to the thick snowfall and downright frigid temperatures—and with that, the first wildly popular accessory trend of the year is the crochet balaclava.
They keep your face warm and protected…and they're just about the trendiest accessory on the streets these days.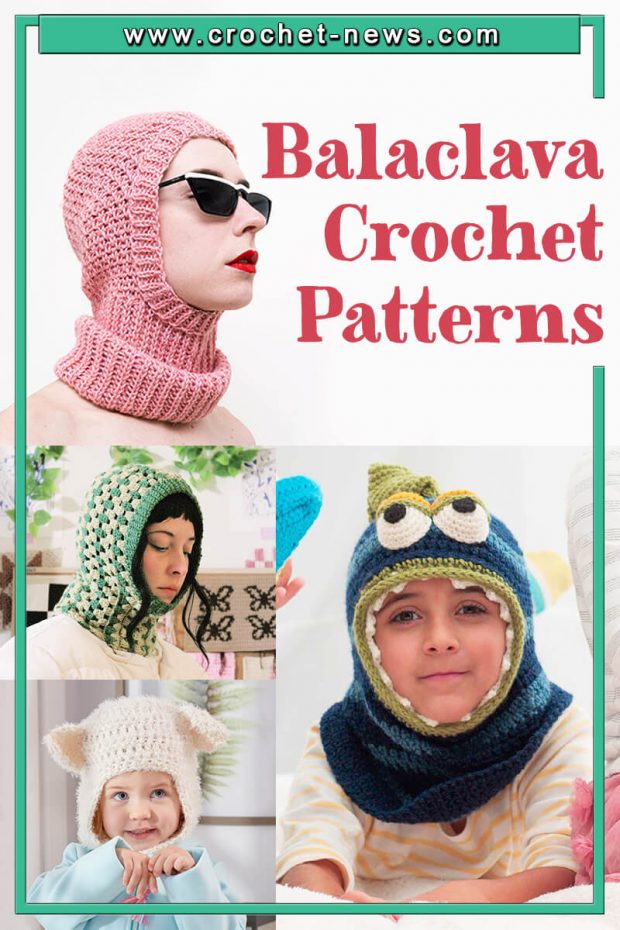 These 21 crochet balaclava patterns comes in handy during cold weather
It's a hybrid accessory, one part cap, one part collar, crocheted together to provide you with optimal warmth.
With one easy-to-throw on accessory like the balaclava, you can be both comfortable and toasty—and get ahead of the trend. Scroll ahead for cool crochet balaclava patterns you can make right now!

1. Crochet Ribbed Balaclava Pattern by Red Heart
Old Man Winter brings nothing that this crochet balaclava can't handle! Designed to cover your head and face, this winter must-have will keep you warm, protected and in style.
Balaclava is created by stitching in any shade you like, from side to side, with single crochet in the back loop, plus short turn row techniques.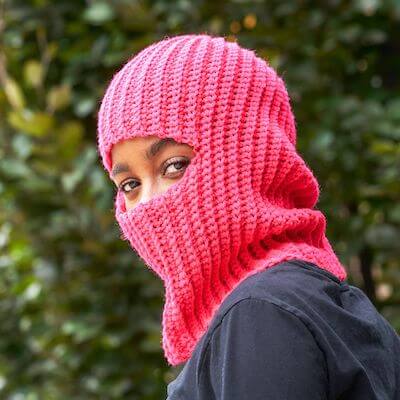 Get the Pattern here

2. Lady Knight Free Crochet Balaclava Pattern by Interweav
You say it's super cold? And you're feeling bold? This Lady Knight Balaclava, brimming with attitude, is what you need.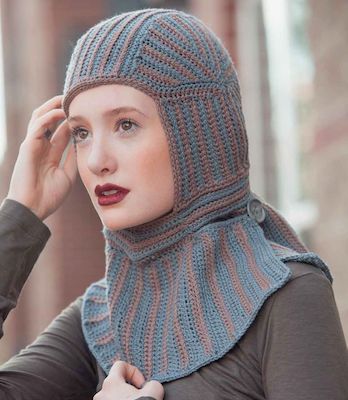 Get the Pattern here

3. Classic Crochet Ski Mask Pattern by Crochet Spot Patterns
This Classic Crochet Ski Mask Pattern is designed so that it can easily be crocheted in different colors to create your own stripe design, or in a solid color for a traditional look.
Crocheted from the top down, in the round, this balaclava is easy to crochet. The pattern includes 4 sizes ranging from small children to large adults.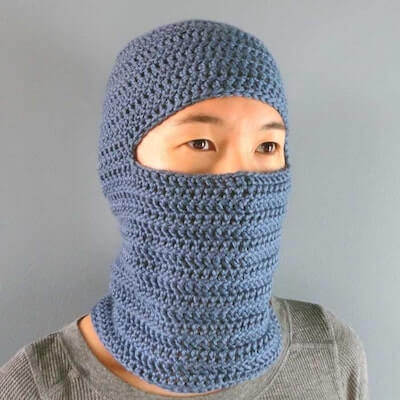 Get the Pattern by Crochet Spot Patterns here

4. Crochet Sherpa Balaclava Hood Pattern by Left In Knots
If you are looking for an easy way to make something truly useful for winter temperatures – look no further!
This easy balaclava pattern can be made in both child and adult sizes using oh-so-warm sherpa/fleece yarn. Even better is that the child's size only takes one skein!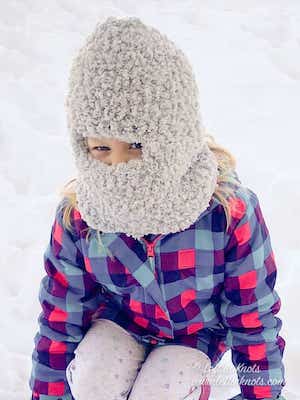 Get the Pattern here

5. Balaclava Crochet Pattern by Oh Yarn!
A beginner friendly crochet balaclava pattern! This pattern is so versatile, cozy and a great way to use your bulky yarn stash this winter.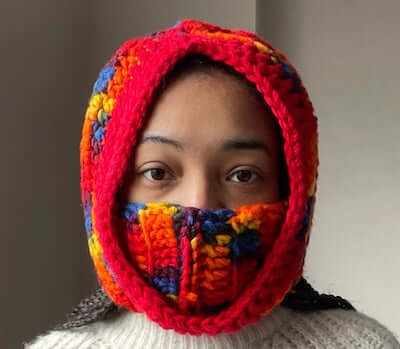 6. Bob And Weave Balaclava Crochet Pattern by Emma R. Stone
This Balaclava is worked in a basketweave pattern, and finished with a 1×1 ribbing around the neck and around the face. Designed to offer coverage to the head and neck while still having a flattering cut around the face.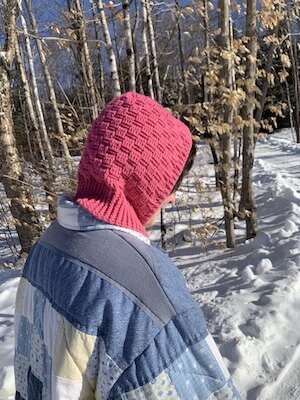 Get the Pattern by Emma R. Stone here

7. Badass Balaclava Crochet Pattern by Caroline Zuschlag
A crochet pattern for an adult size balaclava, crocheted on a small hook for an elegant look. It has a drawstring so you'll be able to wear it loose (as a hood) or tighten it, to a balaclava.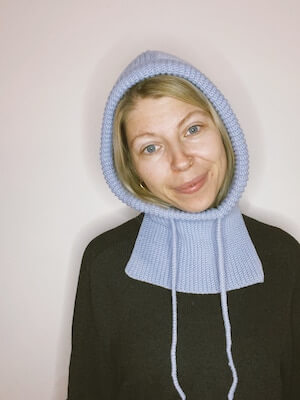 Get the Pattern by Caroline Zuschlag here

8. 2 In 1 Balaclava Crochet Pattern by Poppy Shop Creative
A versatile unisex balaclava pattern that can also be rolled up into a hat! The crown/top of head portion is stitched in a simple modified single crochet stitch for a dense knit-like fabric.
Easily and quickly roll up the lower face portion to turn it into a hat.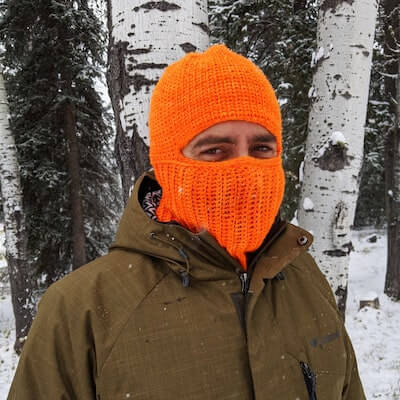 Get the Pattern by Poppy Shop Creative here

9. Crochet Brimmed Bear Balaclava Pattern by Muki Crafts
Classic, cozy balaclava hat that keeps the little head and neck warm, decorated with the cutest round ears and a small brim.
The Jo balaclava hat crochet pattern is easy to make, suitable project for you if you are looking for winter hat for a little boy or girl to keep warm this season.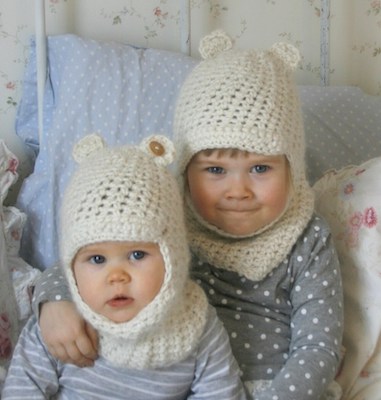 Get the Pattern by Muki Crafts here

10. Crochet Lacy Balaclava Pattern by Crochet Queef
This Crochet Lacy Balaclava Pattern has a pixie style, just ending in absolute cuteness! Hood can be worn as pictured, or pulled down underneath the chin.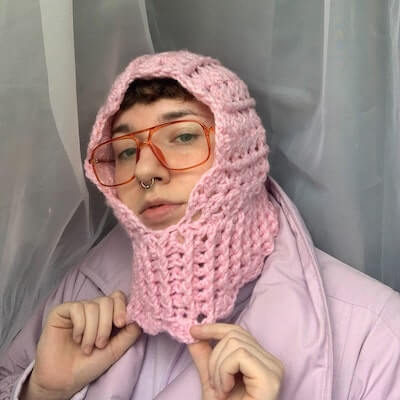 Get the Pattern by Crochet Queef here

11. Crochet Ribbed Balaclava For Kids Pattern by Red Heart
Active kids will love winter even more, thanks to this toasty crochet balaclava! Designed to cover the head and face, this winter must-have will keep kids warm, protected and in style.

You'll work from side to side, in single crochet in the back loop to create a ridged pattern. Then, you'll use short-row shaping to stitch the top of the head.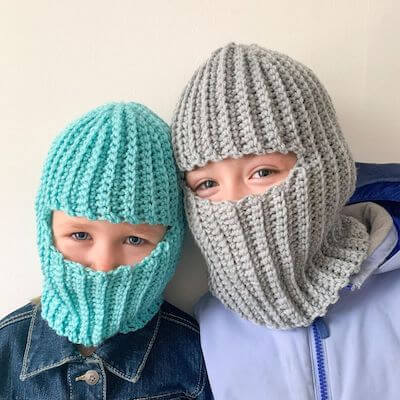 Get the Pattern here

12. Maria Balaclava Crochet Pattern by COSMAUDI
This Maria Balaclava is a must-have winter accessory for those of us that live in cold climates and enjoy keeping our heads warm.

Its snug yet comfortable fit around the head ensures that it will stay in place no matter what you're doing; running errands, meeting up with friends, or let's be real, snuggled up on your couch already working on your next crochet project.
It makes the perfect gift for a loved one or a friend, and it looks great in every color.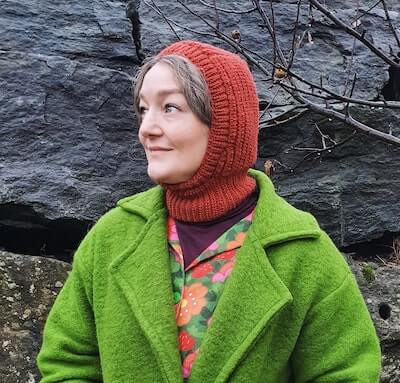 Get the Pattern by COSMAUDI here

13. Crochet Balaclava Pattern by Sylvie Damey Crochet
This is a crochet pattern to make a fun balaclava with little horns/ears. Wear it as a warm hood/ski mask, or turn the hood down and wear it as a cowl with the pretty hood at the back of your head.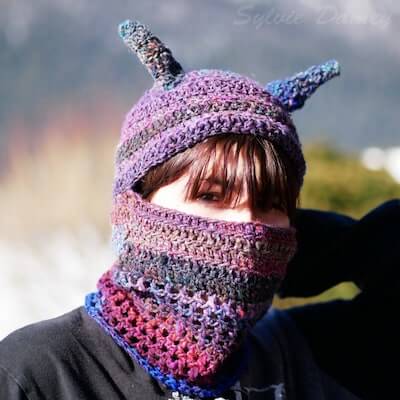 Get the Pattern by Sylvie Damey Crochet here

14. Crochet Granny Stripe Balaclava Pattern by Wild Craft Crochet Shop
This crochet balaclava is made entirely in Granny stripe stitch. The pattern includes instructions for a color block and multi colored stripe version. It's a perfect open-work balaclava for spring and fall!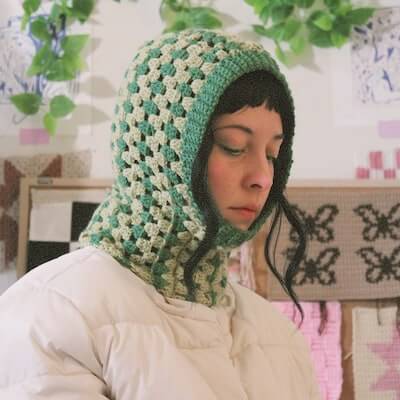 Get the Pattern by Wild Craft Crochet Shop here

15. Crochet Polar Bear Balaclava Pattern by Yarnspirations
This crochet balaclava has the whole face open since it's designed for little ones who might not like their mouths covered. A warm and cozy hat style, it's more likely to stay on heads when it is cold.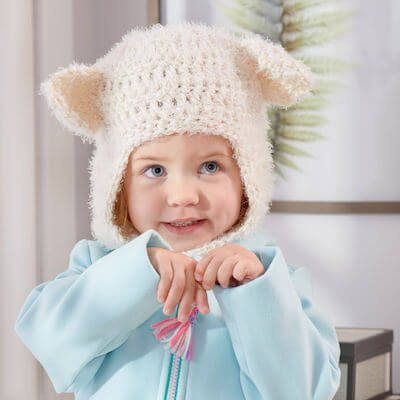 Get the Pattern here

16. Whimsical Balaclava Crochet Pattern by Oombawka Design Crochet
This Whimsical Balaclava Crochet Pattern is designed to keep children warm and cozy during the bitter cold winters. This size will fit a toddler – approximate age 2 to 5 years.

They can wear this hat to cover their entire face (except the eyes), or slide the face bit down to let the nose be exposed – or even slip it down a little further, to rest under the chin, to allow the nose and mouth to be exposed.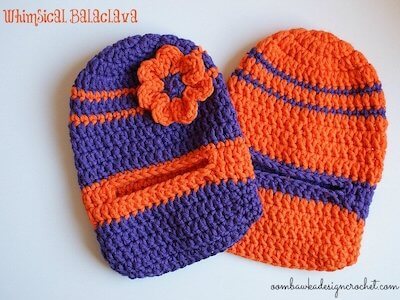 Get the Pattern here

17. Crochet Riding Hood Pattern by Just The Worsted
This Riding Hood is a made to measure mix between a balaclava and bonnet that is perfect for any cold day. Due to the nature of this pattern, you make a variety of sizes ranging from children to adult!

Plus, it's an excellent stash-busting project! All you need is a tape measure, a lovely button, and some yarn to start.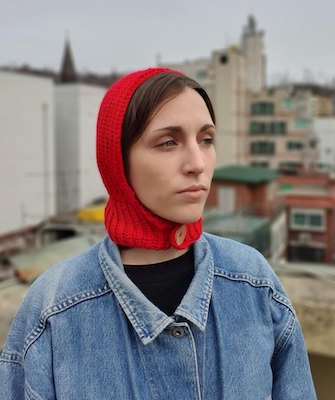 Get the Pattern by Just The Worsted here

18. Nessie Balaclava Crochet Pattern by Interweave
Who knew that being swallowed up by a sea monster could be so much fun? This balaclava is a warm and silly alternative to a winter hat. The stretchy extended single-crochet stitch pattern allows the close-fitting neck to be pulled over the head.
Get the Pattern here

19. Fuzzy And Warm Crochet Ski Mask Pattern by Add A Lil Spice Shop
Pull out your favorite fuzzy yarn and work up your own warm, cute, and cozy crochet ski mask in no time! This is a fairly beginner pattern and works up pretty quickly!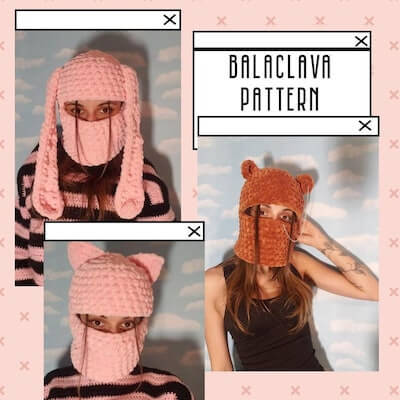 Get the Pattern by Add A Lil Spice Shop here
20. Let's Boogie Balaclava Crochet Pattern by Honse Design
Let's Boogie Balaclava Crochet Pattern is unisex, one size, and should fit most adults. It features a beautiful faux knit neck that can be worn scrunched up or rolled as in the picture, and textured stitch head piece.
This pattern yarn over slip stitch in third loop ribbing, and moss stitch with some increases/decreases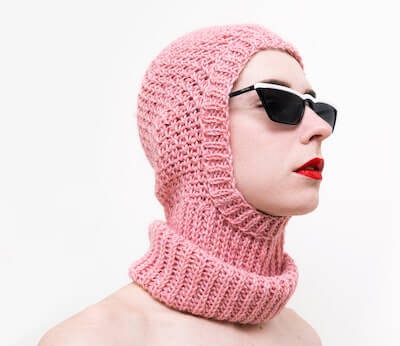 Get the Pattern by House Design here
21. Crochet Swirl Balaclava Pattern by Crochet Queef
Stay warm & look cool with your own Crochet Swirl Balaclava! This pattern shows you how to make your own, as well as adjust sizing to fit any head you'd like.

Balaclava can be folded up and worn like a beanie, or easily pulled down to cover the whole face. This is a great item to make yourself, or to gift others in the upcoming holidays!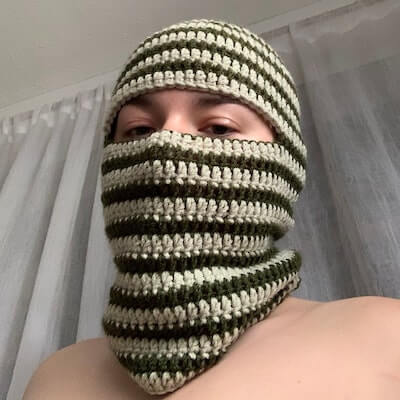 Get the Pattern by Crochet Queef here
Crochet Balaclava Patterns Frequently Asked Questions
What is a balaclava?
Balaclava is a warm and comfortable winter accessory that covers the head, neck, and face. They are great for keeping you warm and cozy in cold weather.
Are crochet balaclavas a trend?
While crochet hats and beanies have tended to be the winter accessory of choice, frizzy hair and their tendency to go missing haven't endeared them to crochet fashionistas as much as the balaclava this season — which explains why the latter is suddenly over the Internet are now a trendy accessory to wear during the cold season.
How should a balaclava fit?
You'll know your balaclava fits if you can move and breathe freely in it, and it provides adequate protection for the environment you'll be in.
How hard is it to crochet a balaclava?
They're super quick and easy to crochet because they're typically made with thicker yarn and bigger hooks.
What yarn to use for crochet balaclava?
Most crocheted balaclavas use worsted, super chunky, or bulky yarn weights. Because they're typically worn for winter, it's quite rare to come across a pattern using thin or lighter weight yarns.
What size crochet hook to use for crochet balaclava?
The most common hook size used for super bulky weight yarn is a 9 or 10 mm crochet hook. You can use whatever hook size you'd like. I suggest reading the yarn label of the yarn you pick for the crochet hook size that is recommended.
CLOSER FITTING AND EASIER TO WEAR IN THE COLD THAN A SCARF, THESE CROCHET BALACLAVAS MAKE GREAT FIRST LAYER WHEN BATTLING THE ELEMENTS!
When you make your own adorable versions, we'd love to see pictures! Be sure to share them on our Facebook Page.
And if you've been wanting to go beyond the humble crocheted hats, think fashionable berets, stylish headbands, ear warmers, knitted balaclava patterns and more. Which look will you be channeling this season?

Right before the temps reach 50, be sure to make some of these crochet balaclava patterns today!