These 27 Crochet Afghan Patterns will have you well on your way to Warmville before you know it!

From basic beginner crochet patterns to designs that are a little more advanced, you're sure to find the blanket of your dreams to snuggle up with this winter.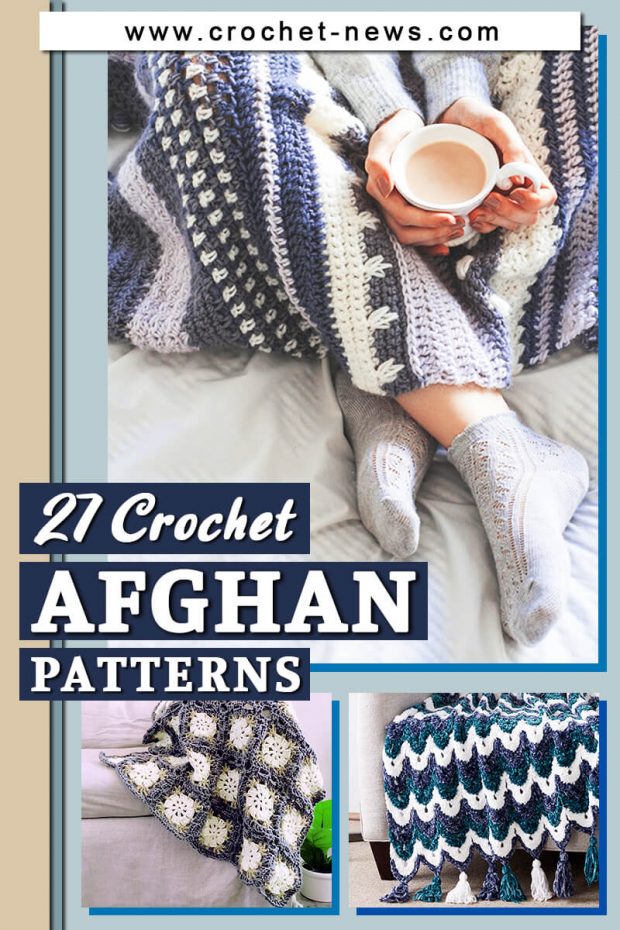 Perfect for a throw on the couch or favorite chair, a gift to a newborn or precocious toddler, or as an accent to a bedroom set. These crochet afghan patterns are sure to please.

1. Busy Bees Crochet Afghan Pattern by Mangomum
This Busy Bees Crochet Afghan is a pattern for a blanket with an alternating open-work honeycomb pattern and an adorable bee border using the filet crochet technique.

This afghan pattern is the perfect year-round throw to keep nearby. Chain stitch and double crochets are all it takes to make this simple design blanket.
It's an easy to memorize pattern that can be easily enlarged to the desired size.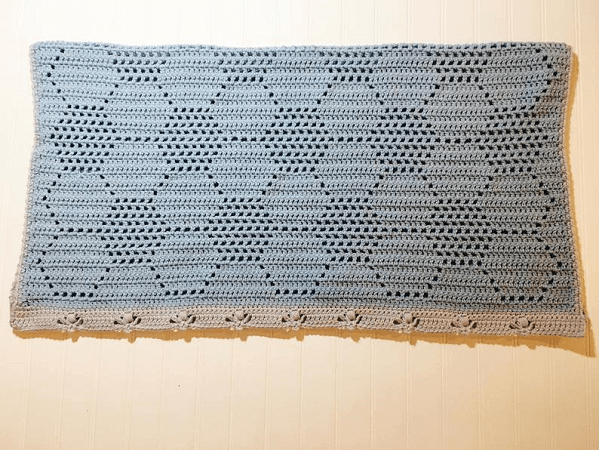 Get the Pattern by Mangomum here

2. Easy Crochet Afghan Pattern by Kristine In Between
This is literally the easiest afghan ever! This easy crochet afghan pattern is made with all single crochet stitches, so you can easily walk away and pick it up later without having to count every stitch.
It's so soft and warm, and you will love the uniformity of it!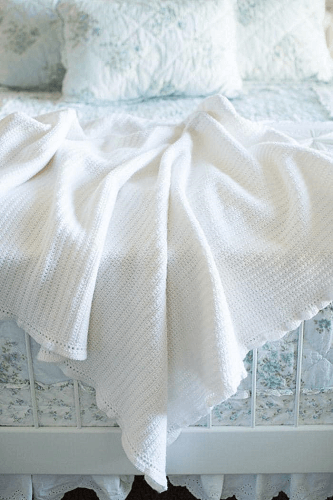 Get the Pattern here

3. Crochet Ogee Stitch Afghan Pattern by Yarnspirations
This elaborate crochet blanket is a masterpiece, featuring rows of arches in varying shades that combine to create an intricate striped design.

The afghan pattern features chain stitch, slip stitch, and double crochet worked back and forth in rows.

Bernat Velvet makes it shine in any shades you love, while chunky tassels are the perfect finishing touch!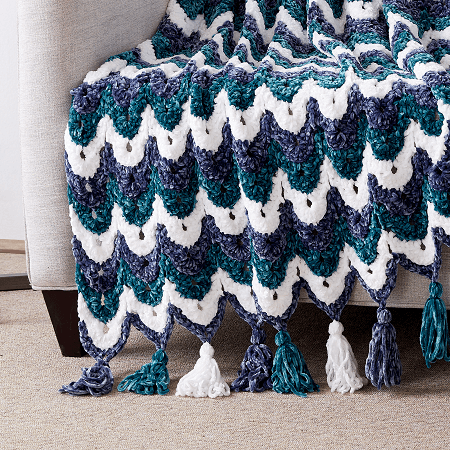 Get the Pattern here

4. Crochet Boho Afghan Pattern by The Hat And I
This Crochet Boho Afghan is inspired by the fun, colorful balls of sock yarn – because some yarn is just too pretty for your feet!

Each chevron strip will use up 1 ball of sock yarn. The guys will also love this one for its muted colors, no lacy holes, it's big enough to snuggle under, and it's completely reversible – it's a man-ghan!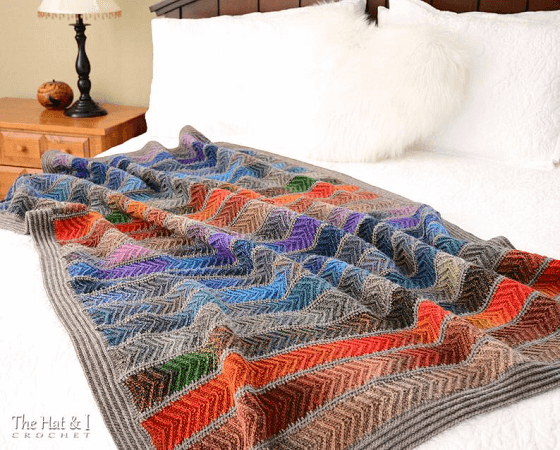 Get the Pattern by The Hat And I here

5. Crochet Baby Afghan Pattern by Crochet 365 Knit Too
This Crochet Baby Afghan Pattern is such a pretty granny square blanket with a field of daisies. The daisies are puffy, so it adds a beautiful 3D effect.

Whip it up in the color combination featured, or give it a traditionally feminine appearance using pink with white.

It's a wonderful blanket to dress up baby's space and makes a delightful gift that they'll use well into the toddler years.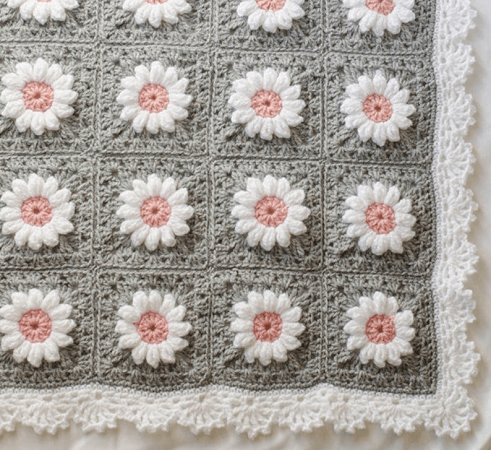 Get the Pattern by Crochet 365 Knit Too here

6. Larksfoot Crochet Afghan Pattern by Mary Maxim
Create a stunning blanket that's luxuriously soft and has incredible drape using this Larksfoot Crochet Afghan Pattern!

This blanket features rows of larksfoot striping to create a geometric mosaic of color, perfect for any crib or as a simple throw.

This easy crochet afghan pattern utilizes a repeating stitch pattern to make things move faster.
Choose your own favorite color combination for a crochet blanket that's uniquely for you!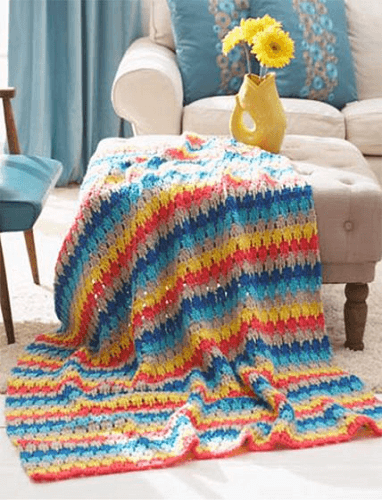 Get the Pattern here

7. Ripple Lace Afghan Crochet Pattern by Crafting Friends Designs
Add the beautiful colors of fall to any room with this fun Ripple Lace Afghan. This crochet pattern is fun and quick to work up.
The waves add just the right touch of the season and a warm and comforting feeling.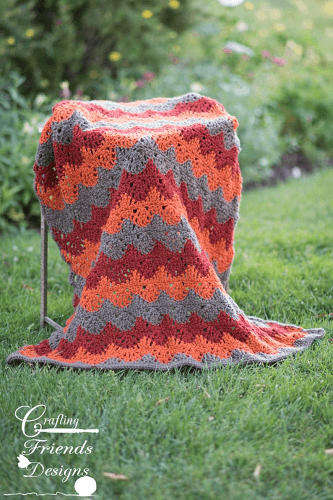 Get the Pattern by Crafting Friends Designs here

8. Ocean Tranquility Afghan Crochet Pattern by Anastacia Zittel
This Ocean Tranquility Afghan Crochet Pattern is a great, beginner-friendly afghan designed, with a very simple 4-row repeat (2 of the 4 rows are the same as well).
It works up fast, looks lovely in a solid or striped version, & is a great stash buster!

There are three different sizes to choose from to fit your needs. Make one for yourself, or make one as a gift.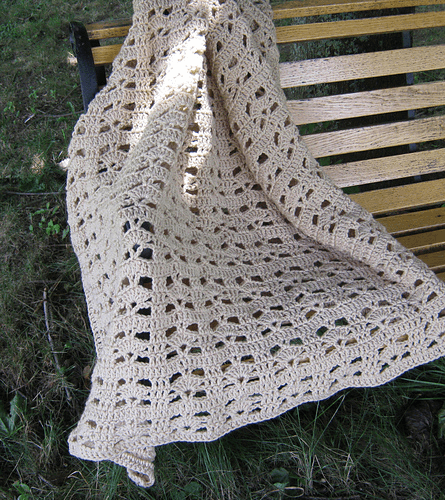 Get the Pattern here

9. Succulent Spring Hexagon Crochet Afghan Pattern by A Crocheted Simplicity
Beginners and seasoned crocheters alike will love that this Succulent Spring Hexagon Crochet Afghan Pattern uses simple crochet stitch patterns to create visual interest in the design.

This pattern is simple enough that advanced beginners can successfully complete it and the combination of changing stitch patterns (and colors) will keep others from losing interest.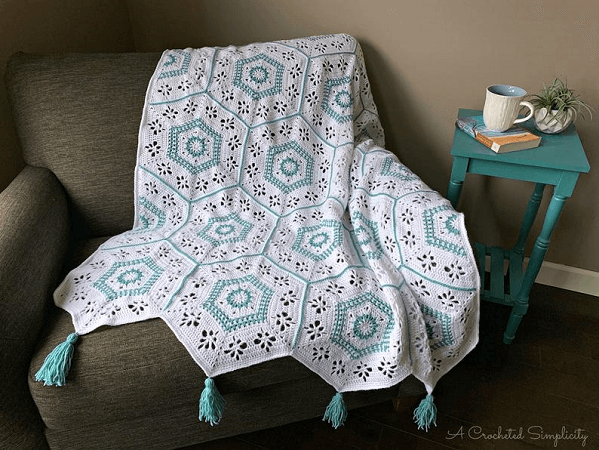 Get the Pattern by A Crocheted Simplicity here

10. Chunky Afghan Crochet Pattern by Dabbles And Babbles
This Chunky Afghan Crochet Pattern is super easy and works up really quickly. The bulky, chenille type yarn makes this blanket super soft and spongy but still lightweight.

This makes a lovely texture if you want to make this blanket for children, and adults will love the softness too!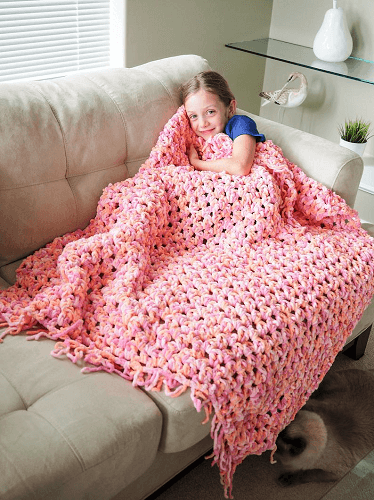 Get the Pattern by Dabbles And Babbles here

11. Crochet Fireside Afghan Pattern by Sewrella
This Crochet Fireside Afghan Pattern is lacy and warm, it's such a fun project! It is a great crochet pattern for those still new to crochet – very beginner-friendly. 

It's a easy crochet afghan pattern since the only stitches you need to know are single crochet and double crochet, but the combination in which you use these stitches creates a simple, yet stunning afghan.

Quite a few skeins are needed for this afghan, however, the end result makes it totally worth it!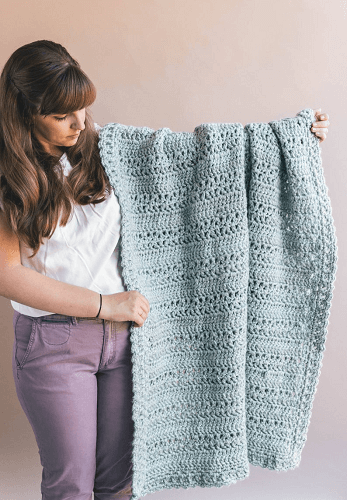 Get the Pattern by Sewrella here

12. Chunky Feather And Fan Free Crochet Afghan Pattern by Persia Lou
Make your own beautiful Chunky Feather and Fan Free Crochet Afghan. This free chunky afghan pattern works up quickly and has lots of great texture.

With fun and lacy pattern, this afghan is bound to please just about anybody. Plus, it'll go with just about any home.
Keep it classic white or use a different color to match your style!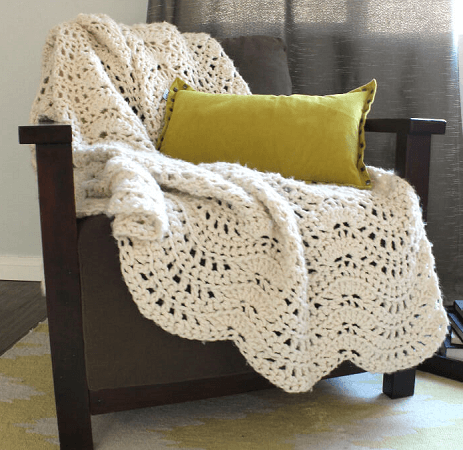 Get the Pattern here

13. Sand Dollar Free Crochet Afghan Pattern by Rohn Strong
Add a splash of handmade to your home decor with this quick to stitch afghan! Worked in just four rounds, this Sand Dollar Afghan is the perfect lacy touch to your summer decor.

The size of the finished afghan can be adjusted depending on how many squares you make, so the blanket can be anything from a baby blanket to a king-sized bedspread.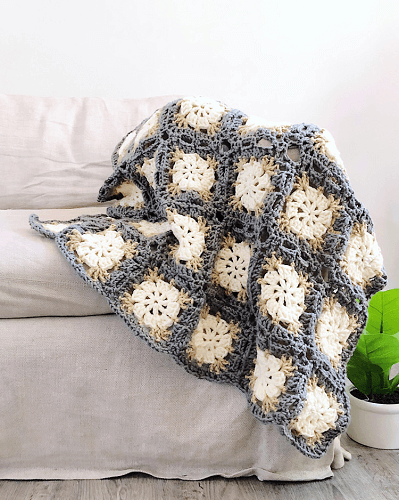 Get the Pattern here

14. Granny Stripe Easy Crochet Afghan Pattern by Chocolate Dog Studio
This Granny Stripe Easy Crochet Afghan Pattern is a lovely, soothing, and easy project that can be made in virtually endless color combinations.

This project is a go-to recommendation for new crocheters who are excited to embark on a large scale project.
But this is also a very relaxing pattern for any crocheter who is looking for a therapeutic blanket to work on without needing to count or think too hard.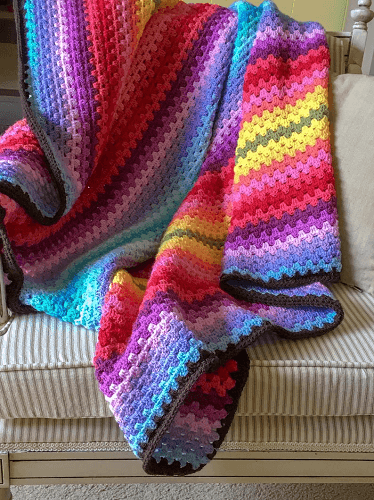 Get the Pattern by Chocolate Dog Studio here

15. 4 Hour Afghan Free Crochet Pattern by Make And Do Crew
For crocheters looking for almost-instant gratification, this 4 hour Afghan Free Crochet Pattern will deliver in no time flat.

Worked with chunky yarn in simple stitches, this is a very easy "big" crochet project that works up faster than most scarves!

Using very basic chain and double crochet stitches, you'll breeze through the body of the afghan in a few hours and then add some pizazz with squishy tassels.

The pattern is appropriate for confident beginners and anyone who likes to finish an entire afghan in a day!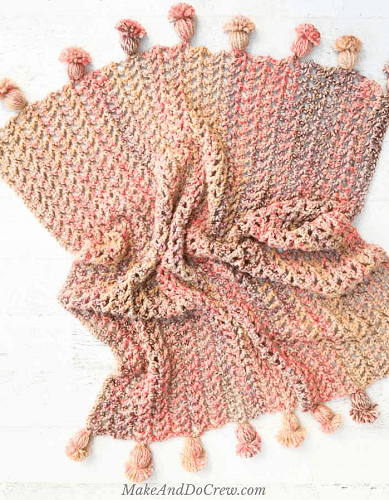 Get the Pattern here

16. Mosaic Afghan Crochet Pattern by Beba Blanket Designs
This modern Mosaic Afghan Crochet Pattern allows you to create nearly anything and any size you want: blanket (afghan), scarf, bag, cushion cover, etc.
The pattern includes 5 different sections that you can repeat as many times as you want and place them in any order you want. So your creation can be as wide and as long as you wish.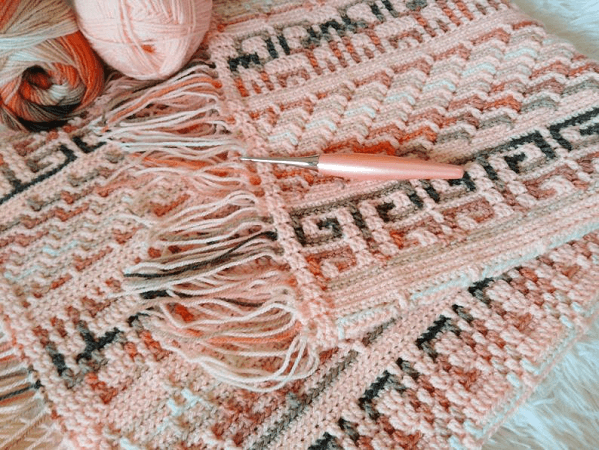 Get the Pattern by Beba Blanket Designs here

17. Winter Tempest Afghan Crochet Pattern by Hopeful Honey
Envelope yourself in the warmth and serenity of this Winter Tempest Afghan Blanket, as it gently transports you to a quaint little cottage by the seaside.

The tranquil world of oceans and rippling waves brings simple sophistication to this elegant blanket.
Perfect as a couch throw, the eclectic, uneven stripes make this an artistic home accessory for any room!

From the billowing tassels to the detailed ocean-like design, this afghan will conjure up memories of stormy seas as you snuggle underneath its fluffy coziness with a hot chocolate to warm your icy fingers.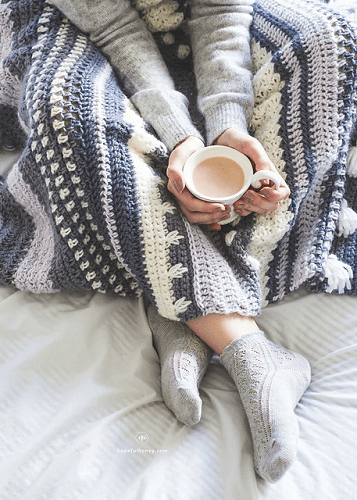 Get the Pattern here

18. Star Easy Crochet Afghan Pattern by My Crochet Place UK
This Star Easy Crochet Afghan Pattern is the perfect crochet pattern for a baby blanket, it also includes instructions on how to adapt the size of your blanket so you can make it as small or as large as you like.

The featured blanket measured approximately 110 cm by 110 cm when completed.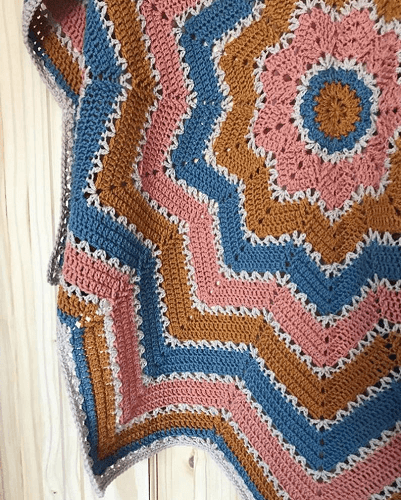 Get the Pattern by My Crochet Place UK here

19. Free Crochet Afghan Pattern by Crochet Dreamz
You will love this Crochet Afghan Free Pattern with flowers popping out. The flowers are worked into the rows and not crocheted separately. The result?
Fewer ends to weave in. Use this free crochet afghan pattern to bring spring right into your home!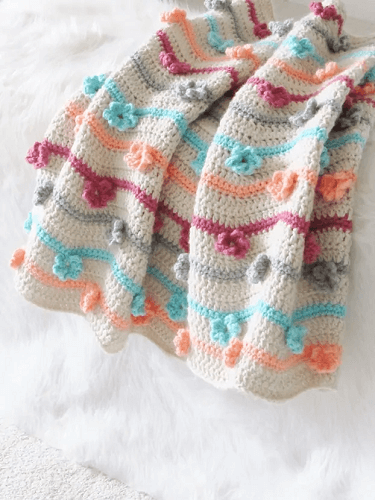 Get the Pattern here

20. Ruffled Crochet Afghan Pattern by Crochet Garden
Cascading textured stitches make up the body of this Ruffled Crochet Afghan , a beautiful contrast to the striking layers of ruffles.

You'll be swept somewhere in time with each stitch of this masterpiece. The pattern is completely customizable to any size, and to any number of ruffled layers, you wish.

If you have been looking for that special pattern to create a memory stamped in time, this is it!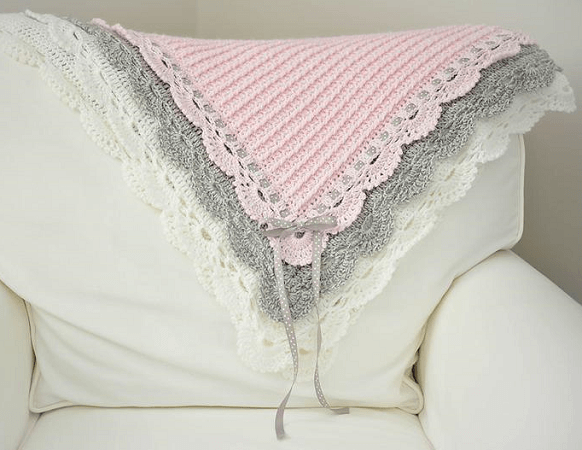 Get the Pattern by Crochet Garden here

21. Granny Square Afghan Crochet Pattern by Darling Jadore
Crochet your very own modern Granny Square Afghan with this fun and easy crochet pattern.
This crochet blanket will instantly amp up any decor space because it puts the loveliest modern twist on a classic, vintage-esque crochet design.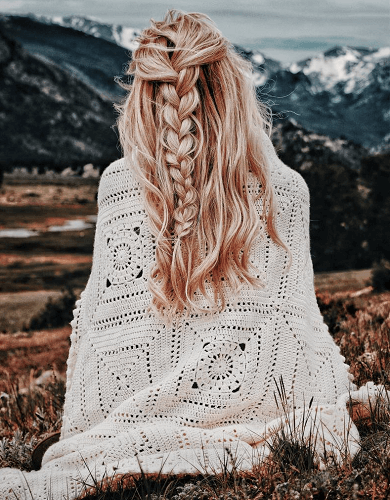 Get the Pattern by Darling Jadore here

22. Crochet Afghan Pattern by TLB Patterns
This Crochet Afghan Pattern is an easy and versatile crochet pattern to compliment any home decor.

Make this crochet blanket for yourself or as a beautiful and unique gift for someone special.
The modern chevron-look of this stitch pattern is easy to learn and your finished afghan will keep you cozy all season!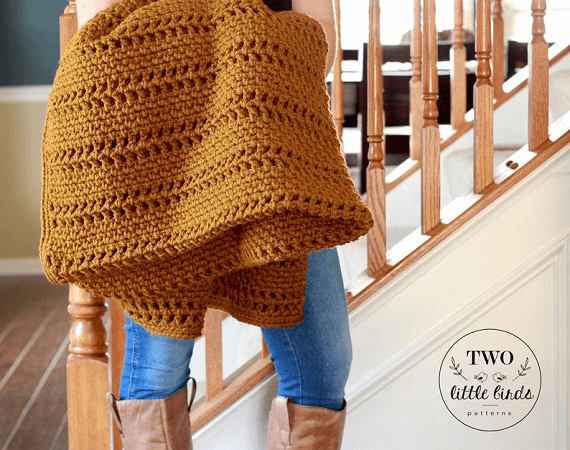 Get the Pattern by TLB Patterns here

23. Country Christmas Afghan Crochet Pattern by Hooked On Homemade Happiness
The granny squares in this Country Christmas Afghan are easier than they seem and you will love how they look when they're joined.

The cluster stitches really pop and create a pretty design that looks much more intricate than it really is.

Make it up in very subtle colors with a lot of neutrals. But it would be really pretty with bright Christmas colors, too!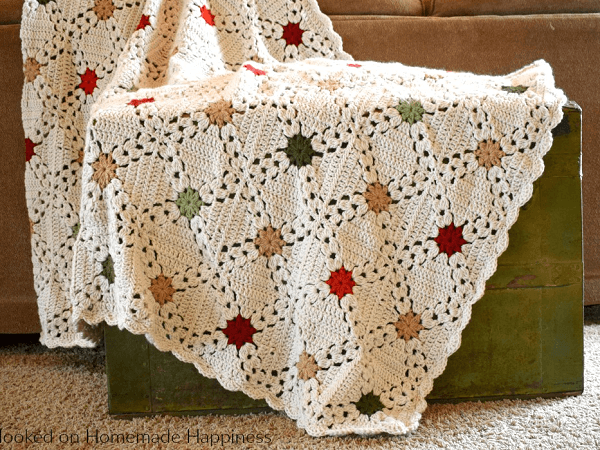 Get the Pattern here

24. Continuous Mitered Square Crochet Afghan Pattern by Petals To Picots
This Continuous Mitered Square Crochet Afghan Pattern has the charm of patchwork squares but is worked continuously so there is no fastening off after each square leaving you with a zillion ends to weave in.

And the self-striping yarn does all the colorwork for you so you can just sit back and stitch.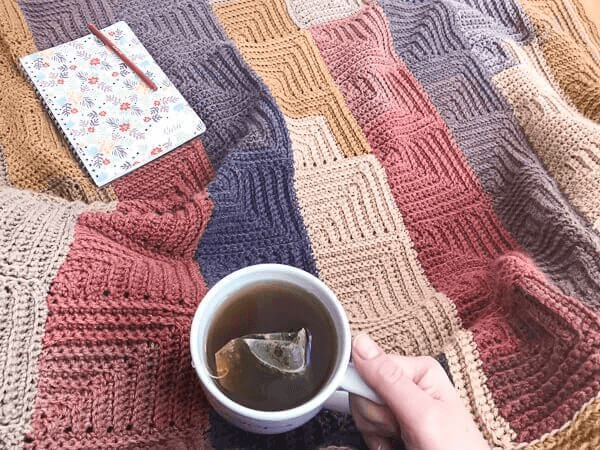 Get the Pattern here

25. Peacock Pretty Afghan Crochet Pattern by Kraftling
This Peacock Pretty Afghan Crochet Pattern is an attempt to try and capture the mesmerizing beauty of peacock feathers and their amazing, almost hypnotic pattern.

Reversible and double-thick, it's also a great blanket to cozy up in or to use as a bedspread. The blanket size works up to be about 50 inches by 58 inches.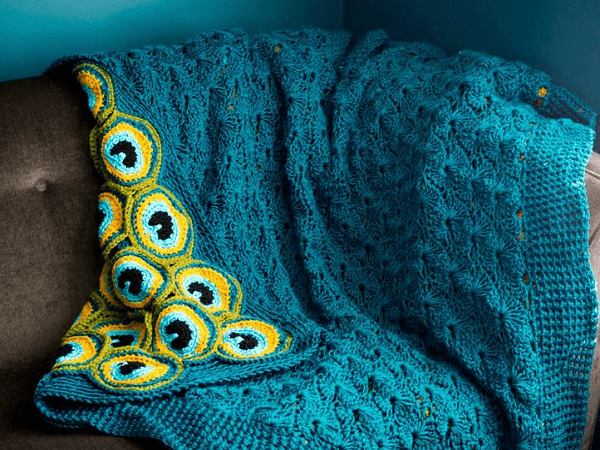 Get the Pattern by Kraftling here

26. Crochet Winter Fluff Afghan Pattern by Ruby Webbs
This chunky Crochet Winter Fluff Afghan will keep you cozy and warm all winter long. It looks cute with or without the fringe detail.

The texture of this warm blanket is so incredibly cozy and made up of super simple crochet stitches that just about anyone can do. It's plush and snuggly, and will keep you warm once you work it up!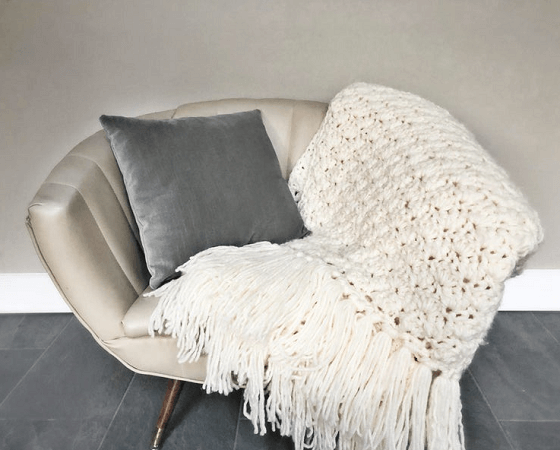 Get the Pattern by Ruby Webbs here

27. Mighty Ridge Crochet Afghan Pattern by Yarnspirations
Fall into this gorgeous Mighty Ridge Crochet Afghan, or toss it over your favorite armchair.

The wonderful texture of Bernat Maker Home Dec tubular yarn makes this a project you can complete quickly. Explore the colors and see how easily they inspire a different looking blanket for every season.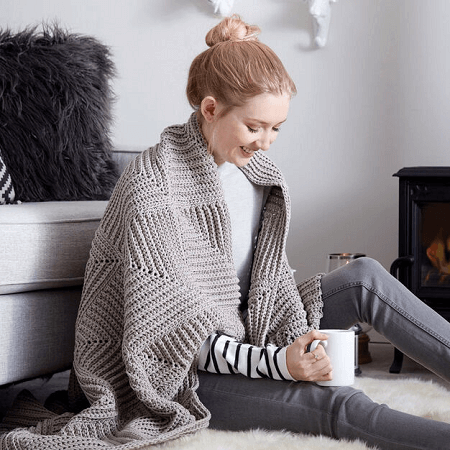 Get the Pattern here
Which of these crochet afghan patterns do you think you'll likely make in a weekend?
If you make any of the patterns above, please show them off on our Facebook Page. We can't wait to see them! Then, reap the benefits by snuggling up on a chilly night. You've earned it.

Don't forget to check out our collections of Crochet Blanket Patterns, Crochet Baby Blanket Patterns, and Afghan US Navy Crochet Pattern as well.

Everyone can use some extra comfort in their life, and these crochet afghan patterns will have you relaxing in no time. Get started today!