As the friend that always gets cold the fastest and easiest, I have acquired an obsession with crocheting chunky scarves! They always keep you warm and toasty, and make a great accessory.
So, if you like the chilly weather especially harshly this time of year, then this list of chunky crochet scarf patterns will be perfect for you!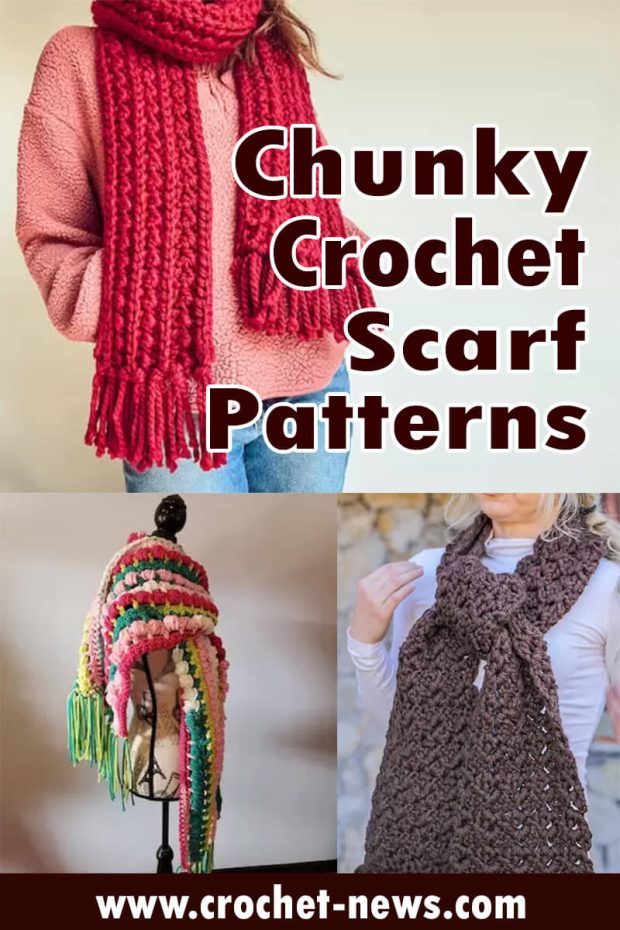 The following designs are all built to withstand even the most freezing temperatures. Some use incredibly chunky yarns to fend off the chill. Others come in ultra-long lengths that can be wrapped around your neck more times than you'd care to count. And some are just plain massive!
21 Chunky Crochet Scarf Patterns

1. Chunky Bobble Scarf Crochet Pattern by Spotted Horse Design Co
This chunky scarf crochet pattern uses a combination of bobble stitches and slip stitches to create this lovely scarf.

What is better than a bobble stitch? A big bobble stitch, of course! This crochet chunky scarf is super chunky, with knit-like rows nestled in between rows of giant bobbles.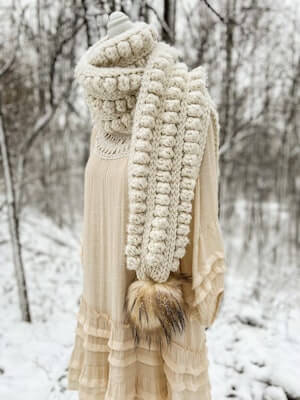 Get the Pattern by Spotted Horse Design Co here

2. Make A Statement Chunky Scarf Crochet Pattern by Woods And Wool Shop
Make a statement with this easy, bulky crochet scarf pattern. It's a fun, modern design that's perfect for beginners! If you're used to working with lighter yarn weights, this pattern will be a treat because this bulky yarn works up so fast!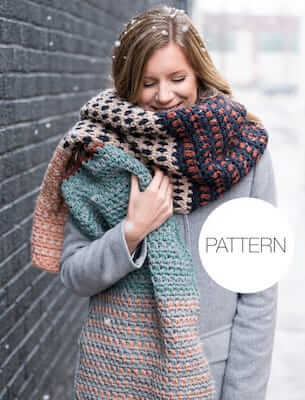 Get the Pattern by Woods And Wool Shop here

3. Snowdrift Crochet Chunky Scarf Pattern by Tiny Couch Crochet
Make a crochet scarf that looks both classic and modern! This Snowdrift Scarf is a quick chunky scarf pattern full of texture. Keep warm with this beautiful, cozy scarf or make them as gifts!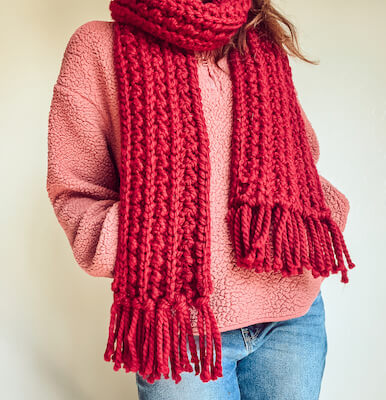 Get the Pattern here

4. Winterberry Chunky Scarf Crochet Pattern by Crochet With Frankie Kate
This super chunky crochet scarf is made with basic stitches. You will need to know only how to make a chain, single crochet and double crochet stitches.

The stitch pattern is easy to remember and it creates a reversible fabric. With its one-row repeat, this Winterberry Chunky Scarf is one of the easiest crochet pattern on this list!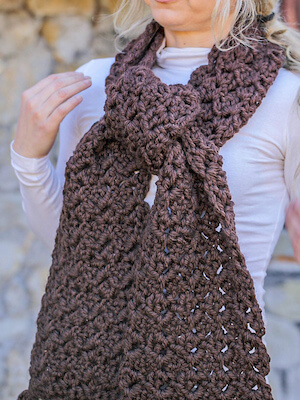 Get the Pattern here

5. Chunky Crochet Infinity Scarf Pattern by Jewels And Jones
With its simple construction and snuggly texture, this circular scarf is a dream. Using the cluster stitch and two colors, it's a minimal-effort pattern with maximum appeal. A step-by-step video tutorial means even beginner crocheters can try it.
More Crochet Infinity Scarf Patterns here.
Get the Pattern by Jewels And Jones here

6. Bohemian Wrapsody Scarf Crochet Pattern by Lil Baby Chick Pea
Are you ready to add some boho flair to your wardrobe? Look no further than this beautiful Bohemian Wrapsody Scarf. The unique combination of yarn colors and textured stitches make this a truly one-of-a-kind accessory.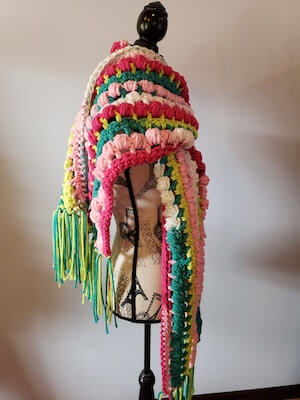 Get the Pattern by Lil Baby Chick Pea here

7. Chunky Infinity Scarf Crochet Pattern by Hopeful Honey
Perfect for an effortless chic look, this gorgeous scarf is made with the detailed Catherine Wheel Stitch. This stitch gives the cozy result that you will need on colder winter months.

Once you're done making the scarf, you'll need to slip-stitch its two ends into a circle and weave on the loose bits, and you're good to go out and get some well-deserved praise.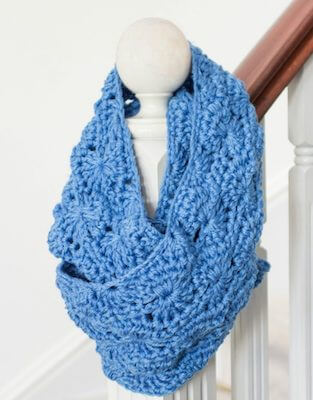 Get the Pattern here

8. Crochet Scato Scarf Pattern by Joy Of Motion Crochet
This Crochet Scato Scarf Pattern is a pattern for a really warm oversized scarf. It has a beautiful textured stitch pattern that makes it thick and perfect for winter. It has a special shape, where the middle part it narrower than the ends, which makes it thicker and more cozy around the neck.

This free chunky scarf crochet pattern is written for only one size, however size adjustments are included throughout the pattern. Play around with colors to make it fit your style.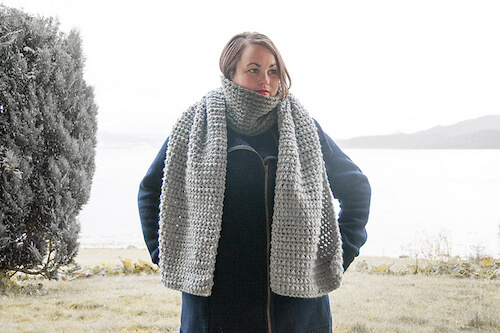 Get the Pattern here

9. Columbia Chevron Super Scarf Crochet Pattern by Two Of Wands
I love the striking chevron design with the pop of the contrast color – so bold and modern! And those pom poms at the bottom are such a perfect and whimsical addition!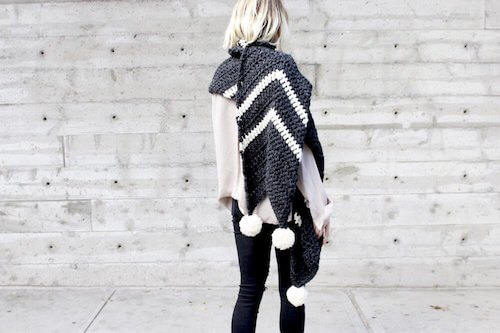 Get the Pattern by Two Of Wands here

10. Drunken Granny Scarf Crochet Pattern by Debra Field
This Drunken Granny Scarf is the perfect addition to your collection of winter accessories. It's just the right amount of cozy warmth when you need it most! The combination of the bulky weight yarn and the drunken granny crochet stitch means this is a quick, easy make.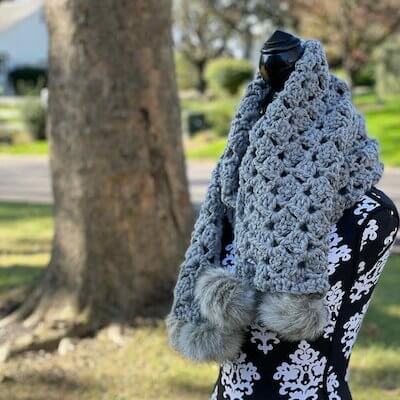 Get the Pattern by Debra Field here

11. Magical Mesh Chunky Scarf Crochet Pattern by Nancy Said
Here's an easy crochet pattern for a crochet chunky scarf created with bulky yarn and scraps of bulky, worsted, and light weight yarn. First, you create a light, open mesh scarf with basic stitches. Then you crochet simple, colorful "ribbons" that are woven through the crocheted mesh background.

Because it is created from yarn scraps, your Magical Mesh Scarf is guaranteed to be one-of-a-kind and will garner praises wherever you go.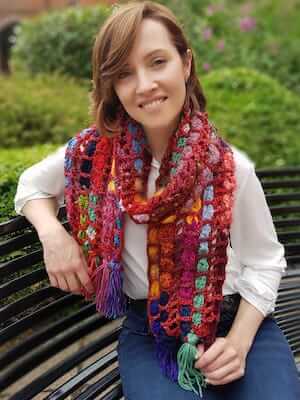 Get the Pattern by Nancy Said here

12. Chunky Yarn Scarf Crochet Pattern by Dabbles And Babbles
Are you on the search for a project where you can practice your stitches? This one's for you! This Chunky Yarn Scarf will easily be one of your favorite patterns, and it's easy to see why. The shades and the texture? What's not to love?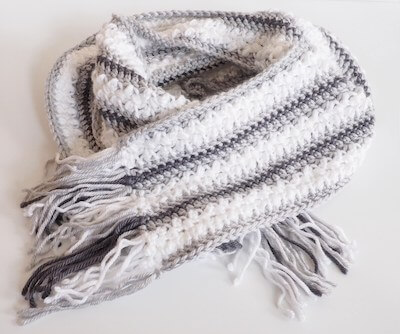 Get the Pattern by Dabbles And Babbles here

13. Chunky Crochet Jacmel Scarf Pattern by DeBrosse NYC
This Jacmel Scarf is a great big deal that's no big deal to whip up. It is high-impact, high-volume, high-drama, and high-reward—as both a presence and a present!

Consider its supersize comfort and coziness a secret-weapon for the season: Who doesn't want a warm, fuzzy force field to take on chilly walks, unpleasant commutes, and complicated relatives?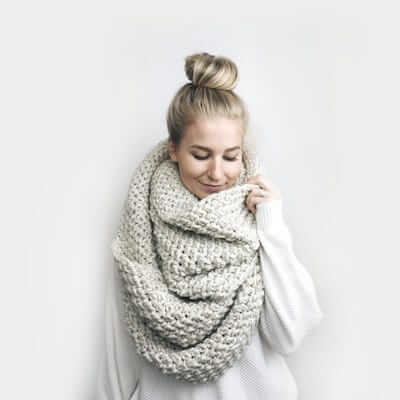 Get the Pattern by DeBrosse NYC here

14. Toasted Marshmallow Infinity Scarf Crochet Pattern by TL Yarn Crafts
This free chunky scarf crochet pattern uses a quick-to-work chunky yarn and basic stitches. The eye-catching texture is made from the back loop single crochet stitch, and it's worked in the round. Being a seamless pattern, you just have to weave in the last end.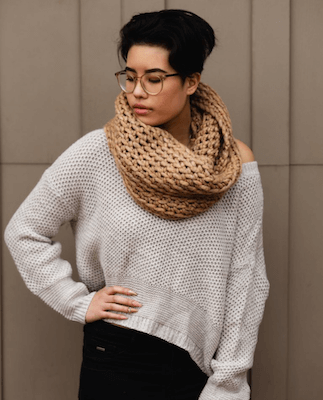 Get the Pattern here

15. Free Chunky Crochet Infinity Scarf Pattern by Ned & Mimi
Perfect for the coldest days, this chunky infinity scarf pattern makes a cozy scarf with a gorgeous texture. You just need an understanding of single crochet and chain stitches. It looks especially nice with a super bulky chenille or velvet yarn, but beginners may want to sub a less slippery yarn.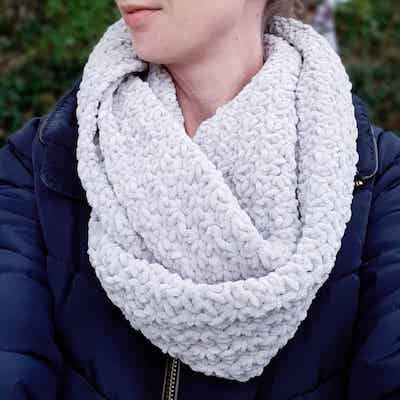 Get the Pattern here

16. Collins Chunky Triangle Scarf Crochet Pattern by Stitching Together
This Chunky Triangle Scarf Crochet Pattern is easy and works up quickly with basic stitches! The simple stitch pattern is set off by gorgeous puff stitches make a unique yet easy crochet project.
Get the Pattern here

17. Chunky Sullivan Crochet Scarf Pattern by Ruby Webbs
Snow tomorrow, scarf today. So much drama with so little effort! You can crochet this Sullivan Scarf in about the time it takes to unearth the winter coats and boots, and before you know it, you've made a very big statement!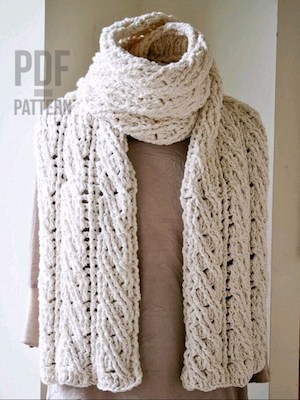 Get the Pattern by Ruby Webbs here

18. Saddlebrook Cape Scarf Crochet Pattern by Two Of Wands
This versatile pattern is described as part cardigan, part poncho, part wrap, and part scarf. I adore how this trendy scarf can be worn as a cape with the arm holes!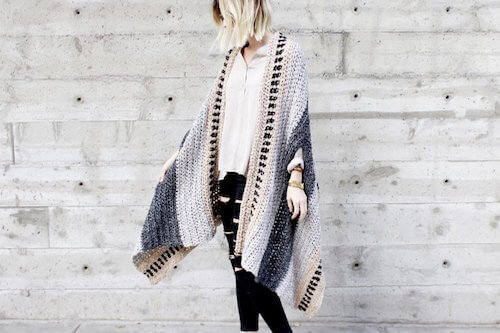 Get the Pattern by Two Of Wands here

19. Chunky Crochet Colorful Scarf Pattern by Pink Sheep Design
Who doesn't need a blast of bright color to chase away the winter doldrums? Wrap yourself in this high-spirited scarf and everyday is a sunny one!

With endless color possibilities, you can make a different scarf for every person in your family, neighborhood, or book club. What to make for presents this year? Check!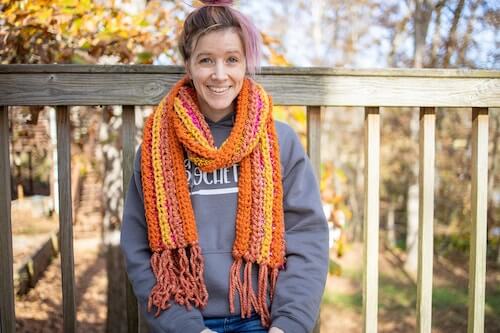 Get the Pattern by Pink Sheep Design here

20. Cherries In Bloom Infinity Scarf Crochet Pattern by Fiber Flux
Resembling the sweet blossoms of a cherry tree, this gorgeous infinity scarf oozes charm. Play with color, or stick with the beautiful purple, pink, and cream combo. Made with chunky granny stripes, this is an amazing scarf for bundling up.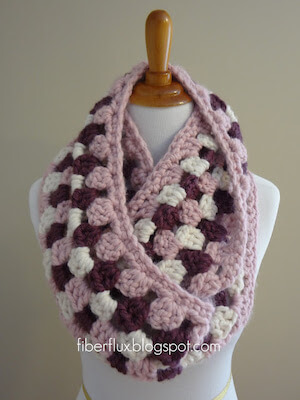 Get the Pattern here

21. Free Chunky Scarf Crochet Pattern by Susie Johns
If you're in need of a quick scarf that you can hook up super-fast, then this pattern is a great project for crocheters of all abilities.

Hooked up in a chunky yarn and with a fun chevron zigzag stitch pattern, it's relatively wide scarf meaning you can wrap yourself up in it and keep that cold wind at bay. Plus, it's finished off with some pompoms, and in my opinion, everything is better with pompoms!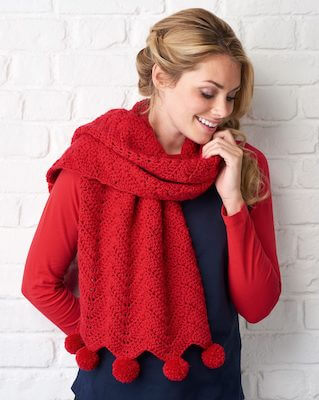 Get the Pattern here
Chunky Crochet Scarf Patterns Frequently Asked Questions
Is chunky yarn good for crochet beginners?
Chunky and super chunky yarns are the best choice for a beginner to start their crochet journey. The thicker the yarn makes it easy for you to see the stitches you're making clearly, and your project will work up quickly.
What's the best yarn weight for chunky scarves?
I would personally recommend DK weight yarn, worsted weight yarn, and bulky weight yarn. These three yarn weights are thick enough to work up in a reasonable amount of time and provide warmth, but not so thick that you'll feel like you're wearing big woven ropes around your neck.
If you like that trendy chunky look and be plush and cozy in a tundra, super bulky weight yarn will do the trick!
Is there an alternative yarn for chunky or super bulky weight yarn?
If you don't have a chunky or super bulky-weight yarn for these crochet chunky scarf patterns, try holding two strands of worsted-right yarn together for a similar gauge.
What is the best stitch for a chunky crochet scarf?
For oversized crochet scarves, it is usually best to stick with a simpler stitch. If you want to crochet a cozy super bulky scarf then you want to choose stitches that are closer together, to form a warmer fabric.
These are great for the "regular" crochet stitches: single crochet, half double crochet, and double crochet.
What yarn should I use to crochet a chunky scarf?
If you want to crochet a cozy, chunky scarf for fall or winter, then consider wool for warmth. Or possibly a wool blend which often melds the best of both worlds because it's warm, but also washable.
NO MATTER WHAT YOUR PERSONAL STYLE IS, THERE IS A CHUNKY CROCHET SCARF PATERN HERE FOR EVERYONE!
When you're done making some, be sure to share a photo of it with me on our Facebook Page. I'd love to see you bundled up in huge scarves looking like the snuggest of bugs!
Once you've decided on your favorite chunky crochet scarf patterns, whip up these Crochet Fingerless Gloves Patterns and keep your hands cozy while you crochet! Or you could hook up a matching crochet hat if you've got enough left-over yarn from your scarf.
What are you waiting for? Bulk up your outerwear with any of these chunky crochet scarf patterns! Good luck finding room for them in your wardrobe, though!