If you are an avid crocheter, you will definitely benefit from a yarn bowl. I did not know what I was missing until I tried a bowl out for myself.
The crocheting bowl keeps your yarn untangled and knot-free while allowing the yarn to move smoothly. Not only does a yarn bowl make crocheting easier, but it can also add a personal touch to your crafting space.
What is a Yarn Bowl?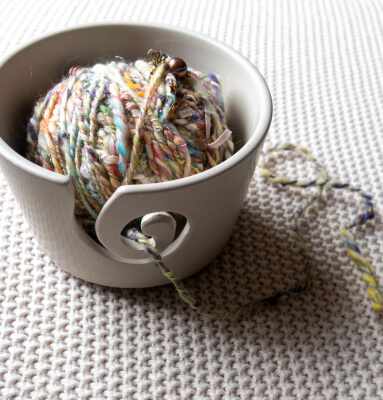 Yarn bowls are a practical and useful tool designed for crocheters and knitters. They hold your yarn securely while you work. The bowl allows the yarn to unwind smoothly, preventing tangles.
Yarn bowls come in a wide variety of shapes, sizes, colours, and materials. They are essential accessories that can make your crafting experience more enjoyable.
What are the Benefits of a Yarn Bowl?
A bowl offers several benefits, including:
Helps to prevent the yarn from tangling.
Will keep your yarn organised.
Prevents the yarn from falling on the floor and getting dirty.
Can add a decorative touch to your crafting space.
Helps you create consistent tension.
Can help alleviate hand and wrist strain by reducing the need to handle the yarn.
Provides a smooth and even flow of yarn.
Since the yarn is neatly contained, you will experience waste due to tangles, knots, and dirt.
You will experience less frustration.
Bowls can be used with a variety of yarn weights and types.
5 Best Yarn Bowls for Crocheting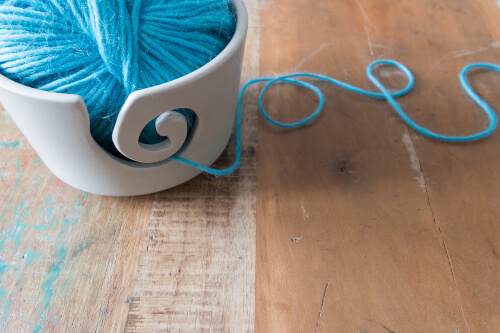 Below is a list of some of my favourite bowls for crocheting. Each bowl has its own distinct beauty and style. I have included three crochet patterns for those interested in making a customised yarn bowl. Whether you prefer premade bowls or want to make your own, this list has something for you.
1. Handmade Wooden Yarn Bowl for Knitting and Crochet from RuralCarpenter
These handmade jujube wood bowls are practical and beautiful. Each bowl has a single swirl and 2 holes. They have smooth surfaces that protect your yarn while providing an even feed.
When ordering, you can choose from the XL bowl or XXL bowl. You can also add a non-slip mat to your order to ensure stability during use.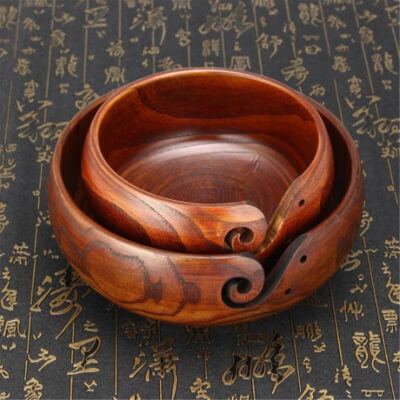 Find the Bowl from RuralCarpenter Here
2. Crochet Yarn Bowl from WillowCreekPotteryPA
Handmade with care, each bowl is unique. The bowls are made in a potter's wheel, carefully glazed, and fired all in a home studio. This makes it a great choice for a gift.
This handmade stoneware bowl measures approximately 4.5 inches (11.43 cm) tall x 6 inches (15.24 cm) wide. If you are looking for a larger size, contact the designer directly. There are several colours you can pick from.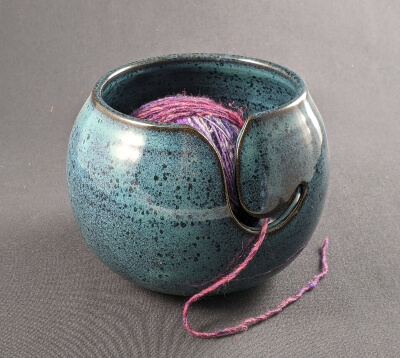 Find the Bowl from WillowCreekPotteryPA Here
3. Peacock Purple Extra Large Crocheting Yarn Bowl from DragonflyCorners
This handmade bowl features a beautiful design with ferns and dragonflies. It has a stunning colour combination of peacock green, emerald, purple, and speckled grape.
The bowl is 7 inches wide x 3 inches high. It provides ample space to hold a regular skein of yarn.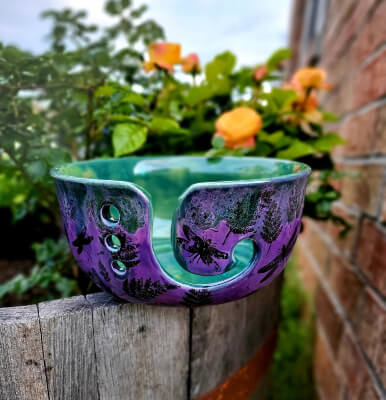 Find the Bowl from DragonFlyCorners Here
4. Handmade Yarn Bowl for Knitting and Crochet from KnitHappensTR
This innovative bowl transforms the way you hold your yarn. Made using state-of-the-art 3D printing technology, the bowl is eye-catching, durable, and unique.
The Yarn-o-Matic 3000 has been tested with a variety of yarns to guarantee a seamless yarn-holding experience. The bowl measures 5.90 inches (15 cm) x 3.54 inches (9 cm). It is available in 19 colours.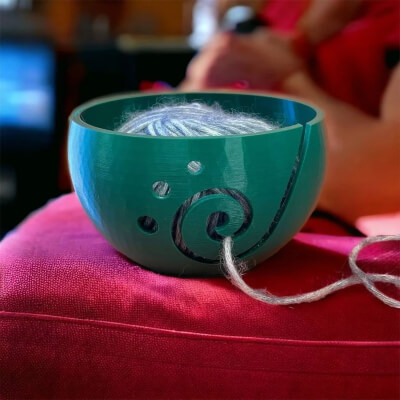 Find the Bowl from KnitHappensTR Here
5. Crochet Yarn Bowl with Double Swirl Cut from Mygirlsshop
This handmade bowl is crafted from bamboo. It is a beautiful bowl that measures 11 inches. The large design provides plenty of room for multiple skeins of yarn. This unique bowl features 2 double swirls and a single round hole.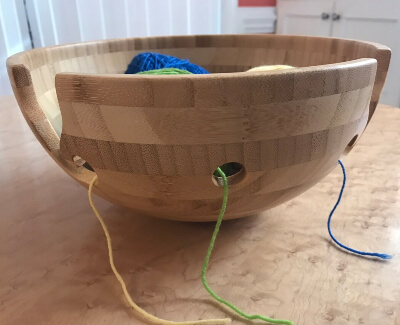 Find the Bowl from Mygirlsshop Here
Yarn Bowl Crochet Patterns
Do you want to crochet your own yarn bowl? Below are 3 crochet patterns that will guide you through the process.
1. Yarn Bowl Crochet Pattern by HolyMolyCrochets
Create your very own bowl with this crochet bowl pattern. With this bowl you can stop your yarn from rolling around on the floor. It works best when the yarn is pulled from the centre of the skein.
The pattern includes instructions for two sizes, medium and large. The sizes can easily be adjusted based on your preferences. It is an intermediate level crochet pattern because of the type of yarn used.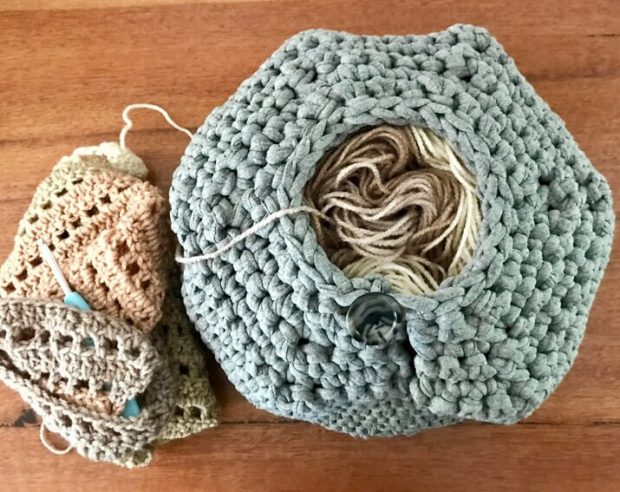 Find the Pattern by HolyMolyCrochets Here
2. Quick and Easy Crochet Yarn Bowl
This free video tutorial will guide you through the process of creating a quick and easy crochet bowl. The portable bowl can be conveniently folded and taken with you wherever you go. Not only does this project offer a practical bowl solution, but it also allows you to use up some of your yarn stash.
Find the Pattern by Ophelia Talks Here
3. Easy and Fast Yarn Bowl Crochet Pattern by Crochet Life
This bowl is designed to prevent your yarn ball from rolling away while you work. Using bulky weight yarn, the bowl will hold its shape. The bowl crochet pattern creates a bowl that is 7.5 inches in diameter and 3.5 inches deep. There are both written instructions and a video tutorial to guide you through the whole process.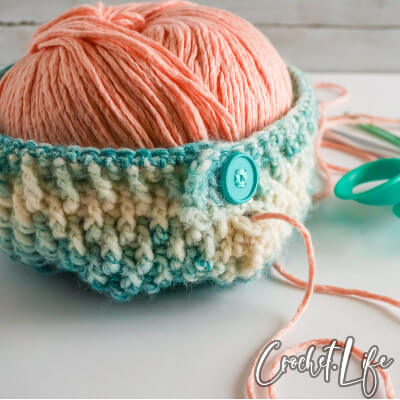 Find the Pattern by Crochet Life Here
Frequently Asked Questions About Yarn Bowls
What is a yarn bowl?
A bowl is a specialised bowl designed to hold yarn. Yarn bowls are popular tools for crocheters and knitters.
Can I make my own yarn bowl?
Yes, there are different DIY options for making your own bowl. There are crochet and knitting patterns available for those that enjoy working with yarn. You can also craft bowls out of items you have lying around your home. You can find a list of alternative ideas HERE.
Are yarn bowls necessary?
Yarn bowls are not necessary; however, they do offer several benefits. Bowls keep your yarn organised, prevent it from tangling, and help keep it clean. They also provide better tension control, making for a more enjoyable crafting experience.
What are the different holes in a yarn bowl for?
Some bowls have several different holes. The different holes allow you to work with more than one strand of yarn at a time. The holes are designed for dispensing the yarn smoothly while preventing tangles.
Do yarn bowls come with lids?
Most bowls do not come with lids. However, there are some bowls that do include lids for storage purposes. The lids help keep the yarn clean while protecting it from dirt and dust.
Yarn bowls are a must-have accessory for any crocheter. They are a practical solution for keeping your yarn clean and tangle-free.
Yarn bowls are valuable tools for crocheters and knitters alike. The bowls provide numerous benefits and make crafting more enjoyable.
If you are looking for more crochet essentials, check out the list below:
With a wide variety of designs, sizes, and materials available, you can find a yarn bowl that suits your style and needs.