Thinking of capturing the first days of your little one professionally by giving her an infant photo shoot, but don't know how to dress her up?
Well, we have the perfect idea for that! How about dressing her up as Tinkerbell with the help of this Crochet Tinkerbell Baby Costume Pattern?
Clad in this dainty green outfit paired with a cute headband and slippers with fluffy pom poms, it will surely be a photo shoot to remember!
Continue reading the article to learn how to make this adorable Tinker Bell Crochet Baby Clothes Pattern!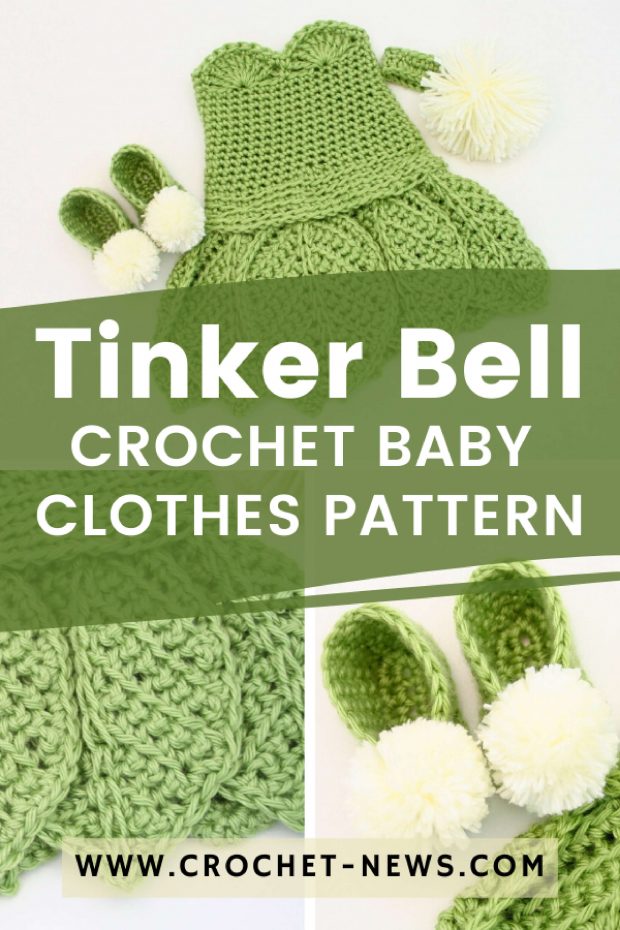 Tinkerbell Crochet Costume Baby Clothes Pattern
This pattern is made by Knitsy Crochet, an etsy shop that makes crochet patterns that are easy to follow, perfect for beginners! They have a wide variety of patterns, costumes, scarves, and even something for your dogs.
Not only is this outfit perfect for your little girl's photo shoot, it can also be used as your baby's first ever Halloween costume! Although she can't go trick or treating yet, dressing her up would be a great mother-daughter bonding activity.
Be sure to take pictures and show them to your daughter when she grows up! She'll surely appreciate all the effort and love you exerted in making the outfit.
About the Yarn
Compared to an adult, a newborn's skin is quite sensitive. Because of this, you have to be extra careful in choosing the yarns you will use for this project. It is suggested to use Caron Simply Soft, a premium yarn usually used for garments and throws.
Made with 100% acrylic, it is extremely soft, comfortable and stylish. It is perfect for all sorts of projects – baby clothes, coasters, anything you can think of!
With over 50 colors to choose from, you will surely find the perfect color for your little girl!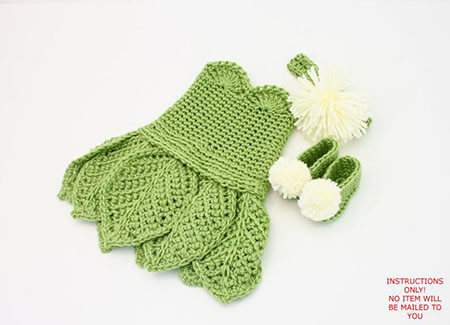 About the Pattern
Don't you just love the details of this Tinker Bell outfit? Believe it or not, this pattern is perfect for intermediate crocheters and even beginners! Although making this pattern may seem like a daunting task, it's actually really easy to follow. With its well-written pattern and clear instructions, you'll have an adorable outfit for the little one in no time!
With a sweetheart neckline top, a matching headband, and fluffy pom pom slippers, your little girl will definitely look like an adorable fairy! The intricate details on each individual leaf that makes up the skirt makes the outfit more memorable.
Skill Level
Beginner – Intermediate
Materials Needed
Size 5.0mm (Size H/8) Crochet Hook
Size 6.5mm (Size K/10½) Crochet Hook
300 Yards (274 Meters) Medium/Aran Weight – Caron Simply Soft in Pista
chio (Color A)
25 Yards (23 Meters) Worsted/Aran Weight – Caron Simply Soft in Off
White (Color B)
Yarn Needle
Stitch Marker
Pins
Scissors
Finished size
Headband Sizes: (Head Circumference)
Newborn: 12" (30cm)
0-3 Months: 12-14" (30-35cm)
3-6 Months: 14-16" (35-41cm)
6-12 Months: 16-18" (41-46cm)
Dress Sizes:
Newborn: 6-7lbs (2.5-3kg)
0-3 Months: 7-12 lbs (3-5.5kg)
3-6 Months: 12-17lbs (5.5-8 kg)
6-12 Months: 17-22lbs (8-10kg)
Shoe Sizes:
Newborn: 3″ (7.5cm)
0-3 Months: 3½" (9cm)
3-6 Months: 4" (10cm)
6-12 Months: 4½" (11.5cm)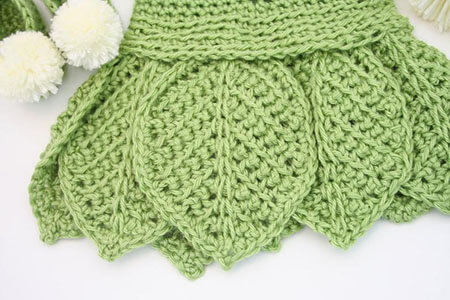 For more crochet patterns for your babies, check out our Baby Sock Patterns, Baby Headband Patterns, and Baby Sandal Patterns.
Making the crochet tinkerbell dress from this pattern will surely be a blast!
Gather your materials and start making the Crochet Tinkerbell Baby Costume Pattern. Her adorable smile while wearing this outfit will definitely be a memory you'll never forget.