IIf you're looking to liven up your wardrobe this season, then feast your eyes on these lovely lacy crochet scarf patterns. Crochet one of these lacy scarves to wear on warm days or as a pretty accessory to add some interest to a dreary, cold day.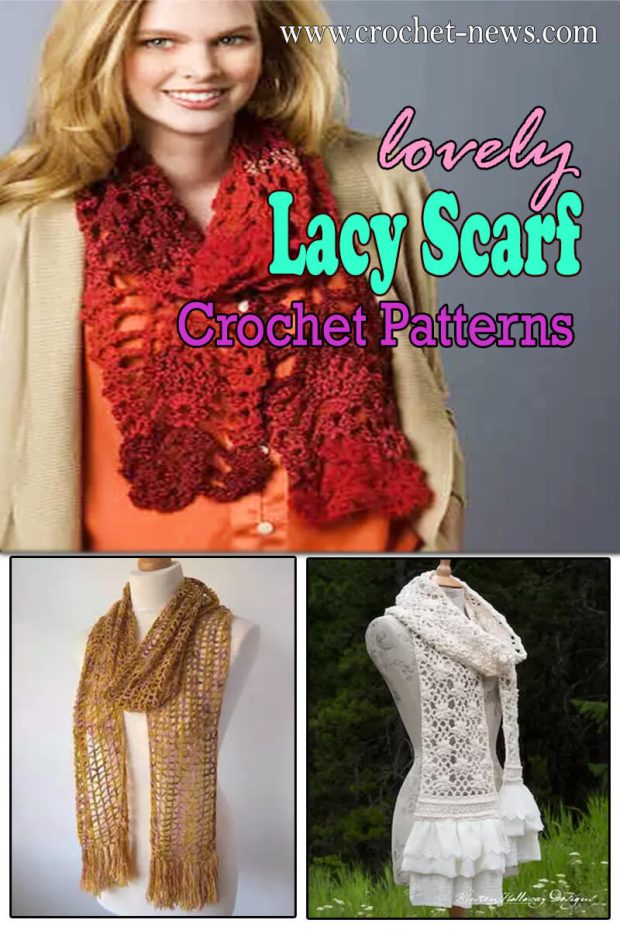 These are projects that appear to require some sort of magical crochet mastery, but they're actually ideal for tucking into your bag and working on whenever you have a spare crochet minute.
No matter the season, this list will bring out the best in your fashion sense! Whether you need a little crochet summer scarf or a soft, warm fall scarf — I've got you covered!
15 Lacy Crochet Scarf Patterns

1. Lacy Diamond Scarf Crochet Pattern by Red Heart
Crochet a stunning lace scarf, perfect for all seasons! This easy scarf pattern uses simple stitches, such as chains and double crochet, to work up a gorgeous lace design. This free scarf pattern is indeed quite lacy. Combined with cool cotton yarn, this makes this scarf both elegant in looks and comfy as a favorite t-shirt!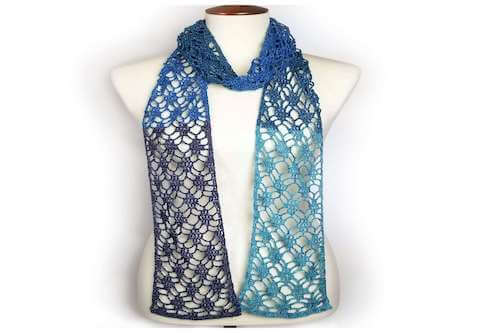 Get the Pattern here

2. Lacy Crochet Scarf Pattern by Stitching Together
With a simple five row repeat, you can master this pattern quickly while creating this beautiful lacy crochet scarf. It is perfect as a light weight spring scarf or an elegant crochet wrap for your next formal event.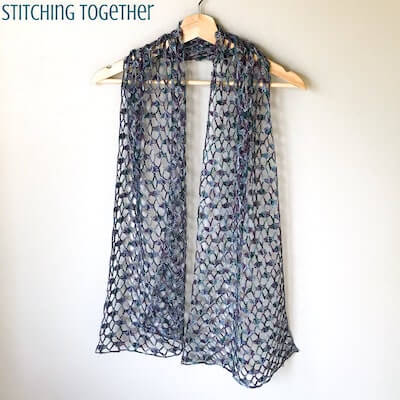 Get the Pattern by Stitching Together here

3. Crochet Lacy Scarf Pattern by Annie Design
Here's a simple lace crochet scarf pattern that uses only one skein of yarn! A light delicate scarf perfect for adding a pop of color to your outfit any time of year. The easy pattern creates a beautiful mesh lace design that is sophisticated and stylish. Using simple stitches with minimum counting, you will be whipping up a few of these in no time!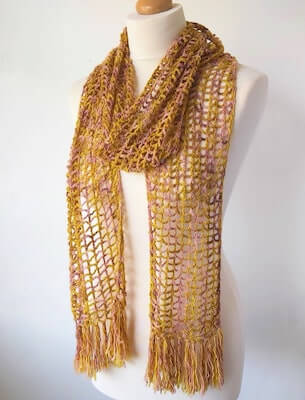 Get the Pattern by Annie Design here

4. Crochet Skinny Summer Scarf Pattern by Christa Co Design
This Skinny Summer Scarf Crochet Pattern is lightweight and lacy. It's just perfect for anytime of year. This quick and easy scarf will give you that pop of color for summer and bring you into fall for those cool mornings. Crocheted simply, with double crochets and uses just one skein of cotton yarn, it will be your new favorite piece.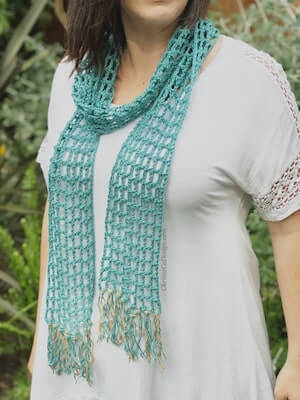 Get the Pattern by Christa Co Design here

5. Crochet Lace Scarf With Flowers Pattern by Kirsten Holloway Designs
This lacy summer scarf crochet pattern has a gorgeous flower design that is perfect for summer! The stitch is delicate and open meaning it is lightweight and comfortable as a warm weather accessory.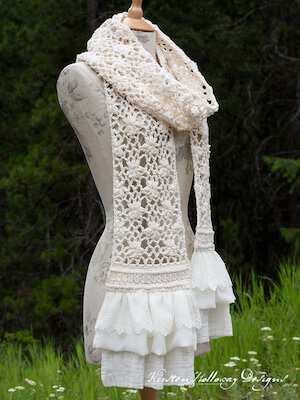 Get the Pattern here

6. Entry Level Lace Crochet Scarf Pattern by Make & Do Crew
This quick lacy crochet scarf pattern is within reach even if you're new to crocheting lace. The simple lace stitch repeat is easy to memorize and works up fast in worsted weight yarn. And with just the right mix of squishy stitches and airyness, you can enjoy wearing this pretty, feminine crochet lace scarf year round.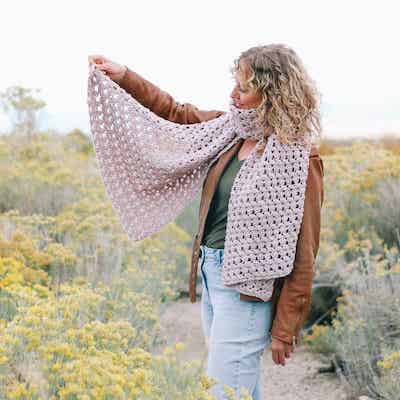 Get the Pattern here

7. Crochet Biscotti Scarf Pattern by Pattern Paradise
This pretty scarf is unique! It is worked side to side in a combination of lacy stitches, fillet and some a bit more closed off. I love the visual interest created by the combination of stitches in conjunction with the pretty color changes in the yarn. Add fringe for a bit of romantic elegance but it looks great without, too!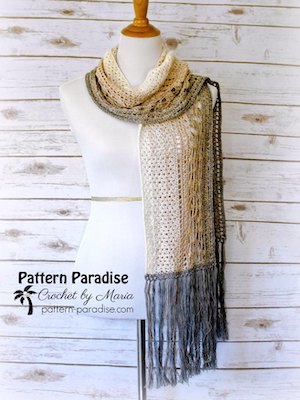 Get the Pattern by Pattern Paradise here

8. Lacy Chevron Crochet Scarf Pattern by Crochet Spot Patterns
Here's a lacy and dainty take on the popular chevron pattern that uses only one color. Of course you can use multiple colors if desired, but this chevron pattern is still visible with a single color since it alternates solid rows with lacy rows.

The pattern contains instructions for adjusting the size of the scarf, so you can make it as big or small as desired. You can even make it into an elegant shawl wrap! Feel free to crochet the scarf with your favorite yarn, thick or thin. The thinner yarns will give more drape.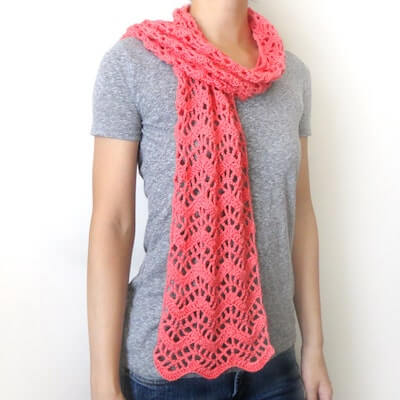 Get the Pattern by Crochet Spot Patterns here

9. Lacy Pineapple Crochet Scarf Pattern by Yarnspirations
If you love pineapples or would like to try one for the first time, this scarf is the perfect project. Crocheted in a bulky yarn that has six different textures, you'll love watching the pineapples appear as you crochet.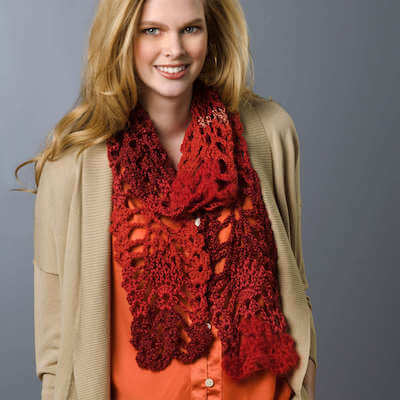 Get the Pattern here

10. Lacy Scarf Crochet Pattern by Girlpower Designs
Here's an elegant long and lacy scarf that's just as much fun to make as to wear. It's a great project to use a single skein of yarn, or stash bust — try it in multiple colors, a delicate lacy yarn, or even chunky for a dramatic look.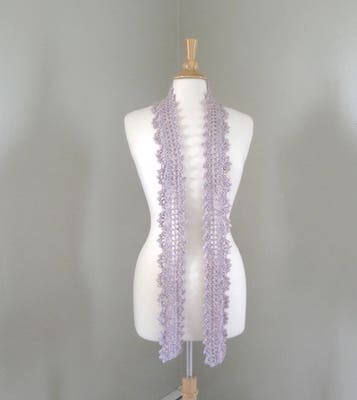 Get the Pattern by Girlpower Designs here

11. Lacy Picots Crochet Scarf Pattern by The Stitchin' Mommy
This beautiful Lacy Picots scarf is light, airy, and perfect for Spring! This pattern uses self-striping or variegated yarn to create the gorgeous color-changing effect. Leave the ends loose for a regular scarf or seam them to create an infinity scarf or cowl.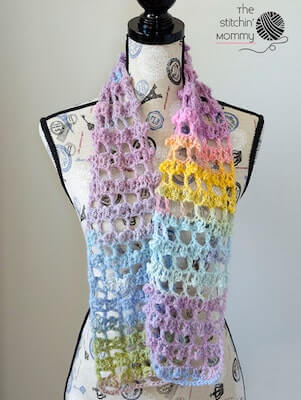 Get the Pattern by The Stitchin' Mommy here

12. Island Lace Scarf Crochet Pattern by Fiber Flux
This Island Lace Scarf is colorful, airy, and lacy—like a fresh tropical breeze! Using super easy stitches, it works up in no time at all too. Perfect on a day if you need just a little something or some fabulous color to brighten your day!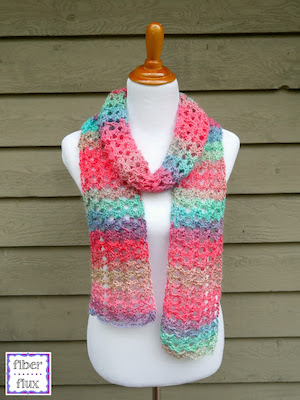 Get the Pattern here

13. Tendril Leaf Lacy Crochet Scarf Pattern by Annie's Design Crochet
Here's a crochet lace scarf pattern with a delicate pattern of leaf tendrils. This pretty scarf works up quickly with an easy 4-row repeat pattern. The pattern is very adaptable and you can easily customize the scarf to make it wider or longer.

This openwork crochet scarf pattern will add a touch of elegence to your Winter and Spring outfits!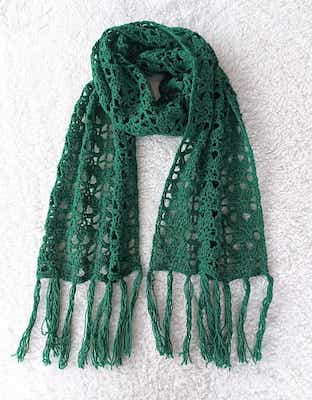 Get the Pattern here

14. Azure Crochet Scarf Pattern by Alla Koval Designs
Worked in one piece lengthwise, this scarf features openwork stitches and crochet fringe. Fringe consists of loops of chains and picot stitches. It's worked as you go in the last row of the scarf for a striking contrast, while picot trim adorns the straight edges on the opposite and short sides of scarf.

Whether you decide to make it with silk, bamboo or cashmere blends, this scarf will make you feel cozy and stylish!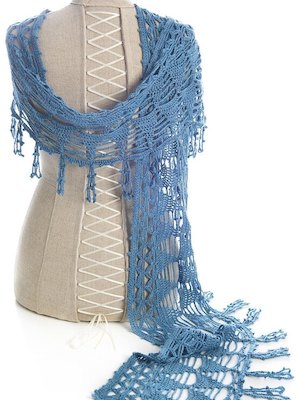 Get the Pattern by Alla Koval Designs here

15. Seashore Shell Stitch Scarf Crochet Pattern by Stitching Together
This Seashore Shell Stitch Scarf is the one you grab when you have a fancy night out that's just a bit chilly. It won't overheat you and it will keep the chill off your next all while keeping you looking absolutely fabulous.

As you look through the pattern, I think that you'll be surprised with how simple this lacy shell stitch scarf is and you'll want to get started right away!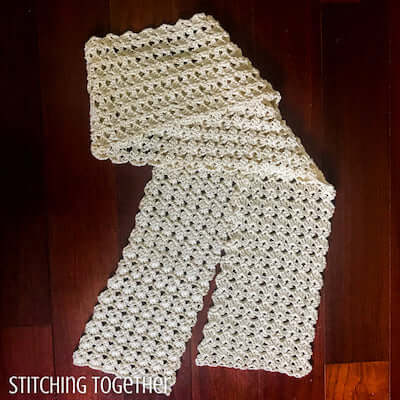 Get the Pattern here
Lacy Crochet Scarf Patterns Frequently Asked Questions
Can you crochet lace?
Absolutely! Crochet lace is something that even beginners can make. As long as you can work the basic crochet stitches, especially double and treble crochet, you can make crochet lace. If you want the traditional fine mesh lace, you will need to work with fine thread and very small crochet hooks.
Does lace crochet use less yarn?
Lace stitches have significantly more "air" in the patterns and, therefore, will take less yarn than a more solid stitch.
What's the best yarn to use for a lacy crochet scarf?
Crochet lacy patterns can render beautiful, detailed, and dainty pieces. A popular yarn for these projects is Lace Weight Yarn because of its tiny, fine weight. Another favorite yarn to create that lace look on your next crochet scarf project is Fingering Weight Yarn. But you can really create lacy scarves with most weights of yarn, although anything heavier than worsted weight yarn starts to really have open holes that are often too big.
How much yarn do I need to crochet a lacy scarf?
Most lacy scarves will use one to two skeins of yarn. The more open the pattern, the less yarn you'll use.
NOW, THE ONLY HARD PART IS FIGURING OUT WHICH LACY CROCHET SCARF PATTERN IS THE RIGHT ONE FOR YOU!
Flaunting your crochet projects is one of the proudest moments you might have as a crocheter. So, please do share them with us, too! Post a photo of your crocheted scarves on our Facebook Page. I can't wait to see your creations!

For more crocheted clothing to wear in warmer weather, be sure check out this collection:
Clearly, a lacy crochet scarf pattern is my spring and summer clothing essential. What about yours?