From elegant, boho, grunge to sexy, there's something for everyone in these 14 Crochet Choker Patterns to glam yourself up!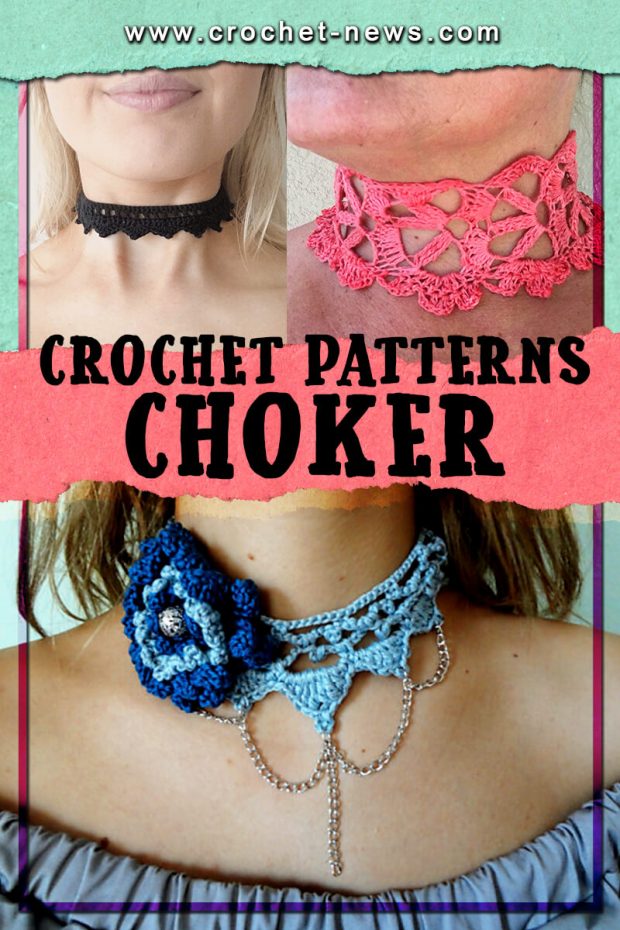 14 Elegant Crochet Choker Patterns to Complete Your Outfit
Chokers are a classical jewelry fashion statement. They've been around forever, coming in and out of style over the decades, being made cuter and cuter each time. They can have jewels, pendants, gemstones added to them. Basically, anything that fits your style!
1. Woven Ribbon Crochet Choker Pattern by Instructables
Make a simple crochet choker and then weave in ribbons to create a rainbow design. Instead of ribbons, you could crochet chains and weave those into the necklace, as well.

Although it's designed as a choker necklace, you could make it a bracelet or headband. Play around with different colors if you want an effect that differs from the rainbow.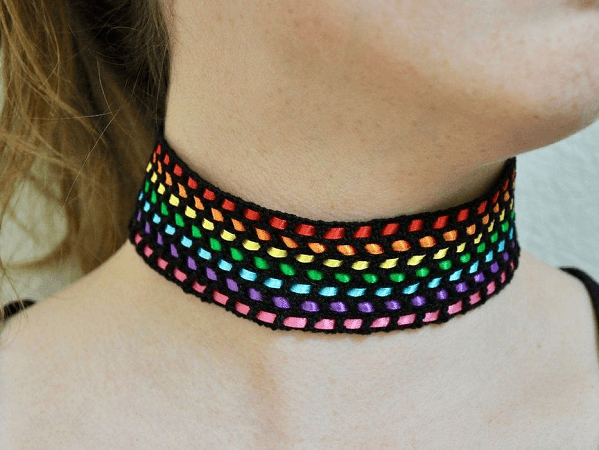 Get the Pattern here
2. Crochet Beaded Choker Pattern by Rhinestone Mumma
This gorgeous Crochet Beaded Choker will look great on the beach, at your next festival, or just something you can throw on and wear every day.

You'll work with basic crochet stitches including single crochet and half double crochet. The beads are encased in little semi-circles that are surprisingly easy to create.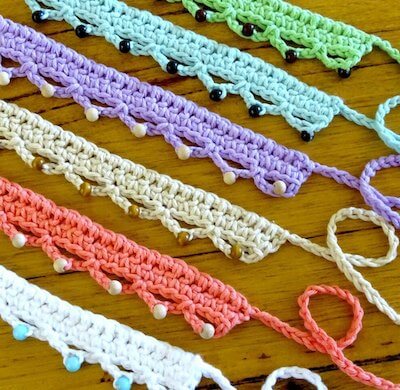 Get the Pattern by Rhinestone Mumma here

3. Crochet Choker Pattern by Maya Kuzman
This beautiful crochet choker is embellished with a flower and chain for a chic, boho look. It's a bold accessory you can make to match your spring outfits!

The pattern features a removable flower which you can use separately for your headbands, blouses, handbags and so much more.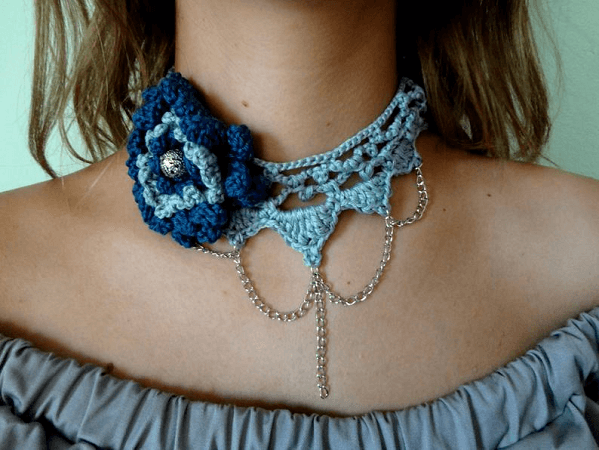 Get the Pattern by Maya Kuzman here

4. Crochet Cowrie Choker Pattern by Parlez V Crochet
This beautiful choker pattern is for a crochet choker style necklace using cowrie shells. Using basic stitches, you can make one for yourself and your friends! Perfect for the beach or just to make you feel like you are by the ocean.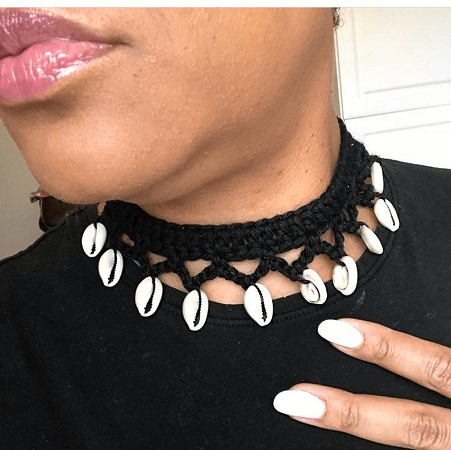 Get the Pattern by Parlez V Crochet here

5. Crochet Alternating Choker Pattern by Red Heart
Use two shades of soft yarn (that is gentle on the skin), a crochet hook, and your own two hands to crochet this stunning necklace. After only 3 rounds and very little time, you'll have a fantastic choker to wear any season of the year!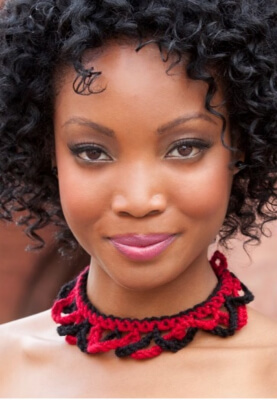 Get the Pattern here

6. Crochet Zig Zag Choker Pattern by The Snugglery
If you're looking for the perfect warm-weather accessory, we have you covered with this cute Crochet Zig Zag Choker Pattern.

For this pattern, you will need some crochet thread. You'll also need a 2mm to 2.55mm crochet hook. You can try thicker yarns and gauges with this pattern for a bolder, chunky look.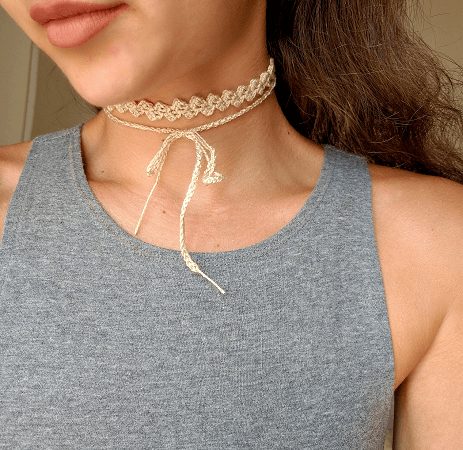 Get the Pattern here

7. Antique Lace Wedding Choker Crochet Pattern by Kirsten Holloway
This Antique Style Lace Wedding Choker Pattern is written for either women or children so both brides or flower girls can wear it. Small flowers, and a pretty ribbon add vintage charm to this heirloom quality crochet project.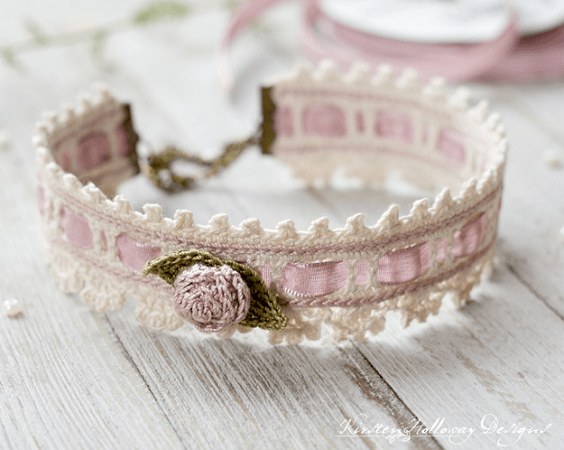 Get the Pattern by Kirsten Holloway here

8. Wrapped In Lace Choker Crochet Pattern by Kirsten Holloway
Sometimes, when it comes to wedding accessories, a simple choker can add so much to the overall look. This Wrapped In Lace Choker is elegant without being overdone, and the best part is that you can crochet it in an evening!

Weave the ribbon tie through in the color of your choice to either match the crochet thread used, or to match the bridesmaids' dresses.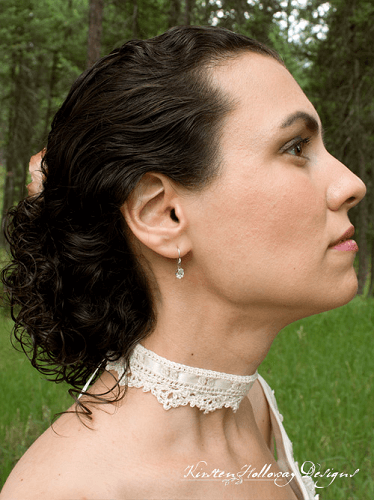 Get the Pattern by Kirsten Holloway here


9. Crochet Celtic Choker Pattern by Outstanding Crochet
Travel in time with this linen Celtic Choker necklace. Influenced by Celtic ornaments, this piece is an attention magnet! This fiber jewelry feels soft on your skin and doesn't get in the way during your daily adventures.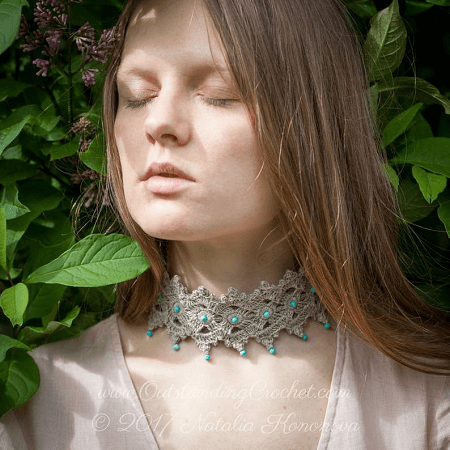 Get the Pattern by Outstanding Crochet here

10. Choker Lace Crochet Pattern by Littlejohn's Yarn
This is not your typical crochet jewelry. This Crochet Choker Necklace Pattern is simple enough for anyone to follow. You will have the option of using crochet thread or worsted weight yarn in this pattern. The choice is up to you.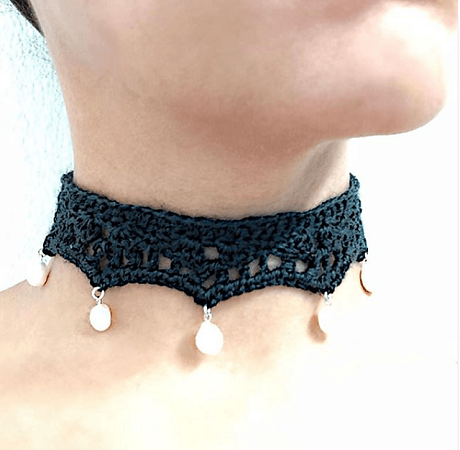 Get the Pattern here

11. Crochet Choker Pattern by Bravo Bijou
This crochet pattern has instructions for making a choker and a bracelet. You may use this motif to make a bracelet or necklace. Why not make both for matching accessories?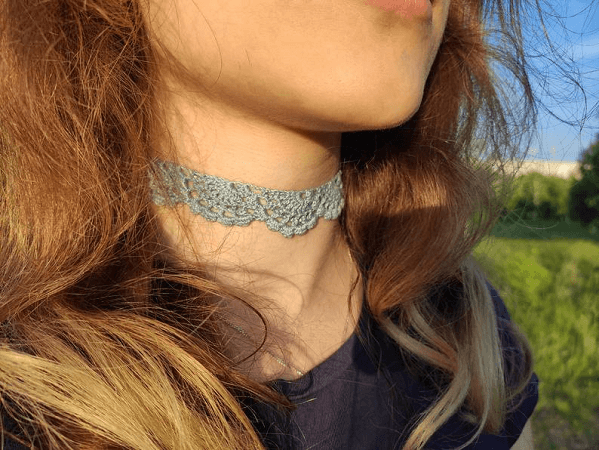 Get the Pattern by Bravo Bijou here

12. Crochet Beaded Choker Necklace Pattern by Amy Paige Designs
This beautifully simple Beaded Choker design with the cluster of beads at the front will bring a dash of sophistication to any outfit. Whether evening, work, or casual this design is very wearable on any occasion.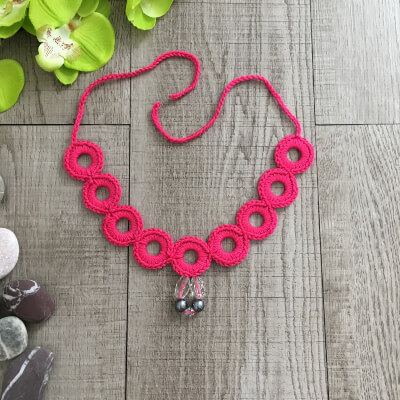 Get the Pattern by Amy Paige Designs here

13. Crochet Lace Choker Pattern by Kristin Omdahl
A simple crochet choker can add so much to the overall look! This Crochet Lace Choker Free Pattern is super easy, and the best part is, you can do this crochet project in one evening.

Make this gorgeous choker necklace not only for yourself, but with the holidays right around the corner, it's a quick handmade gift, too!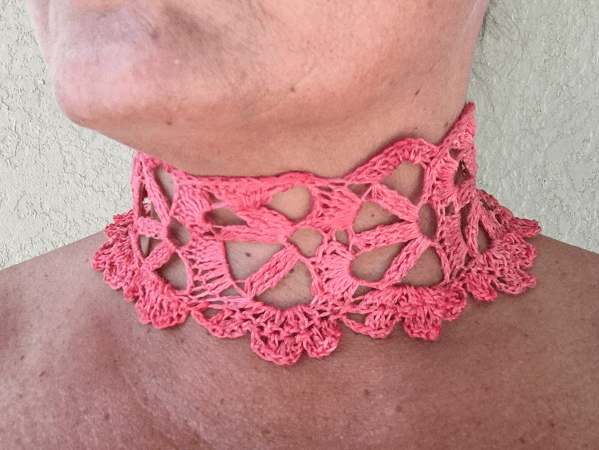 Get the Pattern here
14. Free Crochet Choker Necklace Pattern by Potter And Bloom
This crochet choker pattern will show you each step to make this beautiful, simple lace necklace. You will be able to easily and quickly create this crochet necklace for yourself or for a gift.
Can I be honest with you. As an avid crocheter, this is one of my favorite patterns.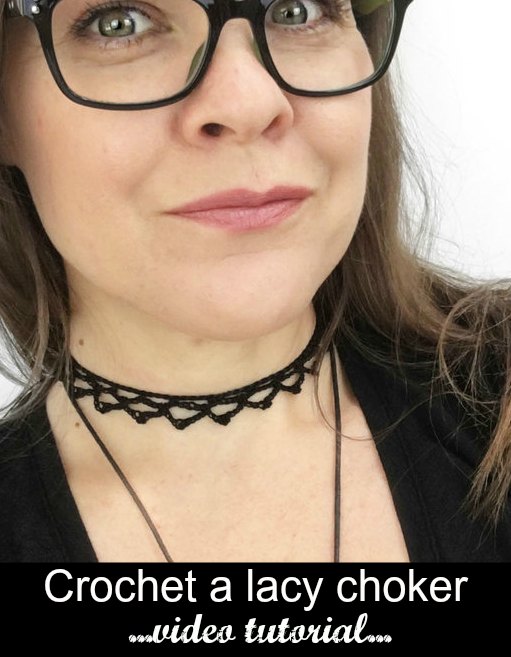 Materials For The Lace Choker Crochet Pattern
For this quick and easy pattern, you only need two things:
crochet thread in the color of your choice, and
a 2 mm crochet hook
Crochet Skill Level Needed
Only beginner stitches are needed as the pattern uses only single stitch (ss) and double crochet stitch (dc).
Due to the size of the hook and thread, it can be slightly more difficult to manipulate at first than working with yarn and larger hook.
However, between the tutorials and just a little practice, you should be able to get on track quickly and have your own crochet necklace in no time.
Not to mention adding working with crochet thread to your skill set!
Lace Crochet Choker Written Pattern
Step-by-step Pattern
To begin: crochet chain in multiples of 4. Once you have a length creating a snug fit, chain 9 more stitches.
Row 1.
Into the 9th chain (ch) from the hook, 1 double crochet (dc). Then ch5, skip 3ch, 1dc into the next ch.
Again, ch5, skip 3ch, 1dc into the next ch. Repeat to the end of the chain. Ch5 more, then turn.
Row 2.
Into the 3rd ch from the hook, single stitch (ss). Then ch3. Stitch 1dc into the first ch5 space. Ch5, then ss into the 3rd ch, in ch5 gap, 1dc.
Then ch5, ss into the 3rd ch, in ch5 gap, 1 dc. Continue to the end. Cut thread.
Be sure to leave plenty of length at each end to tie the choker around your neck.
Crochet Choker Free Pattern Tips
Remember to leave a long length of yarn when you start and finish the project so you can use it to tie on your new choker.
Block after you are finished will help all the details to stand out.
Crochet Choker Necklace Video Tutorial
So, which of these crochet chokers complements your style the most?
Let us know which patterns you plan on making and don't forget to share your finished pieces on our Facebook Page.

Looking for more crochet accessories to personalize an outfit with your own unique flair? Check out our collection of crochet accessories patterns to make such things as bracelets, necklaces, and more!

Now it's time to pick out your favorite crochet choker patterns, grab your hook and some yarn and get crocheting!