This crochet choker pattern will show you each step to make this beautiful, simple lace necklace.
You will be able to easily and quickly create this crochet necklace for yourself or for a gift.
Can I be honest with you?
As an avid crocheter, this is one of my favorite patterns.
Keep reading for the pattern!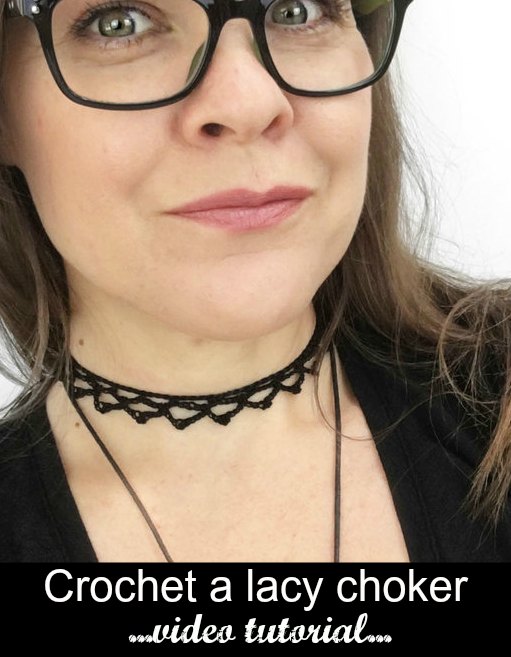 Free Crochet Choker Necklace Pattern
Does anyone else remember Lisa Loeb? I absolutely loved her when I was in school. This lace crochet choker reminds me of something she would have worn back in 1994 or so.
If you have no idea who I'm talking about, no worries. Just imagine a twenty-something with long brown hair wearing a black cat eye glasses. Short sleeve mid-thigh dress, tights and clunky boots.
Pair that with a dainty crochet necklace and you have a common 90's outfit. Since the fashions of the 90's are back in full swing, this seems like a great time to whip up one of these fun lace chokers!
As a woman, I have loved making my own jewelry through the years. And I love to crochet. So, putting the two hobbies together seems like a natural thing to do, right?
This quick and easy pattern can be used to create a crochet choker in a variety of colors, for yourself or as gifts for family and friends.
Dress this crochet necklace up or down depending on the colors you choose and what you want to wear one with. Use black thread to keep it dressier, or any other color you choose with T-shirts.
You can find threads in metallic colors as well, so you could give that a try too! Read on to see what you need to get started!
Materials For The Lace Choker Crochet Pattern
For this quick and easy pattern, you only need two things:
crochet thread in the color of your choice, and
a 2 mm crochet hook
Crochet Choker Skill Level Needed
Only beginner stitches are needed as the pattern uses only single stitch (ss) and double crochet stitch (dc).
Due to the size of the hook and thread, it can be slightly more difficult to manipulate at first than working with yarn and larger hook.
However, between the tutorials and just a little practice, you should be able to get on track quickly and have your own crochet necklace in no time.
Not to mention adding working with crochet thread to your skill set!
Time To Get Started On The Lace Crochet Choker Pattern
Remember, these lace crochet chokers are so quick and easy to make, you can make several of them in different colors!
Don't be afraid to experiment with beads and charms to give these crochet necklaces even more personality!
Because these lace chokers are created by you, you can use your imagination, be creative and most importantly, have fun!
Come on now, get to crocheting! The lace crochet choker isn't going to stitch itself!
Lace Crochet Choker Written Pattern
Step-by-step Pattern
To begin: crochet chain in multiples of 4. Once you have a length creating a snug fit, chain 9 more stitches.
Row 1.
Into the 9th chain (ch) from the hook, 1 double crochet (dc). Then ch5, skip 3ch, 1dc into the next ch.
Again, ch5, skip 3ch, 1dc into the next ch. Repeat to the end of the chain. Ch5 more, then turn.
Row 2.
Into the 3rd ch from the hook, single stitch (ss). Then ch3. Stitch 1dc into the first ch5 space. Ch5, then ss into the 3rd ch, in ch5 gap, 1dc.
Then ch5, ss into the 3rd ch, in ch5 gap, 1 dc. Continue to the end. Cut thread.
Be sure to leave plenty of length at each end to tie the choker around your neck.
Crochet Choker Free Pattern Tips
Remember to leave a long length of yarn when you start and finish the project so you can use it to tie on your new choker.
Block after you are finished will help all the details to stand out.
Crochet Choker Necklace Video Tutorial
Get the Rico Essentials Crochet Thread here