The houndstooth pattern has a timeless elegance that is versatile and beautiful. With its sharp, jagged, and interlocking checks, the houndstooth pattern always catches my attention.
If you are a crocheter looking for a variety of houndstooth patterns, you have come to the right place. Below are 20 striking crochet patterns.
What is the Houndstooth Pattern?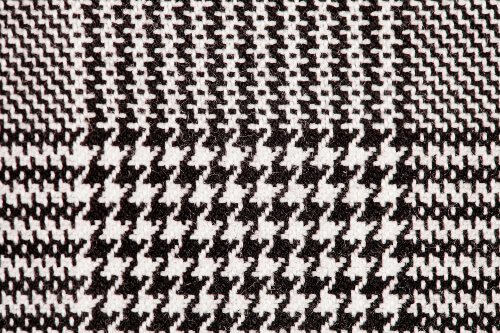 The houndstooth pattern is a distinct design with a repeated, checkered design. The two-tone checkered pattern has jagged or pointed edges. It is often created using alternating light and dark colours. The houndstooth pattern can be found in a wide variety of items such as fashion and home decor.
Houndstooth Pattern vs Herringbone Pattern
The houndstooth pattern and the herringbone pattern are distinctive designs. Both are popular in home decor and fashion. While each pattern features a repeated design, they have distinct visual characteristics. The houndstooth pattern has pointed, jagged checks.
The herringbone pattern has interlocking V-shaped lines that create a zigzag pattern.
What Types of Projects Use the Houndstooth Pattern?
The houndstooth pattern can be found in a wide variety of projects. Some of these are:
Coats
Blazers
Skirts
Dresses
Pants
Scarves
Hats
Ties
Handbags
Pillows
Blankets
Curtains
Rugs
…and More
Step-by-Step Houndstooth Pattern Crochet Stitch Tutorial
Learn how to make the iconic houndstooth pattern with my step-by-step tutorial. The stitch is very easy to master. It is a repetitive stitch that will add a touch of elegance to your crochet projects.
Houndstooth Pattern Stitch Tutorial:
1. Start with a foundation chain of the desired length for your project. The chain needs to be a multiple of 2 plus 1.
2. Insert your hook into the second chain from the hook and work a single crochet.
3. Make a double crochet in the next chain.
4. Make a single crochet in the next chain.
5. Repeat steps 3-4 until you reach the end of the row. You should end with a double crochet. Do not complete the double crochet. Instead, complete the stitch with the next colour.
6. Chain one and turn your work.
7. Make a single crochet in the first stitch.
8. Make a double crochet in the next stitch.
9. Continue working across the row alternating between single crochet stitches and double crochets. You should end with a double crochet. Just as before, do not finish the double crochet. Instead, complete the stitch using the next colour.
10. Repeat steps 6-9 until you have your desired length.
20 Houndstooth Crochet Patterns
Below are 20 houndstooth crochet patterns. I have included a wide variety of items from clothing to home decor.
1. Metro Bag Houndstooth Crochet Pattern by TheCrochetVillage
This stylish houndstooth crochet bag is cute and versatile. You can use the bag as a cosmetic bag, wristlet, or crossbody bag. It is practical and elegant, making it the perfect accessory for any occasion.
The Metro Bag crochet pattern uses simple single crochet stitches. Included are a photo tutorial and links to YouTube videos. The bag is made with sturdy 100% cotton yarn. The inside is finished off with an inexpensive canvas pouch.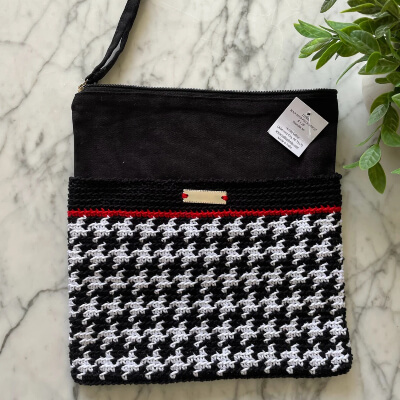 Find the Pattern by TheCrochetVillage Here
2. Houndstooth Pattern Crochet Dishcloth by The Purple Poncho
Make a set of these stylish houndstooth dishcloths for yourself or as a housewarming gift. The dishcloths are perfect for tackling all your kitchen cleaning tasks.
This free dishcloth crochet pattern includes written instructions. It is a very simple pattern that requires knowledge of slip stitch, chain, double crochet, and single crochet.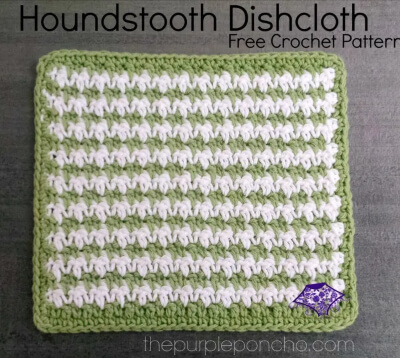 Find the Pattern by The Purple Poncho Here
3. Crochet Houndstooth Slouch Hat Pattern by Crafting4Weeks
Here is a trendy houndstooth slouch hat that combines fashion and comfort. The hat features the classic houndstooth pattern and a fun pom pom. The slouchy design creates a relaxed vibe, perfect for casual wear.
The houndstooth hat crochet pattern includes a range of sizes from newborn to adult. It uses basic colourwork techniques to create the houndstooth pattern. To make the hat, you will need two colours of worsted weight yarn.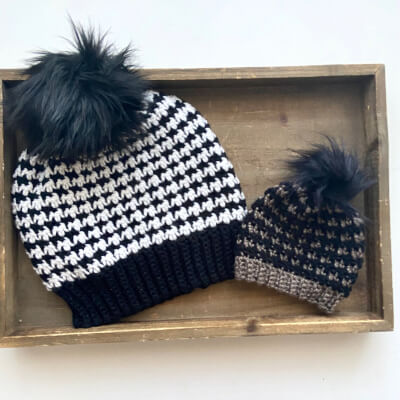 Find the Pattern by Crafting4Weeks Here
4. Houndstooth Cowl Easy Crochet Pattern by JocelynDesigns
Make this compact and convenient cowl to stay stylish and warm. The accessory does not require any wrapping. Simply slip it over your head and go. You can wear it with a coat outdoors or layer it over a sweater.
The Houndstooth Cowl is an enjoyable project that works up quickly with super bulky yarn. The pattern instructions are clear and easy to read.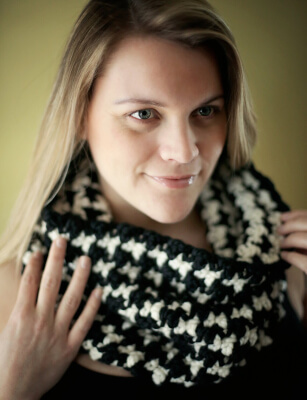 Find the Pattern by JocelynDesigns Here
5. BLAIR Cardigan Houndstooth Crochet Pattern by yumeijie
You can make this classic cardigan for a fraction of the price of high fashion brands. This gorgeous jacket features a 4 button closure, long sleeves, and a houndstooth pattern.
This is an advanced beginner level crochet pattern. The unique pattern is customisable. And to make it even better, there is an interactive Excel spreadsheet. The spreadsheet features an automatic stitches calculator, eliminating the need for manual calculations.
You can also check these Pleated cardigan patterns.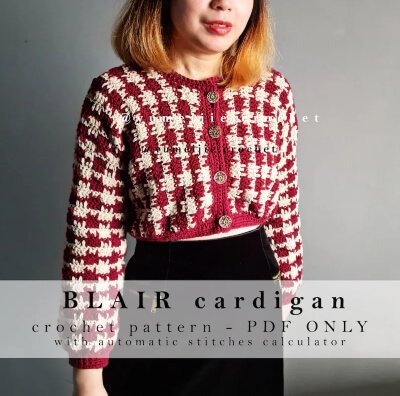 Find the Pattern by yumeijie Here
6. Houndstooth Pattern Crochet Purse by BasimakerDIY
This adorable coin purse has a solid coloured bottom that can be used to add a fun pop of colour. The sides feature a beautiful houndstooth pattern. The purse can be used to store your change or as a cute accessory for your purse.
The finished coin purse measures approximately 4.33 inches (11 cm) x 2.16 inches (5.5 cm) x 2.36 inches (6 cm). Included are instructions, a stitch scheme, helpful pictures, and video tutorials.
Also see: Crochet Coin Purse Patterns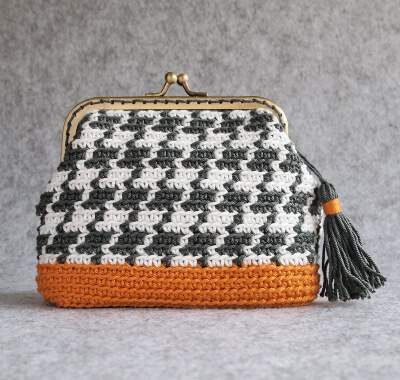 Find the Pattern by BasimakerDIY Here
7. Crochet Houndstooth Cabin Throw Pattern by TwoOfWandsShop
Cosy up by the fire, drape it over your shoulders on the couch, or snuggle up in this blanket in bed. The houndstooth pattern will add a stylish touch to any room.
The Houndstooth Cabin Throw is a beginner-friendly crochet project. The pattern is written in standard US terms. You will need to know single crochet, double crochet, and working in tapestry crochet. Once completed, the throw measures about 46 inches (116.84 cm) wide x 56 inches (142.24 cm) long.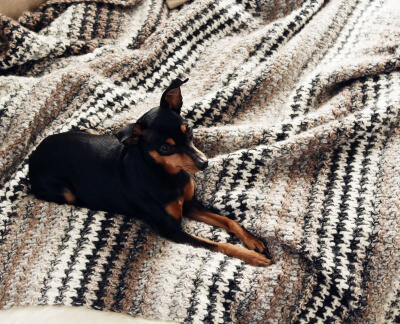 Find the Pattern by TwoOfWandsShop Here
8. Red Heart Houndstooth Crochet Pattern by Yarnspirations
Create a stunning houndstooth throw blanket using this free crochet pattern. The blanket is made with Red Heart Soft yarn that gives the blanket a soft, silky feel with a beautiful drape.
The pattern includes written instructions and an easy-to-follow chart. The finished throw measures approximately 45 inches (114.50 cm) wide x 54 inches (137 cm) long.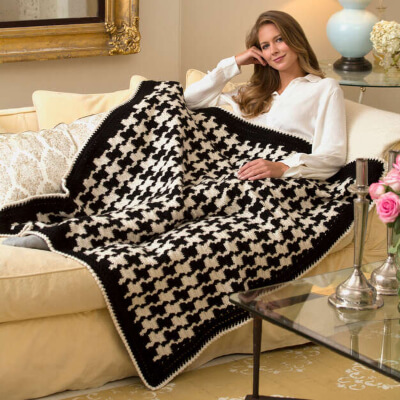 Find the Pattern by Yarnspirations Here
9. Houndstooth Boot Cuff Crochet Pattern by Kailea
With this houndstooth crochet pattern, you can create a fashionable pair of boot cuffs. Not only will they look cute, but they will also add a touch of style to your outfit.
The advanced beginner-friendly pattern can be completed in a single day. The downloadable pattern includes pictures and a video tutorial. All you need to get started are basic tools like scissors, needles, yarn, and a crochet hook.
Find more stylish boot cuff patterns here.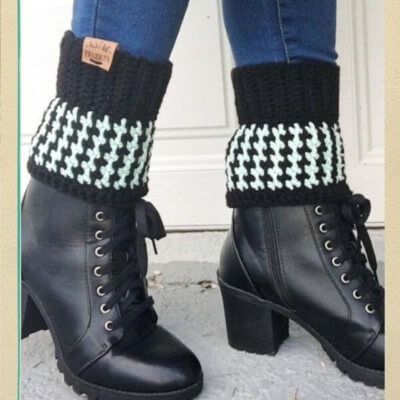 Find the Pattern by Kailea Here
10. Crochet Houndstooth Handbag Pattern by ACrochetedSimplicity
Here is a versatile houndstooth handbag pattern. Use it as your daily handbag or as a project bag. The pattern allows you to choose any colour combination that suits your style. Add a charm, a tassel, or keychain to give it that personal touch.
The designer used Lily Sugar & Cream cotton yarn to make the bag. However, you can use acrylic yarn as well. The finished bag will measure close to 10.5 inches (26.67 cm) long x 7.5 inches (19.05 cm) wide x 7 inches (17.78 cm) deep.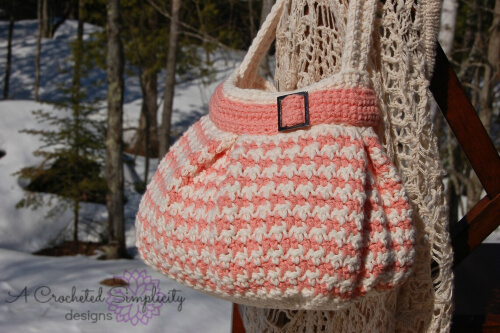 Find the Pattern by ACrochetedSimplicity Here
11. Noelle Blazer Houndstooth Two Tone by MoonBaileysCrochet
The Noelle Blazer is a cropped blazer with detachable waist ties. One side of the jacket features a two-tone houndstooth pattern. The other side is made with a solid colour. The jacket is classy and elegant.
This made-to-measure crochet pattern is written in US terminology. It is suitable for advanced beginners.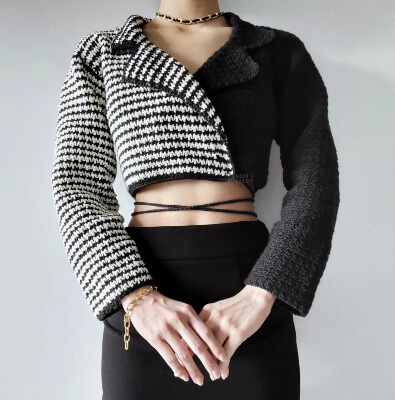 Find the Pattern by MoonBaileysCrochet Here
12. Houndstooth Accessories Crochet Pattern by micahmakes
This crochet pattern includes instructions for fingerless gloves and a matching cowl. The accessories feature a trendy houndstooth pattern.
The crochet patterns are rated easy. They include picture tutorials for colour changes and tips for sewing a neat houndstooth seam. It contains sizes from small, medium, and large gloves, and a one-size-fits-all cowl.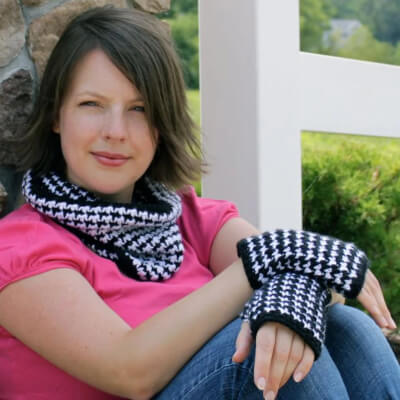 Find the Pattern by micahmakes Here
13. Peppermint Houndstooth Scarf Pattern by Crochet for You
Crochet this fun and cheerful scarf to wear during the winter holidays. The bright scarf features the houndstooth pattern in vibrant peppermint colors. With its playful pom-poms, this scarf is a wonderful accessory that will brighten up your winter wardrobe.
The free houndstooth crochet pattern is easy to follow. Completed, the scarf will measure approximately 7 inches (17.78 cm) wide x 64 inches (162.56 cm) long (including the pom-poms).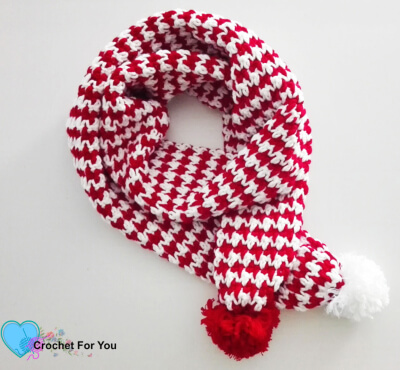 Find the Pattern by Crochet for You Here
14. The Houndstooth Pattern Crochet Pumpkin by Crafting4Weeks
Make several of these pumpkins to add a funky twist to your autumn decor. While they may look complex, they are actually quite simple to make.
The patterns are worked using a combination of single and double crochets. These eye-catching pumpkins can be made in three different sizes: 4 inches (10.16 cm), 6 inches (15.24 cm), and 10 inches (25.4 cm).
You can find all kinds of pumpkin patterns here.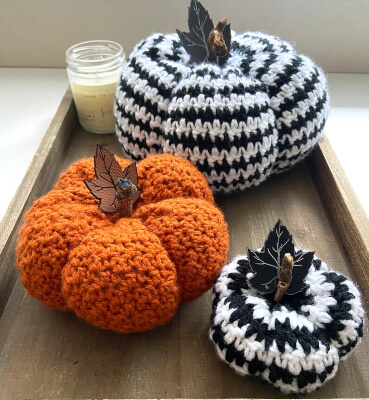 Find the Pattern by Crafting4Weeks Here
15. Cozy Crochet Houndstooth Bandana Cowl by Simply Hooked by Janet
Create your own Morning Mist Cowl to keep you warm on those chilly days. This crochet pattern is both enjoyable and engaging. The cowl is made with a simple repeat, so it is easy to memorise.
The project works up quickly and only requires two colours. It is constructed from the top down, starting with small neck ribbing in rounds. Then it transitions to the body which is worked in turned rounds with increases. You only need to know basic stitches such as chains, single crochet, and double crochet.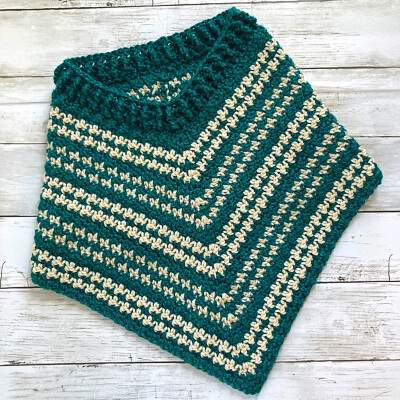 Find the Pattern by Simply Hooked by Janet Here
16. Crochet Scarf Houndstooth Pattern by thecozydragonfly
Add this eye-catching scarf to your winter wardrobe. It is extremely cosy and super cute.
Crocheted with Red Heart yarn (or any 4 weight yarn), this scarf is warm. The pattern is suitable for advanced beginners to intermediate level crocheters. It is written in English, using standard US terms.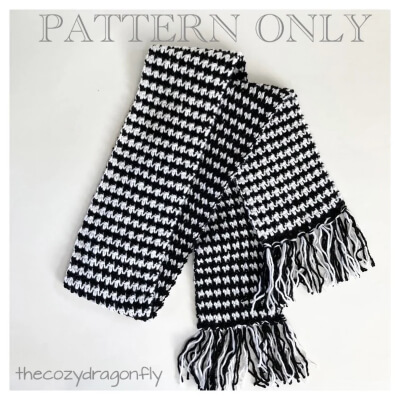 Get the Pattern by thecozydragonfly Here
17. Crochet Houndstooth Mittens Pattern by ACrochetedSimplicity
Stay warm and stylish with a pair of Houndstooth patterned mittens. These mittens can be made with classic black and white to create a timeless design. Or you can also unleash your creativity and experiment with fun, bright colours.
These mittens are designed to fit most adult women. The designer recommends using Patons Classic Wool Worsted. However, you can substitute any worsted weight yarn that creates the proper gauge.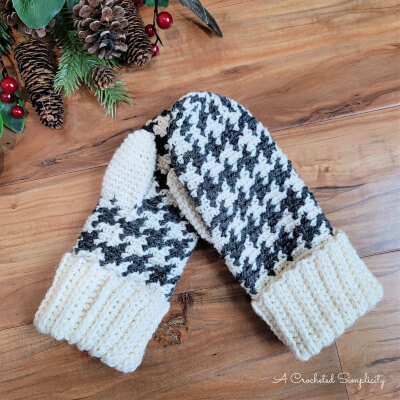 Find the Pattern by ACrochetedSimplicity Here
18. Market Tote Crochet Houndstooth Pattern by The Lavender Chair
Here is the perfect accessory for your trips to the market. The stylish tote bag will add a touch of sophistication to your everyday errands. With its generous size, this market tote can hold all your essentials.
This is a free houndstooth crochet pattern that is suitable for intermediate level crocheters. You will need knowledge of chain, slip stitch, single crochet, half double crochet, and double crochet.
Find the Pattern by The Lavender Chair Here
19. Houndstooth Twist Front Headband Pattern by TheSnuggleryPatterns
Make a sleek and modern houndstooth patterned headband with this beginner-friendly colourwork pattern. The turban twist front adds a stylish element while cleverly hiding the seam.
To make the headband, you will need a 5 mm crochet hook and worsted/aran weight yarn. The download includes a supplies list, sizing information, and step-by-step written instructions. Plus, there is a free YouTube video tutorial you can check out before making your purchase.
Also see: Lovely Crochet Twisted Headband Patterns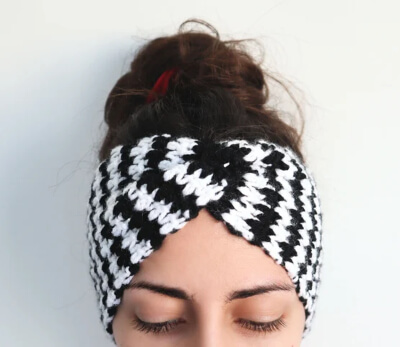 Find the Pattern by TheSnuggleryPatterns Here
20. Houndstooth Hand Towel Pattern from MsButtoned
Are you looking for an easy houndstooth pattern crochet project? This classic, yet modern crocheted hand towel was designed with simplicity in mind. The hand towel has a thick texture that is perfect for drying your hands.
This crochet pattern uses basic stitches. You can make a towel in about 10-12 hours. After washing and drying, the finished hand towel will measure approximately 15.5 inches (39.37 cm) x 25.5 inches (64.77 cm).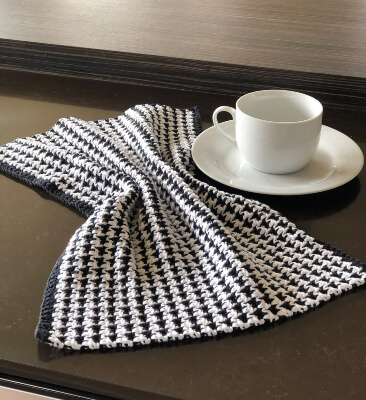 Find the Pattern from MsButtoned Here
Frequently Asked Questions About the Houndstooth Pattern
How did the houndstooth pattern get its name?
The houndstooth pattern got its name due to its resemblance to the jagged teeth of a hound dog. The unique design features a series of alternating dark and light coloured, shapes.
The repetitive pattern creates a visually striking design.
Is the houndstooth pattern trendy?
The houndstooth pattern is trendy. The timeless design has made a resurgence in recent years. Its versatility allows it to be used to create various garments, accessories, and even home decor.
Are there other names for the houndstooth pattern?
Yes, the houndstooth pattern is also known by other names. Some alternative names are shepherd's check, dogtooth, and pied-de-poule.
How can I combine the Houndstooth pattern with my wardrobe?
The houndstooth pattern can be used as an accent piece, or you can use it to make a statement. You can mix the houndstooth pattern with solid neutral colours or bright colours.
Neutrals will help create a timeless look. While bright colours will create a more modern style.
What is the best season to wear houndstooth?
The houndstooth pattern is popular during the fall. However, the versatile design can be worn throughout the year. During the colder months, the houndstooth pattern is often found on coats and blazers.
During the warmer months, houndstooth patterned accessories can add visual interest.
The houndstooth pattern is a timeless and versatile design that never goes out of style.
The houndstooth pattern has a timeless appeal. Whether it is used in clothing, accessories, or home decor, the pattern adds a touch of visual interest. With its continuing popularity and versatility, the houndstooth pattern is sure to be a favourite design for many years to come.