Granny squares are still going strong in the fashion scene, and for good reason! These iconic little squares add a touch of whimsy and a splash of color in all the best ways. Show your passion for the granny square motif on these granny square scarf crochet patterns!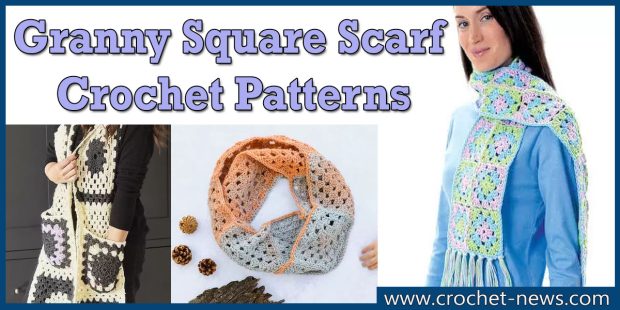 We're big fans of crochet granny squares. They're quick and easy to make, as well as great for using up any left-over bits of yarn in your stash. It's really easy to learn how to make granny squares and once you've made a few you can simply join them to each other to make a scarf.

You can make granny squares big, small, tight, loose, from a single color or many colors. The only guidelines are to find a beautiful yarn you'll really want to cuddle, and have a fun time inventing each unique square
15 Granny Square Scarves Crochet Patterns

1. Long Chevron Granny Square Scarf Crochet Pattern by Deni Made Designs
Make a statement with this Long Chevron Granny Square Scarf that is made with a beautiful sunburst granny square, rows and rows of colorful granny stitches, and a fun twisted fringe.

With its attractive chevron stripes and the fabulous color combinations you can imagine, this scarf will undoubtedly add a touch of whimsy and fun to your wardrobe.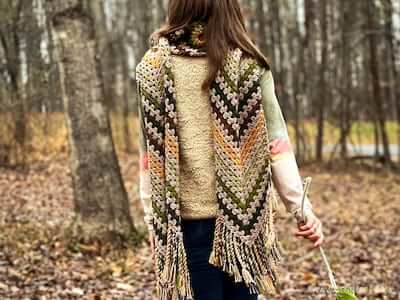 Get the Pattern by Deni Made Designs here

2. Crochet Granny Square Scarf Pattern by Annie Design Crochet
This fabulous scarf is just 14 granny squares sewn together, a fun border added on either side and some great looking tassels to finish. Make it as shown or assemble your own combination of shades for a custom look that suits your style and taste.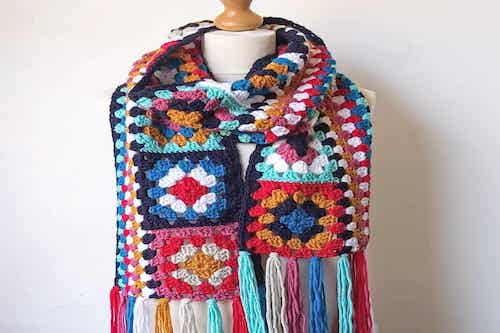 Get the Pattern here

3. Free Skinny Crochet Granny Square Scarf Pattern by Simply Hooked By Janet
This crochet V scarf uses the original granny square to create a fun modern design. It's a nice 2-tone skinny scarf and uses a DK weight yarn for a lightweight accessory perfect for Spring!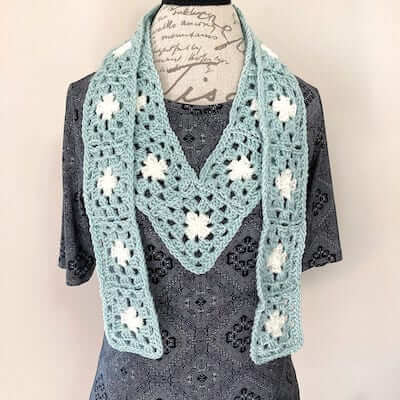 Get the Pattern here

4. OOAK Crochet Granny Square Scarf Crochet Pattern by Kyla Zoran
Get festival ready with this free spirited granny square scarf, it's super easy to make and fast to work up! This OOAK scarf with fringe will make an excellent statement accessory and a great stash-buster. Choose your own colorway to match your wardrobe. It makes a perfect gift, too!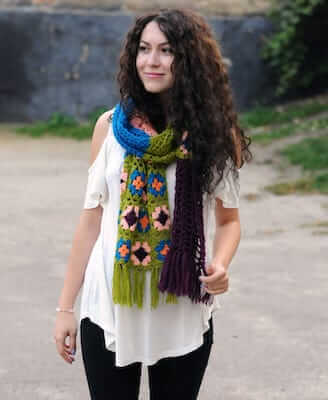 Get the Pattern by Kyla Zoran here

5. Eva Chunky Granny Square Scarf Crochet Pattern by PURE By Linda Whaley
This chunky granny square scarf would keep you cozy this winter and these super size granny squares make it a quick crochet project! It will look great in a variety of colors, or keep it as shown for a versatile look that anyone loves.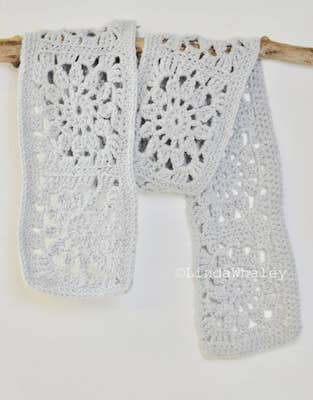 Get the Pattern by PURE By Linda Whaley here

6. Granny Square Infinity Scarf Crochet Pattern by Left In Knots
Scarves are often a first make for newbie hooksters, and it's easy to understand why. A simple Granny Square Infinity Scarf that hooks up in super-quick time and is just perfect for blocking out the chill winter winds. Make yours using granny squares and your favorite one skein of gradient yarn.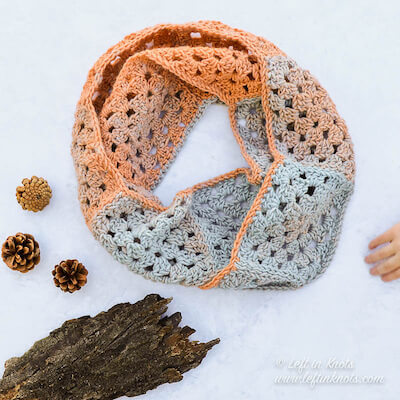 Get the Pattern here

7. Crochet Heart Granny Square Scarf Pattern by Dublin Bay Crochet
Keep cozy with this alluring crochet scarf that adds a bit of romance to your look! It's a new take to classic granny squares by using tapestry crochet to form the heart. It's a toasty gift, so make a few to please everyone on your list.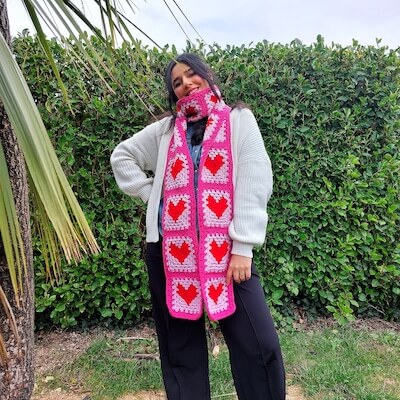 Get the Pattern by Dublin Bay Crochet here

8. Crochet Granny Scarf Pattern by Annah Haakt
Combining beautiful three eye-catching hues transforms the easy granny square scarf into a gorgeous accessory. Only you will know how easy it was to crochet it! I love the bulky look of this and the possible color combos are infinite!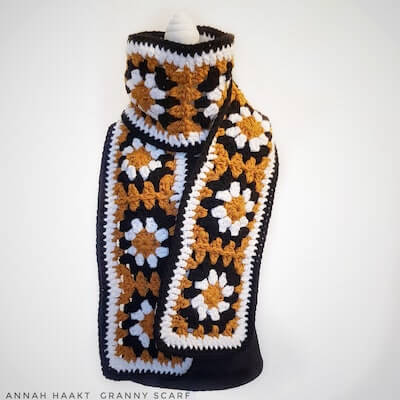 Get the Pattern by Annah Haakt here

9. Granny Square Scarf With Pockets by Good Housekeeping
Get ready to lounge around with an oversized pocket scarf perfect for cozying up at home. Stitch up this oversized scarf using jumbo sized-granny squares which feature a treble crochet circular center for added interest. Easily customize your scarf by switching your color pattern.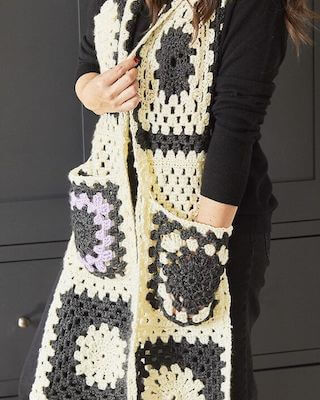 Get the Pattern here

10. Tulip Square Scarf Crochet Pattern by Wilmade
This Tulip Square Scarf is made with 6 squares and 16 triangles. Optional tassels add an extra finishing touch. Simple, yet so attractive, this oversized scarf is just what you need to update this season's wardrobe.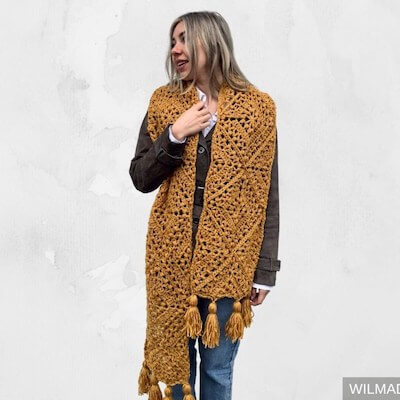 11. Grayscale Granny Square Crochet Super Scarf by Kristin Omdahl
Stitch oversized granny squares together to achieve the length you want for this super scarf. Easily crochet your work in whatever color adventure you imagine, and in whatever length you prefer.

Conquer the cozy temperatures and bundle up with this bold super scarf, or simply drape it over the shoulders as an extra layer. It's the perfect accessory for your casual outfits!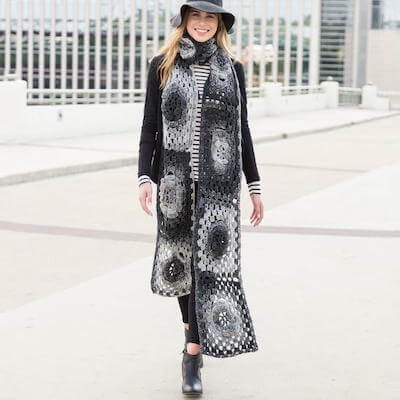 Get the Pattern here

12. Free Granny Square Scarf Crochet Pattern by Katia
As classic as classic gets, granny squares never grow old! This pattern turns the motif's possibilities into a game board by letting you combine granny squares as you wish to create your personal style. The rules aren't clear, but the outcome is… A very winning scarf, indeed!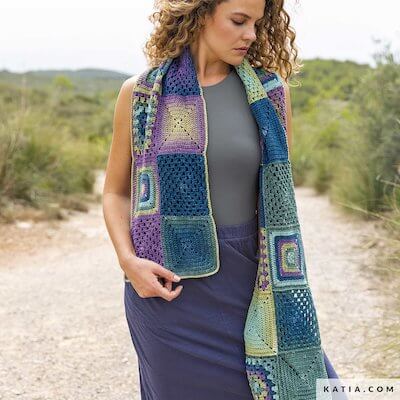 Get the Pattern here

13. Granny Square Scarf Crochet Pattern by Yarnspirations
Novice crocheters, fashion this for your any lady in soft hues to create a modern finish they'll love. Make the pattern come to life in the playful shades shown, or in the interpretation you envision for this fun fashion essential. Make it personal by uncovering favorite shades before you begin.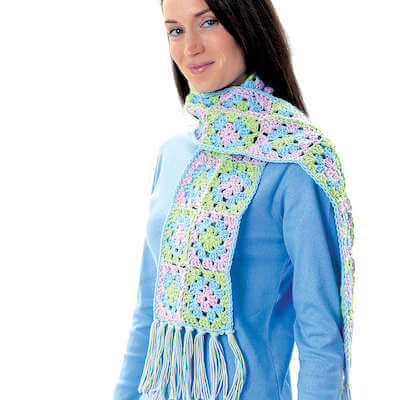 Get the Pattern here

14. Festival Granny Square Scarf Crochet Pattern by Debbie Bliss
Let's give credit where credit is due and thank grannies for the endlessly fascinating square that bears their name. That said, we are certain that no grannies ever intended to keep their techniques a secret, and this granny square scarf is one that anyone can make!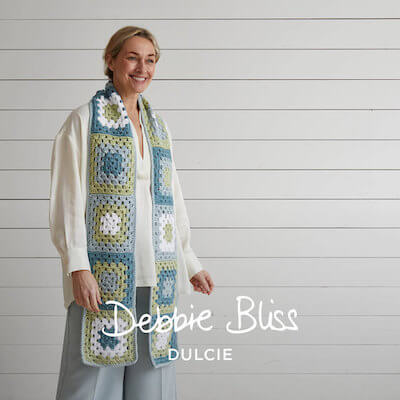 Get the Pattern by Debbie Bliss here

15. Sunflower Granny Square Scarf Crochet Pattern by Lullaby Lodge
Sunflowers always make me feel so happy, I love the cheery brightness of the petals and the intricate honeycomb effect of the seed head. For this pattern, you will use 12 sunflower granny squares joined together, with big poofy tassels at the ends. Treat yourself for one or make it as a last-minute gift for someone you love.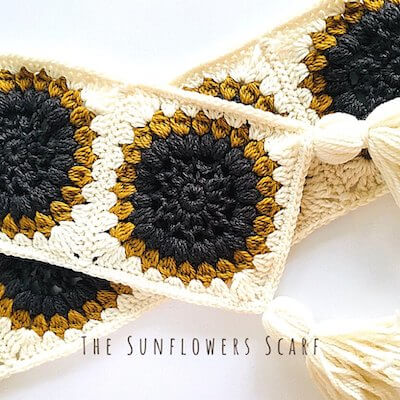 Get the Pattern by Lullaby Lodge here
SHOW OFF YOUR SQUARES IN STYLE WITH THESE GRANNY SQUARE SCARVES!
If you get easily bored of making the same thing over and over again, pick a project that has different motifs involved, or mix them up yourself. I'm excited to see what you come up with, so be sure to share it with me on our Facebook Page!
If you're only just starting out on your crochet journey, catch up with the basics with our guide to how to crochet granny squares. And if you're looking for individual square patterns, you can find loads of them in our Crochet Granny Square and Square Patterns post!
Happy crocheting, and may your granny square scarf be the first of many beautiful creations to come!