So I've just about managed to squeeze in more crochet beanie patterns, but you can't blame me, as these are made up of our favorite motifs – granny squares! These crochet granny square beanie patterns are great projects for stash-busting and using up any old leftover bits of yarn – perfect for Granny Square Day!
10 Granny Square Beanie Crochet Patterns
Granny squares are commonly used to make blankets. But they are a versatile base for various crochet projects, such as scarves, cardigans, shawls, and in fact any fabric project that can be broken down to squares. That includes beanies, as well. Have fun using colors and styles that speak to you!

1. Crochet Granny Square Beanie Pattern by Lullaby Lodge
This hat is designed to fit an adult and is quite snug around the brim and slightly slouchy at the top. 4 squares are joined together with ribbing added at the brim and granny stitch shaping at the crown.

It works up pretty fast, making it a great quick and easy gift.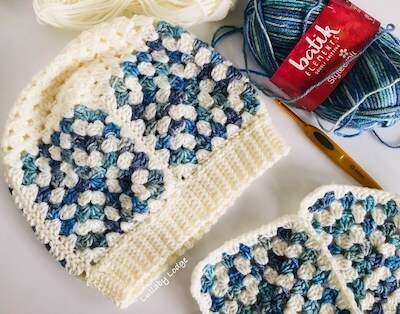 Get the Pattern by Lullaby Lodge here

2. Boho Granny Square Beanie Crochet Pattern by The Hat And I
This characterful beanie puts an up-to-the-minute spin on 90s boho style. It's a simple beanie shape, yes, but the different sized granny squares fit together perfectly and the beautiful yarn used keep things playful.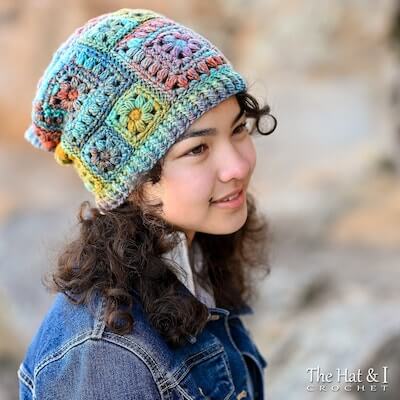 Get the Pattern by The Hat And I here

3. Crochet Granny Square Beanie by Cozy Creative Crochets
Super-bulky yarn and an easy pattern means that you can crochet this hat in a jiff! Cool idea for a gift hat!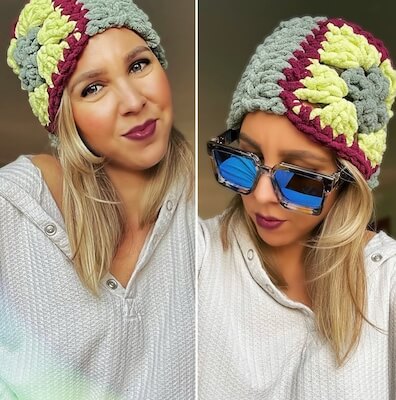 Get the Pattern by Cozy Creative Crochets here

4. Granny Square Brimmed Hat Crochet Pattern by Heather Gibbs
Here's a hat with a granny square brim! It's amazing how versatile a little square motif could be – they're not just for blankets!

This design is designed with a beginner in mind, though a more accomplished crocheter would enjoy it as a quick and easy project, too.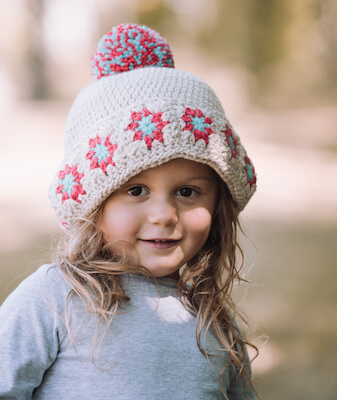 Get the Pattern here

5. Crochet Dahlia Beanie Pattern by Kathy's Crochet Closet
Welcome spring with the bright and cheerful style of this Dahlia Beanie. It features beautiful Dahlia flower granny squares and crocheted with worsted weight yarn. Work it in bold shades or use subtle colors to create a stylish and cozy, must-have accessory!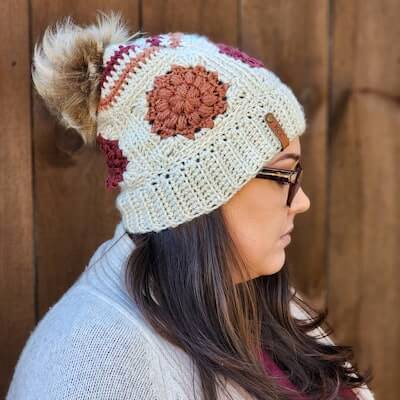 Get the Pattern by Kathy's Crochet Closet here

6. Granny Square Heart Beanie Crochet Pattern by Anns Clst
Save your scraps and put them to use to create this crochet beanie adorned with heart-shaped granny square motifs. It's a must-have item and a great gift idea!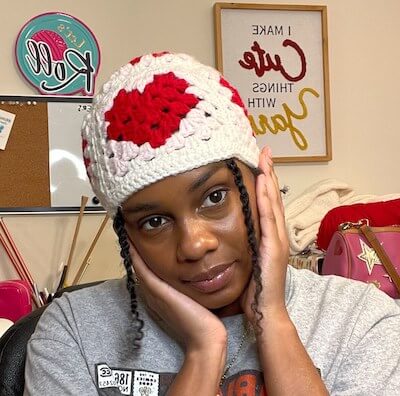 Get the Pattern by Anns Clst here

7. Granny's Square Dance Slouchy Beanie Crochet Pattern by The Hat And I
This hat wears with a slouchy look that's on-trend and perfect for any fashion loving lady. This stylish accessory is topped with a cute and colorful pompom for the perfect finishing touch.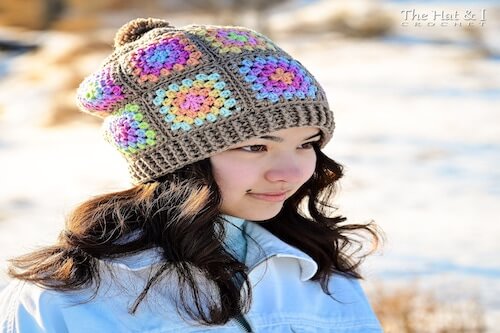 Get the Pattern by The Hat And I here

8. Crochet Granny Square Hat Pattern by Fran Morgan
Escape into the rhythmic stitches of this stylish, yet practical crochet granny square hat. Iconic granny squares accent this packable beanie for a look that's both nostalgic and current. No matter the color you choose, this boho topper is sure to turn heads.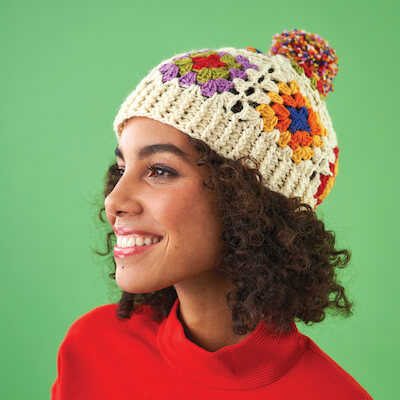 Get the Pattern here

9. Crochet Granny Square Beanie Pattern by Charka Design
Brighten up your day with this vibrant granny square beanie! Shake things up by swapping out colors to suit your tastes.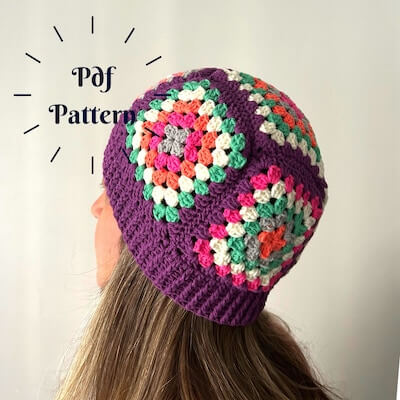 Get the Pattern by Charka Design here

10. Granny's Love Beanie Crochet Pattern by Kate Veselunka
The classic granny square is front and center when making this retro-inspired crochet beanie. This 100% cotton finished topper makes the perfect project when getting the family ready for winter.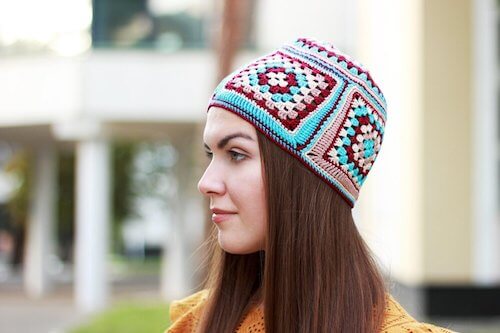 Get the Pattern by Kate Veselunka here
IF YOU'RE LOOKING FOR A FAST CROCHET PROJECT THAT STILL PACKS A REALLY POWERFUL STYLE PUNCH, THESE GRANNY SQUARE BEANIES ARE MY GO-TOS.
Show your makes with us on our Facebook Page. I'd love to see what colors you use to crochet your newest projects in!
Granny Squares are a fantastic place to start if you're new to crochet. Here's a collection of crochet granny square patterns—there are a whole blanket-load of them to choose from! You can also check out our full how to crochet granny square tutorial, which includes step-by-step photos and handy tips for beginners.

Once you've made some squares and are ready to turn them into a project, take a look at our tutorial on how to join granny squares together. It's a handy guide so you can get your joins looking perfect!
As much as I love a nice crochet granny square blanket, there's so many more uses for these cool little crochet squares. These granny square beanies are the perfect examples! Have fun making them!