Who does not love Olaf? The unwavering positive snowman took the world by storm when Disney's Frozen was released. He may be irritating and annoying, but he is also clever and extremely loveable. If you have an Olaf fan in your life, an Olaf Amigurumi would be the perfect present.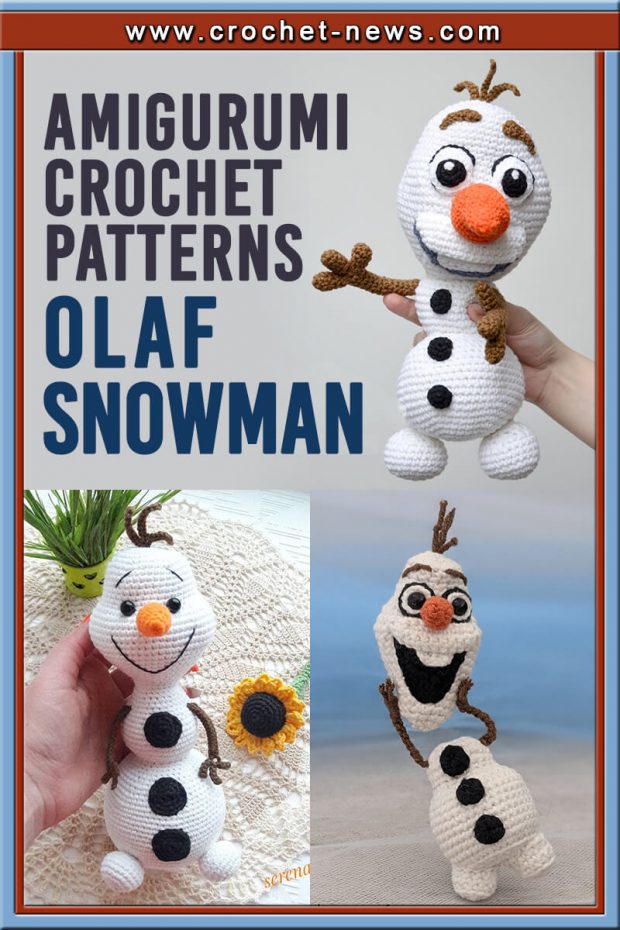 CREATE YOUR OWN REALISTIC OLAF SNOWMAN WITH THESE 15 OLAF AMIGURUMI PATTERNS!
We have found 15 different Olaf Amigurumi patterns that are sure to please anyone that is an admirer of this cute little snowman.
1. Olaf By Frozen by Amigurushki
This pattern produces a classic Olaf. When you think of this little guy, this is how you picture him. The pattern includes 10 pages of detailed instructions and photos.
To make this crochet Olaf pattern doll you need to have basic to intermediate crochet and amigurumi skills. Using the recommended hook size, the finished Olaf will measure approximately 12" tall.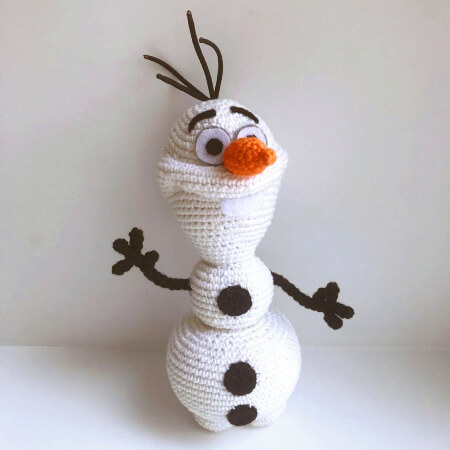 Find this Pattern by Amigurushki HERE
 2. Crochet Olaf Amigurumi Pattern by AnyaZoe
You can create this tiny Olaf with this easy-to-follow pattern. You will need to know basic crochet stitches including half double crochet stitch and double crochet stitch. Simply increase and decrease stitches to create his little body and head.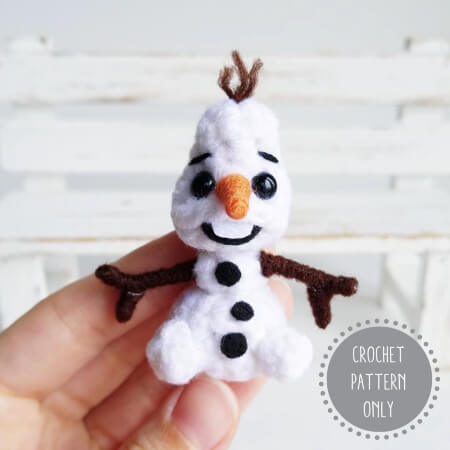 Find the Pattern by AnyaZoe HERE
3. Olaf Amigurumi by Chiara Cremon
This free Olaf Amigurumi pattern produces a crochet Olaf that measures approximately 4 inches tall. As we all know, Olaf can have a hard time keeping his head on his body.
And this pattern takes this into consideration. Leave the head unattached, so you can place it in different positions and have fun.
To make this crochet Olaf pattern you need to have intermediate and above crochet and amigurumi skills.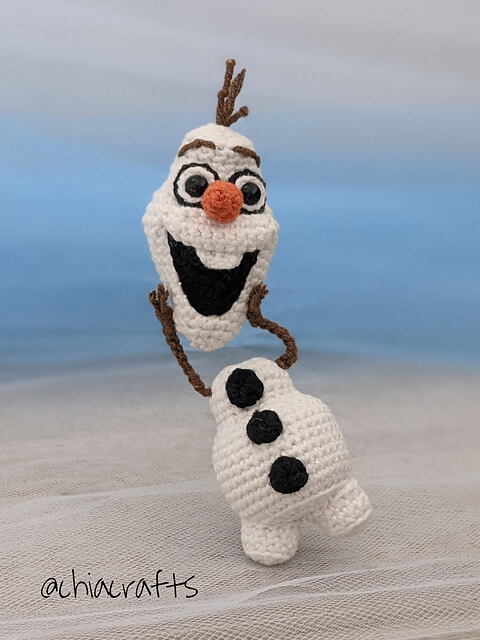 Find the Pattern by Chiara Cremon HERE
4. Amigurumi Elsa & Olaf Snowman Pattern by Rabbizdesign
Olaf needs and friend and this pattern includes both Olaf and Elsa. This adorable duo will bring a smile to anyone's face.
Using the recommended yarn and needles, the finished size of Elsa is 6 inches and Olaf is 3.5 inches.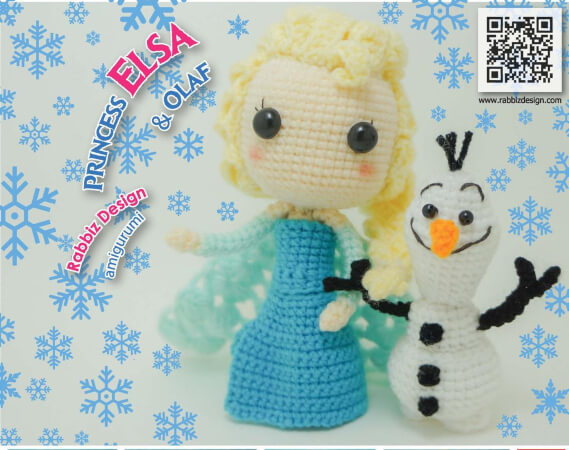 Find the Pattern by Rabbizdesign HERE
5. Tsum Tsum Olaf Amigurumi Pattern by KawaiiFuwa
Tsum Tsums are highly collectable and lovable. You can stack them, rearrange them, and play with them. They are a craze that is not going to go away anytime soon. This Olaf Amigurumi pattern creates an adorable round Olaf.
To complete this pattern, you will need to know how to create a magic ring, single crochet, slip stitch and increase and decrease.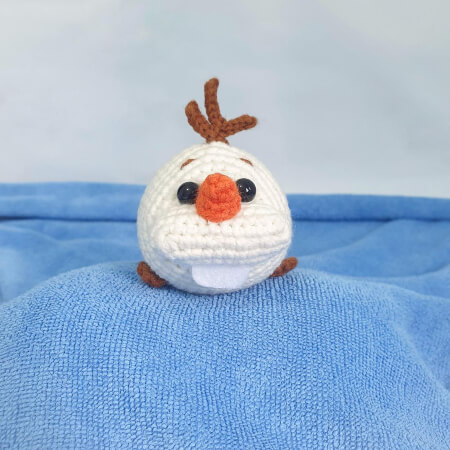 Find the Pattern by KawaiiFuwa HERE
6. Crochet Olaf Amigurumi and Crochet Frozen Deer Toy Pattern by PatternsByPortik
Olaf is not complete without his best friend Sven. These patterns are easy to follow with step-by-step instructions. Sven's legs are poseable.
You will need to have intermediate knowledge of crocheting techniques including crocheting in rounds, crocheting in rows, single crochet, slip stitch, increase, decrease, modelling from a plastic and crocheting with thin yarn.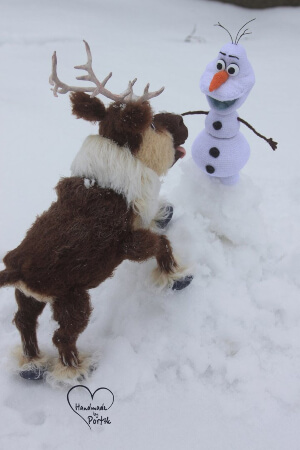 Find the Pattern by PatternsByPortik HERE
7. Crochet Olaf from Frozen Amigurumi Pattern by ChiWei
This Free Olaf Amigurumi crochet pattern has detailed step-by-step instructions. If you are looking for a pattern to create a classic Olaf that is squishable and loveable this one maybe it.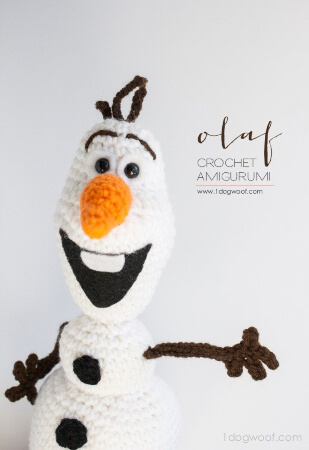 Find the Pattern by ChiWei HERE
8. Crochet Frozen Olaf Snowman by GelikToys
Olaf is always very animated and has a hard time keeping his head on. This crochet Olaf pattern incorporates magnets, so you can pose this snowman in several different positions. Only basic crocheting skills will be needed to make this pattern.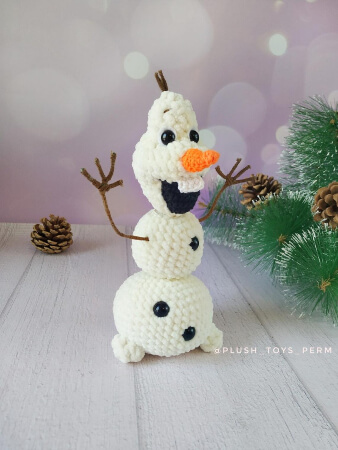 Find This Pattern by GelikToys HERE
9. Olaf Crochet Pattern by YarnCreationsGalore
What child would not love to have an Olaf crochet hat? This Olaf amigurumi pattern has step-by-step instructions and pictures. It is easy to follow and understand. It can be created for a child or an adult.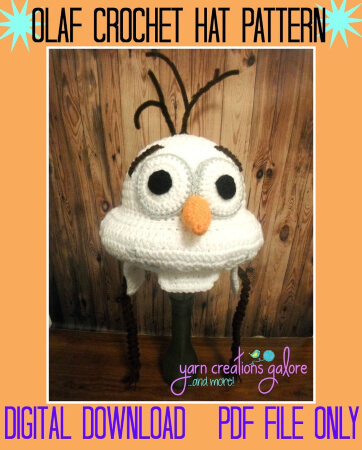 Find the Pattern by YarnCreationsGalore HERE
10. Olaf Snowman Crochet Pattern by Oksana Rozhnova
This unique take of the Olaf snowman is cute and happy. The oversized coal buttons and happy smile make this crochet Olaf stand out from the rest. Using the recommended yarn and needles the finished character measures approximately 7.8 inches.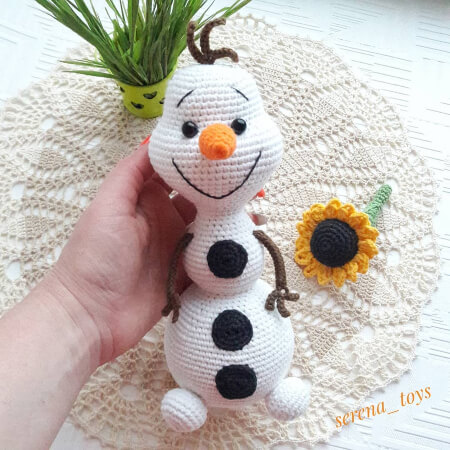 Find the Pattern by Oksana Rozhnova HERE
11. Princess Crochet Pattern by KrafternoonGifts2
A security blanket can help to relieve stress and anxiety. And what could be better than a blanket that incorporates an Olaf amigurumi head?
The pattern also includes Elsa and Anna security blankets. These security blankets are the perfect size for small children.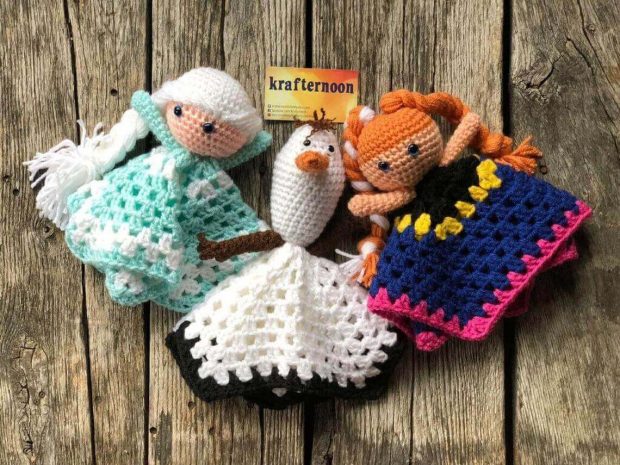 Find the Patten by KrafternoonGifts2 HERE
12. Olaf and the Snowgies Crochet Pattern by Bigurumi
This large Olaf amigurumi measures approximately 23.6 inches tall, the Snowgies are 4.3 inches tall. Olaf's arms and mouth are moveable. The Santa hat and Snowgies are separate.
Olaf's flexible arms can be shaped to hold the Snowgies or carry them in the hat. This Olaf would be great for a collector. The pattern uses plastic coated wire for Olaf's mouth, arms and head twigs.
The head twigs are removable. We would not recommend this Olaf Amigurumi for children or pets.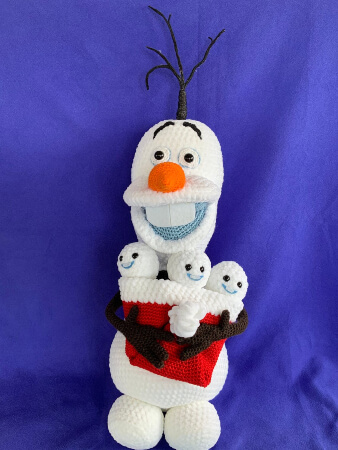 Find the Pattern by Bigurumi HERE
13. Crochet Olaf Amigurumi Pattern by ANAPADIY
If you are looking for an easy Olaf Amigurumi pattern, this one can be completed by an experienced beginner. The instructions are clear and easy to follow.
You will need to know chain stitch, slip stitch, single crochet, skip stitch, back loop only, front loop only, Increasing, decreasing, and straight stitch. The finished size is approximately 9 ½ inches tall.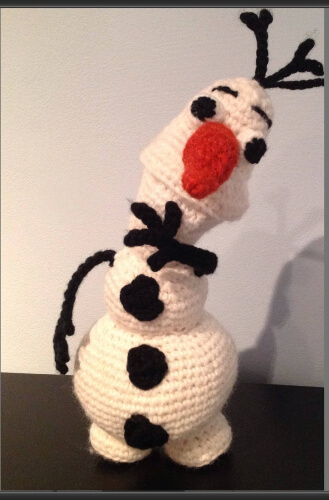 Find this Pattern by ANAPADIY HERE
14. Frozen Amigurumi Crochet Pattern by AmigurumiTRDesignTeam
This pattern includes directions for Anna, Elsa and Olaf from Frozen. This finished Anna measures approximately 21 ¼ inches, Elsa is 21.8 inches and Olaf is 12.6." Your Olaf needs friends.
Why crochet only Olaf when you can create Anna and Elsa too? Here are more Crochet Frozen Crochet Patterns for you to not let go.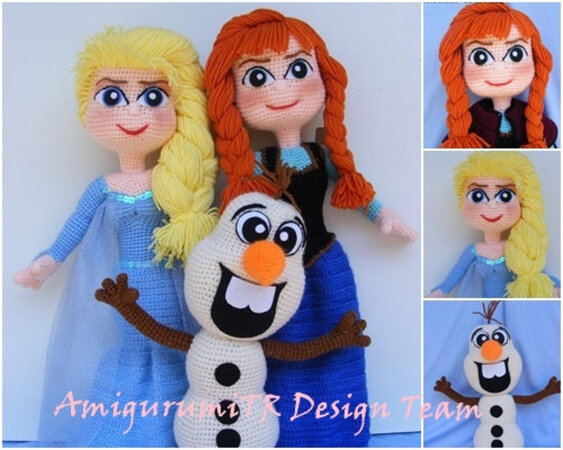 Find the Pattern by AMIGURUMITRDESIGN HERE
15. Olaf Amigurumi Pattern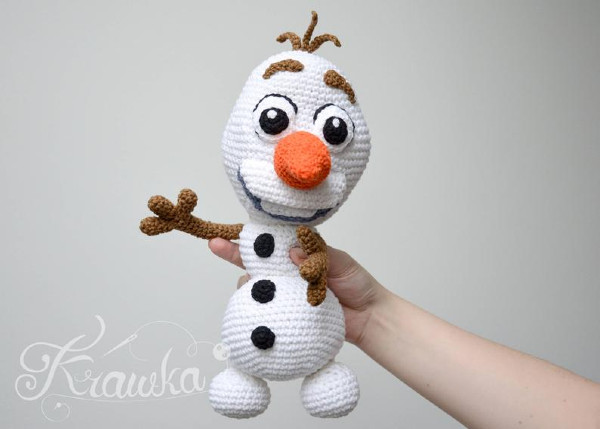 This Frozen: Olaf Amigurumi pattern creates a real life Olaf Snowman that kids and kids at heart will both love!
Olaf is the friendliest snowman you'll ever know.

For the mothers out there, I know that by now, you're probably sick and tired of watching Frozen again and again. Now, you have an alternative choice: Frozen 2!
What a hook this series is to your kids!
From costumes, backpacks, and to anything Frozen designed item out there, I know your kids desire for them. So today, I'm introducing to you this Olaf crochet pattern by Kamila Krawczyk!

The carrot-like orange nose, it's big black eyes, the three brown hair strands and twigs that act as the arms are descriptions I know you and your kids are very very very familiar with!
This crochet olaf pattern creates an exact realistic Olaf Snowman, as seen in the movies.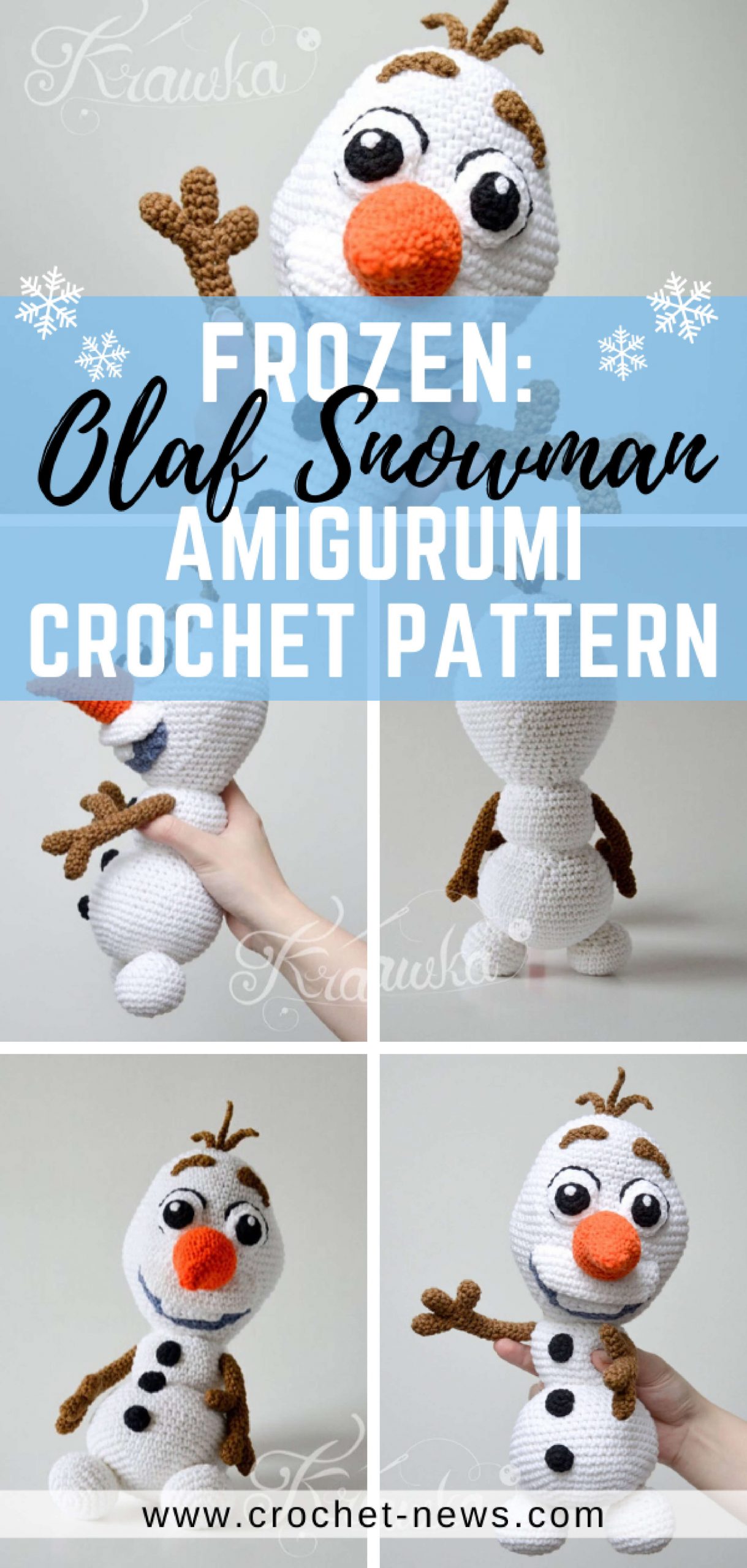 Kids will definitely love this olaf crochet pattern as most kids are a fan of the movie Frozen and very familiar with this well-loved character, Olaf Snowman.
Another thing is, this crochet olaf pattern is ideal for this winter season. But for sure, the kids' Frozen obsession isn't just for winter season. I know for a fact that it's all year round!
So all year round, this Olaf amigurumi can be your kids' companion.
Scroll down to know more about this crochet olaf pattern.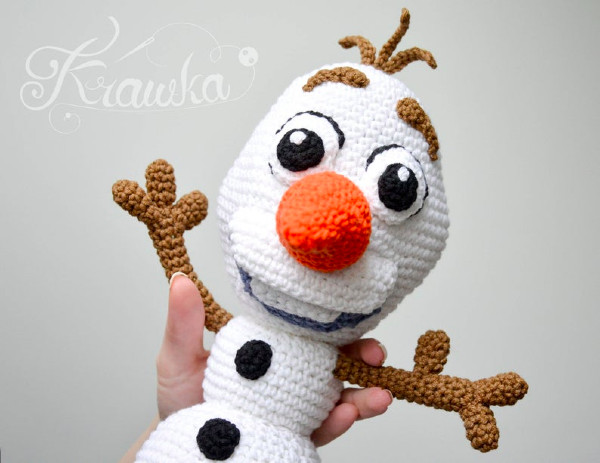 SKILL LEVEL FOR THIS OLAF CROCHET PATTERN
Medium to advance crocheters

MATERIALS FOR CROCHET OLAF PATTERN
Yarn – 174 yards (159 meters) for 50 g
– weight Sport / 5 ply (12 wpi)
Gauge – 24 to 30 st is 4 inches (10 cm)
D Hook – 3.25 mm

FINISHED OLAF AMIGURUMI SNOWMAN MEASUREMENT
The finished crochet olaf snowman is 32 cm (12.5 inches) tall.

STITCHES FOR THE OLAF SNOWMAN
This crochet olaf pattern requires a sharp eye on the detail to create an equal size of the body parts such as eyes, eyebrows, feet, and arms.
To successfully create this olaf crochet pattern, you must know some basic crochet stitches: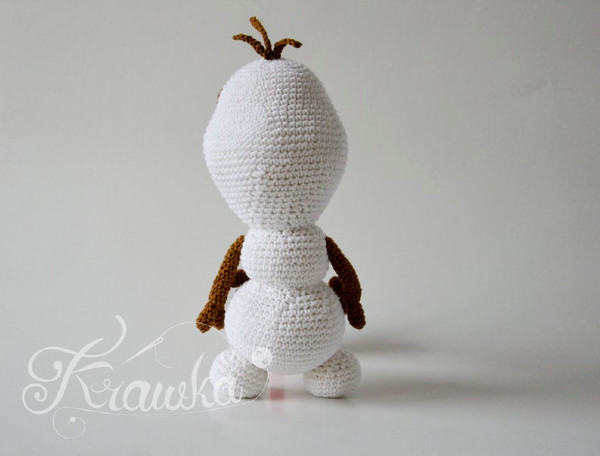 Don't have kids of your own? It's okay. You can make this olaf amigurumi for your niece or nephews or for your friend's kids. Or maybe for your friend who still loves to go to Disneyland and is still obsessed with anything Disney.
You can even make it for yourself! After all, the magic of childhood that Disney brings, never ends!
Let it go, let it go
And I'll rise like the break of dawn
Let it go, let it go
Despite the famous song from the Frozen movie, I know it's hard to let go of this Frozen: Olaf Snowman Amigurumi Crochet pattern.
Here are our Favourite Crochet Snowman Patterns
These Olaf Amigurumi patterns are for kids and adults alike. Show off your crochet skills by creating these cute plush Disney Frozen characters.
Crocheting is not only for afghans and hats. You can also create adorable plush characters. Any Frozen fan would appreciate receiving a crocheted Olaf. He is so loveable and friendly.
So once you're done making your own crochet olaf pattern, do share some pictures of your very own olaf amigurumi on our Facebook Page!
We hope our list includes an Olaf you will want to create. There are so many variations it can be hard to choose. No matter which Olaf Amigurumi pattern you pick, we are certain that you will be happy with your choice.