Think this crochet phoenix scarf is just like any ordinary phoenix-colored scarf? You'll be surprised at how unique it looks!
Nowadays, garments should not only be comfortable to wear. People also want something they can wear that will make them look fashionable and stand out from the crowd.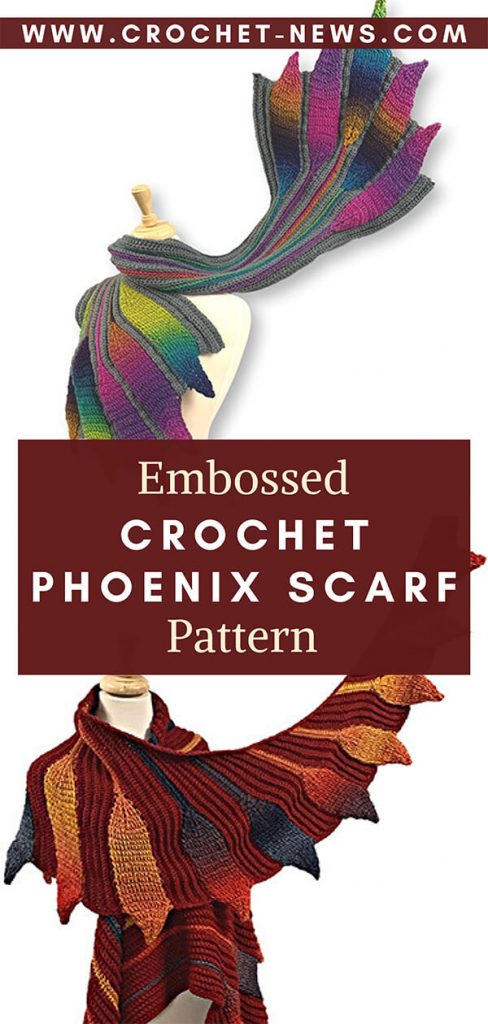 If you cannot find a scarf that's both comfy and unique, why not make your own? This Crochet Phoenix scarf not only gives you warmth, but it will also catch everyone's attention!
About the Designer of Crochet Phoenix Scarf
If you're looking for unique pieces, we highly recommend Bonita Patterns. In fact, she's the pattern designer of this colorful crochet phoenix scarf!
We absolutely adore the details of her works! Aside from the stitches she uses to create the patterns, her chosen yarn colors also add a unique touch to her works.
Just by looking through her wide range of works, you'll be able to notice her distinctive style. One thing you'll clearly see in her cohesive collection of works is the use of the Crocodile Stitch.
To make some of the patterns look more appealing, she used the Crocodile stitch to add more details to her works. It's quite amazing how she was able to make what's supposed to be an ordinary-looking pattern and turn it into a unique looking one!
Self-Striping Yarn for the Phoenix Scarf
By just looking at the scarf, you'll probably think a lot of yarns in different colors we're used just to create one scarf. Would you believe this pattern only needs two yarns to complete the whole scarf?
Yes, you read that right! To create the changing colors effect in this scarf, a self-striping yarn was used.
If you want to use the exact colors, Bonita Patterns are even selling yarn kits so you can use the same colors in your scarf. There are also other color combinations if you want something different.
Enough about all the other details, it's time to dive deeper into the pattern!
Learn More About the Crochet Phoenix Scarf Pattern
Tired of looking for a unique looking scarf that you can make? Well, you don't need to look anymore. We have the perfect one for you!
Inspired by feathers of the fiery phoenix, this Embossed Phoenix Scarf Pattern is perfect for those who want the warmth and comfort of a scarf but also want to stand out. Because of its colors, your friends can definitely see you even from afar!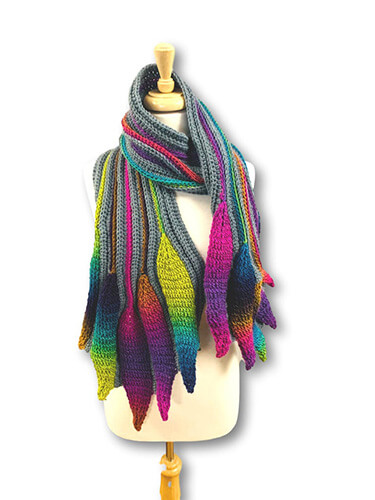 Aside from its colors, its unique shape and design is another aspect that will attract others' attention. We can all agree that the ends of this scarf resemble the feathers of a phoenix!
Bonita Patterns created an embossed effect on the plain colored yarn that further emphasizes the shape of the feathers.
Try this Embossed Phoenix Shawl for a More Formal Look
If you want a toned-down yet equally gorgeous shawl, you can also check this Embossed Phoenix Vortex Shawl.
Just like the Crochet Phoenix Scarf Pattern, this shawl also resembles the feathers of a phoenix. However, unlike the scarf, the colors featured in the shawl are less bright and more on the formal look.
Moreover, the two patterns also differ in their shapes. Unlike the scarf, the shawl features a curved shape just like a vortex.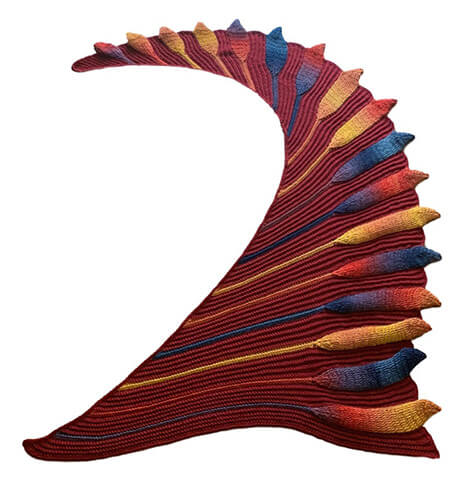 Additionally, instead of having the feathered design on both ends of the shawl, the feather shapes are only focused on one side of the shawl. Thus, making it look like it flows in one direction.
The feather design of both the scarf and the shawl looks so much different from each other. The embossed feather-like shapes in the shawl are clearly visible because of the plain burgundy-colored yarn surrounding them.
Skill Level
Intermediate
Materials
Self-striping yarn: 2 skeins of Bonita Yarns Merino Dream (Sport Weight, #2, 50% Merino Wool/ 50% acrylic, 328 yds/300m), approximately 1300 yards.
Solid yarn (main): 2 skeins of Bonita Yarns Woolicious (DK Weight, #3, 50% wool/50% acrylic, 273 yds/250 m), approximately 1300 yards.
Are You Ready to Make Your Own Phoenix Inspired Garment?
Which garment are you gonna make? Are you planning to make the scarf or the shawl?
Make both the colorful scarf and the more formal shawl so you can have more options! If ever you're feeling like your outfit needs a pop of color, you can use the scarf.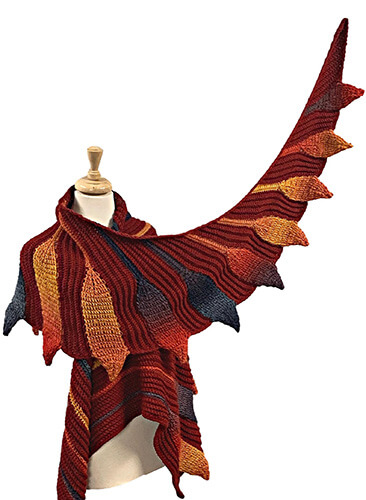 On the other hand, if you want something more formal, you can use the shawl instead.
Let us know which one you decide to make, or maybe if you made both! You can post your works or works in progress on our Facebook Page. The whole community would love to see your wonderful works.
If you're looking for other phoenix inspired patterns, we have a whole article for that! We're sure you'll find one from these Crochet Phoenix Patterns.
Are you ready to start working on your crochet phoenix scarf pattern?