This free unicorn crochet pattern will guide you, step by step, to making a magical amigurumi toy unicorn.
You will grow you crocheting skills and confidence, by completing this technical amigurumi pattern with ease, with the easy to follow pattern.
But that's not all…
You can crochet up a herd of Crochet Unicorns, Zebras and Horse Piem, once you get a hang of this pattern. Your kids will love you for it.
Unicorn Crochet Pattern – Amigurumi Toy
This Unicorn crochet pattern is this weeks favorite, and it is an absolute winner. How amazing is this! We can't think of any little girl who wouldn't go nuts for her own bright and magical unicorn. And secretly we're all wanting one too.
This was an instant addition to our crochet-to-do lists. Similar crochet patterns are found in our Amigurumi and Crochet Doll section. Isn't this just the cutest thing you have ever seen? I wish I had one of these when I was growing up.
Kids, unicorns, and rainbows. I can't think of any combination that gets any better than that. Stuffed toys are popular kids' play items all year round. Amigurumi unicorn, amigurumi horses and more seem to intrigue the little ones. A gorgeous crochet unicorn is a sight to behold you'll agree.
Your little ones will love any amigurumi toy you create, but the crochet unicorn will make them go nuts. A crochet unicorn amigurumi is probably the one stuffed toy you need to make your kids' lives a bit more interesting.
You can also use it as a decorative piece and put it on display alongside your other collectables.
Crochet up a couple of these beauties and gift them to random kids in your neighbourhood.
What would be better than coming together with a bunch of your friends and crocheting stuffed unicorns for charity? You can donate crochet unicorn amigurumi toys to your local children's hospital or children's rescue center.
Unicorn Crochet Pattern Materials
The pattern of Horse Piem pattern
9 different yarns calling for 2,5 mm (US 1 ½) hook
We suggest the following colors of (sock) yarn: White, red, orange, yellow, green, blue, purple and pink
Rainbows and unicorns bring such joy and warmth to a child's heart and if that doesn't move you to tears, nothing else will. To get the pattern right, it is recommended to have the original Horse Piem pattern to pull off the unicorn crochet pattern.
Which is a variation of the standard horse pattern. If you are familiar with the horse pattern, crocheting a unicorn shouldn't be that hard. You can alternatively download the crochet unicorn pattern.
Chances are, you know of a certain little girl or boy who loves unicorns. If so, you can bring joy and love with this crochet unicorn doll. Amigurumi toys are loved for their intricate detailing sheer beauty.
From the cute horn to the unicorn's long flowing curls, and delicate ears, everything about a crochet unicorn is perfect. Call it a hunch, but I have a feeling you will love the reaction you'll get once the crochet unicorn is done.
Unicorn Crochet Pattern Finished Size
The finished crochet unicorn amigurumi toy measures 14.2 inches tall and 12 inches long. Depending on the thickness of yarn you settle for, your finished unicorn may come out bigger or smaller. This unicorn pattern has been a favorite for years, and this is one of those patterns that refuse to go away.
How amazing is that? I can't think of any girl who wouldn't love to own one of these stunning pieces. I'll admit it; I secretly have a thing for unicorns. Although, I do have concerns about them poking someone in the eye with the shiny horn.
Make this project your latest addiction and put it on your monthly crochet-to-do lists.
As mentioned, similar crochet patterns exist, and you should most definitely try them sometime. Crochet unicorn amigurumi pattern and amigurumi zebra are two of my favorite picks for stuffed toys. I would prefer stuffed toys over plastic toys any day.
Yeah sure RC helicopters are great, and everything but I prefer my kids to have an amazing imagination which the mentioned RC helicopter toys lack.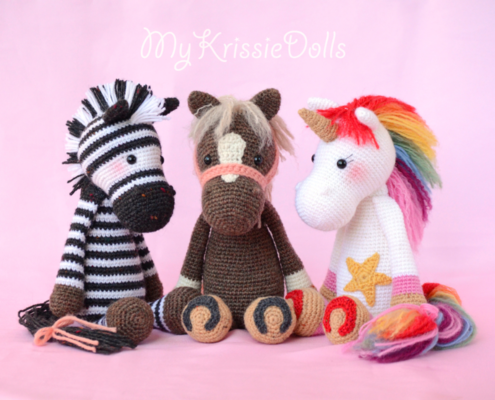 What Magical Colours Will You Choose?
As with any exciting crochet project, you can choose the colors you want to use for your unicorn crochet pattern. The more colors you throw in, the livelier the finished toy will be.
You can also decide how big you want the finished unicorn to be by varying the weight of the yarn and how tight the gauge is.
Required Crochet Skill Level
The skill level required to take on this project is anything between intermediate and advanced crocheter. Beginners may encounter problems with getting the size correct at first, but that shouldn't be an issue provided you have the accompanying literature.
Make sure you legally download the pattern in PDF format (you may be required to purchase it first).
The pattern comes accompanied with instructions written in simple American English using standard U.S terms and abbreviations. With some bit practice, you should be able to crochet up unicorns like a pro.
So what are you waiting for? Get started on a horned mythical stuffed amigurumi toy today!
You need the original pattern of Horse Piem pattern to make the Emmie Unicorn crochet pattern, which is a variation on the standard horse pattern. Once you have the horse, you can download the free variation pattern below for the unicorn.
Download The Free Emmie Unicorn Pattern