Crochet to Calm Book
Crochet To Calm Book is just what you need to relax. Ahhhh. Does that feel better now? It's the end of a busy day. Maybe you've had a hard, long day at work, or you've been rushed off your feet looking after the kids, the home, the chores, the hubby – and now it's time for you.
You pick up your hook and instantly feel better. The gentle rhythm of hook and yarn calms you. The feel of the fiber running through your fingers, and the calming colors you're using this evening help to release the tension in your shoulders.  
The simple, repetitive movements of a simple pattern help to clear and calm your mind.  The stresses of the day melt away as you create and craft your latest idea.
That's the very idea behind the latest crochet book release from Interweave – Crochet to Calm: Stitch and De-Stress with 18 Colorful Crochet Patterns.
Also see: 10 Crochet Patterns for Bedspreads and 12 Crochet Curtain Patterns.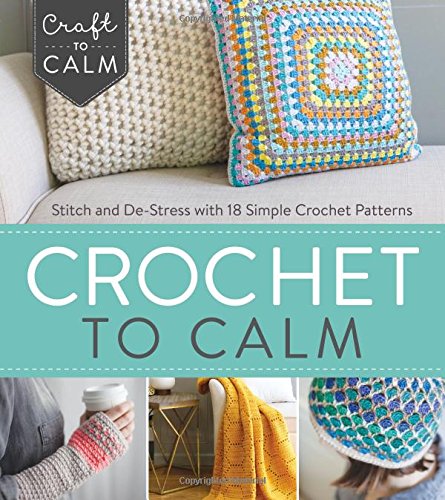 From The Crochet To Calm Book Jacket:
Creative and calming, crafting is the perfect way to destress! In Crochet to Calm you'll learn how the repetitive motion of this popular craft can not only clear your mind but also result in beautiful projects you'll be proud to show off! Best yet? All you need is a hook and a bit of yarn to get started!

From home accent projects such as the Zinia Pillow, Meditative Mandala coaster, and the Papillon Pouf to cozy wearables like the Pinecone Infinity Scarf, Slouchy Slipper Boots, or Peachy Arm Warmers, you'll find 18 fun, easy projects that can be completed in almost no time at all!

And with easy-to-follow photography and clear illustrations, you'll be inspired to try every last one. Featuring a foreword by Mandy O'Sullivan. Mandy is the founder of CraftasTherapy, Crochet to Calm will take your stress away, one stitch at a time.