If you have good-looking plants in not-so-good-looking pots, you don't have to repot them. Just make them look pretty using these crochet plant pot cover patterns, wrapping in style!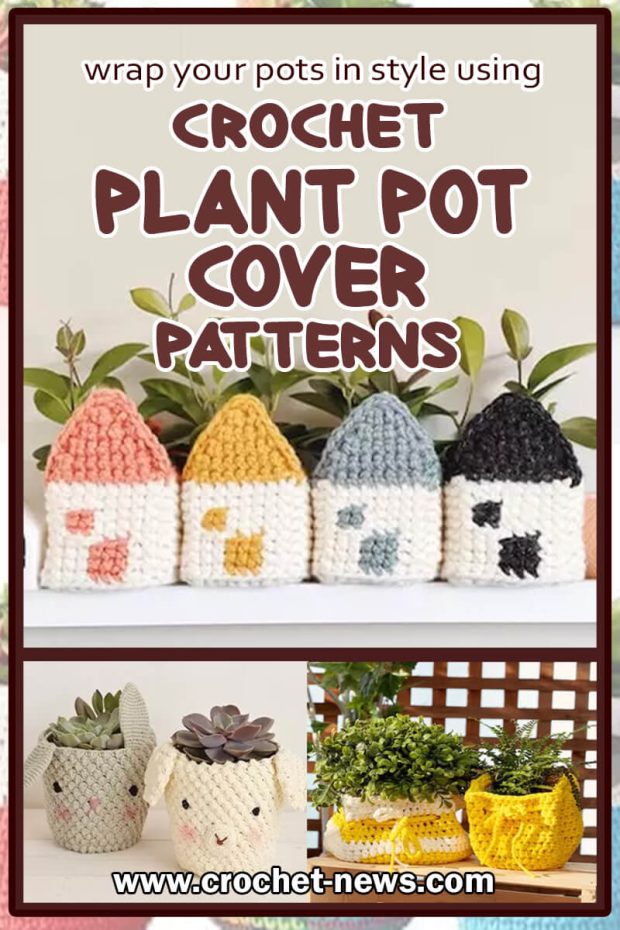 I don't know about you but I get a little tired of average pots from average garden centers. For some reason, unless you have buckets of money to spend, it's hard to find interesting, unique, and beautiful vessels for your leafy friends.

Whether you want to decorate your terracotta flower pots or disguise disposable planters before giving herbs as a gift, these crochet pot covers are the perfect DIY projects!
15 Crochet Plant Pot Cover Patterns

1. Bobble Pop Plant Cozy Crochet Pattern by Sweet Bee Crochet
Popping a plant cozy on a plain boring pot can liven up a room and inspire you to become a green thumb. How beautiful is this Bobble Pop Plant Cozy? Loaded with texture, too, makes it a win-win.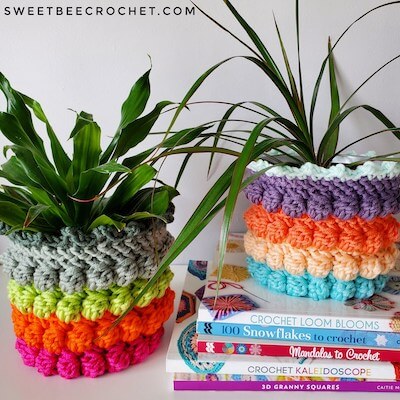 Get the Pattern by Sweet Bee Crochet here

2. Crochet Lamb And Bunny Plant Pot Cover Pattern by Sandrine Deveze
Make a family of lamb and bunny plant pot covers to get yourself in the mood for spring! ]These crocheted pot covers use bobble stitches to give them a fabulous texture!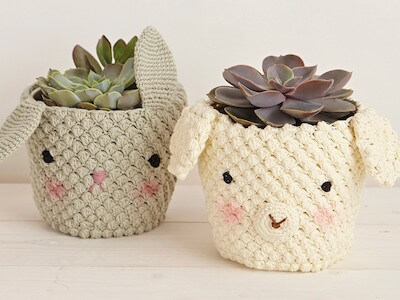 Get the Pattern here

3. Crochet Plant Basket Buddies Pattern by Yarnspirations
These adorable crochet plant cozies will add personality to your home space! These sturdy accents are worked in the round using single crochet and simple increase techniques, and basic embroidery helps create facial expressions.

Color changes are simple, so customize your cozies in any color you want! They bring a burst of happiness wherever they're placed – and how can you resist those faces?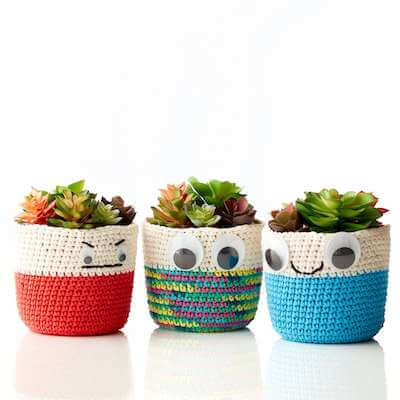 Get the Pattern here

4. Cozy Cottage Crochet Planter Pattern by February Sky Designs
How warm and inviting are these cozy cottage covers for your favorite plants? This pattern features graphs for every letter of the alphabet, as well as numbers and symbols to customize your set! Craft one or make many, because it's a creative gift for the plant lover you know.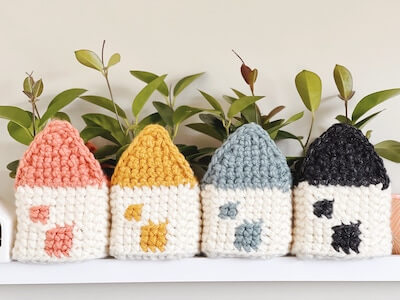 Get the Pattern by February Sky Designs here

5. Easy Crochet Plant Pot Cover Pattern by Pixies Magic Hook
Embrace the spirit of nature with decorative crochet plant cozies that add a pop of color and pattern to any spot. Create a selection to match your décor, or cover a plant for a thoughtful housewarming gift. Crochet these wonders that you can make quickly to brighten up any corner of the home.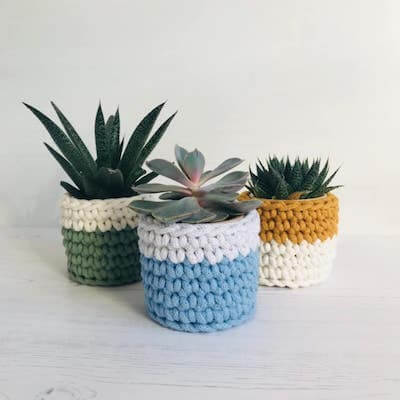 Get the Pattern by Pixies Magic Hook here

6. Striped Moss Plant Pot Cover Crochet Pattern by Juniper And Oakes
This Striped Moss Plant Pot Cover uses the moss stitch, so all you have to know is how to chain and single crochet. And because of the way the stripes alternates between three colors each round, there are very few ends to weave in! Our favorite kind of pattern!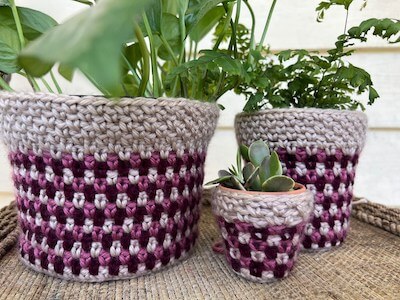 Get the Pattern by Juniper And Oakes here

7. Crochet Plant Basket Pattern by Winding Road Crochet
Keep your plants warm and stylish with these cute plant cozies. The plant baskets come in two sizes and can also be used as storage baskets. The baskets work best for plant pots with straight sides and are not tapered. You can make these baskets with the heart design or as a solid color.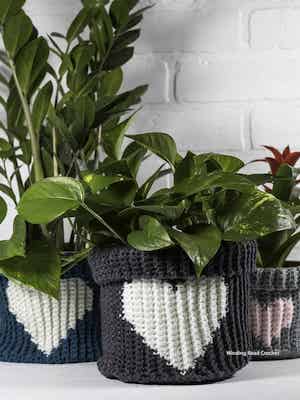 Get the Pattern here

8. Santa Planter Cover Crochet Pattern by The Inspired Wren
Give your houseplants a festive touch for the holidays with a Santa–inspired crochet planter cover. Pop it onto a Christmas cactus or a poinsettia and you've got an easy holiday gift idea!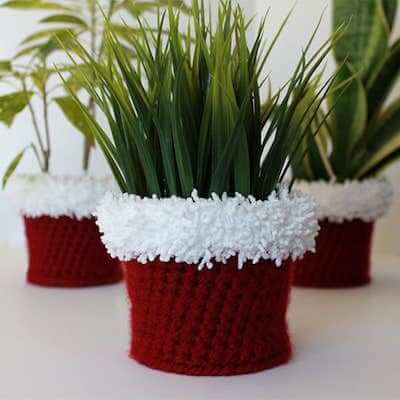 Get the Pattern by The Inspired Wren here

9. Little Potted Plant Crochet Cozy Pattern by Yarnspirations
Crochet this gorgeous pot cozy to add a decorative flair to your basic plant pot. This project is worked in the round with simple increases, single crochet, double crochet, chain stitch and some fringe work. Such a beautiful little project!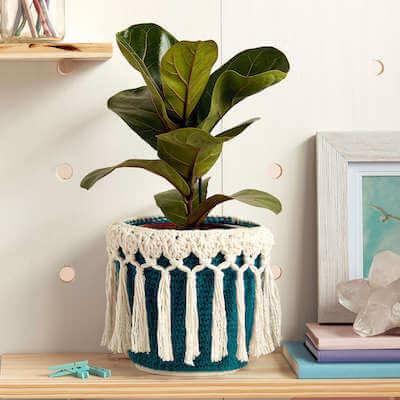 Get the Pattern here

10. Crochet Happy Plants Pot Pattern by ATERG Crochet
This crochet plant cozy features a simple floral-inspired motif to welcome the warmer season. Use your imagination and make it in any colors to match your space. It's a perfect way to liven up your living décor!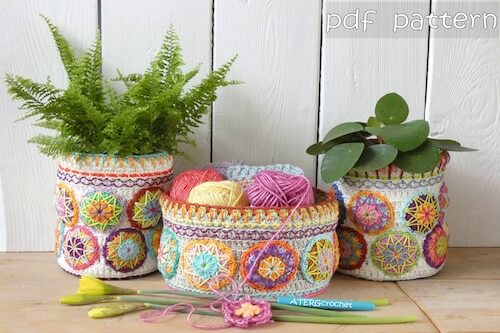 Get the Pattern by ATERG Crochet here

11. Striped Hourglass Crochet Basket Pattern by Moogly
Combine your two favorite hobbies with this crochet plant cozy (or basket!). Crochet cables using front post double crochet and single crochet back loop only stitches.
These stitches overlay a striped background to allow the texture to really pop. The bulky yarn allows you to stitch up this project quickly while creating a sturdy basket shape.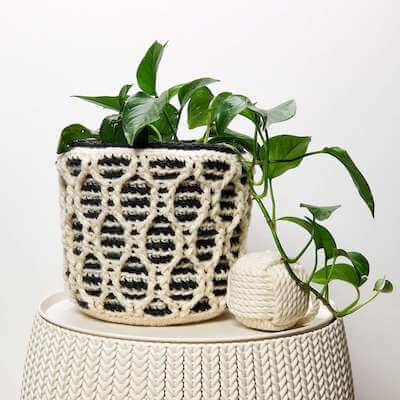 Get the Pattern here

12. Potted Paradise Mosaic Crochet Basket Pattern by Michelle M
Use this versatile crochet basket that includes three sizes to nestle your plant buddies, or to stash away small items. Put on your creative hat and make a few in different colors to complement all your spaces!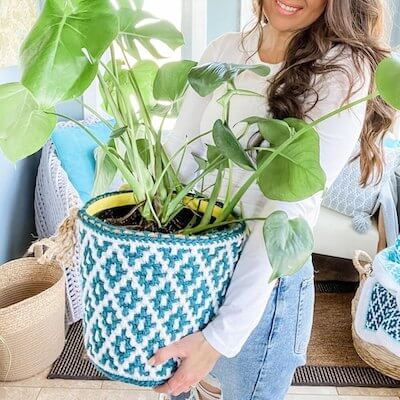 Get the Pattern by Michelle M here

13. Simply Beachy Plant Cozy Crochet Pattern by Simply Melanie Jane
Bring the beach to your home with the crochet plant cozy. Styled with the colors of sand and seashells, it's sure to brighten any room in your house.

Going for a beach theme in your sunroom, porch, or covered patio? This Simply Beachy Plant Cozy is the perfect accessory. Or make it in the colors to match your décor. It's made with 100% cotton to be durable, yet still pleasing to the eye.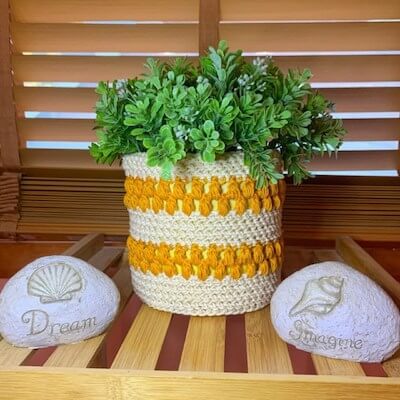 Get the Pattern by Simply Melanie Jane here

14. Crochet Plant Pot Cozies Pattern by Laura Strutt
Give your plants some love with this easy to crochet pot cozy. Working the back loops of the stitches only adds the dimension to the crochet work and here forms the edge between the base and the side. Whether on a shelf, windowsill or other surface, the pattern gives you two color ways to get your creative juices flowing!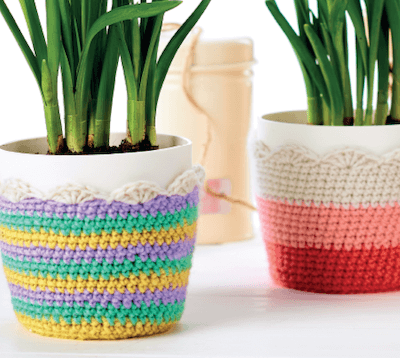 Get the Pattern here

15. Slouchy Crochet Plant Pot Cozy Pattern by Yarnspirations
Dress up your potted plant with these Slouchy Crochet Plant Pot Cozies! It's quick to work up using chunky yarn and it's a great way to brighten your surroundings with your crochet skills!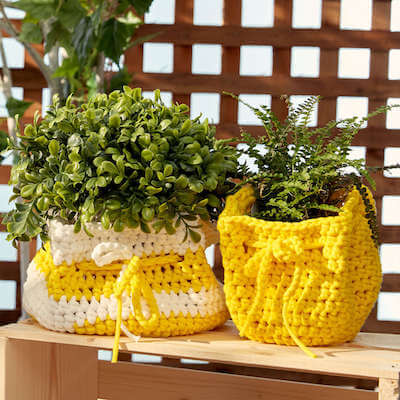 Get the Pattern here
ENJOY MAKING YOUR OWN CROCHET PLANT POT COVERS AND WATCH YOUR PLANTS THRIVE!
I would love to see your crochet-covered leafy friends! Share a picture of your finished plant pot covers on our Facebook Page.

If you're looking for some more fun crochet patterns, why not try hooking up crochet baskets and crochet hanging plant patterns, too? Or why not craft greenery that never wilts with these crochet plants, crochet flowers, and crochet succulents!
Transform the unsightly container your house plant comes in, into a cute planter that adds texture and interest to a room; all with just some scraps of yarn and your favorite crochet plant pot cover patterns! Happy crocheting, plant ladies!