While some courageous souls might opt to go caseless, we're all about skinning your device with these crochet phone case patterns, including purses and pouches. No matter your level of crocheting, you'll be able to find a case here that is both affordable and entirely doable to recreate.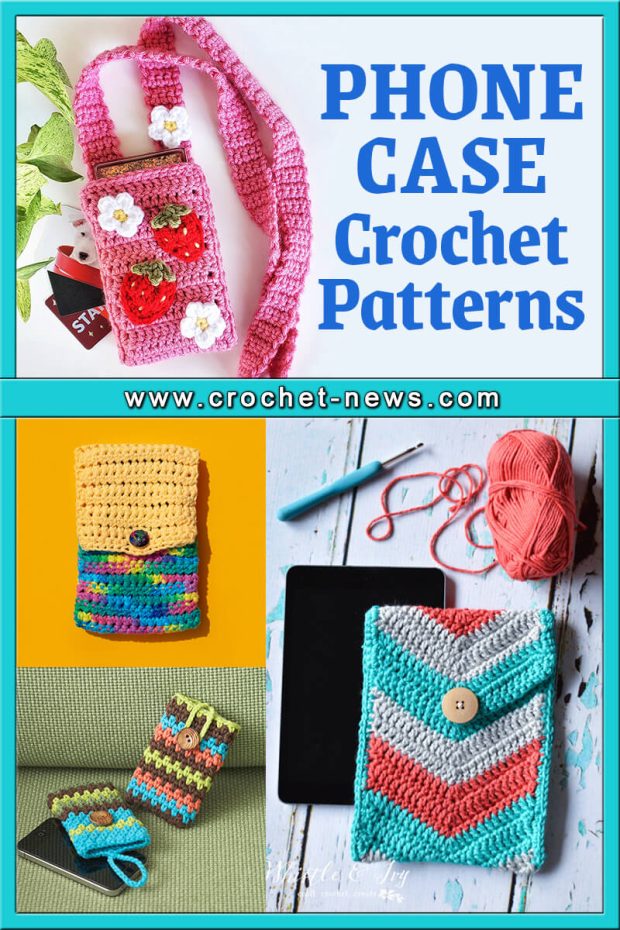 We love little stash busters like these – they're so satisfying to crochet in the morning and have finished projects ready to show off by nightfall. These small wonders are not only perfect for little stash yardages, but they have a great practical use too protecting your precious mobile phones from accidental bumps and scrapes.

Gather your stash and start pairing pretty colors using these crochet phone case patterns as inspiration!

1. Sage Crochet Phone Pouch Free Pattern by Sweet Softies
This Sage Phone Pouch is a quick and easy beginner-friendly crochet pattern that is not only fun to make, but useful too! It serves as a protective cover for your mobile device, or as a handy bag for small items.

This cute yet simple design features a strap that loops around a button to keep the content of the pouch safe from falling out. The size for this free crochet phone case pattern is easily adjustable with written instructional tips, so it can be made into a custom fit case for any device, like a smartphone, iPad or tablet, Kindle, book, or even laptop!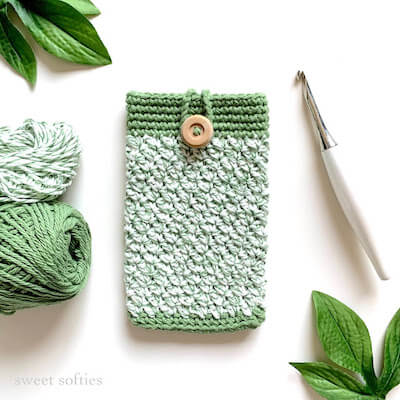 Get the Pattern here

2. Florence, The Owl Crochet Phone Case Pattern by Irene Strange
Let Florence The Owl look after your phone, favorite pair of glasses or crochet hook collection. Inspired by vintage macrame wall hangings Florence looks stylish and takes less than 2hrs to make – a perfect stocking filler! A simple drawstring opening is easy to use and will keep those valuables safe and snug too.
Get the Pattern by Irene Strange here

3. Crochet Phone Bag Pattern by Torreya Treasures
This handmade crochet phone bag is great for when you just want to take the necessities with you. Whether you are walking your pet or running errands, you can have your phone with you and keep your hands free to roam.

This crochet phone bag is crochet with acrylic yarn in a white aran color and stitched in a decorative puff stitch pattern. The strap is adjustable to your desired length with the fasten of a button on the side.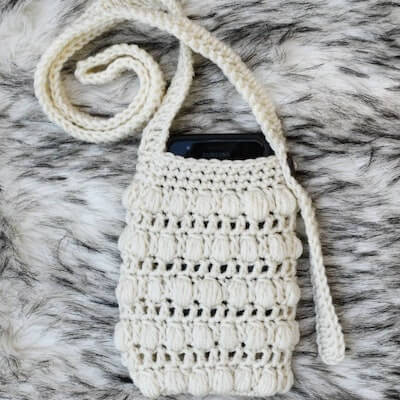 Get the Pattern by Torreya Treasures here

4. Moss Crochet Crossbody Phone Purse Pattern by Kazzolas
Make a fun phone purse to keep track of your phone. It also has an optional pocket on the back for a couple ID's or credit cards too.
This purse allows for all those hand free activities we do throughout our days. Like walks, wine tours, dancing, weddings, shopping and all those hand waving, girl talking times.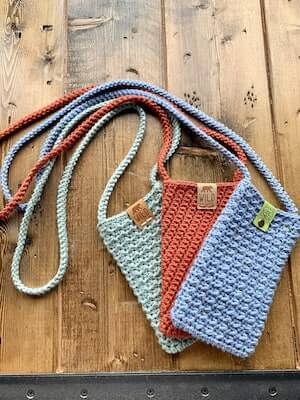 Get the Pattern by Kazzolas here

5. Crochet Mobile Phone Covers Pattern by Yarnspirations
Turn-out a bunch of these adorable phone covers as gifts – for Christmas, a birthday, or no reason at all. Easily complete whatever version you dream-up, or choose their favourite colors for a more customized approach.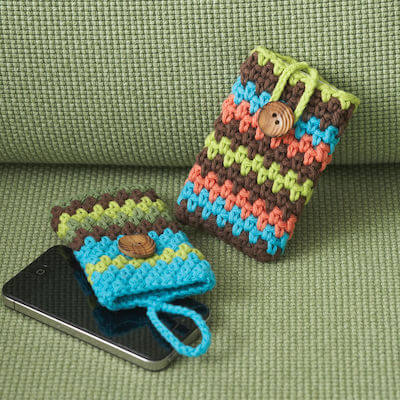 Get the Pattern here

6. Crochet Kitten Phone Case Pattern by Fur Babies CB
This adorable colorful kitten crochet phone case makes for an attention-grabber while keeping your phone protected and looking paw-tastic!

You will need one skein of your favorite color cotton yarn for the body, ears, paws, and tail, as well as small amounts of contrasting cotton yarn colors for the cheeks, paws, and nose.

This pattern includes instructions for a crochet kitten phone cover that fits iPhone 6 plus, 6s plus, and 7 plus, as well as similar-sized models.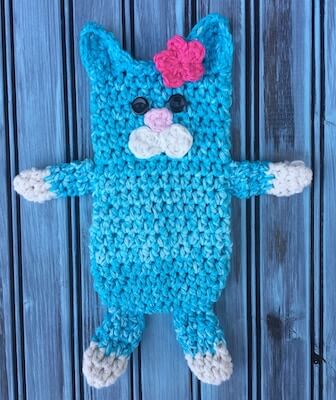 Get the Pattern by Fur Babies CB here

7. Crochet Phone Case Pattern by City Bright Knits
Be one of the many making this fun pattern with colorful crochet squares. This pattern is easy, and quick to make. It can also be used a sunglasses case, or pouch for other items.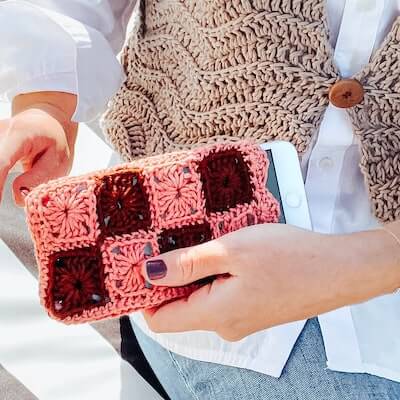 Get the Pattern by City Bright Knits here

8. Herringbone Free Crochet Phone Case Pattern by Haak Maar Raak
This pattern is for a herringbone phone cover. The herringbone stitch is a simple modification of a half double crochet, which makes the phone cover very textured and sturdy enough for a protective case! The pattern is easily adjustable for every type of phone out there.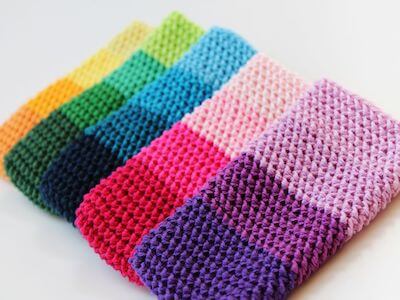 Get the Pattern here

9. Crochet Mobile Phone Case Pattern by Little Doolally
Crochet your own vintage-modern mobile phone case! Very easy to make and will fit most sizes of phone. It is also a very easy pattern to adapt to your shape and size of phone. Ideal to make to keep your mobile phone from getting scratched in your bag or pocket or as a quick and easy gift.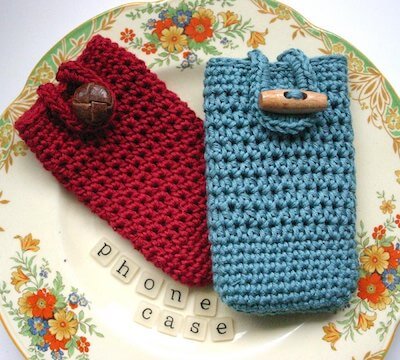 Get the Pattern by Little Doolally here

10. Chevron Ipad Mini Case Free Crochet Pattern by Whistle & Ivy
If you are needing a pretty and practical pouch for your device, this one is for you! The chevron pattern is cute and easy to make. Mix and match colors to customize it just the way you like. You can also use the sizing instructions to make a case for each of your devices.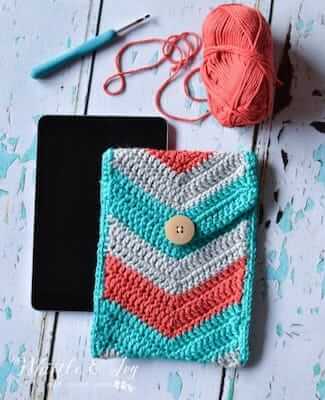 Get the Pattern here

11. Crochet Cell Phone Case With Secret Pocket Pattern by Yarnutopia
Why not leave your wallet at home? You have everything you need for a night out with this handy cell phone case with secret compartment to conceal money, credit cards and an ID. Made with an attractive flower design, this case can hold any Android device or iPhone.

Take it to the beach, or the club, or a concert instead of taking a bulky purse along. This gives you so much convenience! Whether you're making one for yourself, as a gift, or selling them in your shop, enjoy making this cell phone case and sharing your creativity!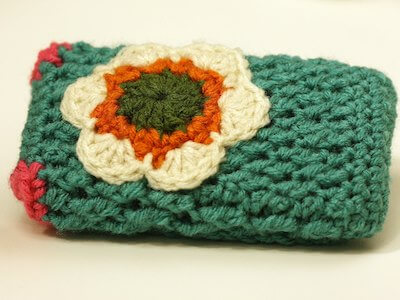 Get the Pattern here

12. Crochet Tasseled Phone Case Pattern by Yarnspirations
Protect your phone with this tasseled fashion accessory that's a perfect gift for teens. Craft it with a touch of glam in the colors shown to make a trendy statement, or lighten it up with shades she prefers. Complete one for any devout fashionista, since her phone is simply indispensable!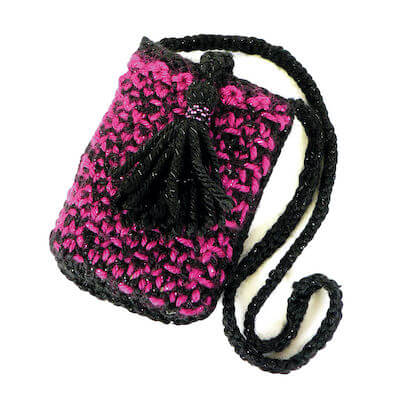 Get the Pattern here

13. Crochet Vintage Phone Case Pattern by Nordic Hook
This is not only a beginner-friendly tapestry crochet project but also a very practical item you could use every day! We all like to change our phone cover from time to time, so why not to freshen it up with this vintage crochet design?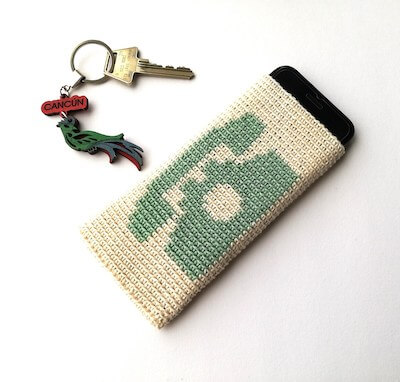 Get the Pattern by Nordic Hook here
14. Crochet Sweet Bear Phone Purse Pattern by HELLO Happy
Make a Sweet Bear Phone Purse with this crochet pattern! Perfect for wearing out and about OR at home, when wearing pants with lousy pockets, or no pockets at all.
This pouch will fit cell phones of any width (just add more rows!) and up to 6.3 inches tall, which is almost all phones on the market! Comes with two sizes for a snug fit: one for phones 5.75 inches tall or less, and one for 6.3 inches tall or less. You can tie the strap to wear it in different ways!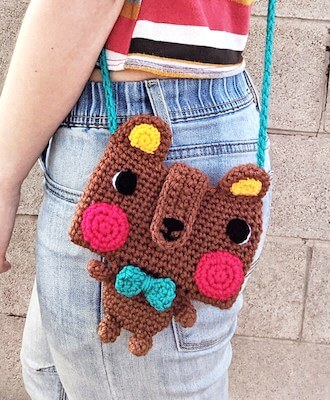 Get the Pattern by HELLO Happy here

15. Phone Case Crochet Pattern by Jayda In Stitches
Give your phone or sunglasses a little extra protection as you carry it around in your bag, purse, or backpack. This case will help keep things from easily scratching your screens or lenses. This is a fast, easy crochet pattern that makes great use of left over yarn!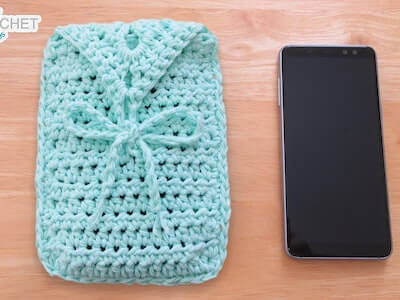 Get the Pattern by Jayda In Stitches here

16. Crochet Mobile Case Pattern by Joy Of Motion
This Mobile, Tablet, and Laptop Case Crochet pattern can be modified to fit any phone, mobile, iPad, iPhone or Laptop. Put this to use and skip scratches on your phone, tablet or laptop or even get the typical broken/crushed screen. Give it your own look with your own choice of color and fabric.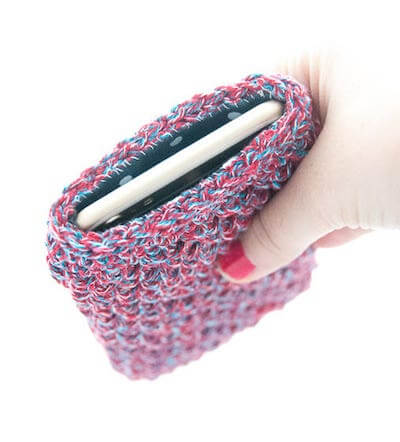 Get the Pattern by Joy Of Motion

17. Crochet Mobile Phone Baglet Pattern by Red Heart
Perfect for when you don't take your purse, this shimmery baglet is just the right size for your phone. Crochet it for yourself or as a gift for a well-connected lady!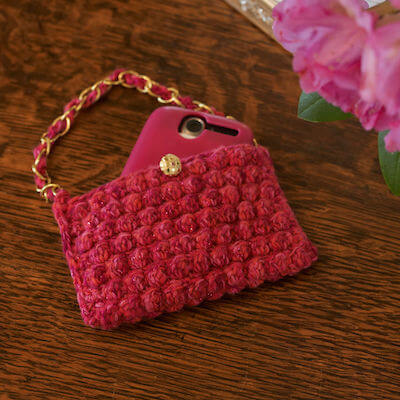 Get the Pattern here

18. Crochet Chromatic Phone Case Pattern by Naztazia
Here's a fun way to crochet the chromatic phone case for your cell. Take two solid granny squares. Then turn them so they form two diamonds. Sew them together and voila! Nice pouch for yourself. Of course they also make great gifts for friends, teachers, and anyone who happens to have a mobile device.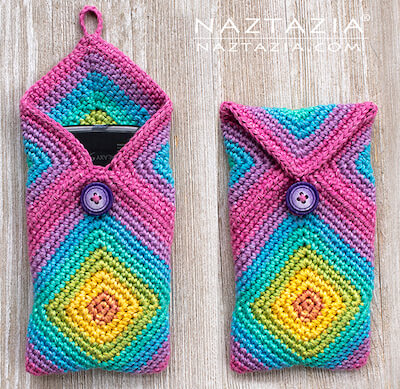 Get the Pattern here

19. Crochet Bright And Stripy Mobile Cover Pattern by Alia Bland
This Bright and Stripy Mobile Phone Cover is a fun way to protect the screen of your smart phone. Use up all your scraps to create your own rainbow effect or follow the colour scheme given in the pattern, it's up to you!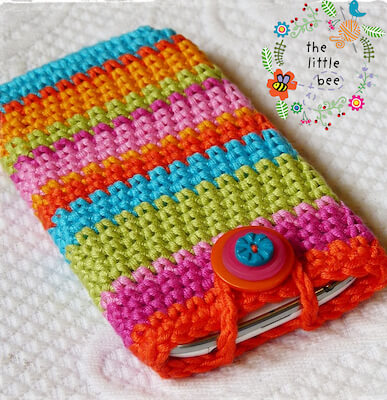 Get the Pattern here

20. Crochet Panda Phone Sleeve Pattern by The Crafty Puddock
Crochet your own phone case, complete with handy pocket ideal for storing your earbuds while not in use. Or make one as the perfect gift in the recipients favorite colors!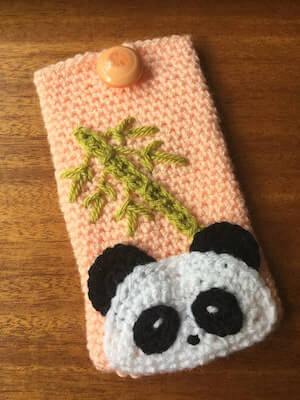 Get the Pattern by The Crafty Puddock here

21. Crochet Foldover Phone Case Pattern by Sunflower Cottage Crochet
This pattern is fully customizable to fit any cell phone! Works up super fast and a great stash buster! Use any cotton yarn you have on hand as it is much sturdier yarn that can be washed and dried over and over!
Get the Pattern by Sunflower Cottage Crochet here

22. Crochet Strawberry Phone Bag Pattern by Eclectic Jess Crochet
No pockets? No problem! This crossbody phone bag is the perfect accessory for the minimalist who still loves the cute things in life!

This crochet pattern is written to fit the measurements of your own phone, ensuring the best fit. The open top allows easy access to your phone, while also keeping it secure and the additional card pocket ensures that you have your ID or credit card within easy reach.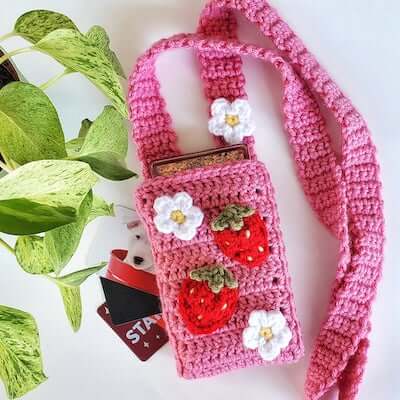 Get the Pattern by Eclectic Jess Crochet here

23. Crochet Cellphone Holder With Ear Bud Pocket Pattern by One Paisley Pig
Make one of these handy phone holders today to protect your phone from scratches and easily clip it anywhere so it doesn't get lost. Plus with the convenient front pocket you can keep your ear buds handy and untangled.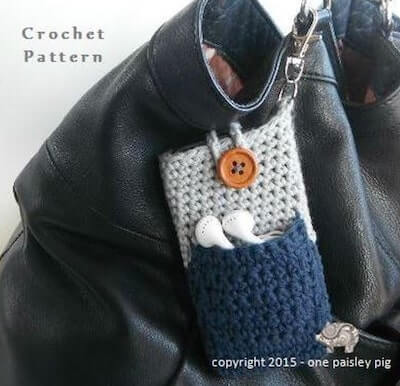 Get the Pattern by One Paisley Pig here

24. Free Crochet Mobile Phone Cover Pattern by Crochet N Create
Learn how to crochet this easy phone pouch, made in simple single crochet stitch. You can make it up in a short space of time.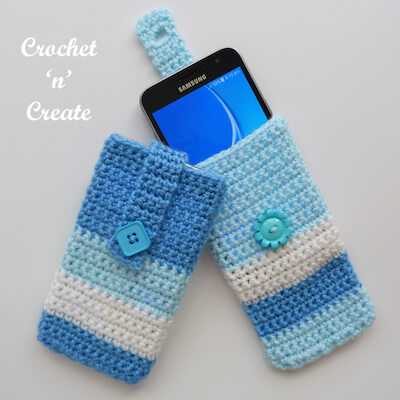 Get the Pattern here

25. Crochet Cherry Phone Case Pattern by Pink Milk
The bulk of this crochet phone case is worked in super basic stitches for a closed, simple design. The decoration, in this case, cherries, are then cross-stitched on to the crochet case.

You could use the basic pattern to make very simple crochet cell phone cases if you don't want to practice your cross-stitch designs. If you have more advanced cross-stitch skills then you could apply your creativity to creating designs other than cherries.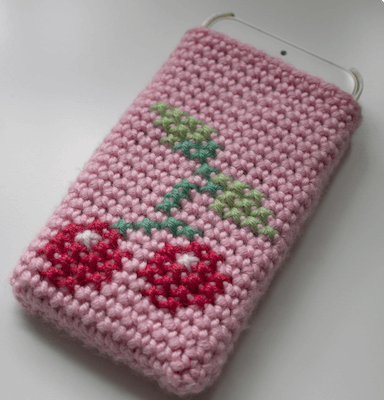 Get the Pattern here

26. Midnight Rainbow Crochet Phone Cover Pattern by My Hobby Is Crochet
This crochet cell phone cover with detachable strap is not only pretty, but also very practical! Use it without strap to protect your cell phone worn in the bag or attach the strap and hang it around your neck, for example, to have your hands free at the playground or hearing music while driving a bike, etc.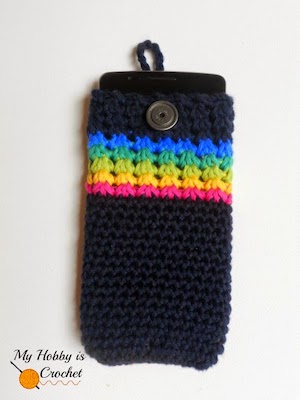 Get the Pattern here

27. Secret Pearl Cozy Free Crochet Phone Case Pattern by Lilla Bjorn Crochet
Here's a quick and easy to make summer project. A crocheted phone cozy with mandala decor which can be used for both mobile phone and tablet.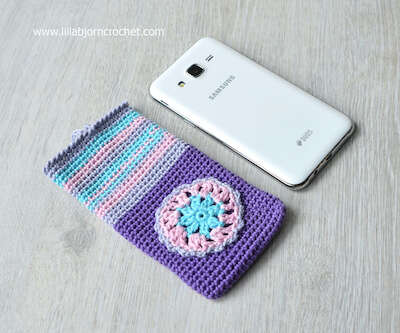 Get the Pattern here
BUST THAT YARN STASH AND PROTECT YOUR PHONE ALL AT ONCE WITH THESE CROCHET PHONE CASE PATTERNS!
Isn't it great being able to use and carry something special you've made that can't be bought in stores? Proudly share your beautiful creations on our Facebook Page. We love seeing them!

Looking for more gorgeous patterns? Check out more of our quick crochet projects below:
Crochet Water Bottle Holder Patterns
Crochet Laptop Case Patterns

So what are you waiting for? Get started with your favorite crochet phone case patterns and turn your phone into your best accessory!