Tired of bed covers that are the wrong size or weight? You can crochet a bedspread that perfectly fits your bed and is exactly the texture you want. Plus, these crochet patterns for bedspreads will provide you with many hours of pleasurable crocheting.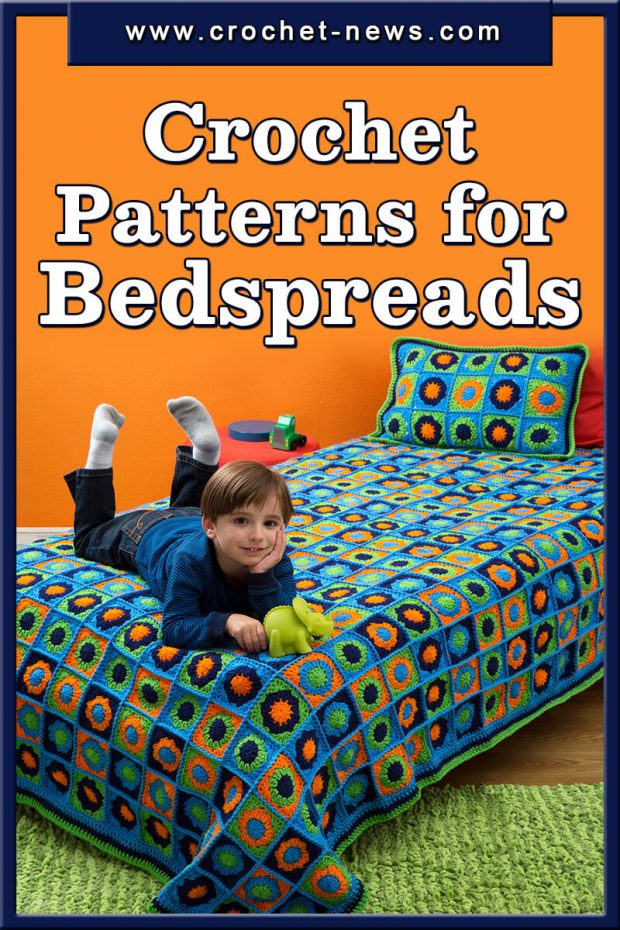 Crochet bedspreads are single-layer bedding toppers that cover the entire bed right down to the floor and often cover the pillows as well. They are usually lightweight, so are best for summer use, or used over a blanket in cooler weather. Bedspreads are especially good for guest rooms, or for any bedroom with a retro style.

1. Peacock Blanket Crochet Pattern by Kraftling
This crochet bedspread is an attempt to try and capture some of the mesmerizing beauty of peacock feathers. Reversible and double-thick, it's also a great blanket to cozy up in or to use as a bedspread.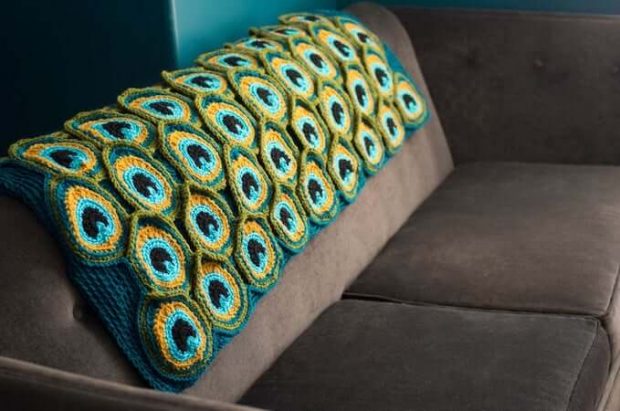 Get the Pattern by Kraftling here

2. Giant, Giant Granny Square Bedspread Crochet Pattern by Purl Soho
If you're a fan of crochet granny squares, then you won't want to miss this chic and fun crochet afghan pattern! The Giant Granny Square Afghan takes the concept of making a simple granny square to the next level, and then some.
With a beautiful color palette, this free crochet bedspread pattern will go perfectly with any season or home decor. This huge afghan will keep you warm and cozy all through the night.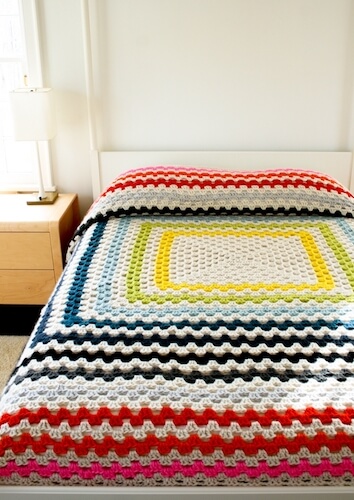 Get the Pattern here

3. Domino Crochet Bedspread Pattern by Two Of Wands
Cover yourself with diamonds upon diamonds of squishy bobbles with this Domino Crochet Bedspread. The square shape fits perfectly atop a bed or couch and the pompom edging adds even more drama.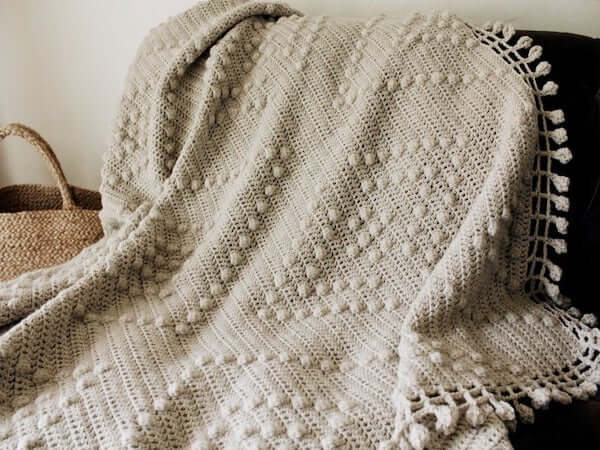 Get the Pattern by Two Of Wands here

4. Spider Lace Bedspread Crochet Pattern by Maggie's Crochet
Adorn your favorite bed with this beautiful Spider Lace Bedspread Crochet Pattern. This pattern uses size 5 cotton thread and includes instructions for crib, twin, double, queen and king size beds. Do this in the traditional white or off white, or go all out and use a bright color!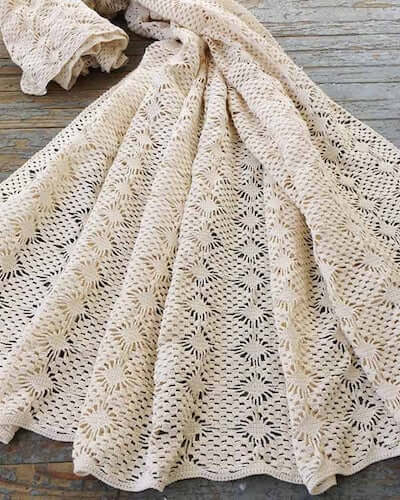 Get the Pattern by Maggie's Crochet here

5. Crochet Heart Bedspread Pattern by My Beautiful Stuff
This is a beautiful and easy pattern that you can create with your own color ideas. Moreover, this crochet bedspread pattern is pretty flexible so you can create any blanket size you want, just make more chains and you will get an afghan or bedspread.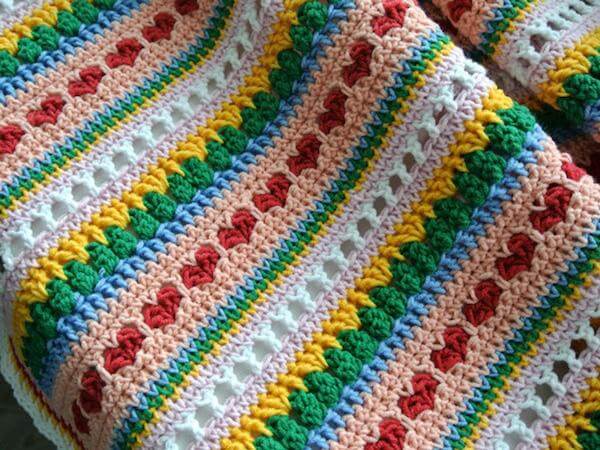 Get the Pattern by My Beautiful Stuff here

6. Twin Bed Blanket Afghan and Pillow Free Crochet Bedspread Pattern by Red Heart
Crochet a blanket to keep a child warm in their twin bed. Choose four kid-pleasing colors to set a happy color scheme for the room. Stimulate imaginations by crafting in bright shades as shown, or change up the colors to coordinate with your room's décor.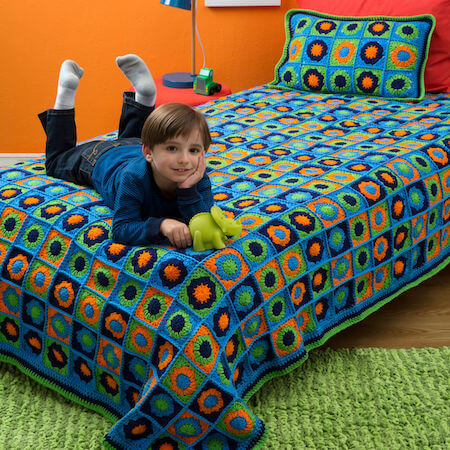 Get the Pattern here

7. Sampler Stitch Blanket Crochet Pattern by Crochet Spot Patterns
Learn 4 new stitches with this sampler stitch blanket! The 4 stitches are all solid, no lace or mesh here. Crochet the stitches in the same order as in the sample photo or mix them up if you prefer. Each stitch pattern is designed to transition smoothly and easily regardless of the order you crochet them.

Have a favorite stitch? Make it longer than the rest if you wish to make it really stand out. You can even crochet entire blankets with just one stitch, or any combination of these stitches that you like. Create your very own unique blanket in any size that you like from baby size to a king bed spread!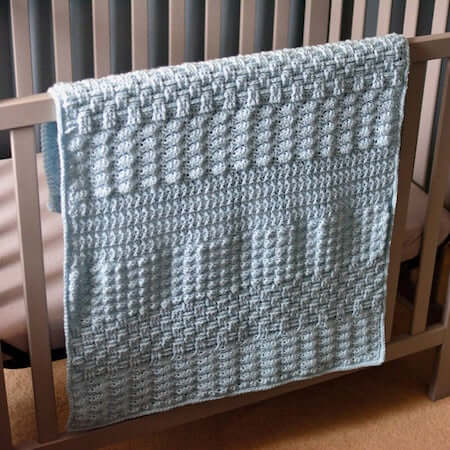 Get the Pattern by Crochet Spot Patterns here

8. Crochet Log Cabin Blanket Pattern by Princely By Marilyn
Grab all your leftover worsted weight yarns and crochet yourself this easy to make blanket. Done entirely in HDC, this simple but elegant stitch pattern creates a squishy texture that you want to snuggle up in, and it's reversible.
The log cabin pattern starts in the center and works outward, allowing you to create a blanket any size you want.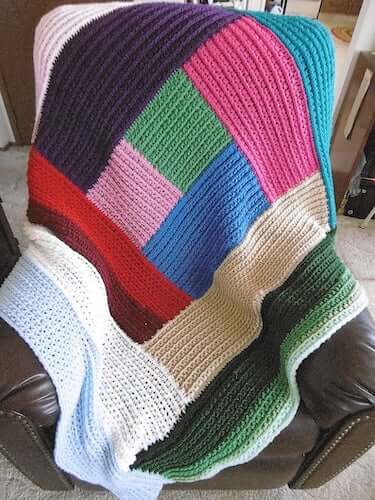 Get the Pattern by Princely By Marilyn here

9. Chevron Crochet Bedspread Pattern by Mouse And Thimble
Add a dense layer of warmth to twin, full, queen, & king bed with this Chevron Crochet Bedspread. The alternating color changes are easy to remember, so you will have the hang of the chevron pattern down well before you've completed the blanket.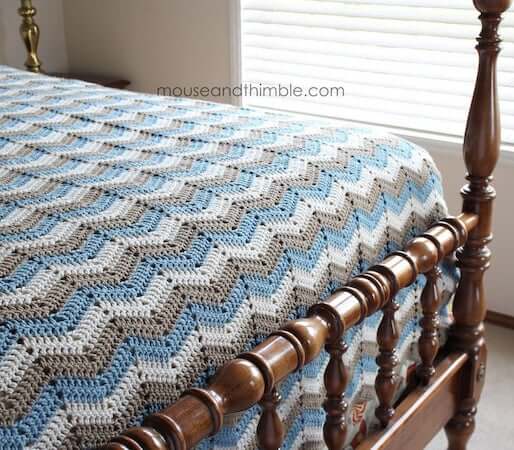 Get the Pattern by Mouse And Thimble here

10. Crochet Curlicue Coverlet Pattern by Maggie's Crochet
This crochet bedspread pattern is sure to create an heirloom your family will treasure for generations to come. It's a delicate and very sophisticated pattern that would be perfect for displaying on your bed. It has a vintage feel and is great for an intermediate crochet skill level.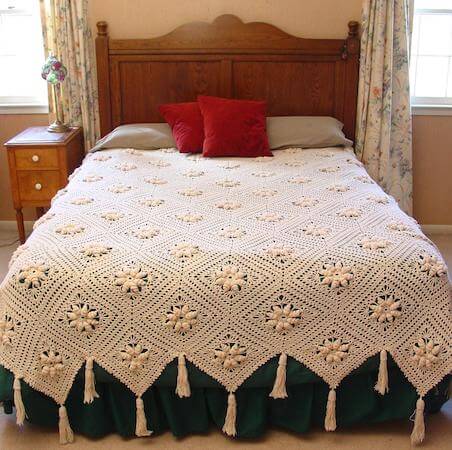 Get the Pattern by Maggie's Crochet here
NO MATTER WHAT YOUR SKILL LEVEL, YOU CAN MAKE ONE (OR ALL!) OF THESE CROCHET PATTERNS FOR BEDSPREADS!
Whatever you decided to make, we are a hundred percent sure they turned out great! so don't be afraid to show us some of your works by posting them on our Facebook Page!

Ready to make more? We have a huge collection of crochet blanket patterns to help keep your hooks busy. There are many options for you to choose from!

So don't waste a single minute more and head straight into your favorite crochet patterns for bedspreads!