Interested in a collection of pretty crochet necklaces? From statement necklaces to everyday necklaces – necklaces that you can mix and match to your special events or everyday fashion – you can have all these to your heart's content!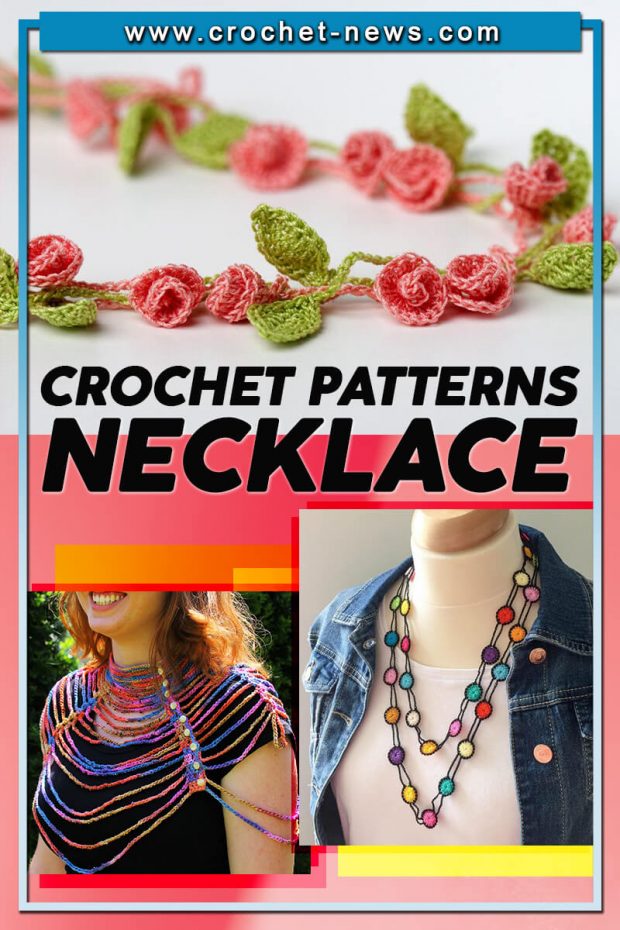 There is nothing more customized than choosing a piece of jewelry that fits your personality. The right piece, with special details, adds a sentimental touch to every outfit. Take a look at the patterns below to get you started with some simple jewelry making.

1. Waterfall Necklace Crochet Pattern by Jessie At Home
This Waterfall Crochet Necklace mimics a similarly styled beaded waterfall necklace in this crochet pattern. Inspired by a gold-and-diamond necklace, this is made up of simple chains punctuated by beads. It will add instant glamor to any outfit.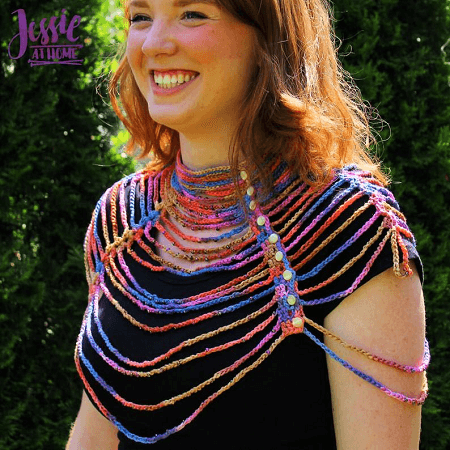 Get the Pattern by Jessie At Home here

2. Crochet Rose Necklace Pattern by Yarn Twist
This crochet flower necklace is a delicate, head-turning Rose Necklace that will make you feel spectacularly beautiful whether you dressed casually or formally. Make a crochet rose and tiny leaves necklace, turn it into a bracelet, or anklet – the choice is yours!
Because of all the tiny details needed in this crochet necklace pattern it is best to use fine threads. Here are a few suggested yarns you can use: DMC Cebelia crochet thread #30, J&P Coats crochet thread #30, Aunt Lydia's extra fine crochet thread #30.
This crochet flower necklace pattern is so easy to follow, it's perfect for beginners. It's also quick to finish you can make a lot in a day. Create one in the color that fits your outfit.
Do you have other backup dresses? Make ones in other colors too, just in case you use it.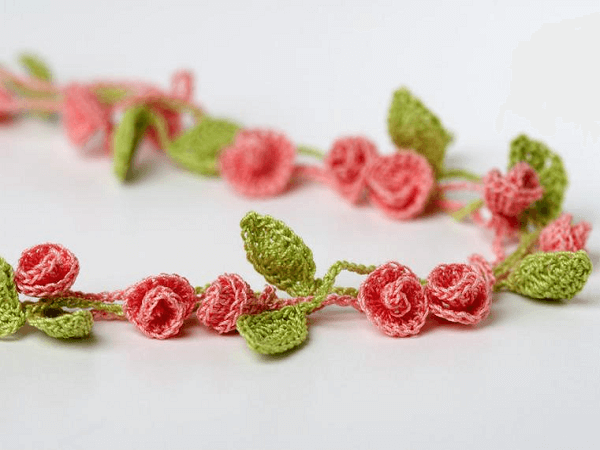 Get the Pattern by Yarn Twist here

3. Bohemian Beaded Free Crochet Necklace Pattern by Winding Road Crochet
This Bohemian Beaded Necklace is a nature-inspired accessory that is the perfect compliment to almost any outfit. It's neutral colors and natural materials lean towards the bohemian style.
More beaded crochet necklace patterns here.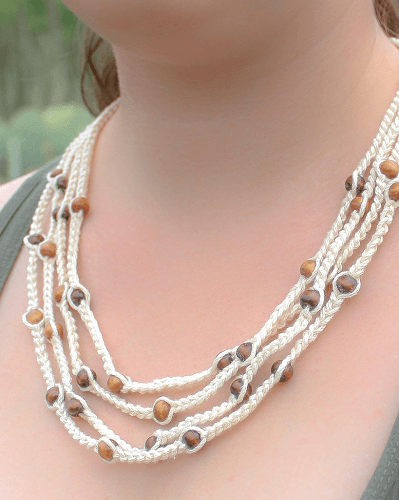 Get the Pattern here

4. Crochet Button Necklace Pattern by Doll Dress Maker
This Crochet Button Necklace is a great way to recycle old buttons from your button box. Button jewelry has a lovely hodgepodge appearance that appeals to many. If you're one such person, a button necklace might be just the thing to complete your ensemble!

With a little bit of effort, you can turn a jar full of vintage buttons into a beautiful button necklace. In turn, this necklace can be used as accessories, presents, or ornaments for your home.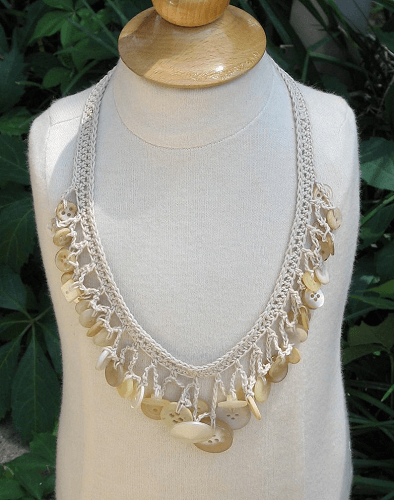 Get the Pattern by Doll Dress Maker here

5. Free Crochet Necklace Pattern by Marianne Dekkers-Roos
Although this project is listed as a "Crochet Necklace", it's actually a multi purpose-project: you can turn it just as easily into into a cheery garland, and even decorate presents with it.

Of course you can personalize your project any way you want, playing with colors, and how many little circles you think you want to use for this project.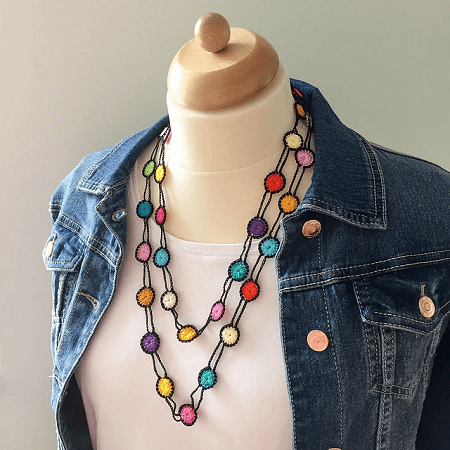 Get the Pattern here

6. Crochet Teething Necklace Pattern by Deniza 17
New moms are sure to love this Crochet Teething Necklace. It's just the right thing to wear if your baby is constantly grabbing and chewing things, such as your jewelry.

There's no need to stop wearing jewelry while your baby is teething when you have a crochet pattern like this one!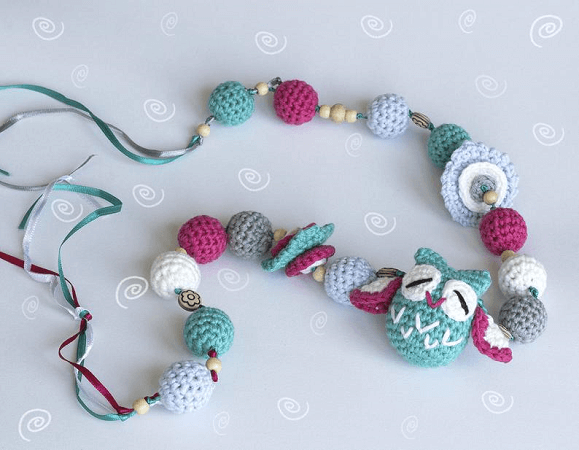 Get the Pattern by Deniza 17 here

7. Crochet Pendant Necklace Pattern by Maya Kuzman
You can create this Crochet Pendant Necklace to add a boho touch to your personality and style. These lovely pieces feature different designs and carrying their own story.

This tutorial is composed of three necklace designs/ patterns: the Key to My Heart, the Pearl Garden and the Tulip House.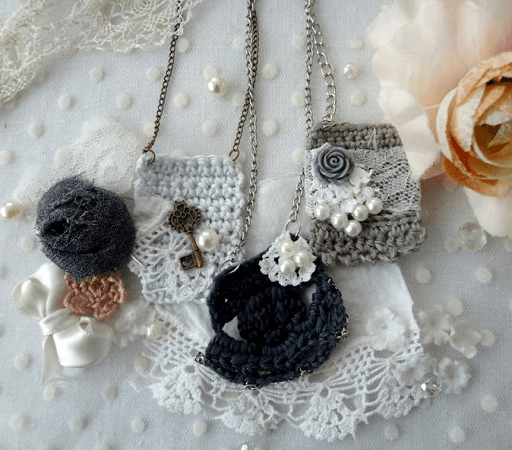 Get the Pattern by Maya Kuzman here

8. Crochet Flower Necklace Pattern by Yarnspirations
Pep up an ordinary top with an irresistible Crochet Flower Necklace. Vary the number, colors, and sizes of flowers for an inspired look.

The picture showcases this crochet flower necklace pattern is created in a variety of colors, but you could easily make this project subtle and simple by using just one or two muted shades.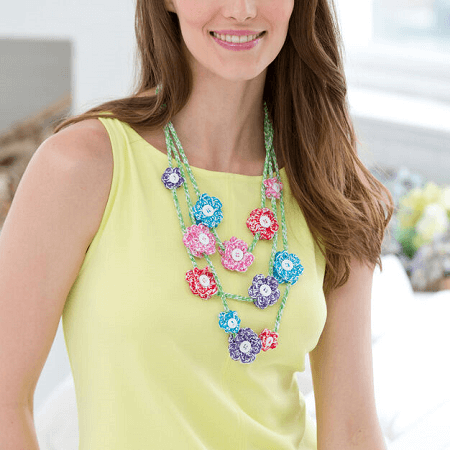 Get the Pattern here

9. Crochet Scallop Necklace Pattern by The Hook Nook Life
The thing about this Crochet Scallop Necklace is that it creates a statement, but is still subtle enough to wear daily. It's guaranteed to add the perfect touch tp all of your summer outfits.

It's also a very quick project, so you'll have plenty of time to create a necklace in all of your favorite colors!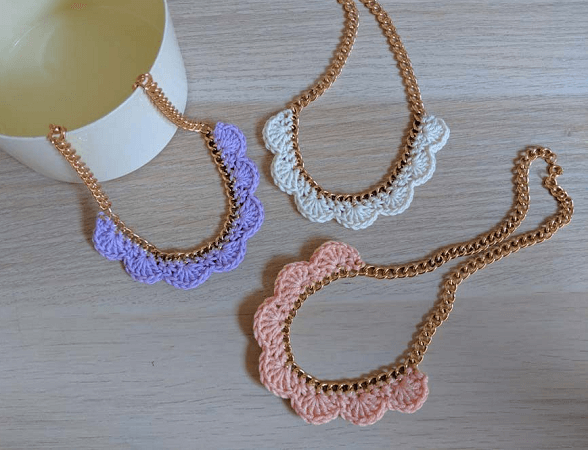 Get the Pattern here

10. Crochet Shelly Necklace Pattern by Jessie Rayot
This statement necklace will turn heads and make sure everyone knows when you walk into a room. It is made with chain stitches connected by slip stitches as a base, and then features shell stitches growing from the center front.

Dress up a tank top and jeans, or accent your eveningwear with Shelly Necklace!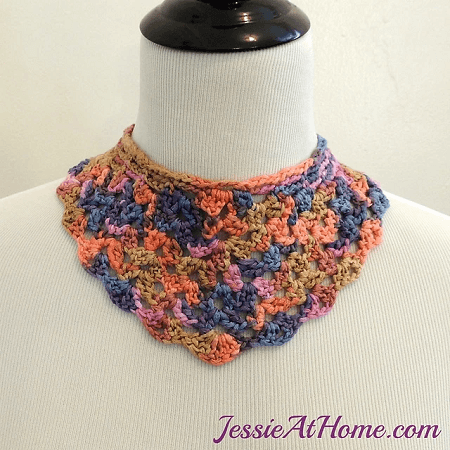 Get the Pattern here

11. Crochet Circles Of Life Necklace Pattern by Aterg Crochet
This Crochet Circles Of Life Necklace is the perfect accessory for people who need a break from metals! Crochet this elegant necklace for yourself or as a lovely gift for someone special!

The pattern is just the base and the fun part for you is to make your own color combinations!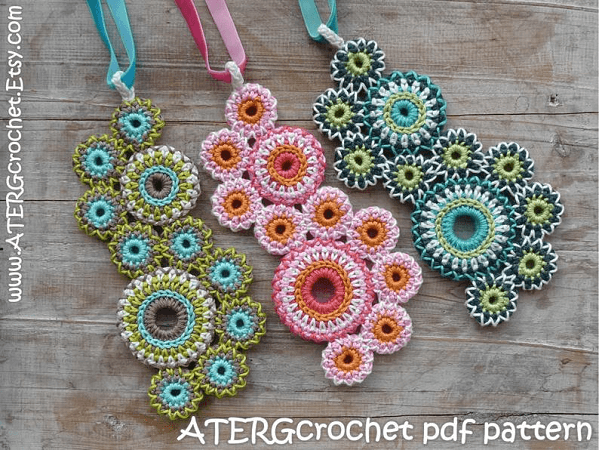 Get the Pattern by Aterg Crochet here

12. Chain Scarf Necklace Crochet Pattern by Dottie Q
This Chain Scarf Necklace is very easy to make and it would be a perfect project for beginners!

Layers and layers of soft chains in your favorite shade make this infinity scarf necklace the cool weather necessity you never want to stop wearing. Dress it up or wear it with a casual look.

Group the chains together for a sleek look or give them a twist before putting the scarf necklace around your neck to create a flowing layered look.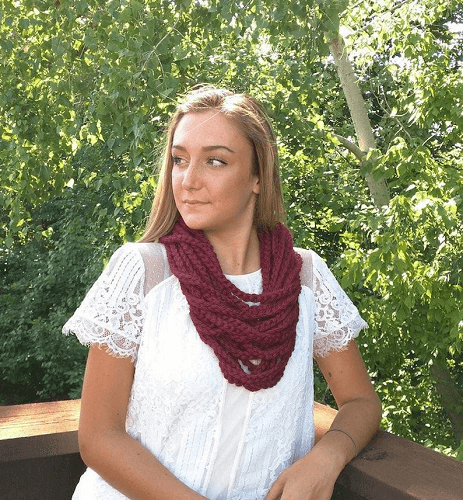 Get the Pattern by Dottie Q here

13. Crochet Daisy Chain Necklace Pattern by Caught On A Whim
Remember those daisy chain necklaces we made when we were kids? Well, this version is all grown up! A little bit of yarn and a few crocheted daisies later, you will have a couture Daisy Chain Necklace of your own!

This sweet daisy motif can be used in many ways – strung them together they make a gorgeous necklace or garland, pr used singly to adorn brooches, hair clips or jewellery.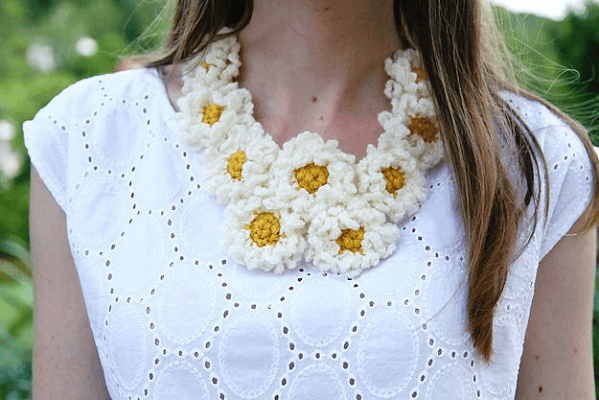 Get the Pattern here

14. Celeste Crochet Necklace Pattern by Loopy Mabel
This Celeste Necklace is such a pretty crochet necklace and is so simple to make. Suitable for all crochet skill levels, with instructions included to adjust the size if needed.

Why not make them in lots of different colors and coordinate with your outfits or make them as gifts for your friends.
Get the Pattern by Loopy Mabel here

15. Irish Crochet Necklace Pattern by Fox Stitch Design
You will get so many compliments when you wear this feminine Irish Crochet Necklace! It also makes a great bridal necklace when made in white. Crochet it for a special occasion or memorable gift.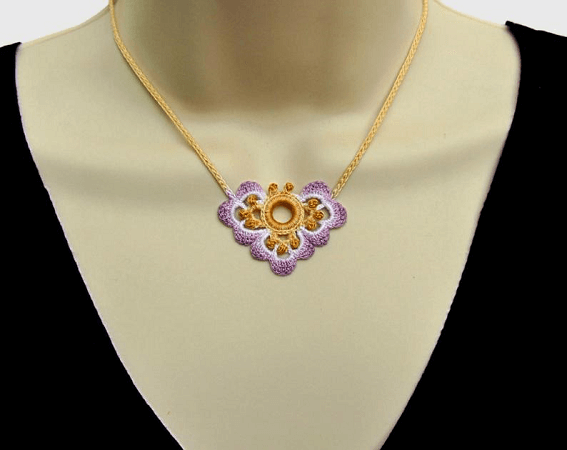 Get the Pattern by Fox Stitch Design here
16. Bag Necklace Crochet Pattern by Island Style Crochet
This funky little boho beauty is perfect for all of your summer adventuring needs! This Bag Necklace is just big enough for your ID, credit card & spare cash, it's perfect for music festivals, summer hikes, and, well, any other adventure that pops up!

This is a great pattern for beginners and more experienced stitchers will absolutely love how fast and fun these are to make.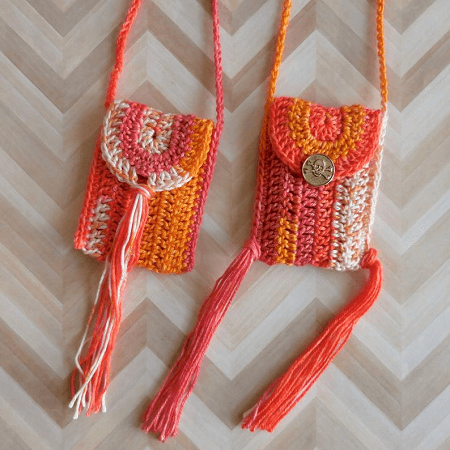 Get the Pattern by Island Style Crochet here


17. Crochet Dissent Collar Necklace Pattern by Tobey Time Crochet
Crochet your own Dissent Collar Necklace! This pattern is quick and simple and beginner-friendly. If you can chain, single crochet, and slip stitch then you can make this collar. No special stitches!

The collar can be used for costumes or as a statement piece and the size is adjustable and can be made in adult or child size.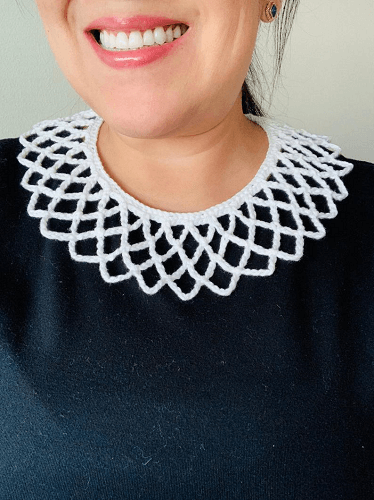 Get the Pattern by Tobey Time Crochet here

18. Crochet Boho Necklace Pattern by Lessia Little Adventure
Add a bohemian touch to your outfit with this Crochet Boho Necklace. Crochet this necklace to wear with a simple white shirt to stand out, or mix it up with a more festive pattern.

To make this necklace you need 2 colors of Fingering yarn and good crocheting skills to complete the needed stitches and techniques.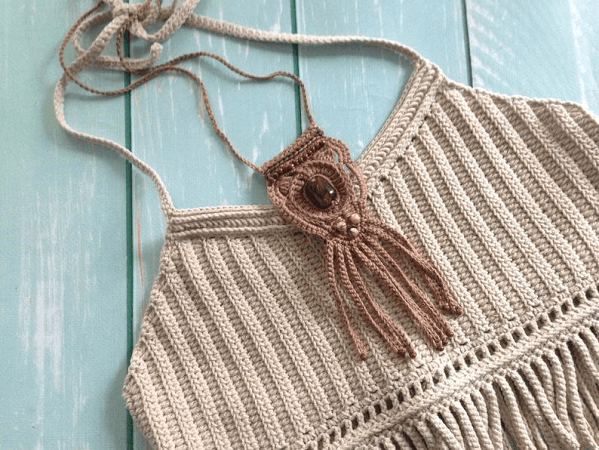 Get the Pattern by Lessia Little Adventure here

19. Crochet Bead And Pearl Necklace Pattern by Yarnspirations
Crocheted "beads" embellished with pearls create this most unique necklace. Made using a crochet thread of your chosen color, you can coordinate a necklace with any item in your wardrobe.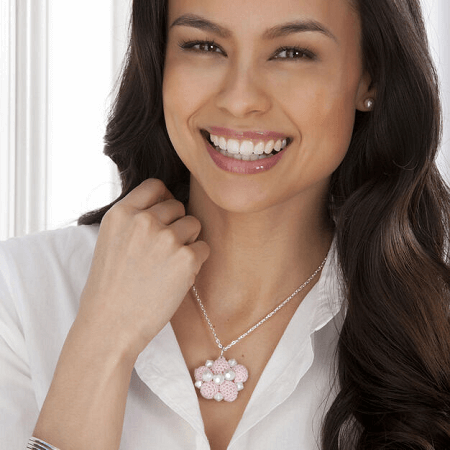 Get the Pattern here

20. Fringe DIY Crochet Necklace Pattern by Mademoiselle Mermaid
Here's a handmade crochet accessory with major high fashion impact, that even a beginner can stitch up in no time!

Unique and eye-catching, you'll love the oversized, flattering v shape of this Crochet Fringe Necklace and the way it catches the breeze as you walk in the park.

The "unicorn" colorway is simply enchanting, but any cotton yarn you fancy will do the trick! Make it today and wear it out tonight!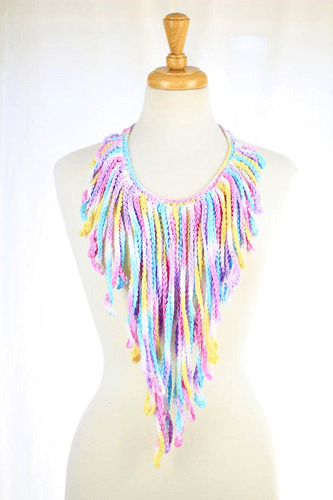 Get the Pattern by Mademoiselle Mermaid here


Put your crochet creations on display with these crochet necklace patterns!
If you want to try your hands at crochet jewelry, we would be so glad if you share your finished works with us on our Facebook Page. Once you start making fabulous crochet necklace patterns, you'll be hooked!

And if you want to go beyond just jewelry and looking for larger projects, you may also check our collection of patterns for blankets, clothing, home decor, and more!

Now it's time to pick out your favorite crochet necklace patterns, grab your hook and some yarn and get crocheting!