Do you know how to use the crochet mattress stitch to sew together your crocheted pieces?
Unless you plan to only crochet scarves and dishcloths, you'll need to learn how to join pieces and the mattress stitch is a great way to do just that!
There's nothing worse than spending hours crocheting beautiful pieces only to stitch them together haphazardly at the end.
Check out our written and video tutorial below to learn how to do mattress stitch to beautifully join together your crocheted work!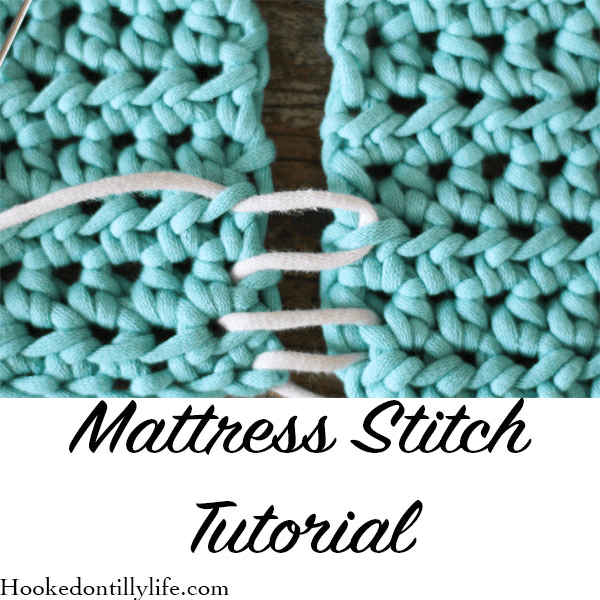 Crochet Mattress Stitch Tutorial Written Instructions
For the mattress stitch you will need a yarn needle rather than your crochet hook.
Step 1: Gather your pieces that you need to stitch together. Thread your yarn needle with the main color of yarn to match the crocheted pieces.
Step 2: Line up two pieces that you need to stitch together–front sides facing together. You may have several pieces, but we'll start with two.
Step 3: Begin at the corner of one piece and pull yarn through the corner opposite on the piece just next to the original piece. Sew from the inside out in a zig-zag fashion (as if you were lacing a pair of shoes).
Step 4: Continue sewing in that fashion to the end of the pieces. (Depending on what you're piecing together this may be one side, two sides, etc)
Crochet Mattress Stitch Video Tutorial
Patterns to Use the Crochet Mattress Stitch
The mattress stitch can be used to sew together pieces of crocheted projects such as cardigans and other clothing items. It is also a great way to sew together granny squares.
The mattress stitch creates a nice smooth seam that isn't bumpy like other joining methods.
Combine the mattress stitch and granny squares to make this fun cardigan with a retro vibe.
Fancy a cute handbag that holds your stuff and busts your stash? Check out this granny square bag!
Crochet Mattress Stitch Tutorial
Hope you have enjoyed learning the mattress stitch!
Be sure to post the patterns you make to our Facebook page.
Check out all of our crochet stitch tutorials here.
Happy crocheting with your new crochet mattress stitch!