I am a serious makeup addict—the secret is out! There's something about playing around with makeup that I find relaxing and it gets my creative juices flowing. Because of my obsession, I often look for new makeup storage ideas that is both cute and functional.
While I own a few makeup bags, I realized that I didn't have any crocheted ones. Ahead, find the best crochet makeup bag patterns I've gathered to keep our glam stash organized.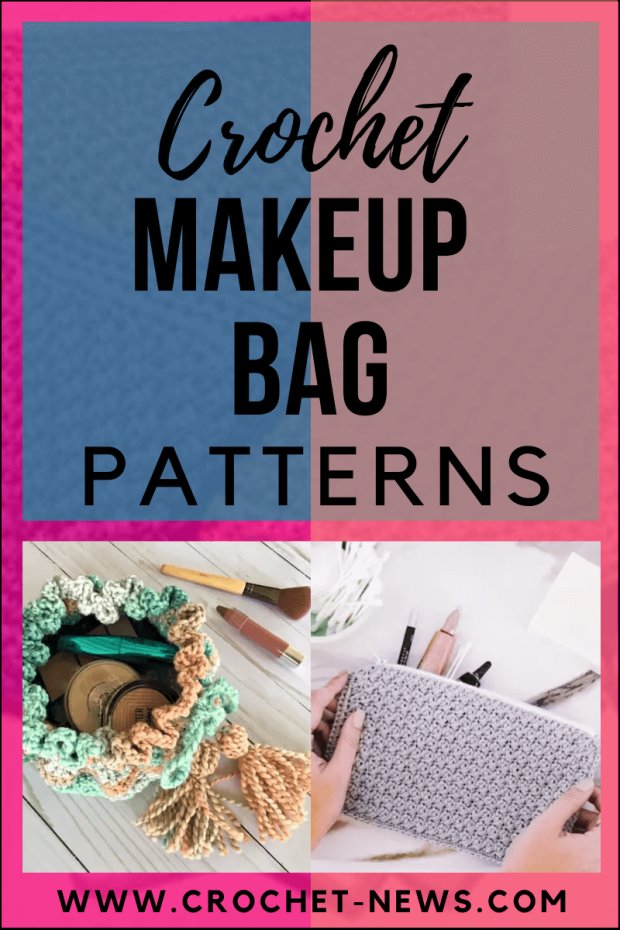 Looking for a cosmetic bag to store your makeup while traveling? Or just want a cute little makeup organizer to stick inside your bag and not have to think about it again? Really, any kind of makeup bag you could want for any given situation, I've gone ahead and hand-picked it below. Read on and get ready to kiss your plastic bags goodbye!

1. Star Stitch Pouches Crochet Pattern by All About Ami
I adore being able to carry handmade items with me all the time. These pouches can help you carry your essentials and make such a beautiful statement when you pull them out! Choose either a flat pouch for hooks and pens or a pouch with a round bottom to hold larger items.
Learn how to crochet star stitch here.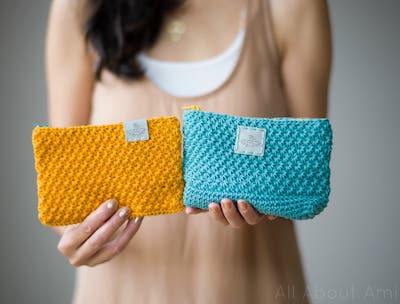 Get the Pattern by All About Ami here

2. Drawstring Makeup Bag Crochet Pattern by CAAB Crochet
This Crochet Drawstring Makeup Bag is quick to work up with size 5 yarn and simple, increasing rounds. It makes a cute and stylish way to pack makeup for travel, or just store in the bathroom. It is very functional, while also doubling as a decorative piece.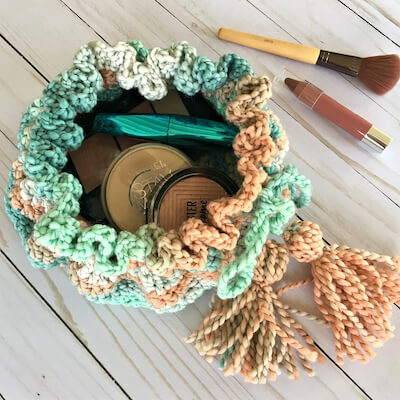 Get the Pattern here

3. Colour Block Makeup Bag Crochet Pattern by The Loopy Lamb
This Colour Block Crochet Make Up Bag is a beginner-friendly crochet pattern that works up quickly and uses less than 2 small skeins of yarn. Finished off with a gorgeous tassel, this bag is a modern crochet make you'll be proud to take with you on any trip.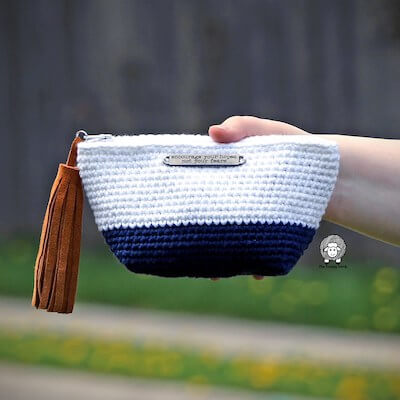 Get the Pattern by The Loopy Lamb here

4. Free Crochet Makeup Bag Pattern by MAKEetc.
This crocheted make-up bag makes the perfect Christmas gift for a mum, daughter, or friend, though I won't tell if you decide to keep it for yourself! With a lining and zipper fastening, it's a sturdy bag for storing your make-up essentials, but the lovely two-tone crochet design means it won't look out of place on the dressing table.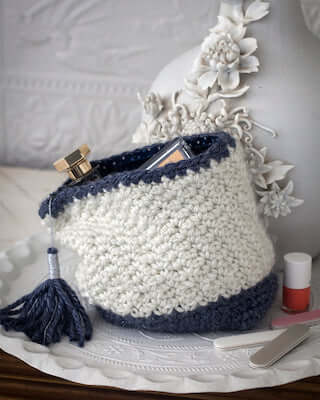 Get the Pattern here

5. Mineral Springs Crochet Cosmetic Bag Pattern by I Like Crochet
Simple stitches create a textured fabric that keeps toiletries and cosmetics stylishly contained in this one-skein project. Zipper closure ensures everything stays in one spot.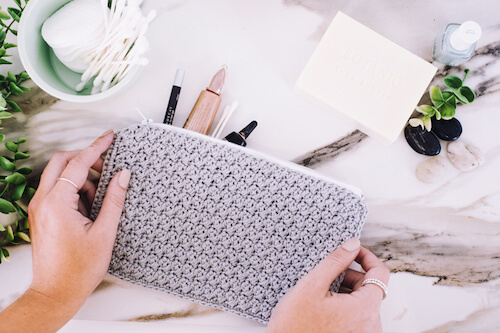 Get the Pattern here

6. Crochet Makeup Brush Case Pattern by Yarnutopia
This is a very practical project! This Make-Up Brush Case is a very easy and fun item that is compact to transport and keeps your brushes organized. This also makes a great gift for a makeup artist!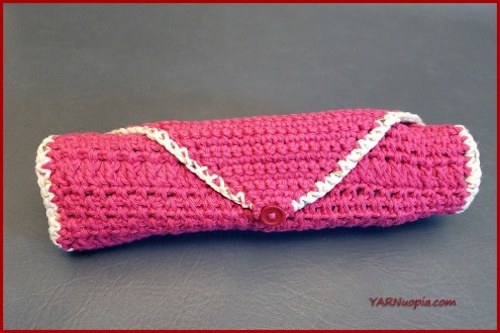 Get the Pattern here

7. Darcy Makeup Bag Crochet Pattern by Jessica Lee's Crochet
If you are looking for a unique pattern with lovely detail and texture, this Darcy Pouch Pattern is a great addition to your WIPs. They work up quickly and will be great sellers at upcoming markets.
This crochet cosmetic bag pattern uses #4 weight yarn or 2 strands of #3 weight yarn held together. This pattern includes instructions on how attach a canvas zipper bag liner without using a sewing machine. Win!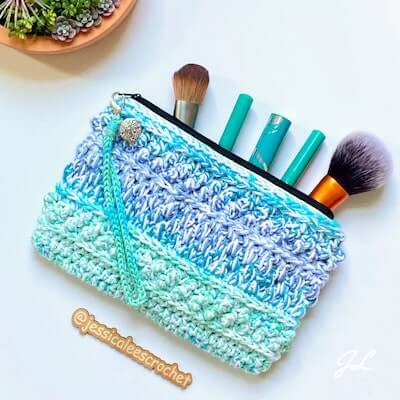 Get the Pattern by Jessica Lee's Crochet here

8. Gracelyn Crochet Makeup Bag Pattern by Twisted Knot Crochet
This little bag is perfect for make-up and accessories and adds an adorable finishing touch to any décor. Perfect for a counter top making your favorite items easy to get to and neatly hidden away!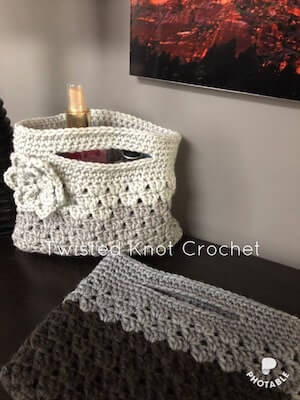 Get the Pattern by Twisted Knot Crochet here

9. Crochet Wicker Weave Makeup Bag Pattern by Fun Crochet Designs
This Wicker Weave Clutch is constructed from a beautifully textured stitch that looks like woven wicker when complete. This is perfect for use as a make-up bag or for stowing all those small items that float around inside your purse. It's also large enough to hold a wallet and cell phone in addition to a few other items, so you can use it as a clutch when you want to travel light.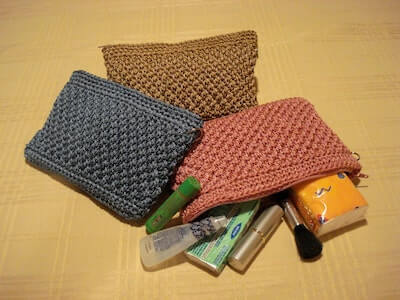 Get the Pattern by Fun Crochet Designs here

10. Free Crochet Makeup Bag Pattern by Yarnspirations
Help organize the necessities that you keep in your purse. Crochet it for yourself or to give! With a multi-color granny square lid, this little makeup bag is a crochet project that is suitable for intermediate crocheters.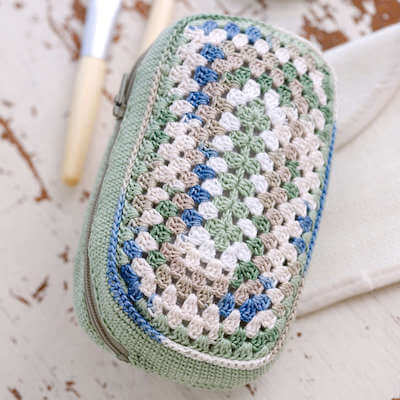 Get the Pattern here

11. Drawstring Cosmetics Bag Crochet Pattern by Heart Hook Home
Have you ever wanted a cosmetics bag that safely holds your items, but also lays flat when needed? This drawstring cosmetics bag crochet pattern is designed to do exactly that.

You could, of course, use your drawstring bag to store other things around the house, but I am most excited about using this when travelling.
Also see: How to Sew Drawstring Bag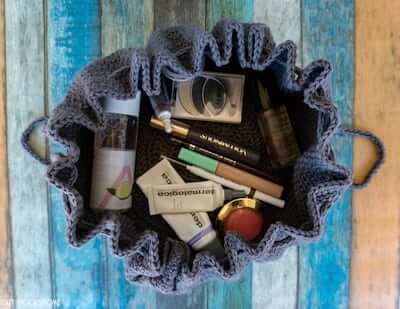 Get the Pattern here

12. Crochet Aurora Makeup Bag Pattern by Sunflower Cottage Crochet
At only 8″ wide and 6″ tall, this bag is the perfect size to use as a make up bag, be kept in a handbag or add a strap to turn it into a wristlet and accessorise an outfit! It would also make a good pencil case.
The versatility of this Aurora Make Up Bag and its gorgeous texture makes it suitable for all ages. And you will be surprised how much you can get in this one!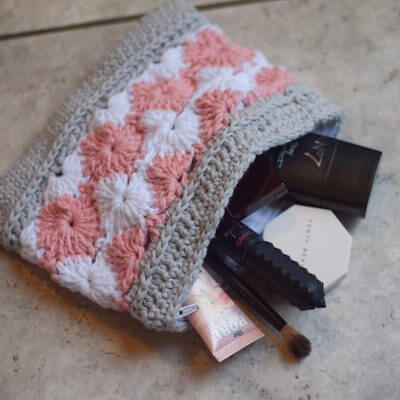 Get the Pattern here
WITH THESE CROCHET MAKEUP BAG PATTERNS, NOW YOU'RE READY TO TRANSPORT YOUR MAKEUP IN STYLE!
I love these projects because they're so easy to personalize and make uniquely yours. For that reason, these crochet makeup bags would also make a lovely gift. If you make one, be sure to share your finished projects on our Facebook Page. I'd love to see those gorgeous handmade bags!

For more fab crochet projects, make sure you check out our Crochet Handbag Patterns, Crochet Tote Bag Patterns, Crochet Phone Case Patterns, Crochet Wallet Patterns, and Crochet Laptop Case Patterns.
Decide which crochet makeup bag patterns and get started on your own makeup bag today!