From keychains to badge holders to straps for purses and wallets, lanyards are useful and can be super cute, too, if you know how to make them for yourself. These quick and easy crochet lanyard patterns will get you stitching up lanyards for every person and event in your life.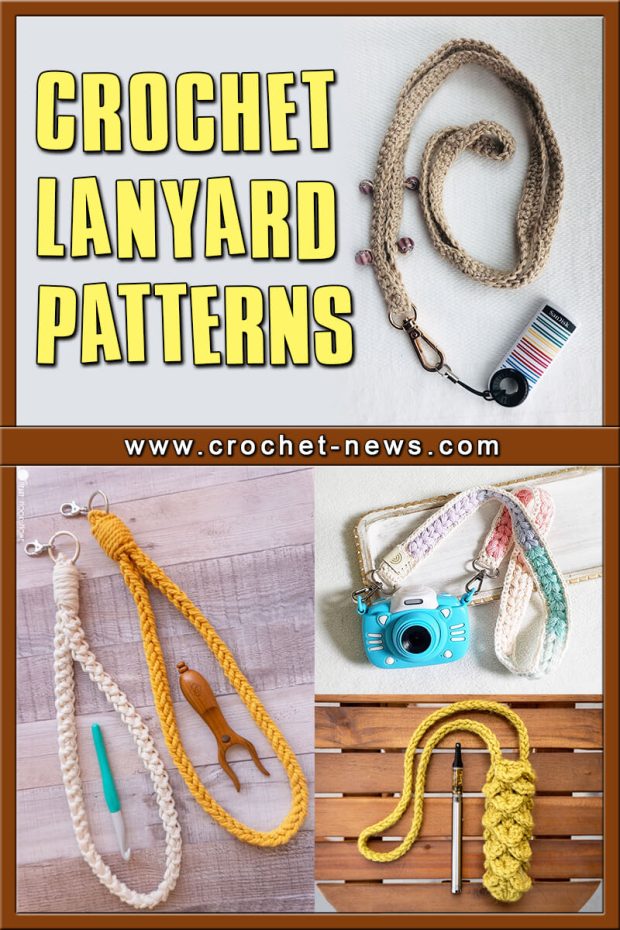 These crochet lanyard patterns below are great for beginners, using up scraps, or making for gifts! They work up quickly and are functional! If there are any office workers, gym-goers, or students that carry plastic cards around, you've got their next present all sorted out.

1. Rainbow Crochet Lanyard Free Pattern by Moogly Blog
The construction on this Crochet Rainbow Lanyard couldn't have been simpler – the only stitches used are chains and slip stitches! This technique means you can get 6 different colored stripes in less than an inch of width.
The finished lanyards will be about 27 inches long – they fit comfortably over the head, but aren't so long as to cause a problem at lunch.

This crochet lanyard free pattern also makes a great handle or strap for your handmade bags! Or to make them more official looking, add lanyard clips to the keyring!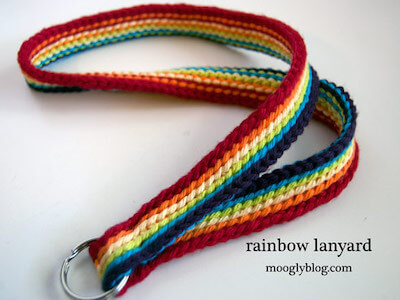 Get the Pattern here

2. Mask Lanyard Crochet Pattern by Crazy Cool Crochet
If you have found yourself in a situation where you needed to remove your mask for a minute or two and couldn't figure out where to place it – this may be helpful. With a Crochet Mask Lanyard, you can hang it from the lanyard and it's right there when you need it.

One of the designs is so easy you can whip it up in a few minutes. The second design is also quick, but might take a few minutes longer. It is, however, a nice little design for girls.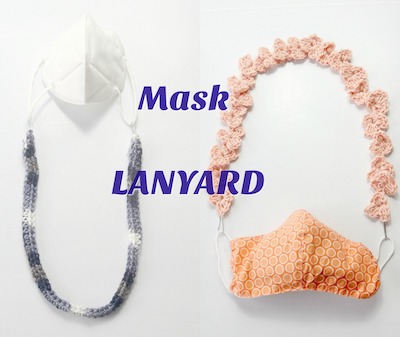 Get the Pattern here

3. Boho Chic Lanyard Crochet Pattern by Jennifer Pionk
This Boho Chic Lanyard is perfect for fiber arts festivals, teacher gifts, gifts for teens, and more! Make yours in your favorite colors and add your own artistic flare. They also work great as a place to pin all those pins you collect from the various conferences you attended.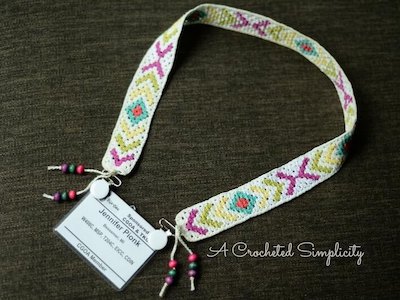 Get the Pattern by Jennifer Pionk here

4. Stars And Stripes Crochet Lanyard Keychain Pattern by Repeat Crafter Me
Don't go to your 4th of your July celebration without this patriotic lanyard. Perfect to carry your keys or other items you don't have pockets for and don't want to lose!

This is great for the kids as well. Attach a glow stick for those late night firework shows. It is also great for cheering on the USA in the olympics or other sporting events!
Looking for more items for celebrating the Fourth of July? Check out these American Flag Blanket Patterns.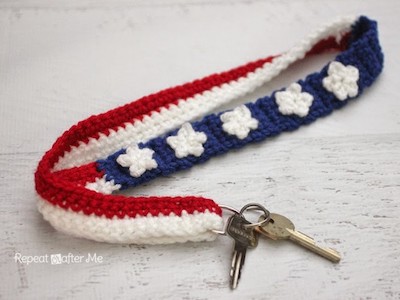 Get the Pattern here

5. Crochet Quick And Easy Lanyard Pattern by Karen Vaughn
A summer crochet project that will not make you sweat! This lanyard works up fast and makes a perfect place for your keys while hiking, biking, walking, hanging out at the park, the pool or the beach!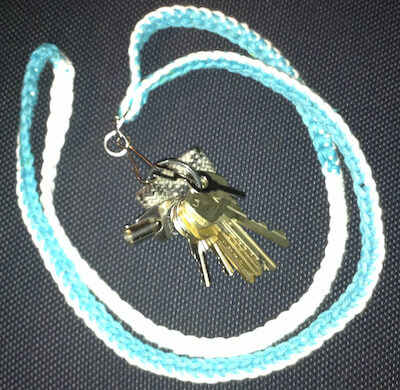 Get the Pattern here

6. Crochet Lacey Linda Lanyard Pattern by Darling Dana Designs
All you need is some crochet thread and a clasp and you got yourself a stylish lanyard! It is the perfect gift for that person in your life that has to carry keys or an ID badge for work- and it's pretty quick to make.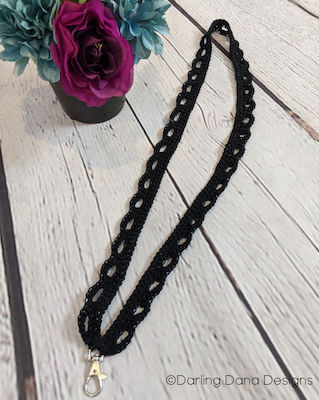 Get the Pattern here

7. Crochet Lanyard Pattern by The Frill Seeker
This simple pattern for a crochet lanyard requires just a small amount of fingering or sport weight yarn, a metal clasp for the lanyard, a hook to match the yarn weight, and a yarn needle. If you want to dress it up, you could add beads or buttons.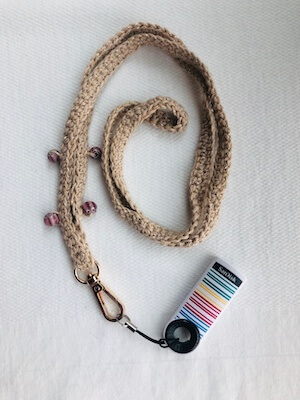 Get the Pattern here

8. Crochet Camera Lanyard Pattern by Rainbows For Hope
For those of us that still enjoy lugging arounf our trusty DLSR or Instax instant cameras, there'a need for cute camera straps. Create your own fun camera strap or purse strap with this easy crochet pattern! Make it in your favorite color, or design your own awesome combination of colors!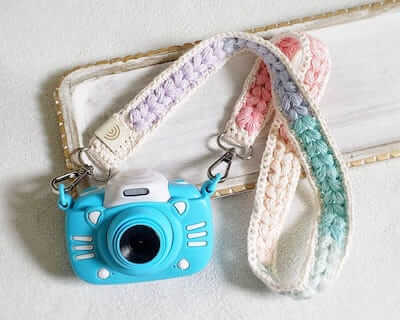 Get the Pattern by Rainbows For Hope here

9. Crochet Lanyard Keychain Pattern by Heart Hook Home
This lanyard style keychain is gorgeous and fun! Lanyards aren't only for keys or for use in the car. You could also use them for ID badges, taking our necessary items to the gym, during sporting events, and more.

Whether you are using your crocheted lanyard for car keys or you're planning to sell them at craft fairs this summer, this is the perfect, quick, and fun project!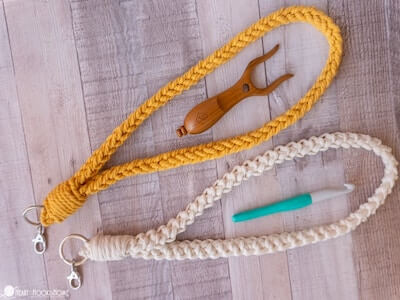 Get the Pattern here

10. Crochet Wine Glass Lanyard Pattern by Sigoni Macaroni
Some might say that a crochet wine glass lanyard is silly, but others will say it's absolutely necessary! Whether it's a fun gag gift for Christmas or you just want to sip some wine while vacuuming, this free crochet pattern is a really fun project to make and it works up quickly. Plus, it can be used as a simple stash buster project!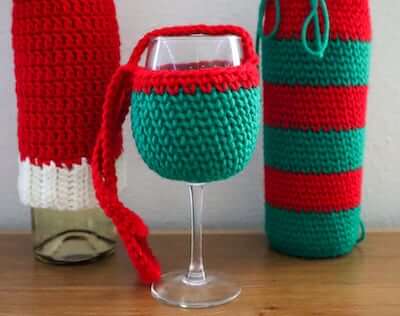 Get the Pattern here

11. Free Crochet Mask Lanyard Pattern by Designing Vashti
This reversible crochet mask lanyard attaches to each ear loop of a face mask with 100% crocheted fasteners. No sewing on buttons or metal hardware!

Wear the lanyard around your neck. If you remove your mask, there it hangs, already found, like wearing reading glasses on a chain.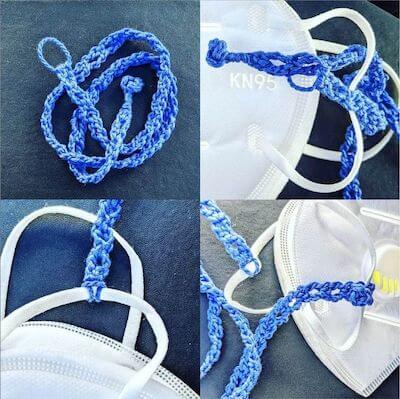 Get the Pattern here

12. Crochet Vape Lanyard Holder Pattern by Yarn And Sh!t
Do you vape? If you have an e-cigarette or vape pen that you misplace constantly then you need to make yourself a vape lanyard using this free crochet pattern.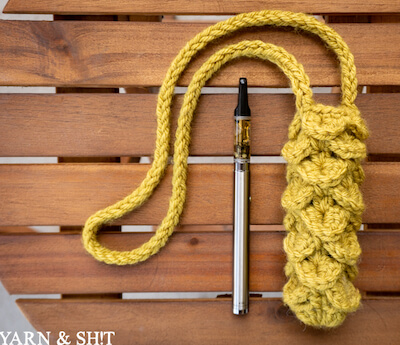 Get the Pattern here
WHICH CROCHET LANYARD PATTERNS ARE YOUR FAVORITES? WITH A BIT OF CREATIVITY, YOU CAN EASILY FIND MORE WAYS TO USE THIS SIMPLE ACCESSORY.
If you're looking for more quick and easy crochet projects that you can make using yarn you already have at home, these crochet keychain patterns will get you covered!
When you're finished with these great patterns, you're welcome to post some finished photos on our Facebook page. Tell us about your creation and how you made it!
These crochet lanyard patterns are simple enough to create a few for yourself and lots more for your friends. Happy crocheting!